I've been waking up in the morning and there has been a chill in the air. The leaves are starting to turn and the calendar says the first day of fall is less than a week away.
As with every turn of summer to fall, my mind starts to think a little bit about the comforting joy I get from autumn food. (Sort of like a toasty warm hug to your belly.)
My good friends at Mercat a la Planxa must have been reading my mind when they decided to host a Fall Dinner with some innovative new menu options from Chef Jose Garces & Chef Cory Morris. (Mixologists Nicole Donahue and Bobby Nardone also made some well-crafted cocktails to pair with each course. And I thank them from the bottom of my heart for making us our own non-alcoholic versions.)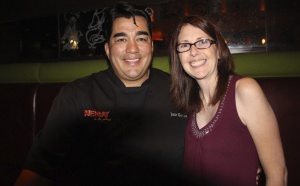 The dinner was hosted in the lounge with 14 of the most delightful dining companions a gal could have asked for. We had folks at our table who were married almost 50 years to a couple who had been married less than 2 weeks! We all shared plates like we at a family reunion which is one of the things I love about Tapas-style dining….it brings people close together.
Our first plate was the very traditional Pan Con Tomate. A staple to a Catalan meal, it is simply bread rubbed with tomatoes and drizzled with olive oil.   It is a nice way to say farewell to the tomatoes that graced us all summer. (The guests also enjoyed a cocktail called a Primera Copa which was a Mercat Cava, Lillet Blanc, Cranberry & Apple Bitters, Maleoc Apple Cider. We had a virgin blackberry mojito!)

 Now on to the big menu! (And thank you for typing out the menu so I could start learning more Spanish terms for food.)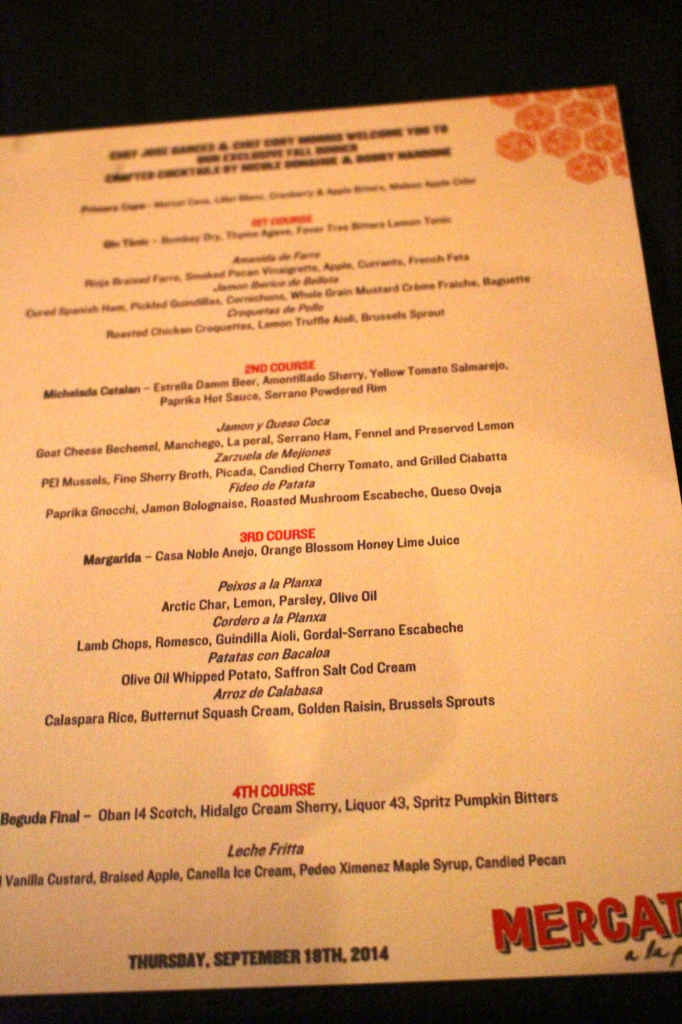 Our 1st course options were enough to make me smile. (I think the Gin Tonic with thyme agave made some of the guests smile too!)
We enjoyed Amanida de Farro (Rioja Braised Farro, smoked pecan vinaigrette, apple, currents, French feta), Jamon Iberico de Bellota (Spanish ham, pickled guindillas, cornichons, whole grain mustard crème fraiche) and Croquetas de Pollo (Roasted Chicken Croquettes, lemon truffle aioli, shaved Brussels Sprout).
First and foremost, only thing that would make the Jamon Iberico better would be if I was lying on a chaise having our awesome server, Doc, drop it in my mouth piece by piece. It is so luscious and decadent. I also loved the delicate touch of lemon truffle oil on the croquette. My nose caught the hint of the truffle and it just really brought out the roastyness of the chicken. (Is Roastyness a word? It should be.)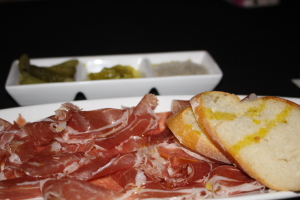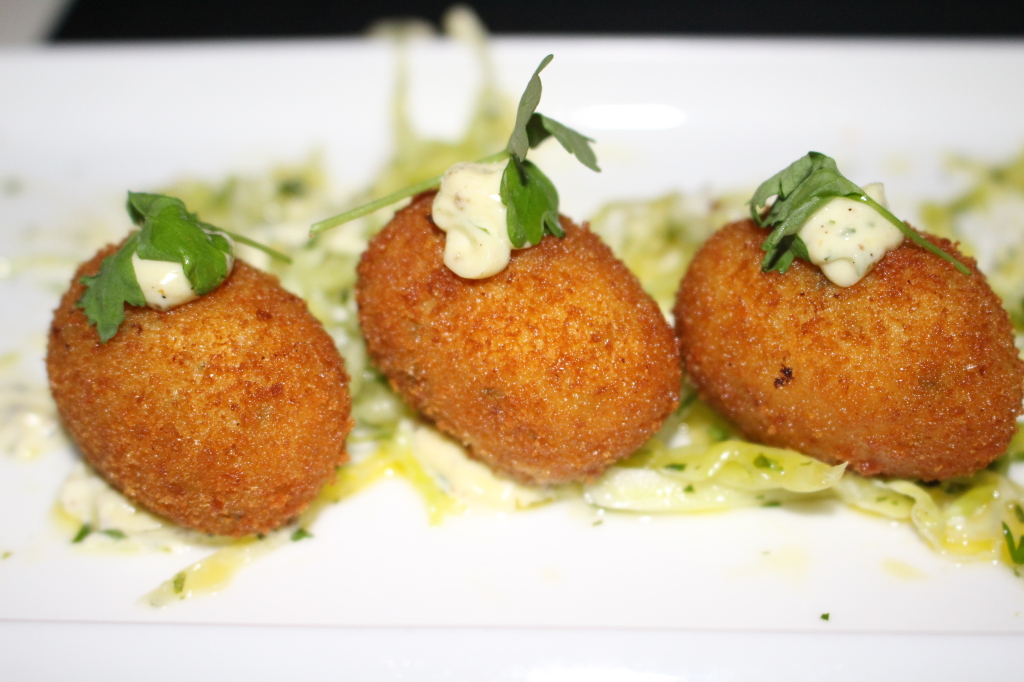 Our 2nd course was probably my favorite. We first started with a Coca which is a Spanish Flatbread. Ours was officially called a Jamon y Queso Coca which was a blend of goat cheese béchamel, manchego , La peral, Serrano ham, fennel and preserved lemon. Besides my love for anything cheese, the fennel and preserved lemon just took this dish over the top.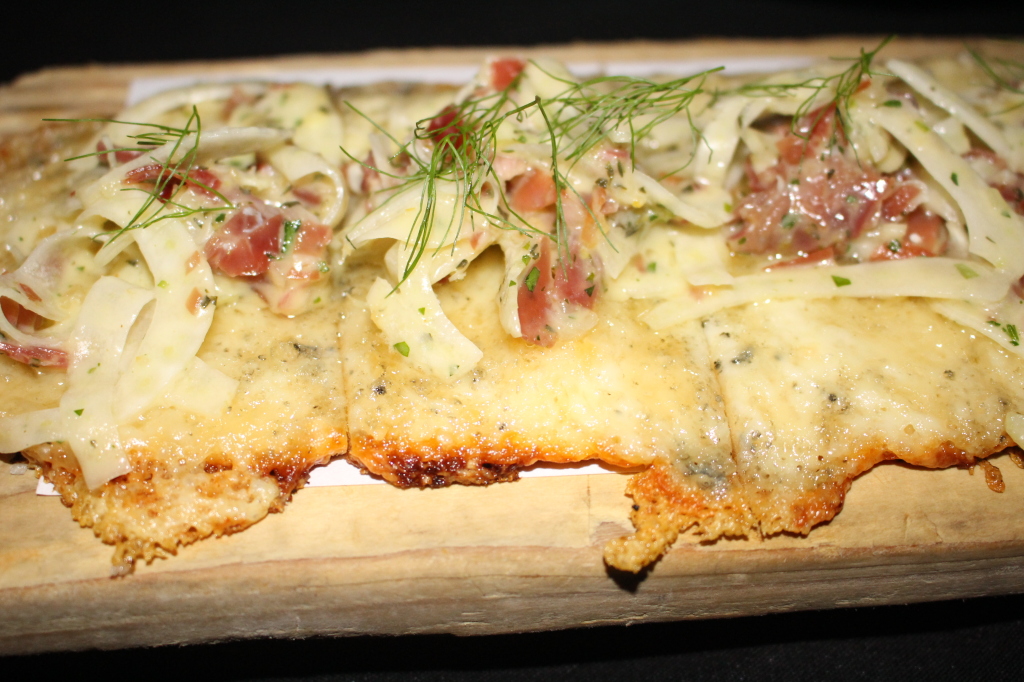 Next we had PEI Mussels in a Fino sherry broth, Picada, with candied tomato. I didn't want to share this dish! I love mussels but I am CRAZY about mussels when they are cooked so perfectly. The way the flavors were layered with the broth and the Picada (I am learning Picada is a sauce that kind of acts like a seasoning but there is an art form and technique to using it. More research to come in future posts!)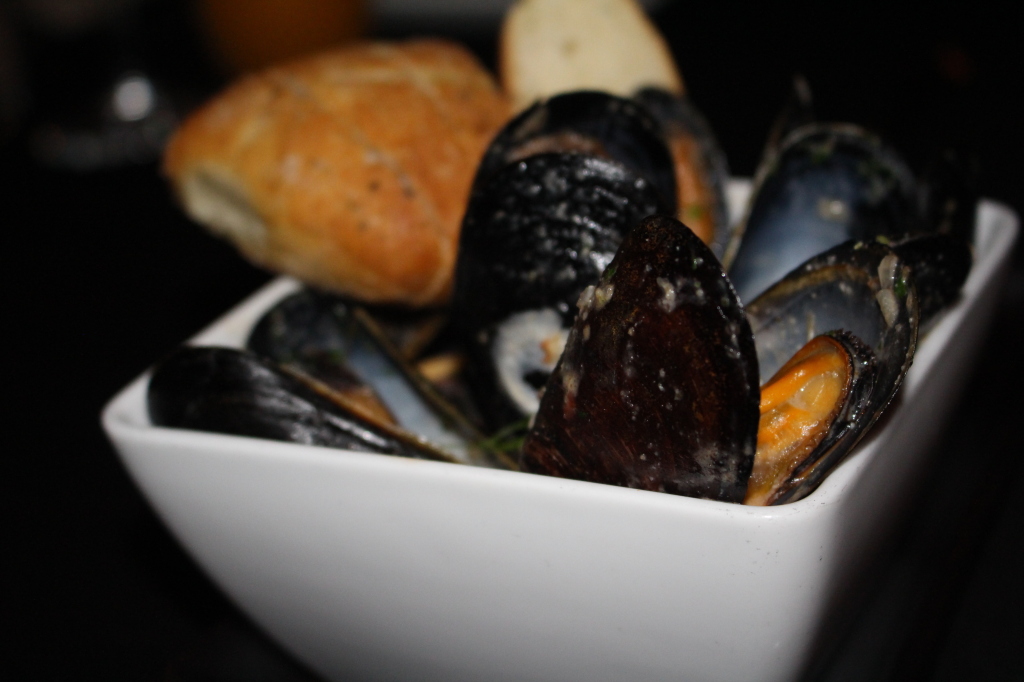 And our 2nd course ended with a paprika gnocchi with Jamon bolognaise, a roasted mushroom escabeche and Queso oveja. Mercat had posted a picture of this dish last week on Facebook. I knew I wanted it then and just thinking about it…I want it AGAIN! The gnocchi had a little crunch to the outside and that bolognaise…oh that bolognaise…was luscious!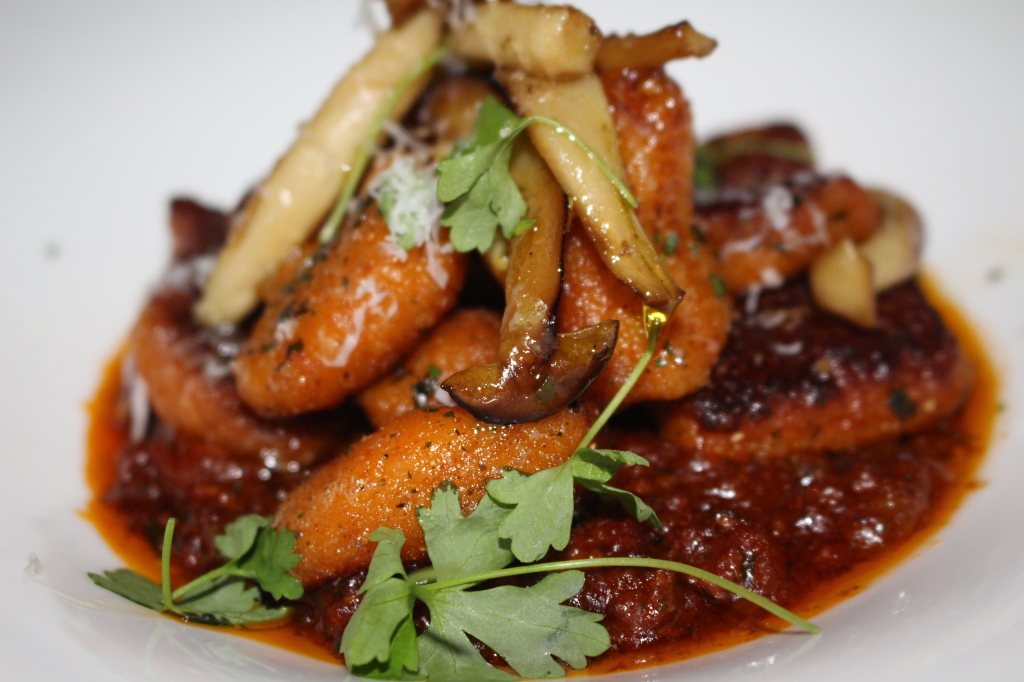 Our 3rd Course started with a Peixos a la Planxa (Arctic char, lemon and parsley). The skin on this fish was nice and crispy while the flesh was so moist.   How do they do that???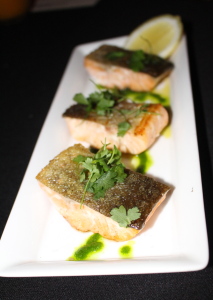 My husband's favorite dish of the night was the Cordero a la Planxa which was a lamb chop, romesco, guindilla aioli and gordal-serrano escabeche. I'm not sure where Mercat is sourcing their lamb but it is probably the best I've ever tasted. I'm also a huge fan of the guindilla aioli for the quick hit of spice it gives you with the lamb chop.
Our fish and meat were complimented with some Patatas con Bacaloa (olive oil whipped potatoes and a saffron salt cod cream). Don't let the "salt cod" scare you. It is like a saffron gravy and the salt cod is more of a seasoning to the gravy. It really made the potatoes shine. (Hmmm, could the pilgrims have made this?)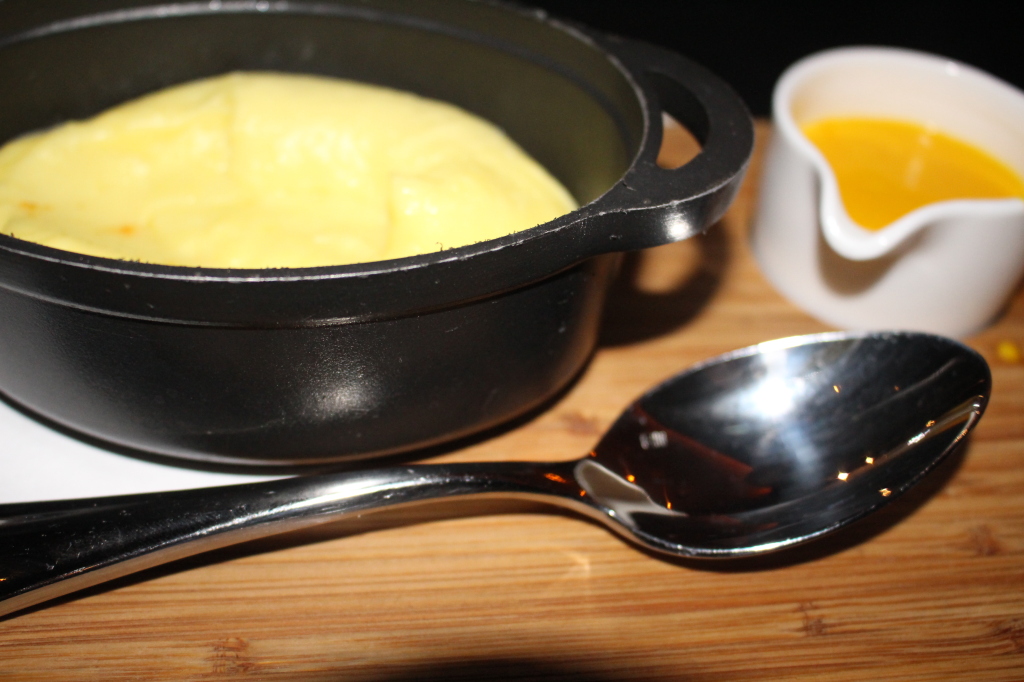 And you can't have a fall menu without a dish with some butternut squash. Our Arroz de Calabasa was Calabasa rice, a butternut squash cream, golden raisins and Brussels sprouts. I want a bowl of this on our first day when the temperature REALLY drops. It wasn't a typical "slap in the face with a squash" kind of dish. (Besides being slapped in the face by a squash is really painful.) There was equilibrium of each ingredient to compliment each other on the plate instead of competing with each flavor. (And the Margarida with the orange blossom honey limejuice was awesome!)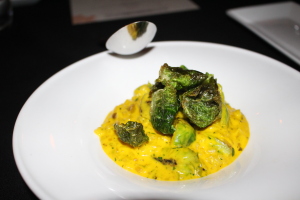 Our 4th and final course was a Leche Fritta, a fried vanilla custard, braised apple, canella ice cream, Pedeo Ximenex (which is a wine reduction) Maple syrup and candied pecan. How the heck do you fry custard??? I'm not sure but it was soooo good. It was like a square of crispy pudding and the perfect end to a fabulous meal.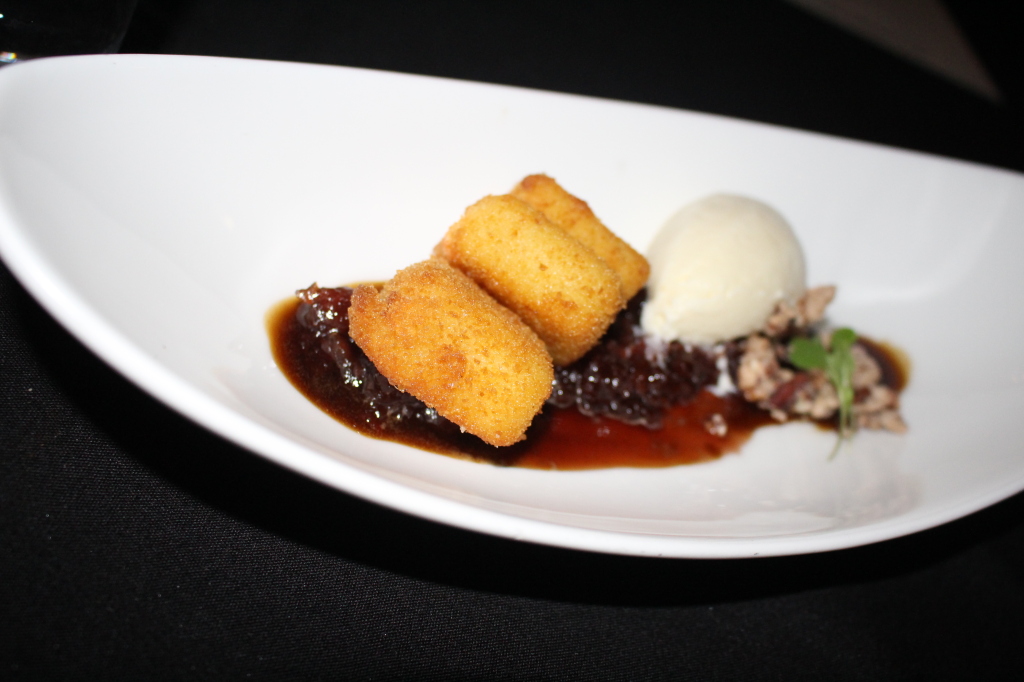 Regular followers of Felt Like a Foodie know I am a huge fan of both Chef Garces and Chef Morris. This dinner only reconfirmed in my head why I love them so much. They are truly nice guys who know how to cook and honor their ingredients.
Thanks to the folks who put up with my flashing camera at dinner! And a special thank you to Margie, Chicago Earl, Chris and Emily for being such great company to my Indiana Earl while he was dining and I was distracted with note taking.
This experience was truly the catalyst to starting the fall season with new inspirations and some new great friends.