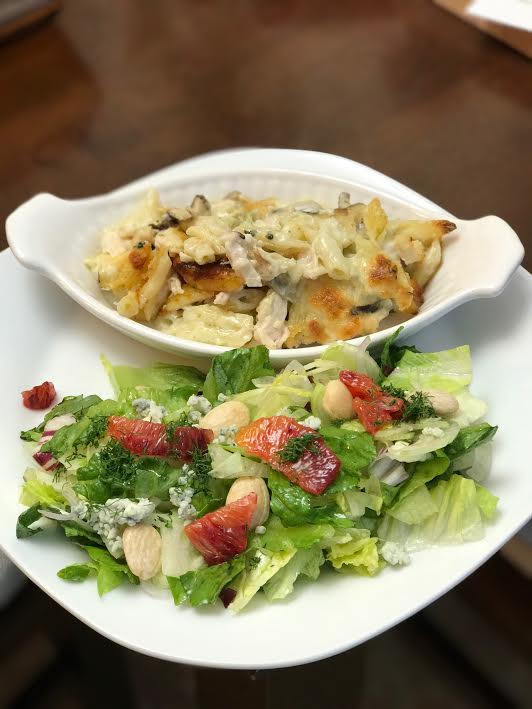 Comfort food.  We all have our own favorites.  The things that make us smile and fulfill our souls when we are the emptiest.  The thought of these dishes can erase the worries of a hard day.  They warm us from the inside out and our life wouldn't be the same without them.
I think when you are married for a longer period of time, you become like a comfort food to your spouse.  It may not be the most romantic way to phrase it but there is nothing people like more than comfort food and there is no one I like more than my husband.
Like a casserole coming out of the oven piping hot, he is warm and inviting.  You know what you are getting when you are with him….a great dependable dish.  He isn't predictable with all the same ingredients all the time.  He mixes it up like a chef adding in some spinach or artichoke hearts where you least expect them.  His actions always have meaning and make sense in the long run, he adds flavor and balance to my life.
A good comfort food takes care of a lot of things…it is your entrée, vegetable and starch all in one dish.  If done right, it can be a luxurious as a bed of roses and ease not only your hunger but your worries and strife.
So instead of going into this Valentine's day with some fancy extravagant meal, I'm going to celebrate the day thinking of the comfort that comes with being loved. Whether it is a husband, a parent or a friend, we all have a comfort food kind of person in our life who is there for us to make life better.
Happy Valentine's Day to you all and especially to my husband, Earl…you are everything I need, want and crave…all in one dish.
Chicken, Spinach and Artichoke Pasta
Ingredients
1 Tbsp olive oil
8 ounces of shitake mushrooms
½ cup of artichoke hearts
¼ cup flour
4 Tbsp butter
2 cups half and half
1 pound cooked chicken breasts, shredded (this is a great time for a rotisserie chicken)
½ cup Parmesan Cheese
1 tsp garlic (and this is one of those times I used the powdered garlic)
8-ounce package of prepared spinach/artichoke dip
½ pound Mostaccioli, cooked al dente (it is going to cook more in the oven so a little bite isn't bad)
Reserve about 1 cup of pasta water
Directions
Oven 425
In a medium sauté pan, cook the mushrooms over medium high heat until you see some browning.
Add in the artichoke hearts and garlic powder and cook another 2 -3 minutes.
Remove them from the pan and place them in a large bowl.  (This will make sense in a few minutes.)
In the large bowl, add the chicken and cooked Mostaccioli, Set aside
In the same pan as you cooked the mushrooms, melt butter over medium heat.
Add the flour and stir into butter until smooth.
Add the half and half slowly, whisking as you go along.
When it is nice and smooth, add in the prepared spinach/artichoke dip and cheese.
Stir until incorporated and pour over the mixture of noodles, chicken, mushrooms and artichoke hearts.
Mix until the noodles are coated.  If it seems a little thick, mix in a little of the pasta water.
Pour the contents of the bowl into a greased 9 x 13 casserole dish.
Even it out on top and give it a sprinkle of parmesan.
Bake for 25 minutes.  (I served this with a simple salad of lettuce, fennel, blue cheese crumbles and blood orange segments.)