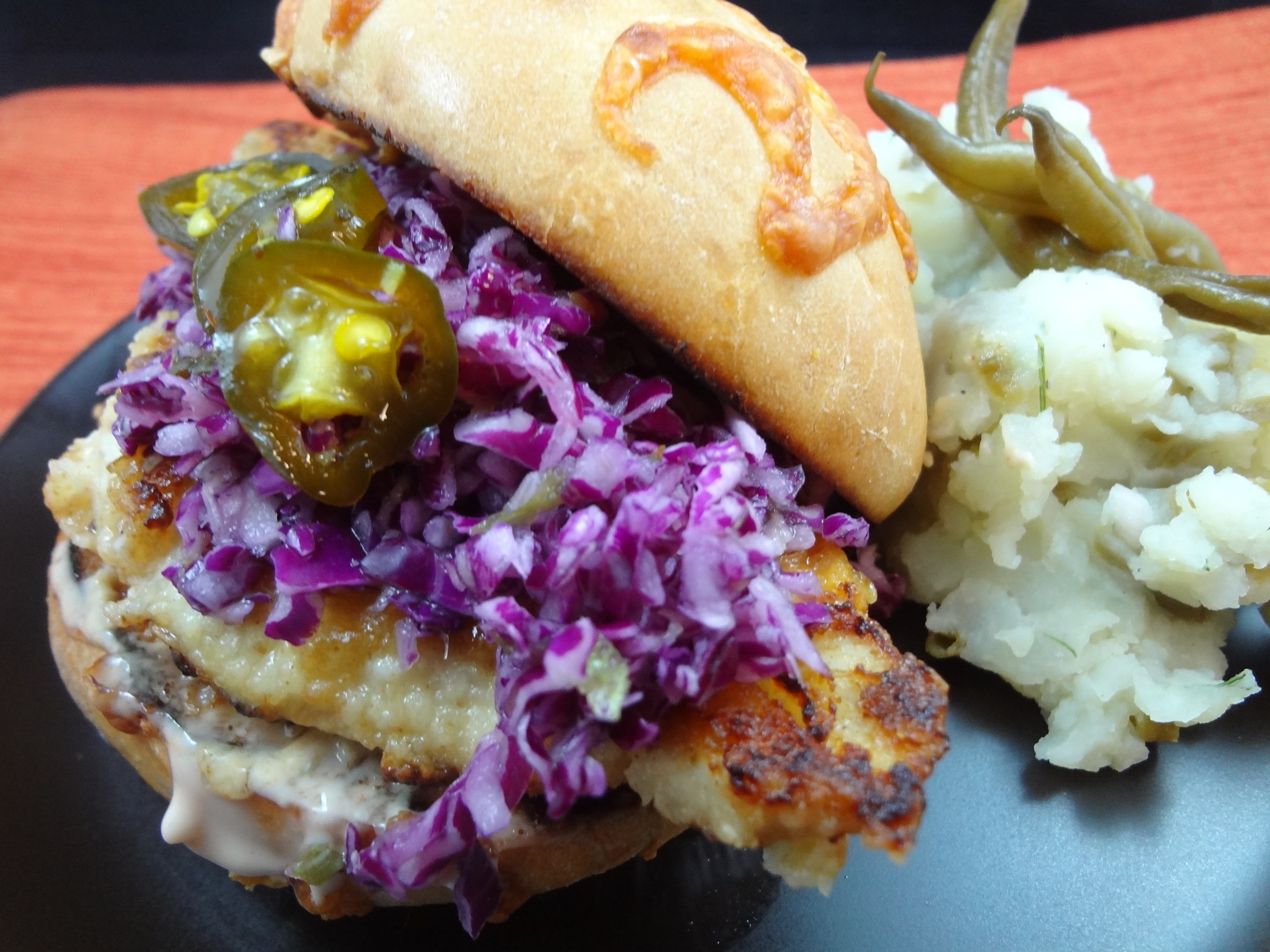 The last few weeks my creativity in the kitchen has been on a spring break.  It was a calm spring break so there is no fear that my creative side will end up in another scandal on the Internet.  (Wait, did she say another?)
My creative side has allowed some of my old stand-bys take over at mealtime and allowed my brain to rest.  (Now by my writing style most of you already think my brain may be resting too much.)  I've done simple things like braise short ribs, make simple pasta sauces and relied on recipes I find in magazines.
Last month, I enjoyed Bon Appetit's March "Cook the Cover" recipe (Chicken Khao Soi).  I decided that doing another cover would be just what I needed to light a fire in my kitchen again.  (Technically, I don't use actual fire to cook unless it is marshmallows because fire scares me.)
This month's cover was just what I needed…a sandwich!!!  Not just any sandwich but a Fried Chicken Sandwich with Slaw and Spicy Mayo!  Yum!  I had only one problem.  (I have multiple problems but we are limiting my issues to this one recipe right now.)
Next to fires, frying scares the heck out of me.  I am afraid of burning myself, plain and simple as that.  I know people fry food every day without a problem but I have always been petrified of doing it. (It is like falling asleep with a spider over your head.  You know reasonably that the spider isn't going to do anything to you in your sleep but there is always that chance that something may happen. )
So are you now waiting for me to say how I looked my fry pan in the face and fried some chicken?  Well, that didn't happen!  No way, no how!  I just am still too scared.
Instead, I opted to Cook the Cover BUT I made a simple cast iron faux fried chicken that I like.  I will whole-heartedly admit I missed the wonderful crunch you feel in your teeth when biting into a perfectly cooked pieced of fried chicken.  (I am scared of cooking fried chicken, not eating it!)  But given all the other tasty components of this sandwich, it was delicious.
I used A LOT more pickles than the original recipe, used only red cabbage and added some of my Cowboy Candy.  Not huge differences but I wanted to make sure I included those changes.
Here is the link to Bon Appetit's recipe and below is my little tweak to it.  It is a lot of steps that you can do early so read the recipe EARLY so you know what needs to be done.
Baked Chicken Sandwich with Slaw and Spicy Mayo
Faux Fried Chicken Ingredients
2 8 ounce chicken breasts
1 cup buttermilk
1 cup flour
¼  tsp onion powder
¼ tsp red pepper
¼ tsp celery salt
Faux Fried Chicken Directions
Mix buttermilk, onion powder, pepper and celery salt.  Add chicken and let it marinate at least for two hours.
Oven at 425.
Shake off marinade and dredge chicken in flour and place on wire rack.
Heat oven proof cast iron skillet over medium high heat.  Add a couple of Tablespoons of vegetable oil.  Add chicken cook for 4 minutes.   Flip and place pan in oven for 10 minutes until chicken is done.
Spicy Mayo Ingredients
1 clove garlic, finely chopped
¼ cup mayo (I reduced the mayo but didn't reduce the garlic and hot sauce.  I wanted the sauce to be EXTRA spicy and I was only making 2 sandwiches.)
1 Tbsp hot sauce
Spicy Mayo Directions
Mix ingredients in a small bowl, cover and chill.
Slaw Ingredients
½ small red onion, finely diced (It was about ½ cup)
4 cups thinly sliced cabbage (I used one head of red cabbage and it was 4 cups.)
½ pint bread and butter pickles, plus ¼ cup of pickle juice
1 jalapeno, thinly chopped
Slaw Directions
In a larger bowl, toss all ingredients, cover and chill.
Sandwich Assembly
2 large buns (I used a cheesy one)
1 Tbsp of butter
Cowboy Candy (optional)
Cut the buns and brush with butter.  Toast on a small skillet until the bread gets brown.  (Don't skip this step because the crispy bread makes up for the omitted fried chicken.)
Spread mayo on the bun, place a piece of chicken, add a little slaw and a couple of slices of Cowboy Candy.
This was a two-napkin kind of sandwich but worth every messy bite.  It is the kind of sandwich that you order in a restaurant and you want to go back the next day for another one.  It really is that good.
So I am back in the kitchen.  My brain is slowly turning back on and I can't wait to see what it comes up with next!