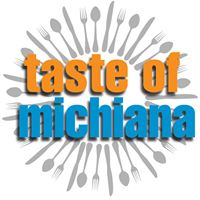 One of the best parts of spring is it seems to launch the food festival season. Whether you live in a huge city like Chicago or one of the smaller suburbs, odds are you will find a tasty outing within your reach.
If you have never gone to one and are a little intimidated, it is time for you to get your feet (or is it fork) wet! The Taste of Michiana will be taking place Wednesday, April 26, 2017 at 5-8 PM (Eastern Time) at the Century Center in South Bend, Indiana. (And for my Chicago readers, this is a great way to peruse some places you may want to go when you trek out to Indiana for a Notre Dame game or a close to home vacation.)
Your $25 (adult)/$15 (kids 6-16) ticket will include tasty tidbits from a HUGE variety of restaurants, gastro pubs, catering services and local stores. (Click here to view the list of participating restaurants.) Plus your ticket includes a plethora of adult and kid friendly beverages to quench your thirst. (Remember to drink responsibly and designate a driver.)
Proceeds from Taste of Michiana will help benefit the Life Treatment Centers of South Bend. Life Treatment Centers of South Bend has been helping local folks with chemical dependency resolution since 1972. They are not just treating their patients but they are helping out the community.
The fun thing about Taste of Michiana is that the food is not too "fancy." You aren't going to stare at it wondering what you are eating or how to do it properly. To give you a little teaser, I was able to attend a small showcase of a few of the restaurant's dishes. (Obviously, you will be getting a tasting portion but this should be enough to get you hungry!)
So grab the kids (or call a babysitter) and purchase your ticket at the door because rain or shine, the Taste of Michiana will be a great way to sample some great food while helping others.