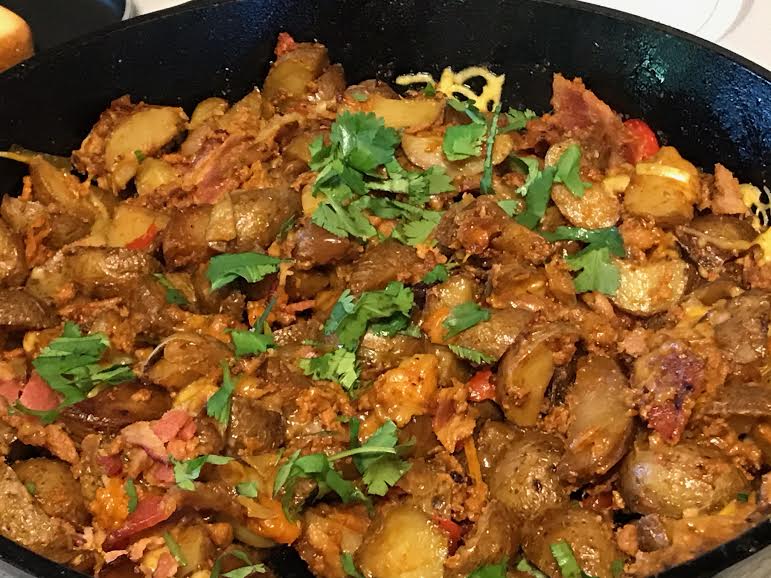 Small Potatoes. Do you ever feel like your life is small potatoes compared to the bigger picture? I've been trying to write a post for the past couple of weeks and all I do is delete what I type because I feel like it is such a tiny view in world that seems so large.
My first thoughts were to be really deep and insightful about our food world today but honestly the restaurant industry is doing such a beautiful job sharing these stories that I don't think I'd do them justice. (I'll just add to remember to support your favorite restaurant by ordering take out, getting a gift card or showing them a small gesture of gratitude….and by small gesture I mean contribute to any crowdsourcing/fundraising they may be involved with.)
When I started Felt Like a Foodie, it was all about the premise of learning and creating food within the confines of a living in a small town. Now EVERYONE is writing stories about cooking while confined to their homes. Am a trendsetter or what?
Granted, there are a couple of "minor" differences but it is really fascinating to me. I feel like I need to step up my game. I feel like I have some sort of weird Pandemic Peer Pressure that goes beyond who can do the biggest puzzle or grow the cutest little herb garden. (I've still not done a puzzle and I think my herbs died last night.)
All of a sudden it is in Vogue to cook your dinner with a floppy pony tail and disheveled top. The kitchen doesn't have to look like it just jumped of the screen of an HGTV special but it can look lived in with papers in the background and maybe a big goofy German shepherd poking their head in every once in a while. I should be thriving in this environment but I'm not.
In addition, famous chefs are now sitting at home making videos and writing stories to help bring up the spirits of all their fans. I can't compete with that! Everyone knows my sarcasm in times of trouble is my true voice!
I'm not getting anything done because I keep watching Food Network chefs teach knife skills or a Top Chef make her lunch. No one wants to see me make lunch…. except my dog and husband…they are my captive audience….and they both are always hungry.
I think I have some sort of weird pandemjealousy. When I cook, I'm in my own head doing my thing. It doesn't even occur to me that someone might want to get a picture of my dicing skills or all my ingredients placed skillfully on my counter. I just grab my ingredients and it is go time.
My routine is to put turn on my old IPOD and let the music shuffle through songs as I sing to myself in the comfort of the privacy of my little kitchen. I do actually think of recipes I want to share but I'm trying to figure out what is the trigger to HELP me share more.
If there is something YOU'D like to see, please feel free to email me a request at my email Feltlikeafoodie@gmail.com I'm sure there are topics I haven't touched.
So, for now, I'll probably keep doing what I've been doing for the past 8 years. I'll write a little story and share a recipe. I think I may just like being a small potato.
Small Potato Breakfast
Ingredients
2 pound new potatoes (I halved mine)
4 ounces ground chorizo
2-3 slices of bacon, cooked
1 red pepper, diced
1 small onion, diced
Handful of grated cheddar (about ½ cup or so)
olive oil
salt/pepper
Optional: Egg of your choice, cilantro
Directions
Oven 425
Toss potatoes in olive oil. They should have a little shine on them but not dripping in oil
Spread on a parchment covered baking sheet. Sprinkle with a little salt and pepper. It is okay if it is a double layer but not much higher than that.
Roast for about 20-25 minutes. (Mix them up at the halfway point.)
While potatoes are cooking, sauté the chorizo over medium heat in a cast iron pan. Remove from pan.
In the same pan, swirl in a little olive oil and add your pepper and onion.
Cook until tender.
Add the chorizo, cheese, chopped bacon and cooked potatoes to the cast iron skillet.
I let it cook a little more because I like a crispy potato.
I HIGHLY recommend making an egg to go on top. Something like sunny side, over easy or poached.