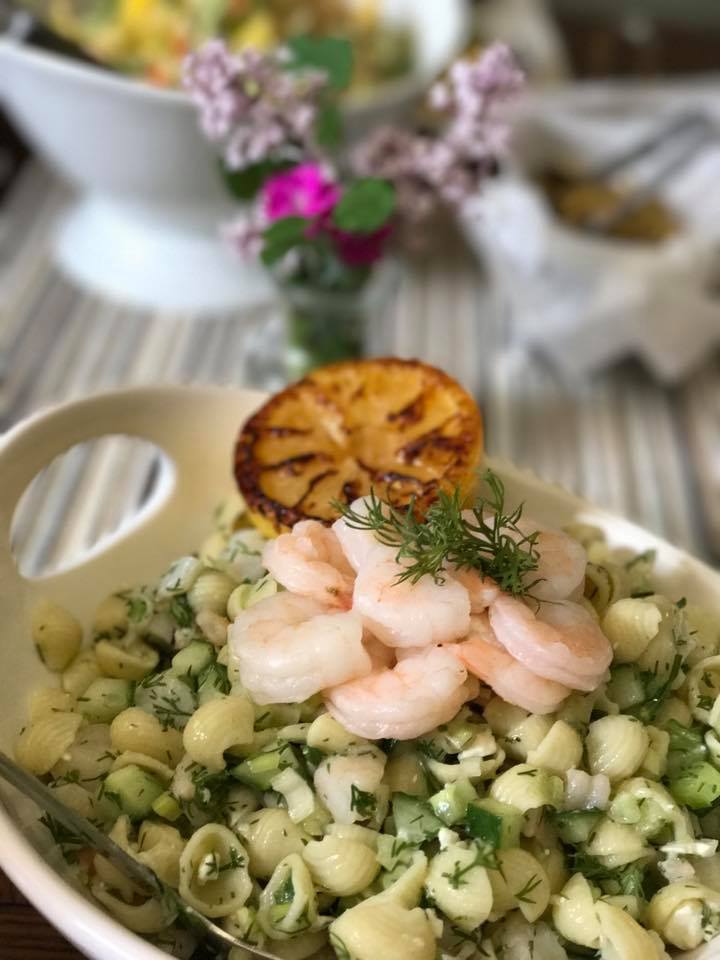 One of my favorite parts of summer is also one of my most dreaded parts of the summer.  It isn't the fact that we finally have beautiful sunshine and yet the afternoons are too steamy to go out.  It isn't the fact that our scenery in NW Indiana looks so amazing that our roads get packed with the tourists all trying to see it.  It isn't even the reality that the cool nights get spoiled by the sting of mosquitos.
It is really simple….it is pasta salad.  I LOOOOOOVEEEEEE pasta salad.  I mean it is pasta (WIN) and it is considered a salad.  (Okay, not really but who am I to argue with a name.)
I love the compelling textures and flavors of the different ingredients.  You can have soft, chewy and crunchy all in one bite.  It can be salty, sweet or sour.  It is just a matter of creativity and tasting as you go along.
The problem comes along is that somehow pasta salad has turned into an overdressed, mushy cheap dish that folks bring at their take along dish to summer BBQ's.  I've had so many that are drowning in Italian dressing that it makes you pucker (in a bad way) as you take your first bite.  There is no balance….no excitement….no zazziness. This is not what pasta salads are about!
I get that pasta salads are great because you can make them ahead of time and, yes, they can be economical.  But who says you can't make them special?  Don't they deserve that?  Don't your guests?  (I'm very passionate about my pasta salad.)
Like usual, all this emotion came up when we were having company the other week.  I wanted something refreshing to serve with my entrée….but I needed it to be easy….because I am behind on life right now and I needed to catch up on my cleaning.
I found a great recipe online for a Roasted Shrimp and Orzo Salad by Ina Garten.  Great.  It looked simple and even though I usually don't try new recipes on guests…it was an Ina Garten recipe so I knew it would be good.
The problem occurred when I got to the store.  I forgot that it was Memorial Day weekend which is the first big "tourist" weekend in our area and our stores are packed.  There was no orzo, no parsley, no red onion and no fresh shrimp.  (They had fresh-frozen but I was in a time crunch.) Arghhh!
This is why people phone it is when it comes to pasta salad.  They get desperate and sad.  I couldn't be like them….I still had to make it great….just to prove a point….I won't be sad.
No orzo…fine…I'll by little shells.  No red onion….I'll use a shallot.  No fresh shrimp…I'll buy some cocktail shrimp.  This will happen….and it did.
It took a little tweaking and a little extra lemon but it came out amazing.
This one was a keeper…and it will be a go to for this summer….dare I say…it'll be a favorite.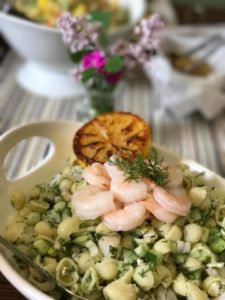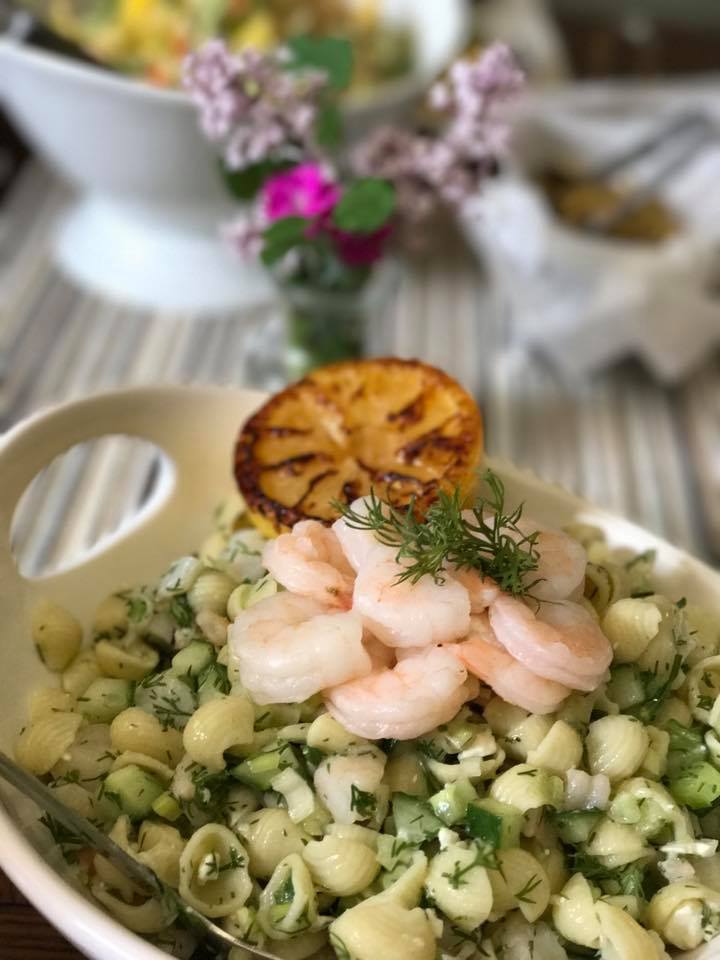 Shrimp and Shell Pasta Salad
Ingredients
Try to cut everything so it is about the size of the pasta shell, a little variation but you want it to look uniform
½ pound of small pasta shells (don't cook it just yet)
¾ cup of lemon juice
½ cup of GOOD olive oil
1 tsp Dijon mustard
Salt and pepper
1 pound cocktail shrimp, cooked (really any size is fine, you can chop it to your desired size)
6 green onions, chopped
1 cup of dill (it has to be fresh)
1 English cucumber, small dice
1 shallot, diced
½ cup feta cheese
Extra Lemon Slices
Directions
Whisk together lemon juice, Dijon mustard, olive oil, a little salt and a couple of grinds of pepper.
Cook the pasta per box instructions.
Drain the pasta.
In a large bowl, add the hot pasta and drizzle with about half the dressing. Stir well.
Add the remaining ingredients continuing to reserve that extra dressing and mix well.
Drizzle about ½ of the remaining dressing.  Cover and Put in fridge.
When it is time to serve, take a taste.  It may need more dressing, it may not…it is your call.
I served it with some extra lemon just because I personally love the taste of lemon and shrimp.
Enjoy.