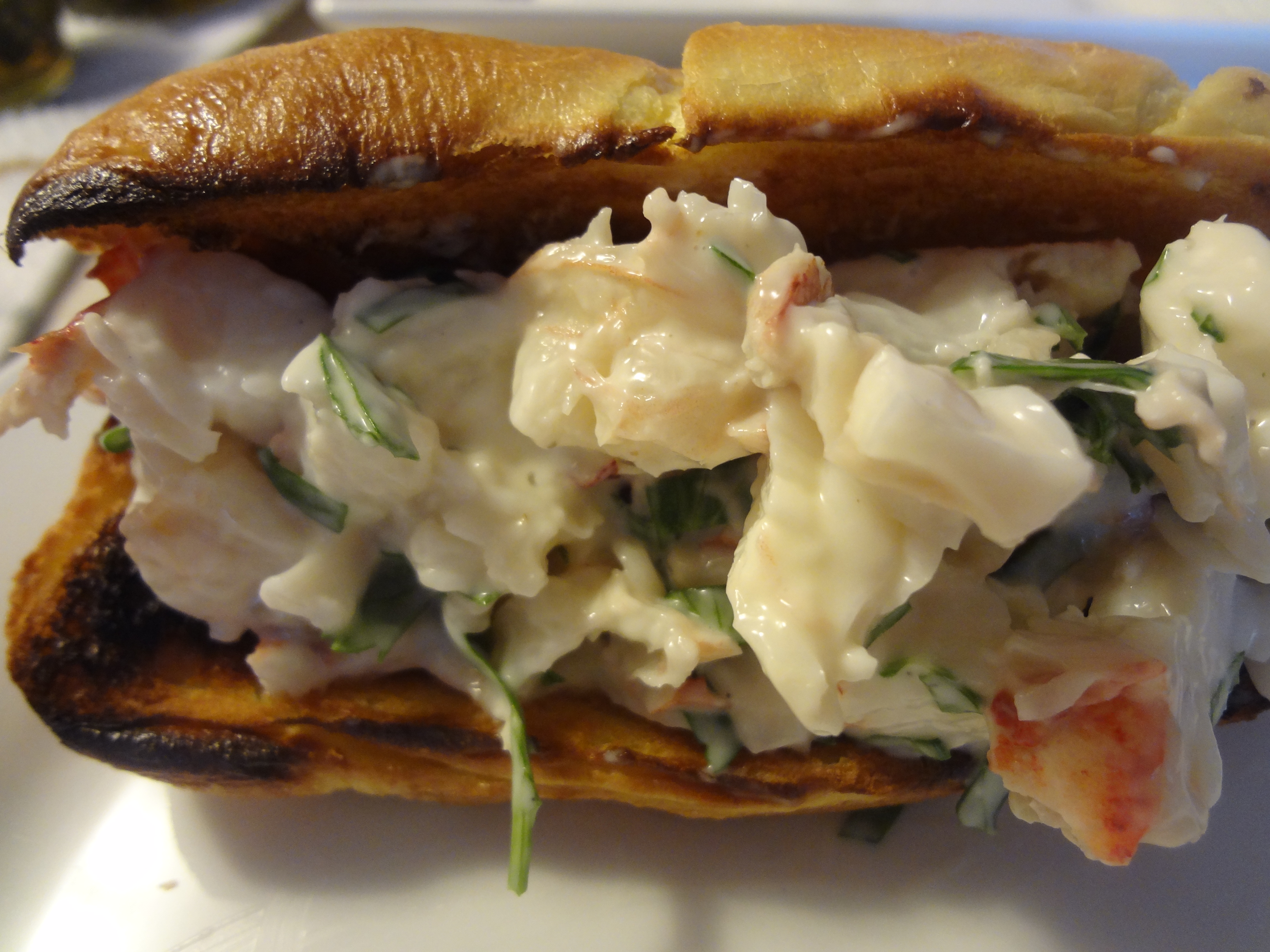 Am I the only one who keeps hearing about Lobster Rolls?  It is not like they are a new food item because they have been around since the 1970's.  (I don't know that for a fact, I was an infant and that was the rumor around the playpen.)  It just seems to be the sandwich of the moment right now.
A New England favorite, the lobster roll is simply just a hot dog style bun toasted with butter, a little mayo, celery and lemon juice.  (I've seen a lot of variations such as tarragon, scallions, and hot sauce.)
There is also a Connecticut variation, which is just lobster and butter on a bun.  I've also heard this referred to as the "ladies lunch roll."  Supposedly it was a way for ladies to enjoy lobster without getting their hands dirty.  (My hands still get dirty so I must not be a lady).
Anyhow last week, our power went out after a big storm.  My first thought was don't open the refrigerator. I was going to make a surf and turfy type dinner but due to the power outage I didn't want to spend a lot of time pulling things out to cook.
My next thought was I just pulled out lobster tails and was thawing them in the fridge!!!  They were only the cute little 4 ouncers but still it was LOBSTER!!!  I could not let them go to waste but it was only about a pound of meat so it wouldn't be enough for dinner….I needed a filler…..like bread….or a roll….ahhhh…LOBSTER ROLLS!!!
I knew it would be a breeze to quickly grab my three essential cold ingredients, lobster, butter and mayo.  (This is where I called upon my superhero skills to move really fast.  I don't abuse this power so I use it sparingly.)
The next drawback was that I didn't have power so I headed out to the grill, melted my butter, grilled my tails and toasted my buns (and the rolls too.)  I picked some celery leaf from my garden and mixed it all up.
What came out of this hot summer day with no electricity was a powerfully good lobster roll.
Lobster Roll
Makes 2 rolls
Ingredients
4 4-ounce lobster tails, cooked  (these seem to always be on sale around holidays)
¼ cup mayo
3 TBsp lemon juice (I had lemons on the counter, phew)
2 Tbsp chopped celery leaf
2 Tbsp melted butter
Salt and pepper to taste
2 brat buns (I like the flavor of these better than hot dog buns.)
Directions
Chop lobster in nice big chunks.  Don't mince it up, you want a good bite of meat.  Place in a medium bowl and set aside.
In a smaller bowl, mix mayo and half the lemon juice.  (I like it lemony so taste it with half the juice in it and decide for yourself if you want more.)
SLOWLY, I repeat, SLOWLY, add about half of the mayo mix to the lobster.  It should be "wet" but not sopping with mayonnaise.  If you need more add it now.
Mix in celery leaf and add salt and pepper to your taste.  (It really doesn't need a lot of seasoning.  The lobster will speak for itself.)
Put in the fridge (if you have power) for at least 10 minutes to chill.
While the salad is chilling, brush inside of your buns (I'll let you fill in your own joke here) and toast them.  I'm a little generous with the butter here because I LOVE how butter and lobster taste together.
Add salad to the bun and serve.
The best part about lobster rolls is that you really don't need to go crazy trying to make a "flavor profile" in this dish.  The lobster should be the star and will be if you keep it simple.
It was such a welcome treat to have such a decadent treat in an effortless form on a day without power.  It almost makes me wish it went off more often.  (Okay not really, I would have been a terrible Amish person but the sentiment is there.)