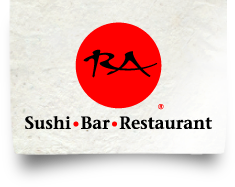 Dilemma.  I love sushi.  (Okay, that is not a dilemma.)  The problem is that not all of my friends love sushi.  (They have other redeeming qualities.)  So every time I leave my small town, I want to go to a sushi restaurant and they don't.
Well thanks to RA Sushi's new updated menu, I will never have to choose between my friends and food again.  (Really that decision is easy….sushi wins!)
I went to RA Sushi in Lombard, IL this past week with my friend Beth and did something I have never done before.   (And no it doesn't have anything to do with drinking too much sake and posting pictures on Facebook.) 
I did not eat one piece of sushi!  (Gasp!!!)  It is not like there weren't a bunch of rolls to tempt me (Tootsy Maki, Tunacado, or Crazy Monkey Roll to name a few).  I just wanted to concentrate on some of the new menu items.
Getting started, we enjoyed the edamame dip (creamy edamame/spinach dip with light wonton chips for dipping) and garlic edamame (Japanese classic of steamed edamame tossed in garlic butter and Asian seasoning.)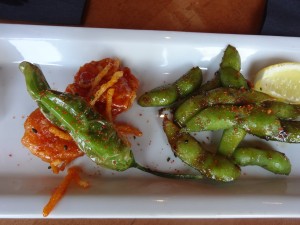 Just writing about the garlic edamame is making my mouth water.  Imagine taking a pod in your fingers, placing it your mouth and pulling the bean out with your teeth as the flavors of garlic, butter and spice hit your tongue.  (It is a must have!)
I was also truly excited by the edamame dip.  Who doesn't like spinach dip? It was creamy but it wasn't heavy.  The warm, freshly made wonton chips were also an added bonus.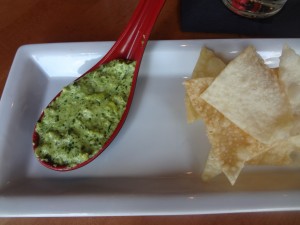 A great option for your friends is to have them try Ra's Asian Chicken Wings.  Tossed in one of three sauces (Sesame Garlic, Black Pepper Teriyaki, Chili Ponzu), there is something for everyone.  I loved the chili ponzu, a great balance of sweet and heat.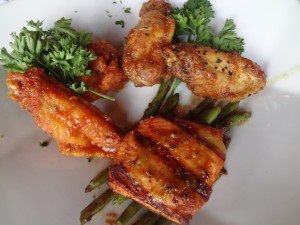 Another surprising menu addition is the Crispy Asian Tacos.  (Tacos in a sushi restaurant?) Served in brilliantly crafted rice paper shells, the five taco options (Spicy Tuna, Spicy Salmon, "RA"ckin' Shrimp, Crispy White Fish and Guacamole Chicken) were a textural treat for your lips.  The wasabi rice cracker bits in the tuna and salmon added pleasant crunch.  It was Asian/Mexican fusion at it's best.  (Now my mouth is watering again!)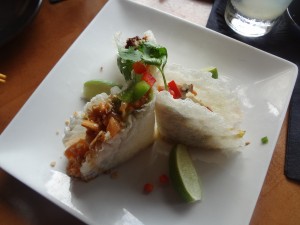 Now don't fill up on starters because you have to save room for RA's new entrees. I was able to taste the Salmon with Green Beans (grilled salmon atop garlicky green beans and drizzled with a spicy yuzu sauce), Bonfire Shrimp (lightly breaded/fried shrimp tossed in chili sauce with fried shishito peppers), and Drunken Black Mussels.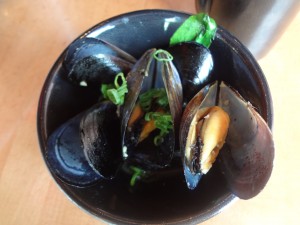 Oh those mussels!!!  Sake steamed and sautéed with garlic and soy sauce, these were just unbelievable.  The mussels were big and plump and carried the flavor of the broth beautifully.  Beth called them "Magic Mike Mussels" because they were so huge.  (I still think she was inappropriate tucking the dollar bills in their little shells but Beth did have a Lycheetini so I'll blame it on the martini).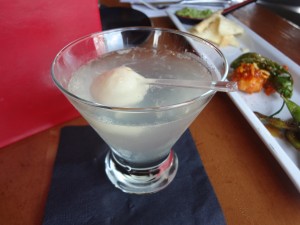 We saved enough room to indulge in the Sweet Mochi Ice Cream (ice cream wrapped in rice cake) with strawberries and kiwi.  This was a gratifying ambrosial conclusion to an extraordinary meal.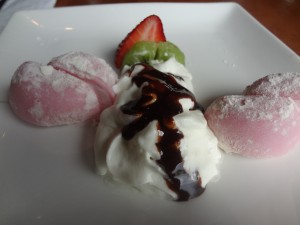 Now I have a new dilemma, there are way too many delicious things on RA's new menu for me to choose what I want to eat!  Thanks for the great food; I can't wait to come back for a "RA"peat!  : )