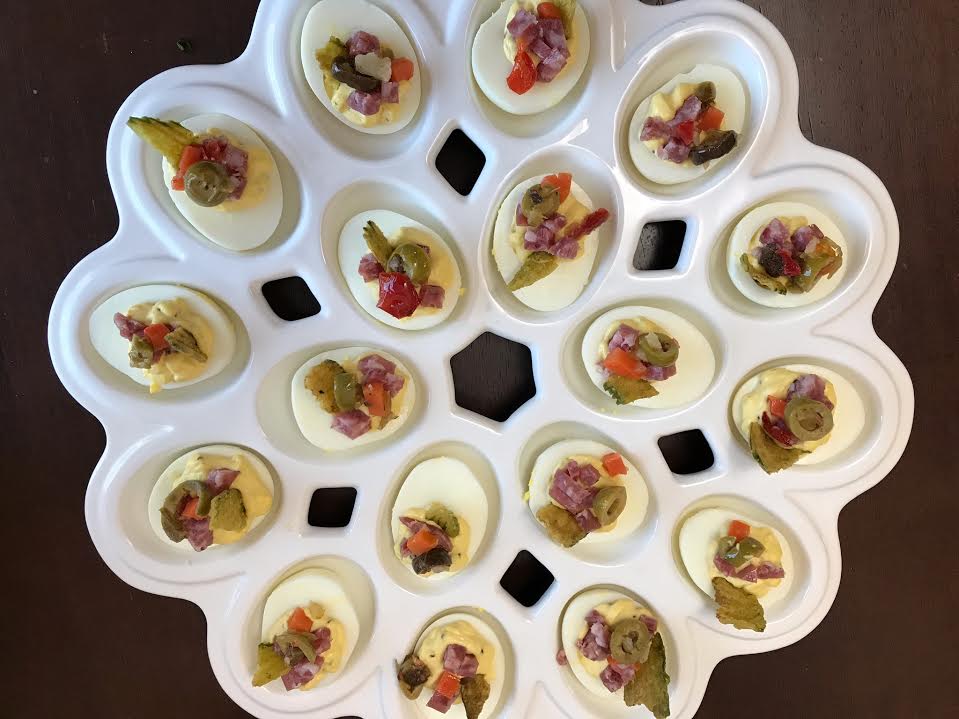 With everything going on in the world today, it is kind of nice to have things that are part of your "old" normal routine. Whether you have a certain day you wash the sheets or a soup you eat every Monday, it gives you a sense of control over a life that is currently uncontrollable.
I've been having some fun looking back at my older blogs to see if there is a certain topic or food I write about EVERY year. There are always a lot of soups, pastas and salads. (So many soups….so little time). I hit topics like garden fresh, seasonal and regional favorites. I love a blog on food history (or the way I see the history), a new hot ingredient and basic food trends I've seen when I'm out.
The funny thing is that I don't do a heck of a lot of blogs that are based on Holiday foods. I probably get in one or two in the fall but I'm not the blog to go to if you are looking for inspiration for great big holiday menu.
The only time I seem to be consistent in this venue is my annual devilled egg recipes. (Here is a quick link to past egg creations.) Every year around Easter, I like to share a "new" devilled egg recipe. Devilled eggs are perfect little vessels no matter what you do to them but I like the fact that they have some versatility to them.
I will confess these were invented about a month ago when I had to make a snack for trivia night. (Remember those days where you could go to a game night!?)  I wanted something that was going to be a mini-meal all in one bite except the only problem was I didn't have the time to go to the store.  (It is also good because we shouldn't be running out to the store for random ingredients right now.)
This year's special egg is (drum roll please) the Muffuletta based off the Italian sandwich that originated in New Orleans.  The sandwich is traditionally made with ham, salami, olives and some cheese. Simple, right?
My inspiration was my pantry and deli drawer in the fridge.  I had olives, meat and eggs.  It was a no brainer.  I whipped these up and was really happy with the result (and even though our trivia team went down in flames…the eggs were a big hit.)
Feel free if you can't find an ingredient right now to make some creative substitutions….it is a devilled egg…it is pretty much impossible to screw up.
Muffuletta Devilled Eggs
12 hard-boiled eggs
6-7 Tbsp Mayonnaise
1 tsp of dill pickle juice
1 ½ tsp of grain mustard (If you don't have a good grainy mustard, use what you have on hand but maybe go a little light handed and taste it.)
a dash of cream, milk or soft cream cheese if you need to smooth it out after mixing
¼ cup of hard salami cut into pieces
¼ cup of ham cut into pieces (once again if you only have one or the other make the substitutions)
2 Tbsp mozzarella cheese (small chunks would be optimal)
¼ of whatever olive mix you have in the house (we actually had a jar of Muffaletta olive mix that was a little spicy, with olives, carrots and hot peppers so I used that)
Directions
Slice eggs in half, lengthwise and put all the yolks in one bowl.
Add in the mayo, mustard and pickle juice and whip together until smooth.
If it is too chunky, add a dash of cream, more mayo etc. to smooth it out but don't make it runny.
Add in the meats, cheese and olives. Stir until incorporated.
Fill the eggs. This particular devilled egg is pointless to pipe in because it is chunkier.
Garnish with an olive (I think I had some fried cucumbers that I put on top for an added crunch)