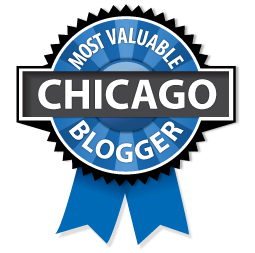 I just found out that I was voted Chicago's Most Valuable Blogger (Dining and Entertainment Division)!!!!
Thank you soooooo much for your votes and support!!!  I am literally speechless.
Given this will be the closest I will ever come to making an acceptance speech, I have to put out a couple of  special thank yous.
Thank you to all of my readers who voted.  It is obvious that this blog would mean nothing without all of you.
To my the family and friends who continue to cheer me on.  (Oh no they are starting to play the music to tell me to wrap it up.)
And finally a thank you goes out to my dear, sweet, supportive husband.  I won the husband lottery the day you married me.  Thanks for being my biggest fan!  I love you to bits.  (Okay, maybe I wasn't completely speechless.)