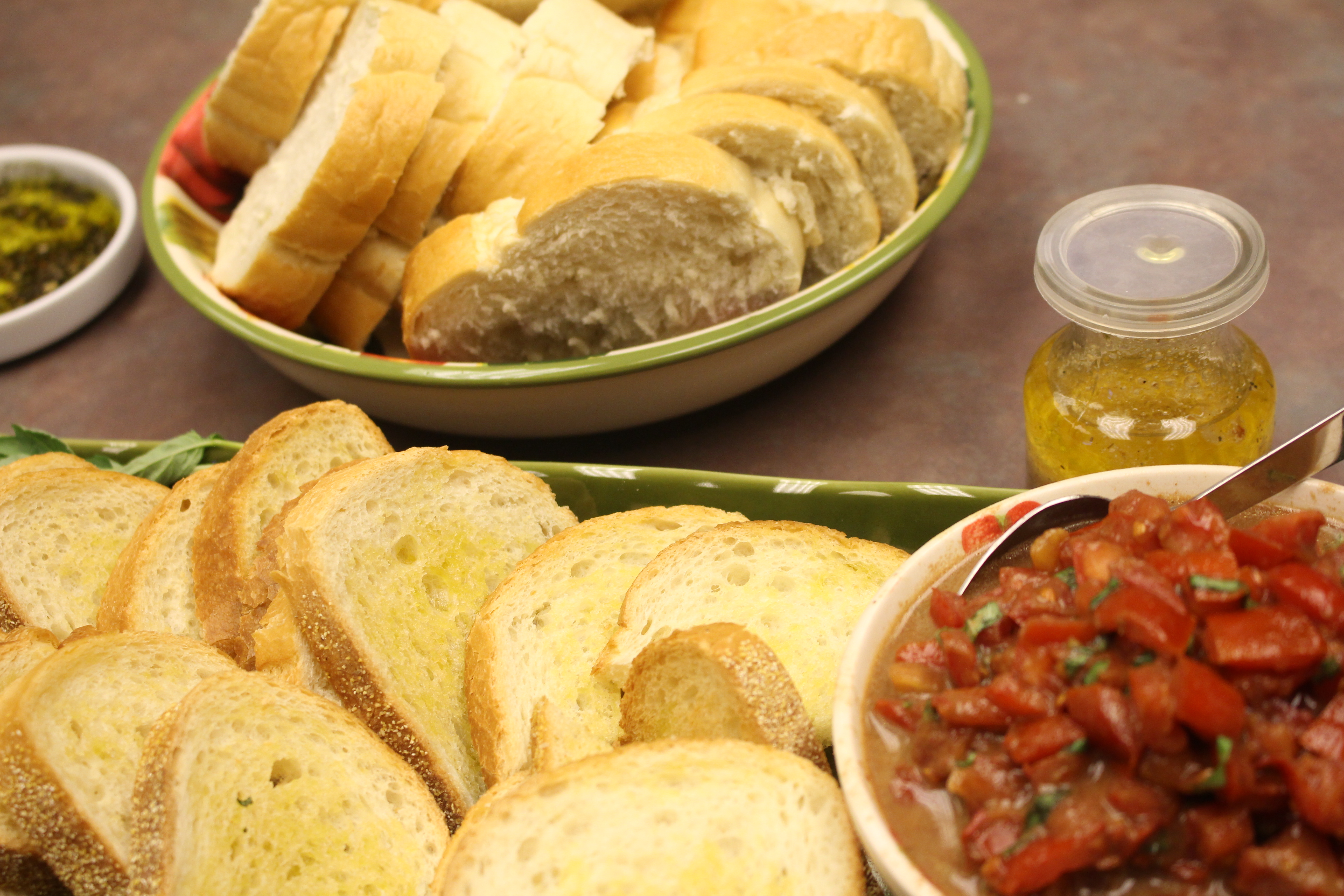 For anyone who has followed my blog over the past 2 and half years, you know that I poke some fun at my husband, Earl, on a regular basis.  I will admit that there are times I exaggerate his buffoonery and antics.  (The scary thing is that there are a lot times I'm not!)
Well today I thought I would shout out some praise for him because he just hit a huge milestone in his life.  (Nope, it wasn't his recently celebrated birthday.)  It s a milestone that I just don't hear people talking about any more.   He just celebrated his 20th year at his job.  (Woot! Woot!!)
This is a milestone that I thought I should honor with a toast.  Maybe not toast, this is such an auspicious occasion that I honored him with bruschetta.  Depending on which culinary circle you frequent, people have different opinions one what bruschetta actually entails.  (Gotta love my transitions!)
Most people only think of bruschetta as chopped tomatoes on bread because that is how most restaurants have trained us over the years.  (I'm talking about the average restaurant that most Americans frequent after being at the same company for 20 years.)
With the foodie revolutions taking over the world lately, I think people now know that bruschetta can be a plethora of ingredients on toasty bread. You can put on meats, cheeses and veggies and still get away with calling it bruschetta…if your bread is right.  The funny thing is that people seem to find the "toast" part to be the most challenging part of this popular appetizer.
There is an art to getting just the right amount of crunch to the bread without making it rock hard.  You also want it to have a touch of garlicky-ness without being overpowering.  It is a task that has taken me almost the lifetime of Earl's job to achieve.  (Remember me mentioning stretching the truth earlier…)
I took this task very seriously this past week because I was throwing a surprise party for Earl at his job Friday.  (This is also why I have completely neglected my blog.)  My challenge was to cook lunch for the office without Earl figuring out why our house was jammed pack with food.  (There is an oblivious factor here that I would normally mock but I won't since it is his special day.)
I knew my menu was great (pasta fagioli, antipasti salad, hummus and crudité, dilly eggs, roast beef rollers and some kind of bruschetta) but I really was concerned about screwing up the "toast."  (Most of Earl's co-workers read the blog and if I can't make bread I would lose all credibility.)
During all my food preparation, I played around with a couple of different techniques.  The first, which would be my preferred, would have been to grill it with a little olive oil.  Unfortunately, I didn't have the time to be outside grilling bread while making all the other food.  So I next tried my broiler, waaaaaay too crunchy.
Finally, I gave it a go in the oven.  Ta-dah!!!!  It was probably the most perfect little toasts, I've ever made and worthy of my husband's notable day.  So here is to Earl, thank you for working so hard every day for us.  I'm glad I've been around for so much of your journey.
Bruschetta (the bread, not the topping)
Ingredients
1 baguette cut into ¼ inch slices
Olive oil
4-5 garlic cloves, peeled and cut into halves
Topping of your choice (my favorite is a mix of fig balsamic, olive oil, tomatoes and basil)
Directions
Oven at 375 degrees.
On a baking sheet, lay out your bread in a single layer.  (It may take one or more baking sheets.)
Using a pastry brush, give the topside of the bread a swipe of olive oil.  (Don't drench it, just lightly paint it.)
Bake in the oven for about 5-10 minutes.  I am giving a varying time because everyone's oven is different.   Mine, technically, took 7 minutes.  Take a peek at the side that is on the pan, it should be light brown.
Right after it is out of the oven, rub the garlic clove over the top a couple times.
Cut in half on a diagonal and serve with your favorite topping.
As I thank my husband for all of his hard work, I also have to give a shout out to all the great people he has had the honor to work with over the years.  Earl's lunch was my gratitude to all of you.  I know he couldn't have done it without your contributions and support.  (And I also know your spouses aren't as cool as me so this may be the only party you ever get!)