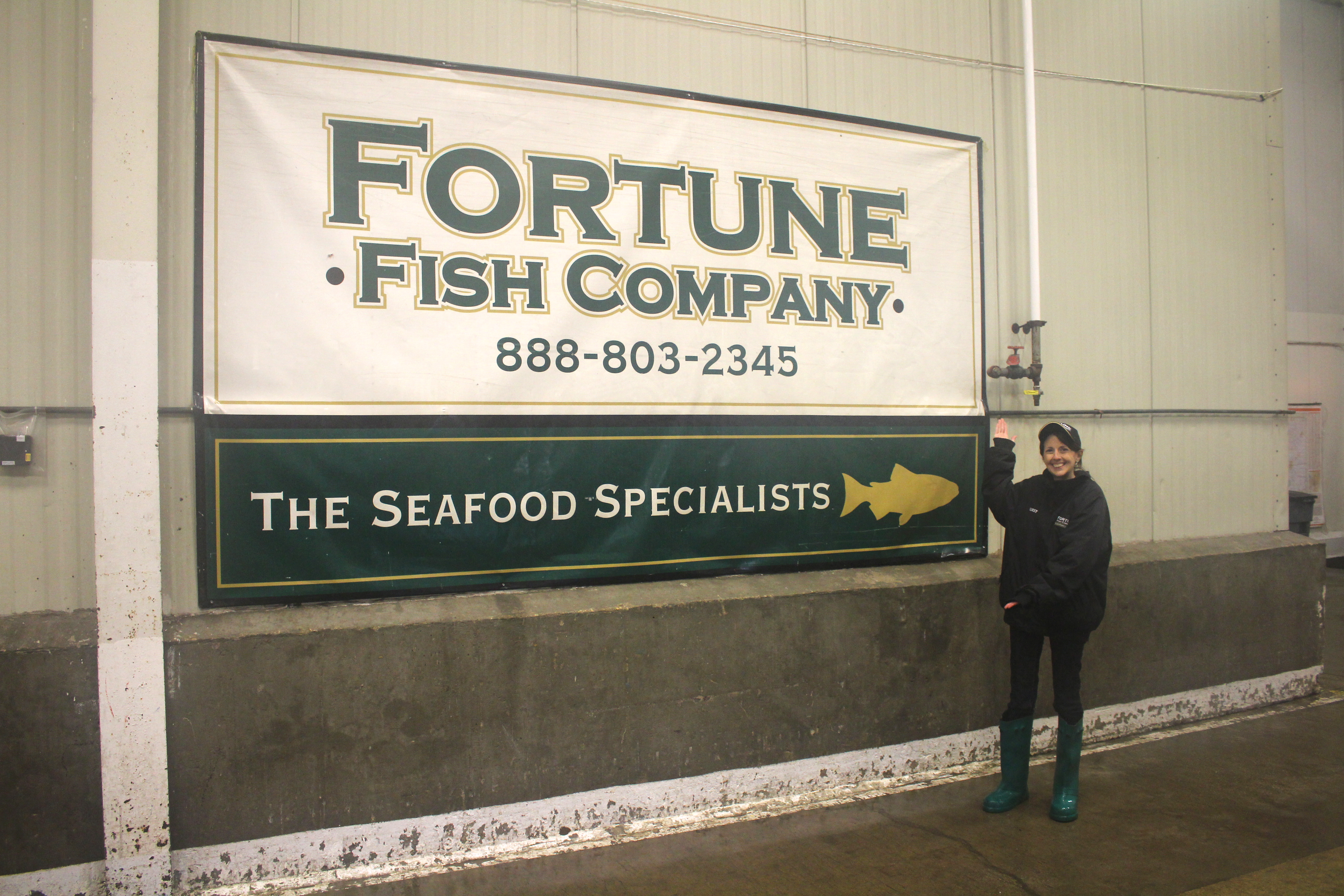 I did something that was completely off the hook this week.  I decided to go fishing for some answers about, well, fish.  More specifically, the availability of fish and shellfish in the Midwest.
One of the most frequent emails I receive after doing a tasting at a restaurant is that "I am sure your meal was good but fish in the Midwest can NEVER be as good as something from the coast." ARghh!  It is really aggravating.  That is like me saying you can only get good corn here in Indiana.  (Bring on the emails!)
I am here to school the naysayers on what happens between the "pole" and the "plate.".  I went to the experts at Fortune Fish & Gourmet to learn all about fresh fish processing and distribution in the Midwest.  (Actually they are one of the biggest distributors in the country!)
As the Midwest's only Marine Stewardship Council-certified distributor, I knew I could ask questions and not receive a fish tale in return.
So how do you get fresh fish in the Midwest???  Easy, you set up the distribution center (40,000 square feet) in O'Hare International Airport's backyard.  With a major airport minutes away, ice machines galore and a fleet of refrigerated trucks, the fish that comes in IS fresh.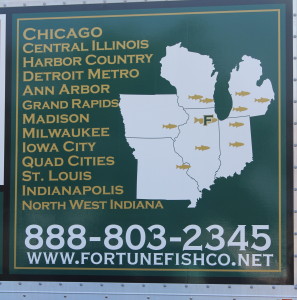 There is an effort to make sure that each fish has only been out of the water for a minimal amount of time.  The fish is seasonal, top of the line, domestically caught and sustainable.
Even more importantly, each fish is tagged.  You can pick up any fish at Fortune and trace it back to where and when it was caught.  The information on these tags is so thorough that the only thing missing is their mother's maiden name!  (There are privacy laws in the fish world too! Haha.)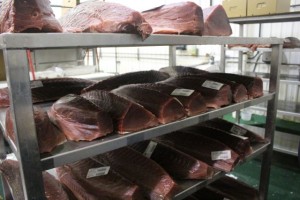 Am I supposed to eat "farm" fish or only "wild caught" fish?  You can eat either BUT just like there are good farms that you would buy your chicken, beef or pork, there are the same options for fish.  There are top of the industry fish farms that do their best to make sure that the fish are bred in a healthy, sustainable manner.
How can I tell if the fish I am buying is fresh? This is one I already knew…EGGS.  Eyes should be bright and clear.  Gills should be a rich red, not a brickish red.  Look for a Glow on the fish.  It should shine!   And finally, Smell, it should smell like clean water or the ocean.  If it smells like your pet goldfish you forgot about when you went on vacation for two weeks, flush it!  (Or better yet, just don't buy it!)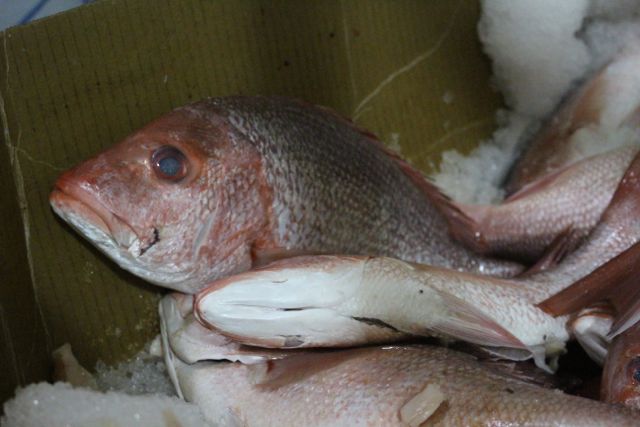 One of the things I liked best about my tour at Fortune Fish was seeing the cleanliness and organization of the entire fancily.  There was storeroom upon storeroom with alarmed thermometers to notify the workers if the temperature wasn't correct.
We would enter one area and the door would close behind us to ensure that we weren't letting out the cold!  In addition, the products were all separated so that shellfish wasn't mingling with the cheese (another gourmet product) and the finfish wasn't jumping into the lobster tank.
How do your clients learn so much about fish that are not local to this area?  Simple.  Fortune Fish actually offers a "school" to all of their purchasers and local culinary schools.  Topics can be as simple as Seafood 101 to more comprehensive classes that just concentrate on one group like farm-raised salmon.  (Classes can also be set up for client's specific needs.)
What does "fish processing" actually mean?  When I say process, I mean that Fortune Fish receives orders for fish.  The orders may be as simple as a specific grade of tuna or it might be more involved like a restaurant wanting 40 pounds of salmon boned, diamond cut and ready for service.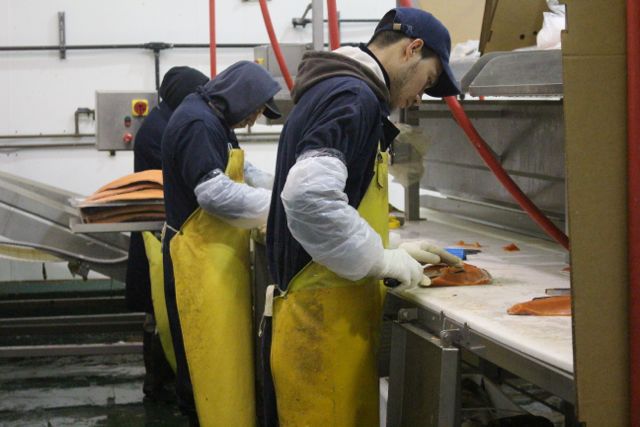 If Fortune Fish also processes the fish, what happens to all of the scrap?  The processing room was a bit quiet when I arrived but I did see the bins that held scraps (heads, bones, etc.) but I was happy to learn that it is sold to someone who reprocesses it into dog food.  (And everyone knows I love dogs!)
Felt Like a Foodie where can I find Fortune Fish products?  (This hasn't been a question yet but I knew it would be coming.)  Unfortunately, Fortune Fish doesn't have a fish market that is open for general public sales BUT start asking your favorite restaurants and grocery stores where they buy their fish.  If it isn't from Fortune Fish….walk out!  (Just kidding, tell them you read about Fortune Fish and think they should call 630-860-7100 and find out how to get it to your local stores or restaurants.)
Meanwhile, go to Fortune Fish Company's website and check out their pages about Fish Seasons, Oyster Types and a Green Fact sheet.  It will give you some valuable information for you discuss with your local fish provider.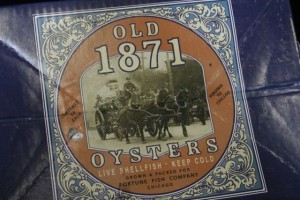 So does that help answer some questions?  I will 100% admit that I have had some doubts in the past about fish in the Midwest.  What I learned from this experience is that like any source of food we put into our body, it is important to know our sources.
I've learned some valuable questions to ask at the market and at my favorite restaurants and I am so glad that I went fishing for answers.