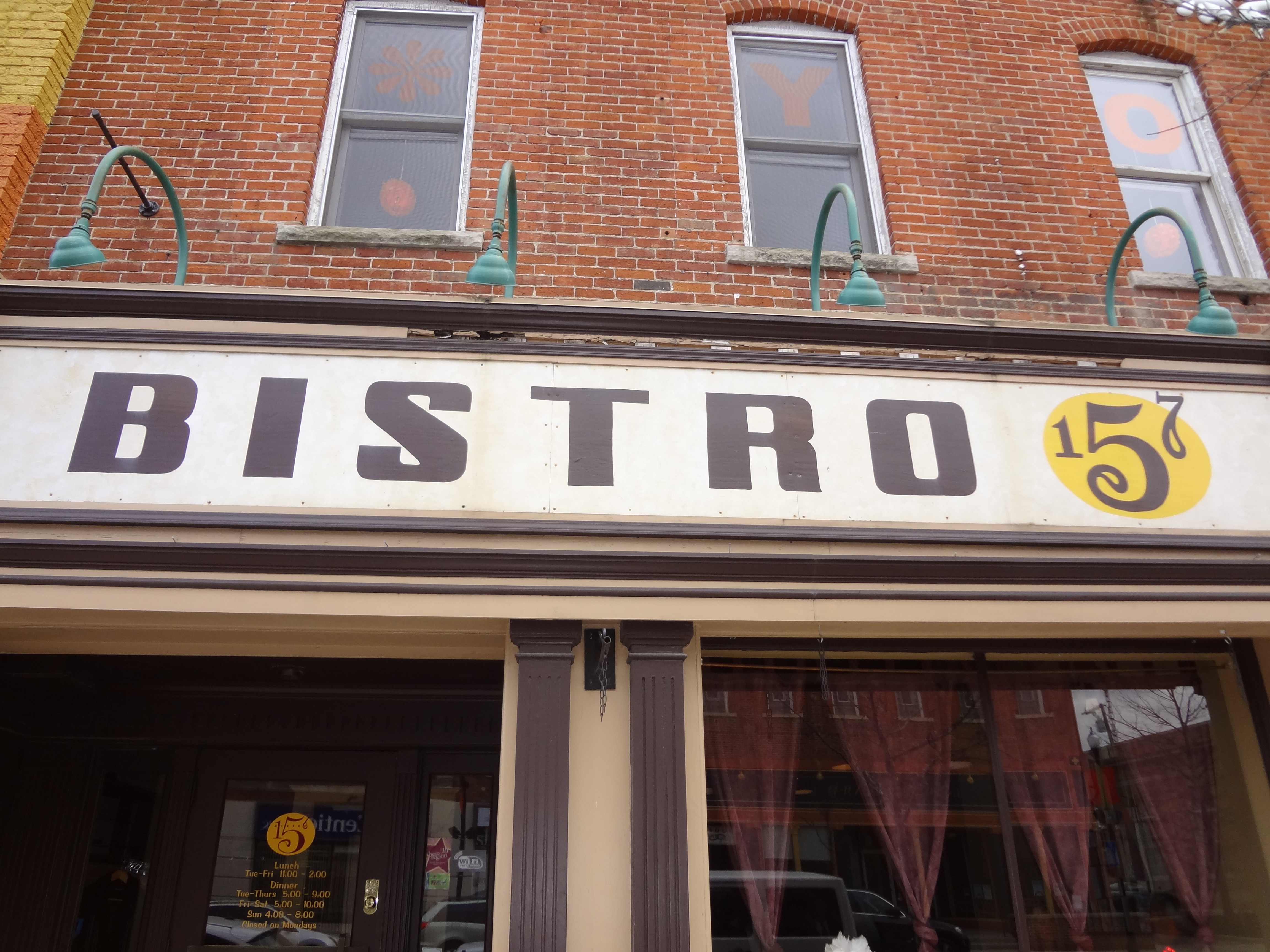 "How do I love thee?  Let me count the ways."  I am not sure what kind of love Elizabeth Barrett Browning was talking about but if it were about food she would have counted 157.  Bistro 157 (157 Lincolnway, Valparaiso, Indiana) to be exact!
Chef (and owner) Nicole Bissonnette's passion for Bistro 157 is pure poetry.  There is her devoted presence in every aspect of the restaurant. Her gracious staff  highlights the warmth in the atmosphere. (Hi Marlene!) And like a perfect poem each dish she creates exemplifies Chef Bissonnette's love and devotion to food.
Oh did I say food? The best way to describe the flavors would be French and Asian (and I'm going to toss in Mediterranean) dishes with a unique American twist.  The only way to really explain this definition would be to talk about the incredible food I ate today.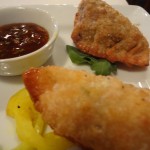 There is nothing better than surf and turf unless it is surf (lobster) and turf  (beef tenderloin) gyoza!  Each gyoza was surprisingly light and delicate.  And the dipping sauce was a wonderful balance of soy, ginger, chili oil and agave. I was especially thrilled by the pickled fennel salad. (My readers know I am obsessed with fennel!)
Staying with the Asian flavors, I enjoyed some of their sushi (a trio is featured daily).  I had the vegetarian mushroom roll and the Philly roll (smoked salmon and cream cheese).  As a sushi lover, every flavor satisfied my very picky palate.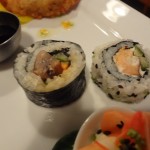 My final Asian inspired dish was the shrimp spoon.  Besides the fact that I am a sucker for anything on a spoon, I couldn't get over the wasabi cream cheese served with the shrimp.  It was creamy, light with the right amount of the "pow" one expects when they eat wasabi.  (In the winter, enjoy an extended sushi and Asian menu on the 3rd Wednesday every month and every Wednesday during the summer.)
Spins on restaurant classics changed the meter of the meal. (I really wanted to find a way to use iambic pentameter in a sentence but just couldn't do it!)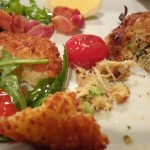 The model crab cake was flattered by a ravigote aioli (yellow pepper Creole style). And the BLT salad with the fried green tomato would have made Fannie Flagg smile.  (Not a poet but a really great author.)  The BLT salad had oven blistered grape tomatoes, arugula and fried bacon.  All of the components complimented each other so well that I couldn't put down my fork.  (It was such an inviting dish that I forgot to take a picture before I dived in!)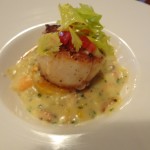 Speaking of diving, the seared scallop chowder was the essence of matching great flavors to unique textures.   The expertly seared scallop topped with celery leaf salad was served on top of crispy polenta in sweet corn chowder.  The surprises in the chowder were the bits of sweet potato, caramelized fennel fondue, and applewood bacon.  (Bacon AND Fennel, I AM in LOVE!)
Room for one more dish?  How about a Truffled five mushroom ravioli???  The aroma of this dish made my mouth water.  The ravioli was adorned with a celery root & apple butter broth finished with butter, arugula, caramelized onion & Romano.  It was rich and decadent but not heavy which is what I want in a pasta dish.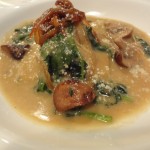 For my wine/cocktail loving readers.  The drink options are endless!  Fun martinis, international beers, and a HUGE wine selection will quench your thirst.  (I loved the character of the bar in itself. )
Like poetry, the menu at Bistro 157 has something on it for everyone.  I loved the fact that they catered to everyone from a steak eater to a vegetarian.
Speaking of catering, Venue by Bistro is just across the street. (74 Lincolnway, Valparaiso, Indiana)  The event space is available any time of the day and catered exclusively by Bistro 157.   (Bistro 157 also offers catering, to-go options, and has a great Facebook page.  They Twitter too!)
And finally, Chef Bissonnette is offering a series of wine education dinners on the last Thursday of the month at Venue.  (Schedule below)  The Sommelier's table will explore the foods and wines of France's Wine regions.  (Each session is $65 and you must register and pay in advance.)
Thank you to everyone at Bistro 157.  All of the food was poetry in motion.  There are a lot of restaurants that try to do some sort of fusion only to end in Shakespearean tragedy.  The intricate hand of Chef Bissonnette has elevated food to the next level of understanding proper technique, fresh ingredients, and equilibrium in flavor.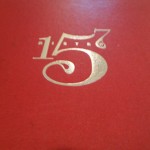 Sommelier's Table Schedule at Venue
Exploring the Wines and Foods of France
Thursday, February 23rd 6:00PM (Rhone)
Thursday, March 29th 6:00PM (Burgundy)
Thursday, April 26th 6:00PM (Sparkling-Champagne)
Thursday, May 31st 6:00PM (Loire)
Thursday, June 28th 6:00PM (Langued'Oc)
Thursday, July 26th 6:00PM (French Beer Dinner)
Thursday, August 23rd 6:00PM (Provence)
Thursday, September 27th 6:00PM (Bordeaux)
Thursday, October 25th 6:00PM (Alsace, plus eaux de vies)