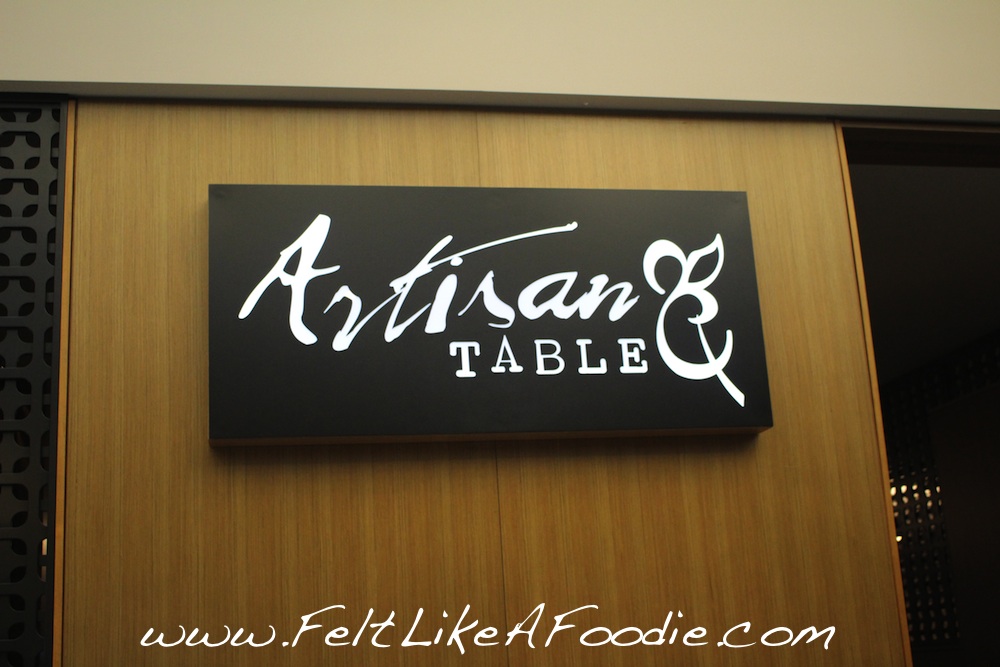 I must say this last month has been a bit crazy and I just figured out why.  September is National Honey Month and I have been busy as a bee!!!
With beekeeping and all the positive press lately on the benefits of honey, I had to see what all the buzz was about!  Luckily, The Artisan Table at the Chicago Marriott Naperville (1801 North Naper Boulevard . Naperville, Illinois) was kind enough to host a media dinner this week to celebrate everything HONEY!
Not just any honey but local honey…and I mean LOCAL.  On the roof of the Marriott, there are over 60,000 honeybees (6 clans each named after one of the employees children). Chef Sean Curry has learned the art form of integrating the fresh honey into The Artisan Table's already extensive menu.  (Technically the bees are cared for by Bronwyn Weaver of Bron's bees but Chef Sean loves them like his own.)
With more than just an emphasis on keeping his menu seasonal, Chef Curry also has been cultivating his relationships with local vendors and farmers to make sure he can incorporate only the best ingredients into his meals.
I could drone on and on about Chef Curry but I know you want to hear about his food!
From the first moment I walked into the dining room, the mood was set with fresh honey candles invoking our senses in anticipation for a great honey themed meal.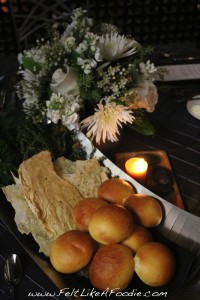 While the other guests enjoyed the whimsical honey themed cocktails, I had my eye on one thing…THE FOOD!  Chef Curry prepared 3 Hors d'oeuvres that were out of this world.  The duck confit sopas with honey chili glaze, casa Blanca and almonds were delicious. 
But I could have made an entire meal of the crispy pork belly with honey mango relish and the honey braised chicken flat bread with pumpkin, guancalle, fried sage and American Grana!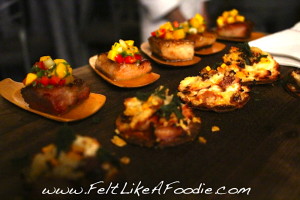 Our official meal starter, Honey-Glazed Scallops with a luxurious yellow pepper aioli, bacon powder (what part of the pig do you get the powder?) and sweet roasted golden beet, micro salad in a frico cup was phenomenal.  The aioli was so good I could have licked my plate and everyone else's at the table.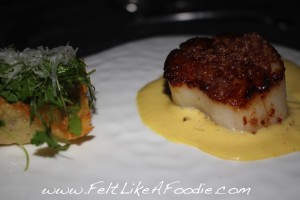 The next course was a "root" vegetable tagine that really highlighted some of best food to come out of the Midwest this time of year.  With Kabacha Squash, apples, fennel and Italian sausage, the freshness was very apparent.  I loved the tiny bit of heat that was supplied by the Wahaca pepper threads (nope, those were not saffron).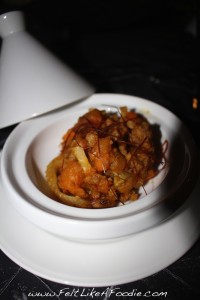 Following the tagine, our palates were refreshed with a green tea sorbet with honey caviar and candied ginger.  I am normally not a fan of anything made with green tea but the honey and ginger offset that flavor I don't usually like and I loved every bite.  (The honey caviar was a great play of molecular gastronomy!)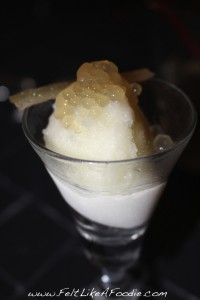 The only hard part of the evening was choosing my entrée.  We had the option of a Martini-marinated filet mignon with smoked bleu cheese, queen olives, juniper glaze de viand and a side of black kale, red marble onions, candied bacon, heirloom carrots and a savory citrus caramel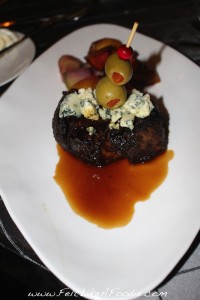 OR a seared 5-spice duck breast with Chinese mustard, Asian chopped salad, and ginger honey dressing OR a their signature Crab Cakes with red pepper coulis, sautéed baby spinach, figs, garlic and honey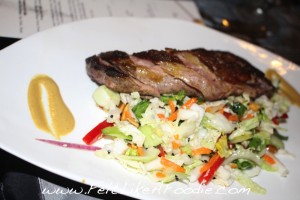 OR a Salted Honey-Kissed Trout with herb champagne vinaigrette, heirloom tomato salad (last of the season), roasted sweet corn, chanterelle mushrooms and butternut squash!   This was my final choice after changing my mind numerous times.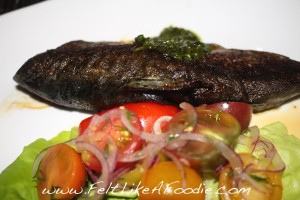 With the talented touch of pastry chef, Erica Tomei, our meal concluded with what can only be considered a show stopping dessert of Honey Roasted Donuts, honey caramel, white chocolate mousse and edible flowers.  It is rare that I am speechless but my mouth was too full to say anything.  Chef Tomei did an excellent making this dessert light, flavorful and not too sweet.  I would even say that Chef Tomei is the "queen" of pastry!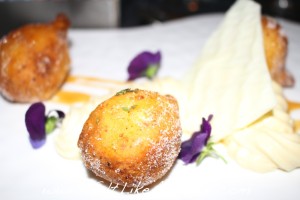 The overall evening was eye opening for a few reasons.  First and foremost, I need to play around more with honey in some of my cooking.  Next, if bees can make such a wonderful food like honey, they can't be that bad!  And finally, I think the suburbs of Chicago and the Chicago Marriott Naperville are really fortunate to have a someone like Chef Curry in their backyard (or hotel).  After talking to him, I was really able to see his true passion for his food and where it comes from.   He is taking huge steps to elevate hotel dining to not only be tasty but to make his hotel's restaurant a true part of the community.  He really is the "bees knees!"  (Okay, you know I had to get one more pun in!)