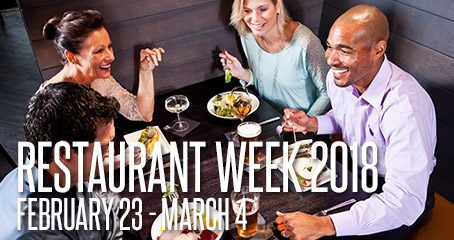 Are you ready?  Do feel like your own personal torch is lit and you are running gleefully as the world watches?  Is this the one event you've been waiting for all winter?  No, I'm not talking about the 2018 Olympics…I'm talking about Chicago Northwest Restaurant Week coming up on February 23-March 4.  (I'm giving you a heads up early this year so you can get your reservations in and peruse the menus at your leisure.)
To me Chicago Northwest Restaurant Week is a lot like the Olympics….it is a huge event and there is a lot to cover.  (If you've never heard of a Restaurant Week, it is a designated period of time where a certain group of restaurants offer multi-course meals for a set price. (Click here for participating restaurants.)  It amazes me each year how these restaurants all deserve gold medals for coming up with fun menus that allow you to experience a taste of their favorite dishes.
I wish I could show you EVERY restaurant but like most Olympic coverage…you don't have a lot of time to show every event.  For example, curling (you know the sport that is like shuffleboard but on the ice).  It is an awesome sport but people overlook it because you never see an Olympic Champion curler on a box of cereal or on the cover of a sports magazine.
I bring up curling because I feel like sometimes restaurants that are next to hotels are overlooked for their amazing cuisine because of that affiliation.  But that is far from true and Birch River Grill (75 W. Algonquin Road, Arlington Heights, IL, located by The DoubleTree by Hilton) was a prime example of this point and would be a great choice for Chicago Northwest Restaurant Week.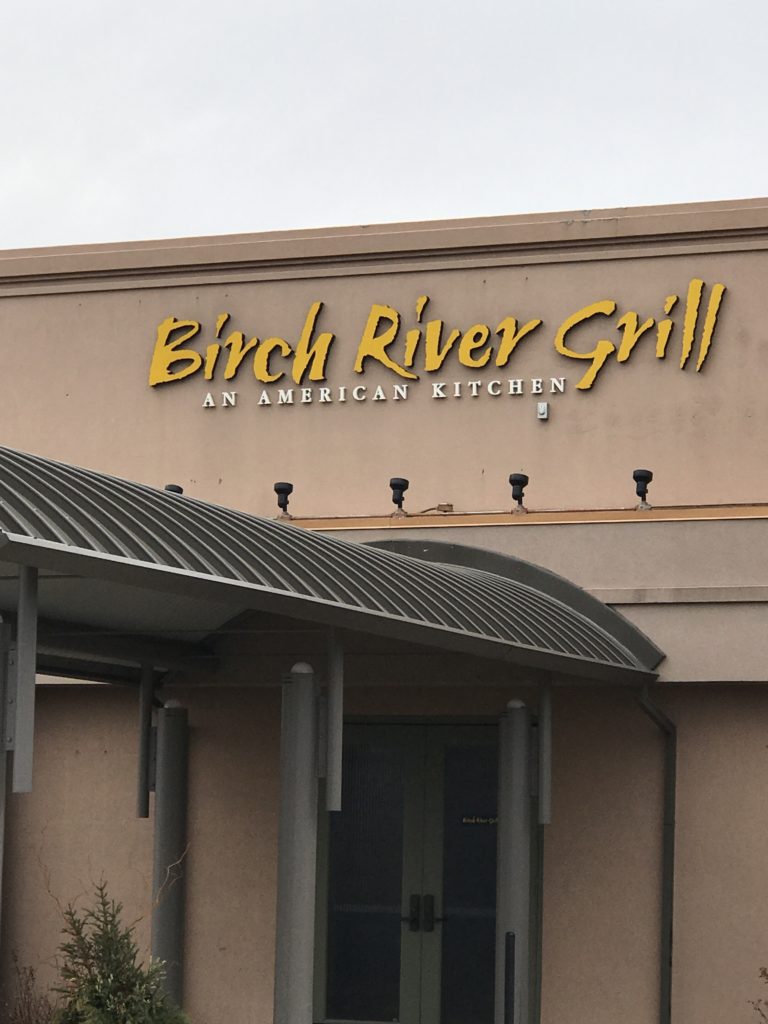 Offering a 3-course meal ($20 for lunch/$30 dinner), Birch River Grill has made its way to the podium and deserves to be on that center spot getting a gold medal.
My Olympic sized experience allowed me to try some of their restaurant week options plus the treat of enjoying some of Chef Gama Coronado's favorite dishes.  (If you are looking for a Valentine's Date spot, Birch River is also doing a great menu for couples on February 10, 11 & 14th)
I started with the Granny Smith Apple and Onion Soup.  Everyone loves an onion soup with the gooey cheese (provolone and Swiss) dripping off their spoon but the added bonus of the acidic tart yet sweet flavor of the apple was a great twist.  I wanted to do a victory lap around my bowl with my spoon.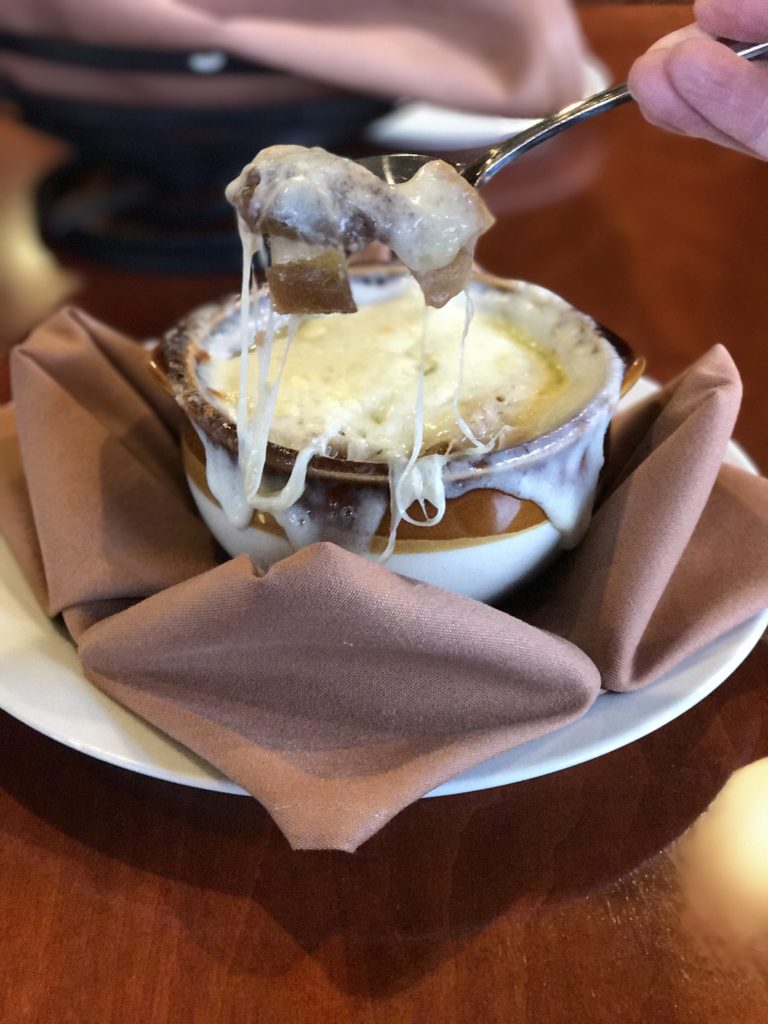 The lunch entrée option was the Birch River Broasted Chicken.   A brined hand breaded chicken that is pressure cooked so all the natural juicy goodness of the chicken is captured inside while still achieving that crispy coat we all love in a fried chicken…except there is no frying involved here!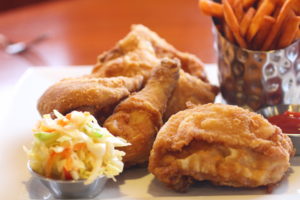 I wish more restaurants offered chicken this way because the way that skin crisped up and how it held in the moisture was so wonderful.  (It also had a seasoning on it that made me hear one of the pretend announcers in my head yell "SCORE!")
The dinner entrée option is a BBQ Pot Roast.  This is the meal the coach wants you to eat before the curling match….slow roasted pot roast like your mom used to make but a little bbq added to the mix to give it smokiness and warmth.  Served with some broccoli and beautifully glazed baby carrots over cheddar ranch grits and you have a meal that would fuel any size appetite.  (I will add that I didn't feel like I had a curling stone dropped on me after I ate this….it was satisfying but still light.)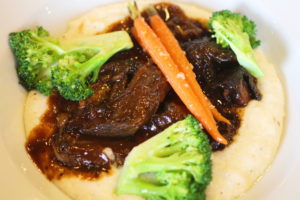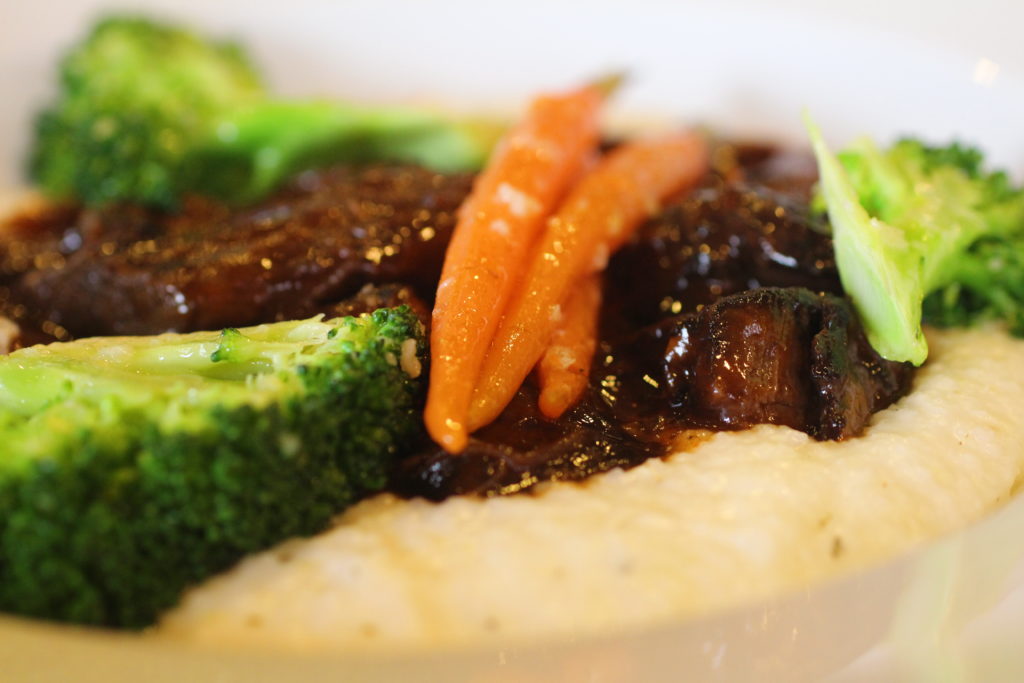 A homemade chocolate brownie is offered to close out either of the great meals.  (I had to go sit on the bench since I can't eat chocolate but my sub said it was great!)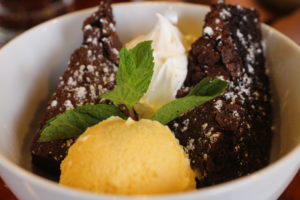 If you can't make it in for Restaurant Week, Chef Coronado's finesse of understanding the history of food is really showcased in the neat contemporary menu Birch River Grill has available daily.
A few examples would be his Baja Street Tacos…Mahi Mahi fish tacos adorned with avocado, citrus slaw, a lime mayonnaise and piquant tomatillo salsa.  Every bite was flavorful and it was a great option for lunch.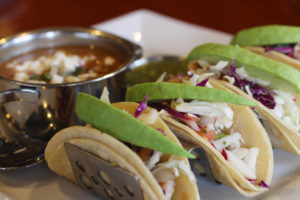 Another contender for the gold was the Mahi Mahi Veracruz Style.  Besides the absolute beauty of the grilled fish over rice adorned with asparagus, capers, olives, avocado and peppers….the fragrance of the saffron broth grabbed my attention like the Olympic torch being released into that final cauldron.  It honored some of the essential flavor combinations of Mexico and Spain and how the world unites for this kind of epic dish (and Olympic Event.)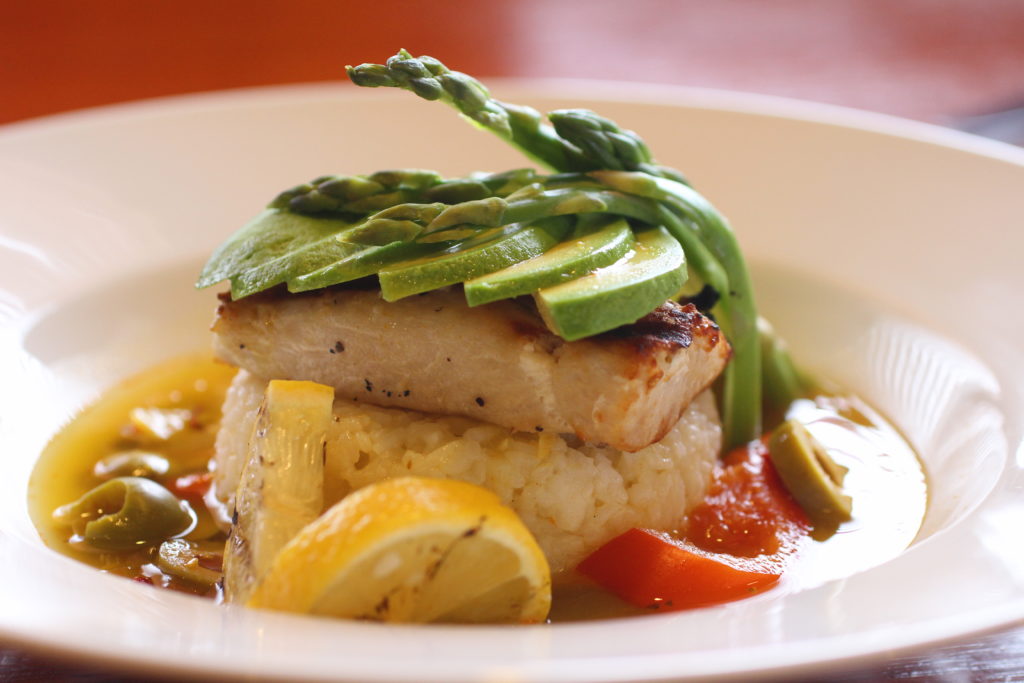 And for my vegetarian friends (or non-vegetarian friends or anyone who loves a good salad), I would highly recommend the Vegetarian Poke Bowl.  This wasabi dressed salad with spinach, tofu, radish, quinoa, grape tomatoes, oshinko (Japanese pickled radish) carrots, cucumber, nori and avocado was one of the most magnificent salads I've ever had!  It was texturally compelling and the colors were ravishing like the Olympic uniforms.  (There is an "add an egg" option which is the way some carnivores may prefer it.)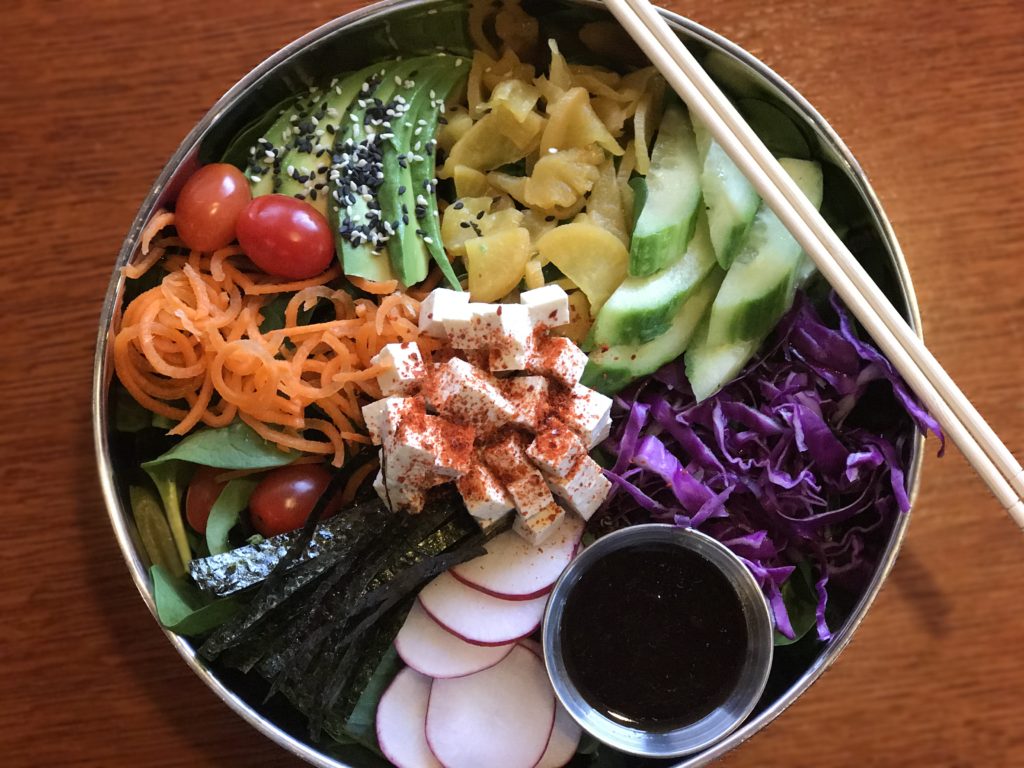 I have two more "events" to cover this week but am so glad that I started my Olympic-esque adventure with Birch River Grill.  It was a true example of how some fabulous restaurants get overlooked like curling does during the Winter Olympics.
Thank you, Birch River Grill and Chef Coronado, for starting my preview week off with the fanfare of opening ceremonies! (And thank you Meet Chicago Northwest for helping me discover new places to write about!)