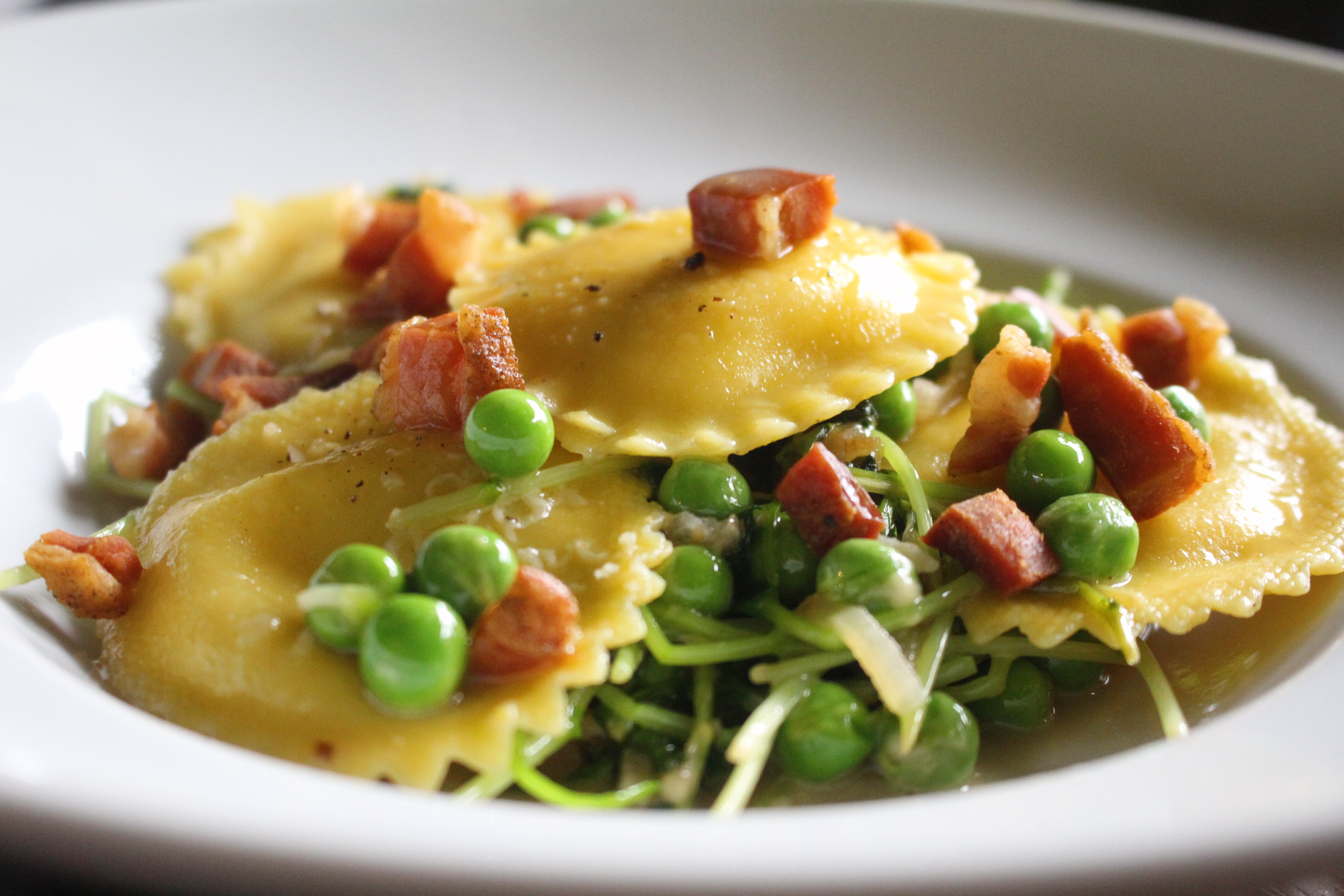 The Prince and the Pea Ravioli
Once upon a time there was a Prince (actually he was an engineer with impressive lineage…his parents were a royal pain.) He was a loving guy who was searching for the perfect mate. The Prince had qualities he wanted in a mate (sense of humor, brown hair, long legs, good imagination) but never seemed to find them.
He didn't really want a princess; he just wanted someone who could cook. (Princesses were high maintenance and this guy wanted his belly filled…not his closets.)
Young beautiful women would cross his path and he would invite them to dinner. The Prince's dinner invitation meant that the lady made him dinner and he would never take them out. He was such a catch that the women didn't mind this arrangement.  The Prince's perfect mate would be happy to not only cook for him but also make him one of his favorite dishes…ravioli with peas.
The first broad was an instant NO….she showed up with a bucket of chicken. The Prince didn't reject her completely….he ate some chicken and did not call her the next day. (He is such a cad when it comes to his food.)
The next fine lady was the picture of a damsel in distress. She came over with a bag of groceries and didn't know what to do with them. She didn't know the difference between a teaspoon and a tablespoon. She grated her knuckles into the parmesan cheese. The water for the ravioli never boiled because she turned on the oven….not the stove. (Bye-bye!)
The poor Prince, he was getting really hungry. He started thinking he was going to give up and just go for a super hot chick that can't cook. He decided against that option because he knows that looks are deceiving and he isn't shallow that way.
Then one day, a cute little sweetheart showed up at his door. The Prince didn't know what to expect with her. She was skinny so he wasn't sure if she ate food let alone cooked it.
She knocked around pans and made a lot of noise. Timers were ringing and plates were being served. All of a sudden, an aroma hit him. It was a perfume he had never detected before with the other suitors. (Or is it suitoresses?)
He looked at the plate before him and saw the emerald green peas and the luscious sauce on the ravioli. The Prince took a bite and smiled. He knew at this moment that this woman not only belonged in the kitchen but she also belonged in his heart.
And they lived happily ever after.
The End.
Ravioli with Spring Peas
Author:
Ingredients
9-10 ounce package of cheese ravioli
1/4 pound pancetta, chopped
1 shallot, minced
5 ounces fresh spring peas
2 cloves of garlic, minced
1/2 cup parmesan cheese, finely grated
1 cup fresh pea shoots
Zest from 1 lemon
Juice from 1 lemon
Olive Oil
Salt and pepper
Instructions
Cook ravioli per package instructions. (Reserve 1 cup of water)
In a medium non-stick skillet heated over medium heat sauté pancetta in a little olive oil until all the fat is rendered. It should be a little crispy on the edges but you don't want it hard. Remove from pan.
Saute shallots in whatever drippings remain in the pan. (You may need to add a little olive oil.)
Add peas and cook only 1-2 minutes.
Add garlic and cook another minute.
Add the pea shoots and cook another 3-5 minutes. The should be a little wilty.
Add the ravioli gently to the pan.
Add a little of the reserved pasta water, zest and juice. (You may not use all of it. Start with a 1/4 cup until you get the consistency in the pan you like.
Add the cheese and taste for seasoning.
Serve.