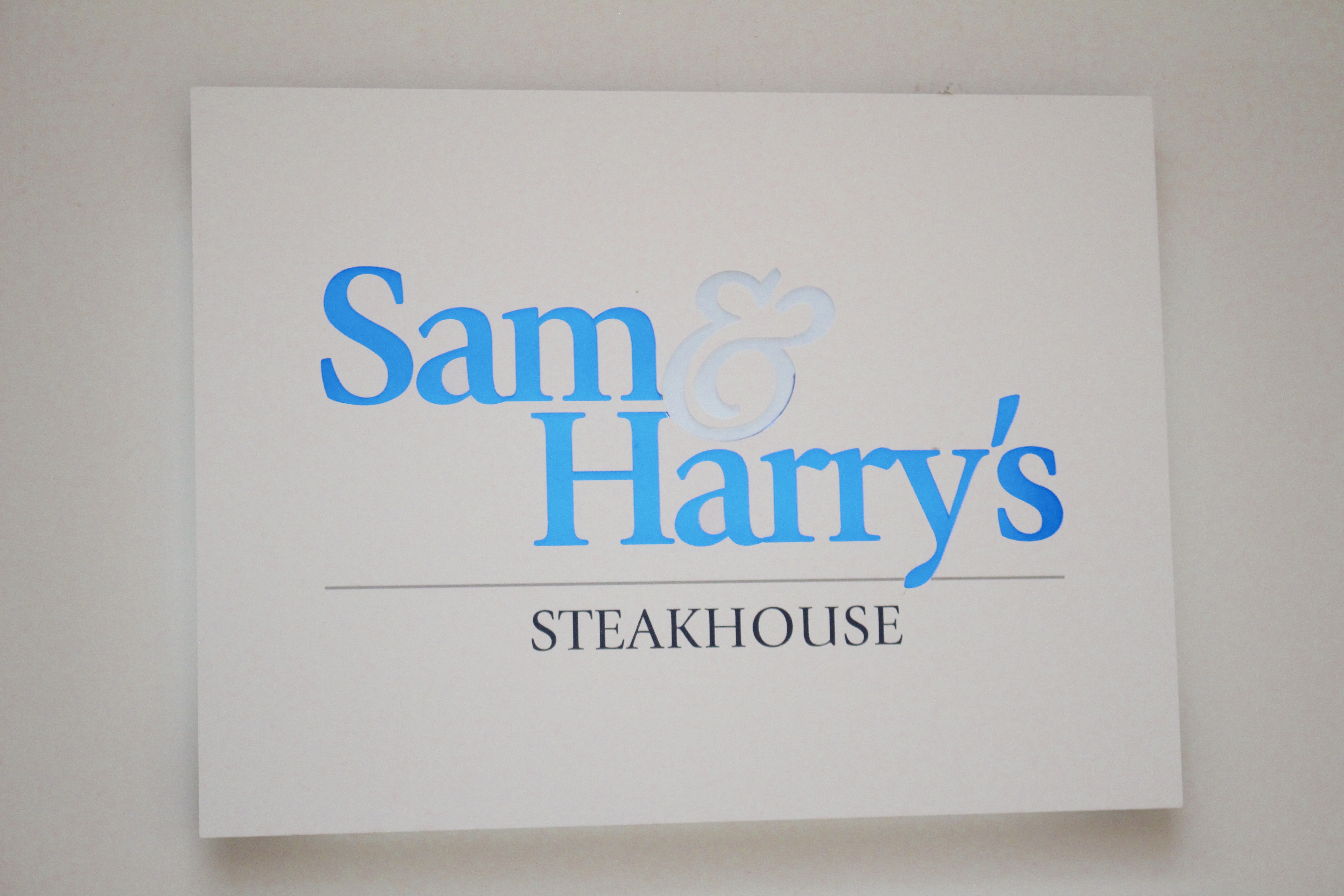 In my quest of discovering my new favorite places to go during Chicago Northwest Restaurant week (February 24-March 5, 2017), I found a restaurant that was literally right under my nose. (Or maybe I should say it was right under my bed.)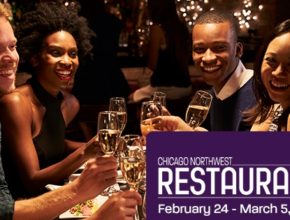 I'm sure anyone who has heard of Schaumburg has either been to or seen the HUGE convention center that is part of the Renaissance Schaumburg Convention Center Hotel (1551 N. Thoreau).   The funny thing is that I was just here last year for a Scrapbook Convention. (The funny part is the coincidence that I was just here…not that I go to craft conventions. PS Don't tease scrapbook ladies because they'll take you out!)
What I didn't know while I was here was where to go to eat. Did you know there is a GORGEOUS restaurant called Sam & Harry's right there on the premises? Located just steps away from where you would check in for your room at the Renaissance Schaumburg Convention Center Hotel is a window encased restaurant that made me feel like I was just transported to a different world. (It was sort of a Dorothy in Oz moment.)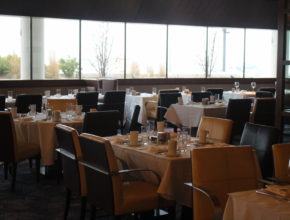 As I looked around, it was really hard to stay focused on my goal of concentrating on restaurant week offerings. (In case you missed my last post, click here for a list of the participating restaurants and menus.) The entire room was just so pretty and if the food matched the atmosphere, I was in for a great time.
Given my excitement over Sam & Harry's amazing menu, I was also told that they have a theme every month. (I love themes….February is all about Aphrodisiacs….they are offering some naked cowboy oysters….a duck ménage a trois….a dark rich chocolate dessert….you will be glad this place is in a hotel…I'm just saying!)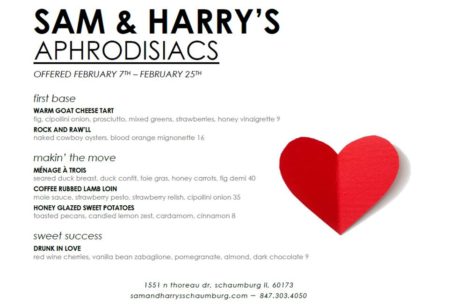 Since I was here in January, I was able to celebrate their "Celebrating Citrus" menu along with previewing a couple of the Meet Chicago Northwest Restaurant Week Options.  (Lunch will offer a 3-course meal for $20 and Dinner will offer a 3-course meal for $40)
As silly as this may sound for a steakhouse, Sam & Harry's rocks a great salad. I tried the January special Citrus Fennel Salad-Citrus segments, shaved fennel, olives, mint and meyer lemon vinaigrette.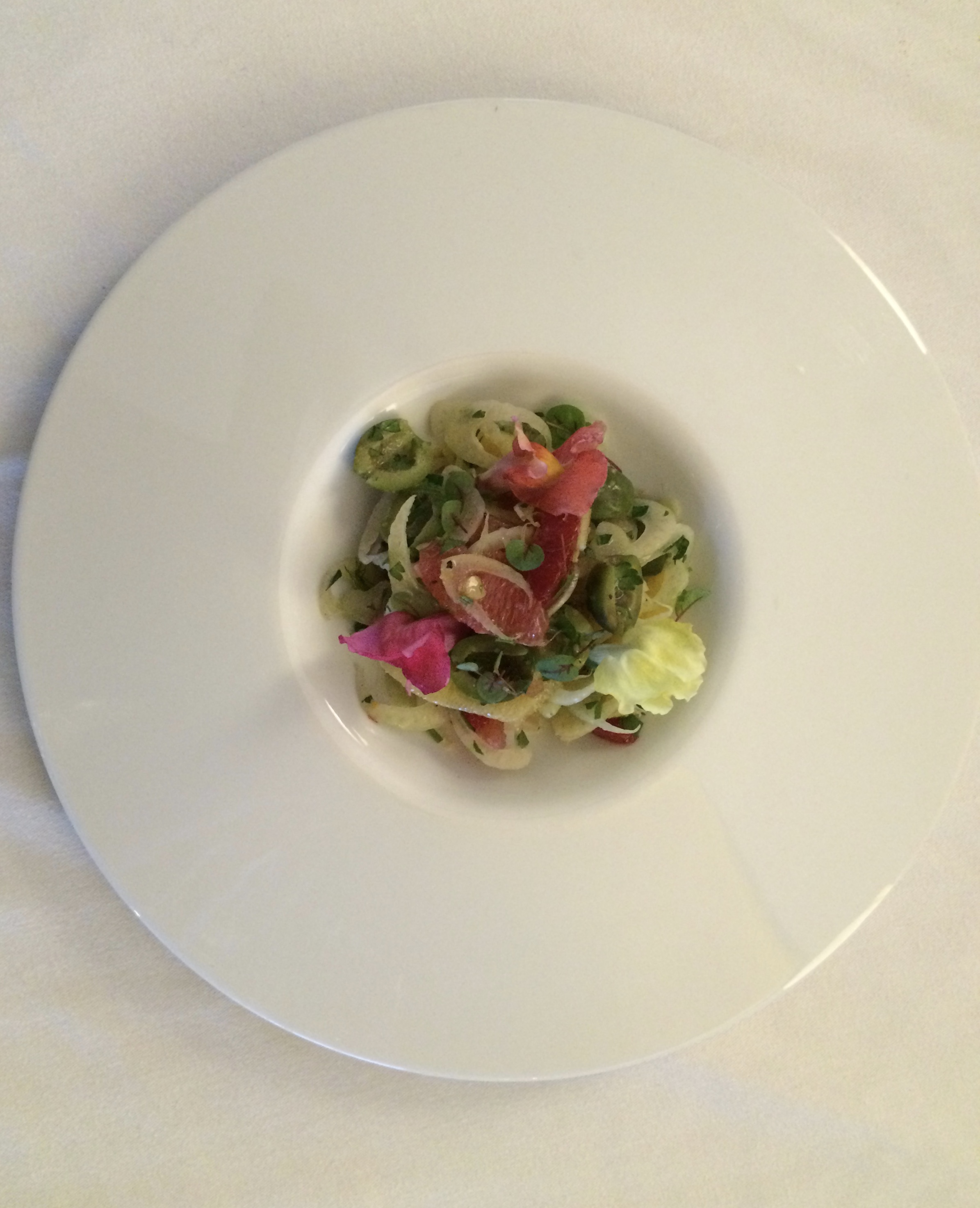 The restaurant week lunch (course 2) option of a Grilled Shrimp Nicoise Salad –roasted fingerling potatoes, preserved mighty vine tomatoes, green beans, soft cooked egg, olives, and anchovy vinaigrette.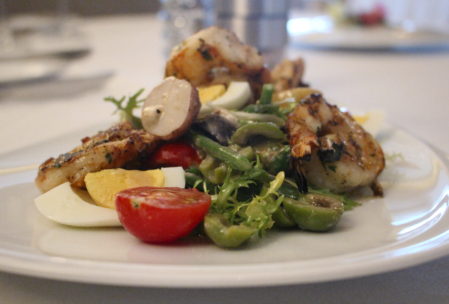 The Winter Salad (available at dinner course 1 during restaurant week)-Brussels leaves, frisee, crispy pancetta, pickled turnip, ricotta salata, lemon apple vinaigrette. Those pickled turnips were ADDICTIVE!!!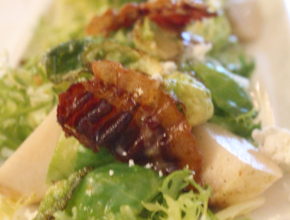 They were all outstanding. To me there are a lot of great signs of a great chef and one of them is taking a salad and making your mouth taste everything from sour to sweet to bitter to salty. Plus there was textural excitement with the variety of components added to each salad. Every bite on the plate had a purpose.
I also had the pleasure of trying Sam & Harry's dinner option "Daily Jet Fresh Fish" with seasonal vegetables and accompaniments" I'm not sure if mine was the restaurant week option or their citrus menu option but it consisted of a crusted barramundi, steamed broccoli rabe and citrus oil. (This is a great dinner choice because they have fish flown in daily and accompany it with a super fresh seasonal side …you won't be disappointed!)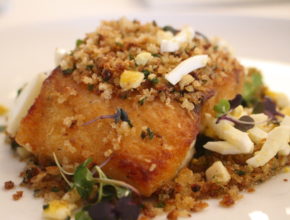 Don't worry if you aren't a fish person, there is also a Root Vegetable and Pork Cassoulet or Braised Waygu Short Rib offered as part of the special dinner menu.
I do have to give Sam & Harry's a shout out for a couple of other dishes. "For fun" I was able to try the Breaded Veal Chop that was part of the January citrus menu. Besides the fact that it was huge and perfectly cooked, the lemon beurre blanc, fried capers and citrus made it like something I've never tasted before. (I did say Yabba Dabba Doo when I ate it because anytime I eat a chop, I feel very Flintstonian.)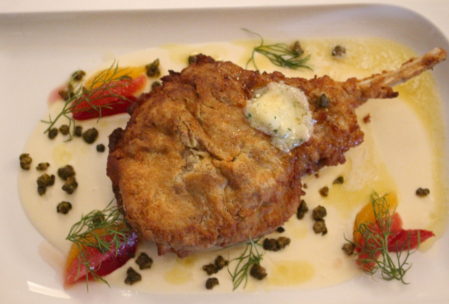 Plus if you are a vegetarian who hangs out with carnivores and are weary of steakhouses, Sam & Harry's has some vegetarian options like the Farro Risotto with roasted winter squash, roasted Brussels sprouts and roasted red pearl onions. (Honestly, I would have never ordered this on my own but it was so good that now I can't imagine not ordering it again!)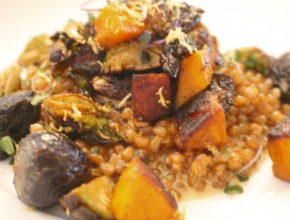 Finally, you can't leave Sam & Harry's without dessert. For Chicago Northwest Restaurant week they are offering a Chocolate caramel tart, smoke salted pistachios, blood orange with both lunch and dinner.
I, on the other hand, tried one last citrus special and ate the Blood Orange Meringue Tart. Besides being one of the most beautiful desserts I've ever seen, the sourness of the citrus totally offset the sweetness, which is what I like in dessert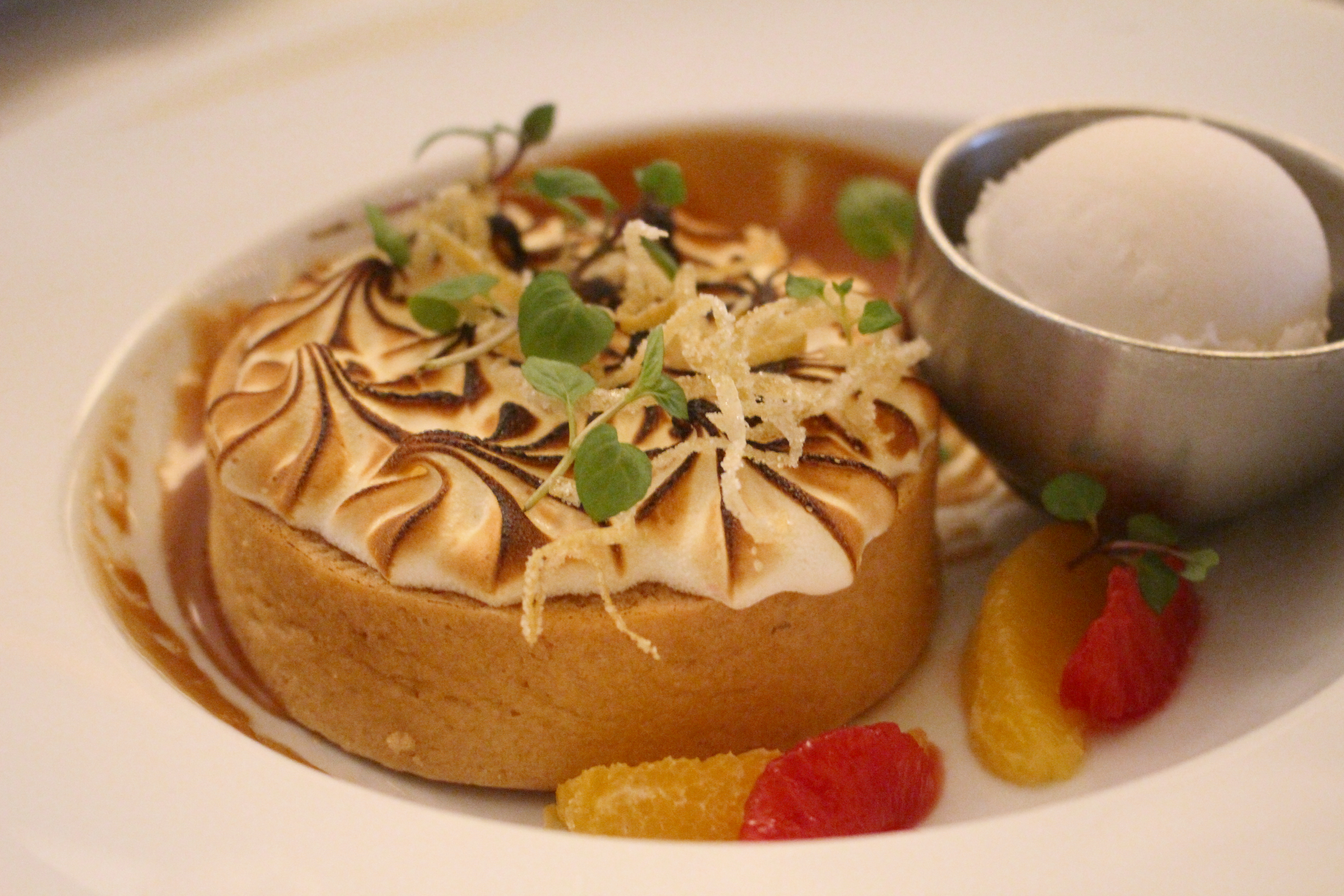 And so I don't forget to tell you, the restaurant is open to the public so if you live in the area or here for a convention, it would be a great option for breakfast, lunch or dinner.
As I hoped, another new favorite was discovered. Given Sam & Harry's special February Aphrodisiac Menu, I really wanted to make sure everyone knew about this place sooner than later. It would be a great spot for a dinner with your sweetie (and a night between the sheeties) plus it is offering a fantastic Chicago Northwest Restaurant Week menu. (The two menus just barely overlap so you may have to go a couple times this month!)
Sam & Harry's menu (and any of the restaurant week menus) may change without notice to Meet Chicago Northwest or Felt Like a Foodie. Tax and gratuity are not included.
The adventure continues on Wednesday when I find another new favorite for Chicago Northwest Restaurant Week at Morton's The Steakhouse!