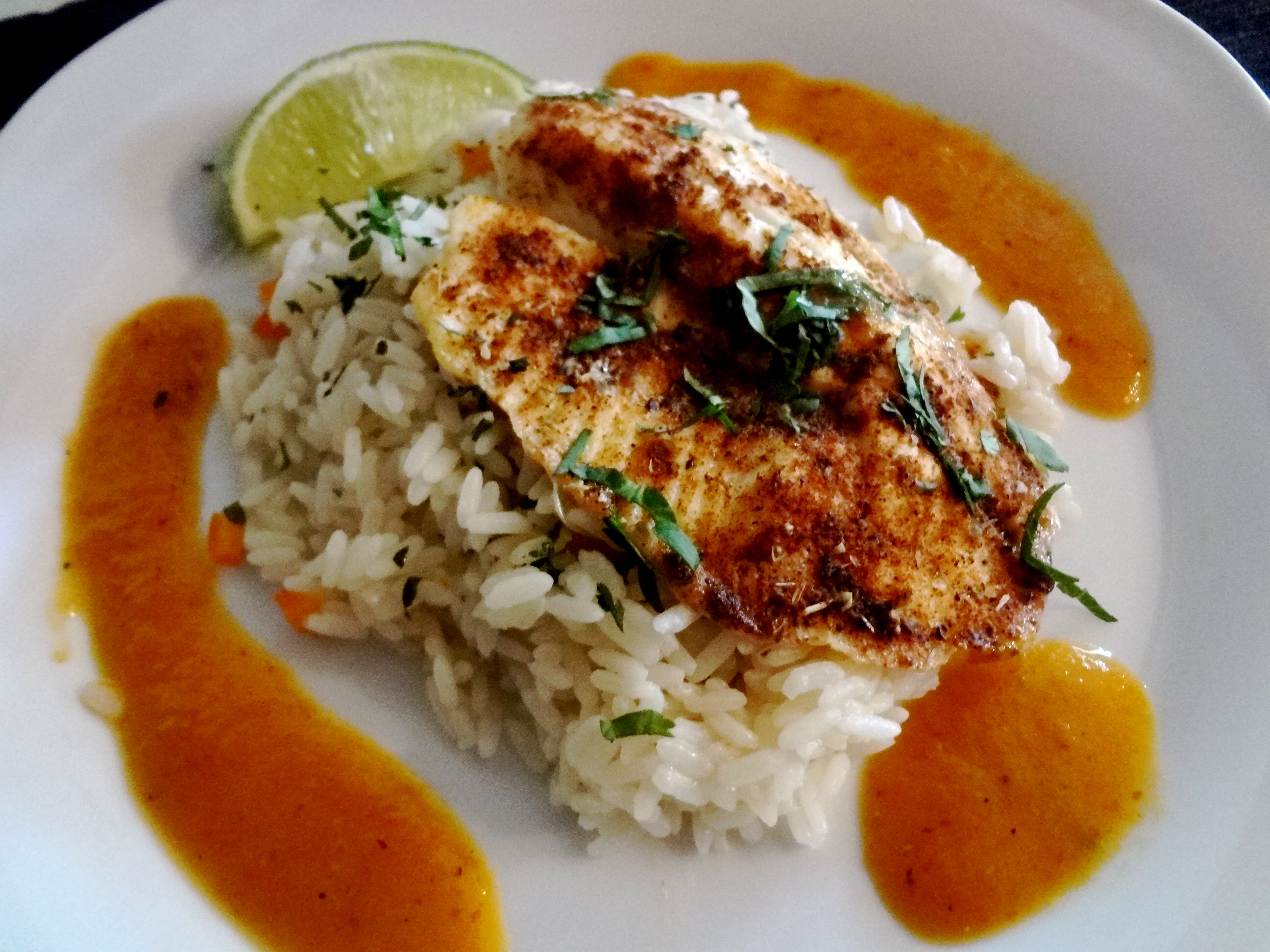 Confession:  I'm a cheater.  I am not the kind of cheater who betrays their husband.  Or someone who memorizes all of the answers in a trivia game before it is played with friends.  (Hmmm, who do I know that DOES do that?)  I cheat some nights cooking dinner.
I think most home cooks are guilty of this "sin."  We get busy doing other things and the next thing you know it is dinnertime.  We could run to the store but the day has worn on us and we just want to stay home.  (I say "we" because it makes me feel less guilty to know that there are other cheaters out there.)
Are you disappointed in me?  I hope my transgression can be forgiven.  I personally don't think that this is too naughty.  It is not like there is a box of hamburger helper in my pantry.  (Oh wait, there is an emergency box in case my hubby cooks but that is his crime, not mine!)
One of my biggest cheater dinners is Tilapia.  I will divulge that if you look in my freezer, you will ALWAYS find some tilapia.  It is one of the few fish that I have found taste as good from frozen as they do fresh.  (I live in the Midwest, fresh fish is a rarity with the exception of perch, trout and gummyfish.)
The mild flavor of tilapia allows it to be camouflaged to fit any flavor profile or batch of ingredients you may already have in the house.  I always think of my side dish first and then season so they compliment each other.  (I just had the random thought of how do you compliment a fish?  Nice gills? )
I think my only advice in using frozen tilapia is to know where it comes from.  (If your store can't tell you the source of their fish, you probably shouldn't be eating it.)  Since it has become so popular, it is has become more of a hybrid fish in the stores and in the wild.  Even the "feral" tilapia has started to breed out of species.  (Is this the same way "catfish were developed?)
My shame feels better now that I told you about this misconduct in my "gourmet" kitchen.  We all need to cheat every now and then;  the key is to make it taste so good that no one will care!
Chili-y Tilapia
Ingredients
4 4-ounce tilapia filets (frozen, yep I said it)
2 tsp chili powder
½ tsp Mexican oregano
½ tsp cumin
2 roasted red peppers
4 roasted tomatillos
1 clove garlic
1 tsp lime juice
1 Tbsp chopped cilantro
Optional lime slices
Directions
Heat oven to 400 degrees and prepare a baking sheet with parchment.
In a small bowl, mix chili powder, oregano, and cumin.  Sprinkle about ¼ tsp on each filet and give it a little rub.
Cook in oven for about 20 minutes until it becomes flaky.  (If you are cooking fresh fish, your time will be less.)
While the fish is cooking, puree the red peppers, tomatillos, garlic and lime juice.  Warm in small saucepan over low heat until your fish is complete.  (I strain mine before I put it in a saucepan for a smoother texture.  Either way it tastes great.)
When fish is complete, drizzle with sauce, a sprinkle of cilantro and serve with lime slices.
For the record, I normally try to plan ahead and thaw my fish or find it fresh.  This week I forgot.. plain and simple.  My penance could have been a bad dinner but tilapia atoned my cooking offense.  If only all of lives errors were this forgiving, I'd be pretty unruly!