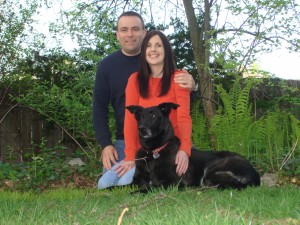 Thank you to everyone who has been writing in about the loss of my dog.  I just got into the kitchen a couple of days ago and will do a recipe post early next week.
Every year on my birthday, I take a moment to sit down and write about the previous year and take that moment to create a memory.  I don't think I want to remember a lot about my 42nd year. I kept thinking about it and all I could think of was that it was the good, the bad and the ugly.
The good:  My husband, first and foremost.  There are some people in this world that are just good people.  He is one of them.  Earl is a really great guy and I am so lucky to have him in my corner.
I am also lucky enough to have some of the best friends a girl could ask for.  Some of them have been around since I can remember, some came in around my middle years and there are new ones I have found recently.  I look at all of them and think if friends were money, I'd be rich.
I've continued to enjoy the experiences my blog has given me and hope that this next year brings on more fun.  (But seriously, I don't know if anything will ever beat the experience of meeting an Iron Chef!)
The bad and the ugly:  I put the two together because they are honestly hard to separate.  I don't know when Shadoe started to struggle, I just know I didn't know how life was going to be without her.  And it is pretty yucky.  I miss her with all of my heart and my days are just empty.
Last May, I started to get sick again too.  We spent almost every day together, every moment, and every night.  She was my 24/7 companion who knew there were just some days she needed to be quiet and lay next to me.
It was a comfort to me to have her at my side and I feel part of me is missing.
My grief has been confusing and just something I am still working on.  She wasn't just a dog, she was my best friend.
As I start my 43rd year, I am going to continue to work toward feeling better, emotionally and physically. I have a lot to look forward to this year with some of my closest friends and family members starting their lives together as Earl and I celebrate our 15th anniversary.  I hope there is some travel and visits with people I haven't seen in years.  And, of course, I know there will be some awesome food!
Here is to 43, I am grateful for another year and all of you who support me.