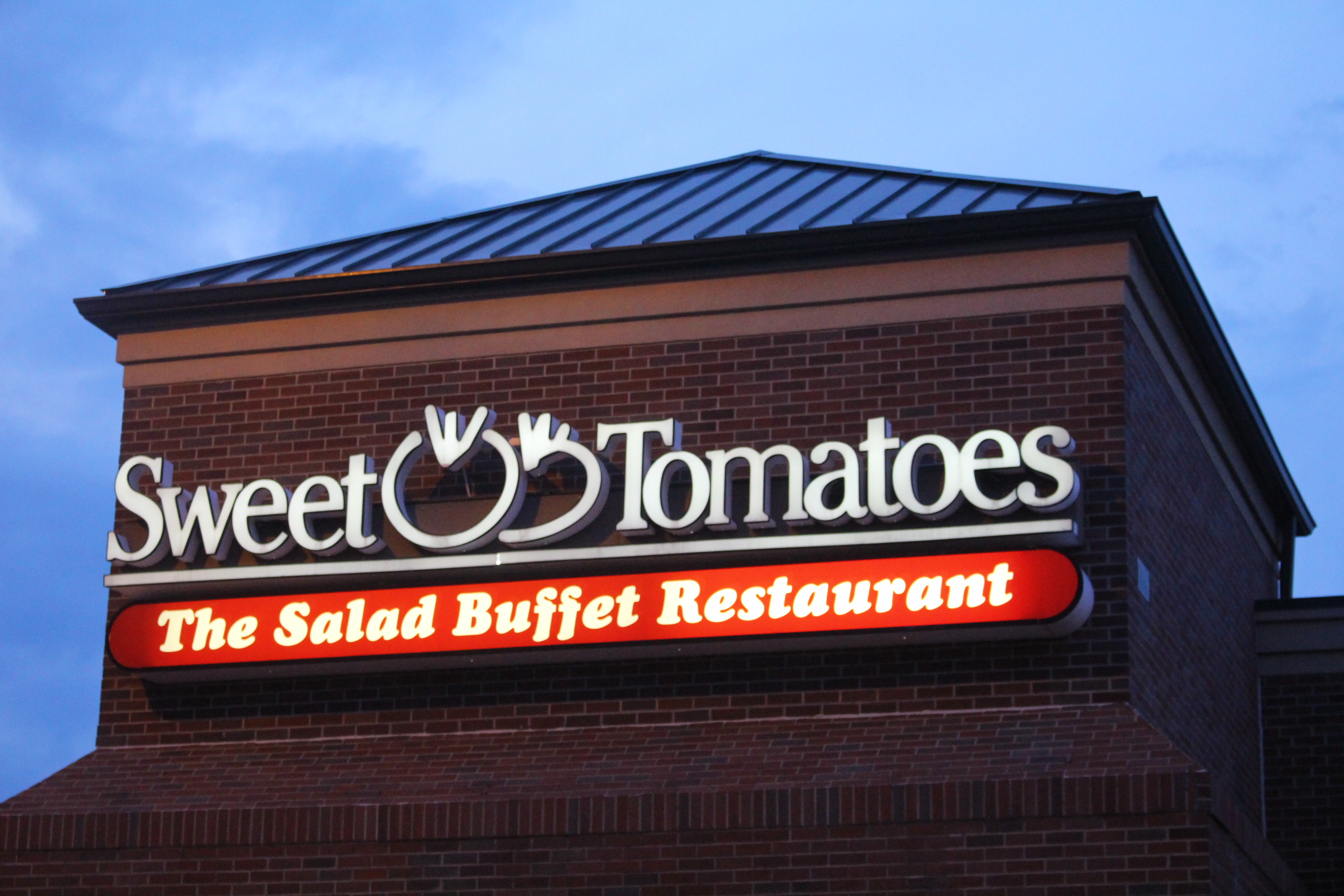 One of my favorite parts of spring is getting my tomato plants into the ground with the anticipation of a garden full of sweet tomatoes. There is nothing better than grabbing a tomato off the vine and enjoying it in your meal.
Speaking of which….have you ever been to the restaurant Sweet Tomatoes? They call themselves a Salad Buffet but after eating there I thought of it more as a Café-teria. I chose that description because the items offered were far from the options I usually see at either a salad bar or buffet. Instead, Sweet Tomatoes had some really fun dishes that reminded me of the selections I'd have at a healthy café but the choice to pick and chose like a cafeteria.
Let me explain how it works. You walk into the restaurant and grab a tray and a plate. Then you start the walk down one of the freshest salad bars I've experienced in a long time. It is true farm to table (or bar) dining.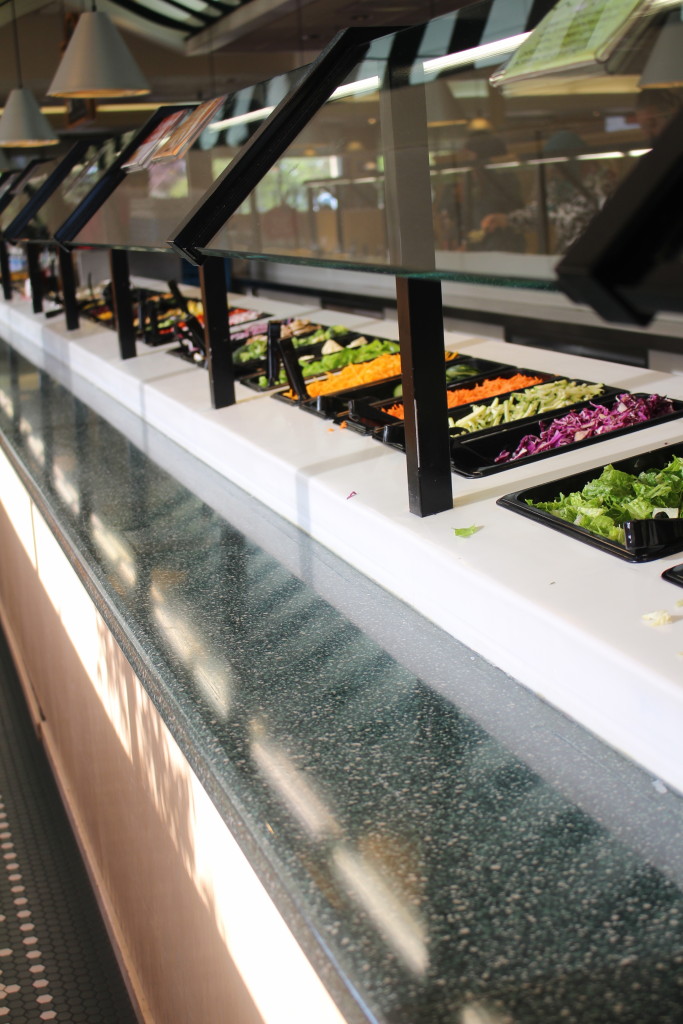 The Sweet Tomatoes team emphasized the fact that their food is not something that sits in warehouse waiting to be ordered. Their veggies go from the farmer's fields to their restaurants and there is no middleman. The vegetables are prepared in house and not processed in some factory.
Back to our tray, the first thing you see is few of their housemade tossed salads.   You can go with a couple of their standard favorites like Caesar Asiago or Wonton Happiness to a creative monthly option like May's Zesty Turkey Taco. (June is picnic month and they'll have a Strawberry Fields salad on the menu! YUM!)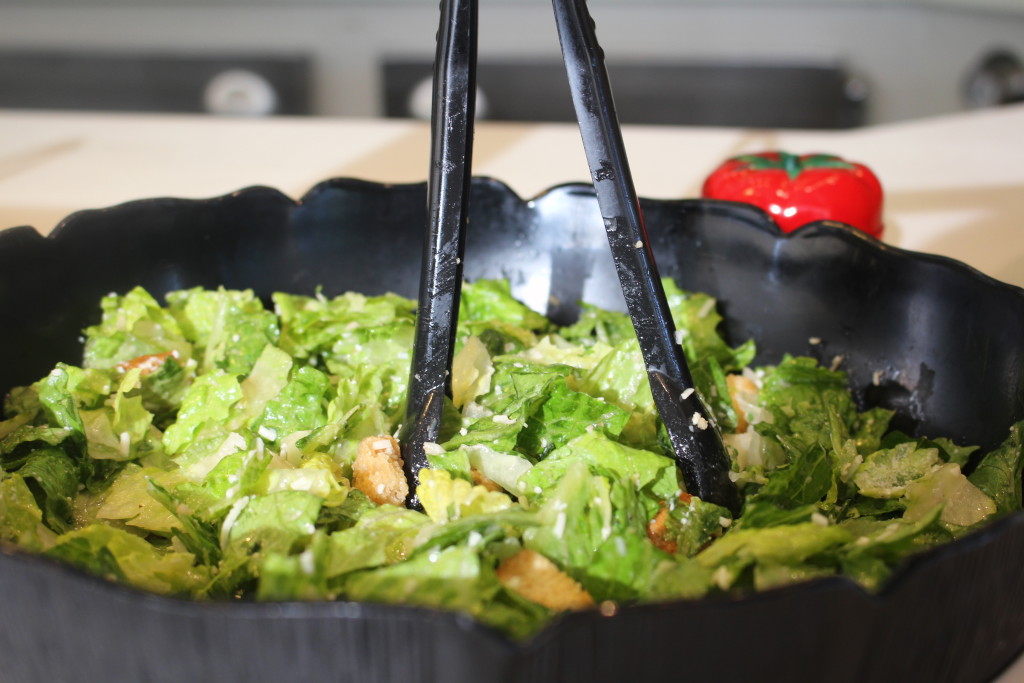 I liked that the salads were not overdressed and the flavors were subtle but not overpowering. The Caesar Asiago was so bright tasting with fresh lemon juice and a hint of garlic and the greens were CRISP!
If you aren't a fan of these dressed salads, don't worry….there are a few plain lettuce options available too. You can fill your plate and then start building your own creation as you walk down the line of veggies like shredded radishes, beets, zucchini and carrots.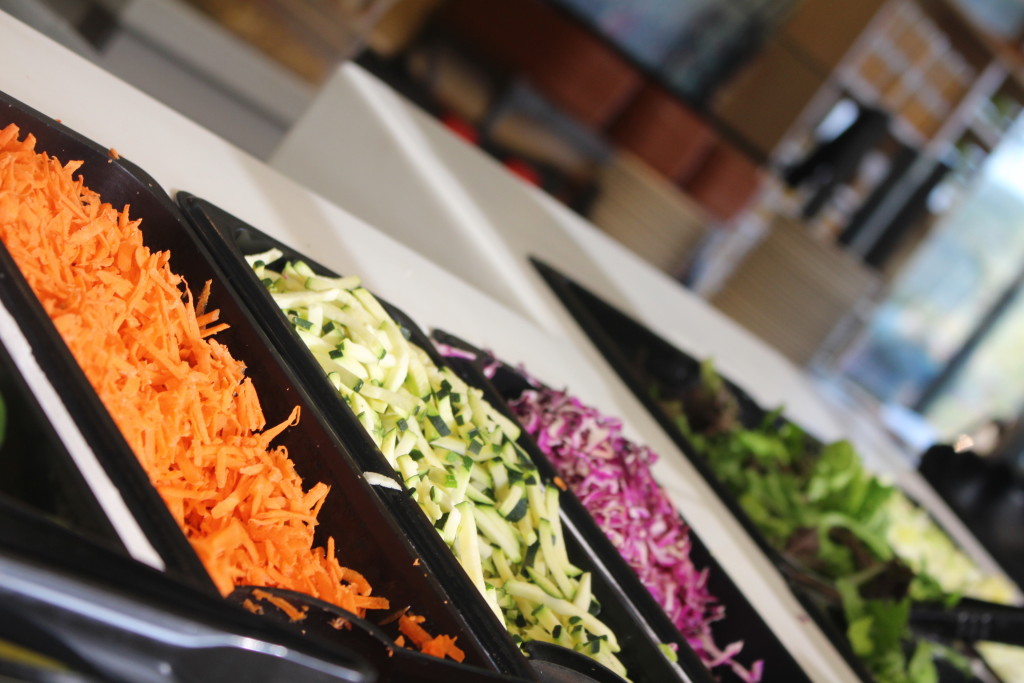 And if you have dietary or allergy limitations, Sweet Tomatoes does a great job labeling their food Vegan, Vegetarian or Gluten-Free. (Plus they have a ton of nutritional info on their website.)
You also have some novel options to add to your plate like a Chipotle Lime and Cilantro Quinoa (another one of their "loco" options for May's Cinco de Mayo monthlong celebration) or their house favorites of Tuna Tarragon Pasta Salad or Joan's Broccoli Madness (broccoli, bacon & cashews).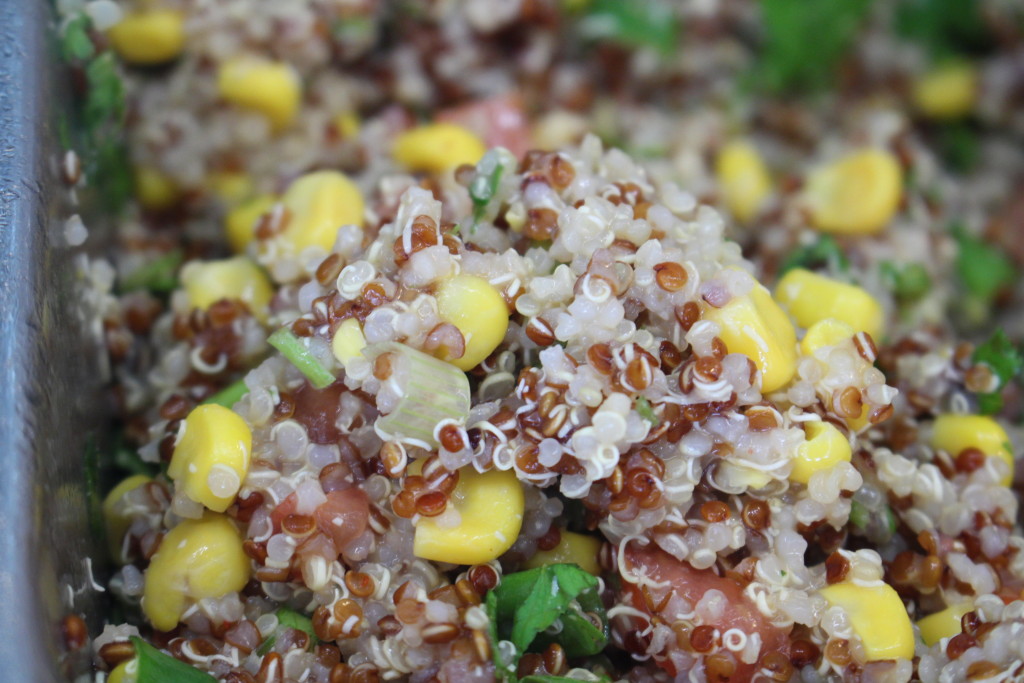 I'm still really impressed with the tuna pasta salad because it didn't taste "fishy" and they added just the right amount of tarragon. (Okay, thinking about it is making me hungry!)  Also, Joan's Broccoli Madness is actually a recipe from an employee that was so good they can't take it off the menu!
And if you are a pickle lover….you have to try the dill pickles. Although these are not made in house, they are sourced from a 3-generation family farm in California who KNOWS how to pack a peck of pickles!  (And the pickling liquid is sooooo good, Sweet Tomatoes incorporates it in some of their other recipes!)
After a twirl of one of the housemade dressings (creative dressings like Basil Vinaigrette and Creamy Sesame Soy ), you order your drink and pay.
Do you think you are done yet? Nope. You can either sit down and enjoy your salad creation or you can take a peek around the corner to see some of the other fresh options Sweet Tomatoes has to offer.
If you are a fan of homemade soup, they have EIGHT options. EIGHT! So whether you like it creamy, classic or chunky there is a soup for you. They rotate the soups so if you want something like their classic Creamy Mushroom you better come the first week of the month or you will miss out on a treat! They also have a classic chicken noodle (like Grandma used to make) and a hearty chili.  (Their individual location websites seem to do a great job updating their options so take a look if there is something specific you are craving!)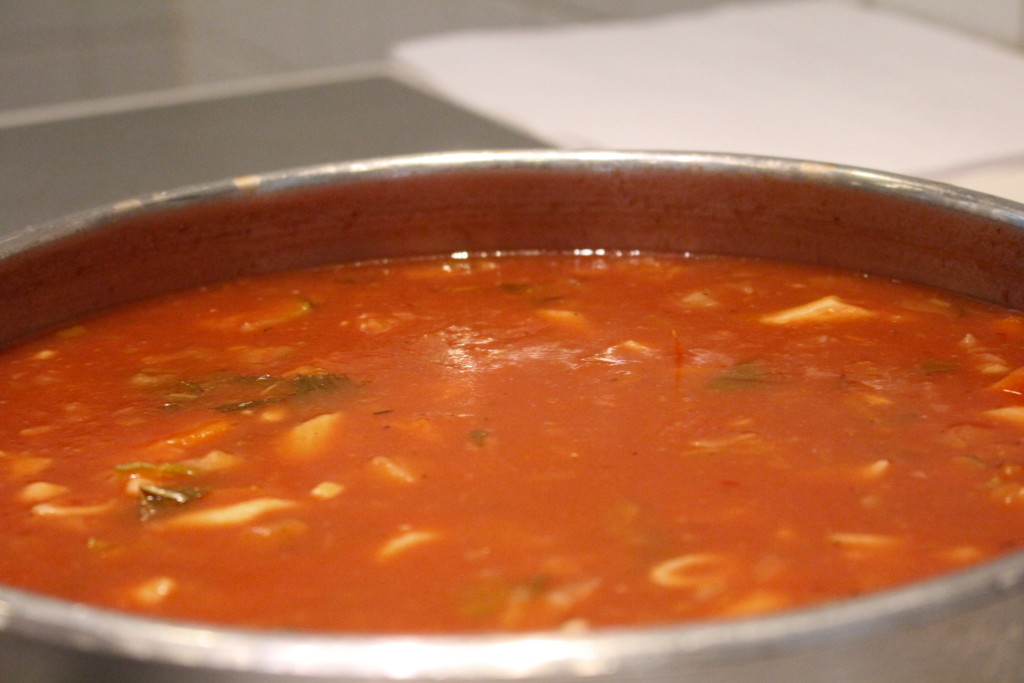 I tried to taste them all but found myself indulging in May's offerings of Albondigas Locas and Chicken Jalapeño Tortilla. (The little meatballs in the Albondigas were scrumptious!)
If you aren't one to cozy up to a bowl of soup, Sweet Tomatoes also has a few pasta options for you. A super luscious macaroni and cheese will bring out the kid in any of us but I had to try the creamy cilantro lime pesto. It was a super creative Mexican twist on one of my Italian favorites.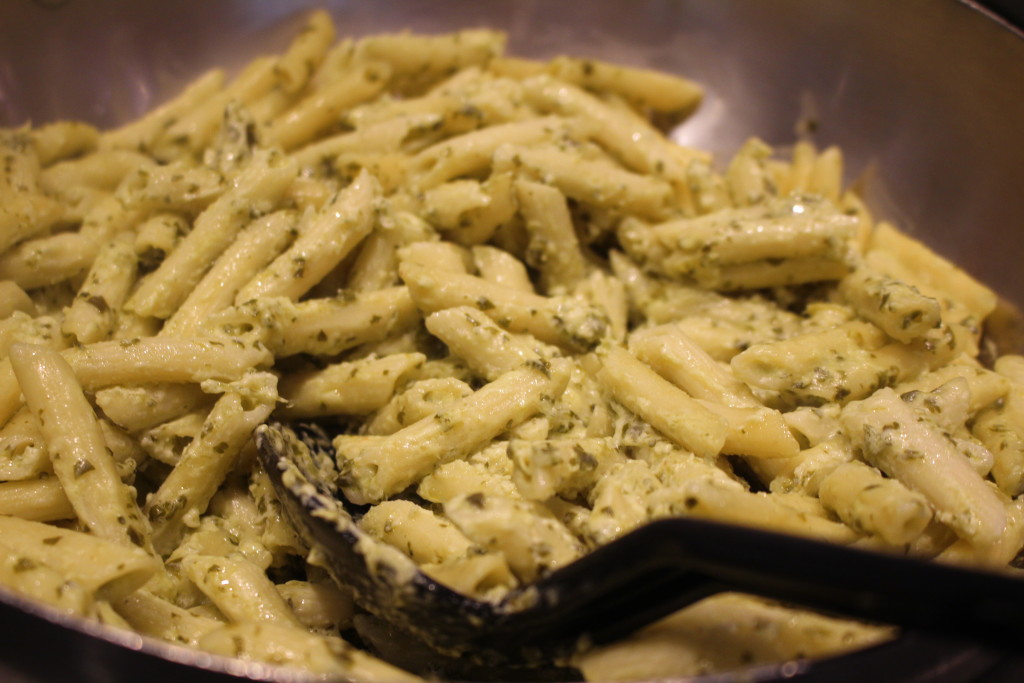 And if you are one of those folks who need to sop up your sauce or last drop of soup, don't miss the fresh focaccia, blueberry muffins and cornbread. (I got a sneak peek of the Strawberry muffin offered in June and I could have eaten a whole tray! They were the perfect balance of sweet fruit to savory muffin.)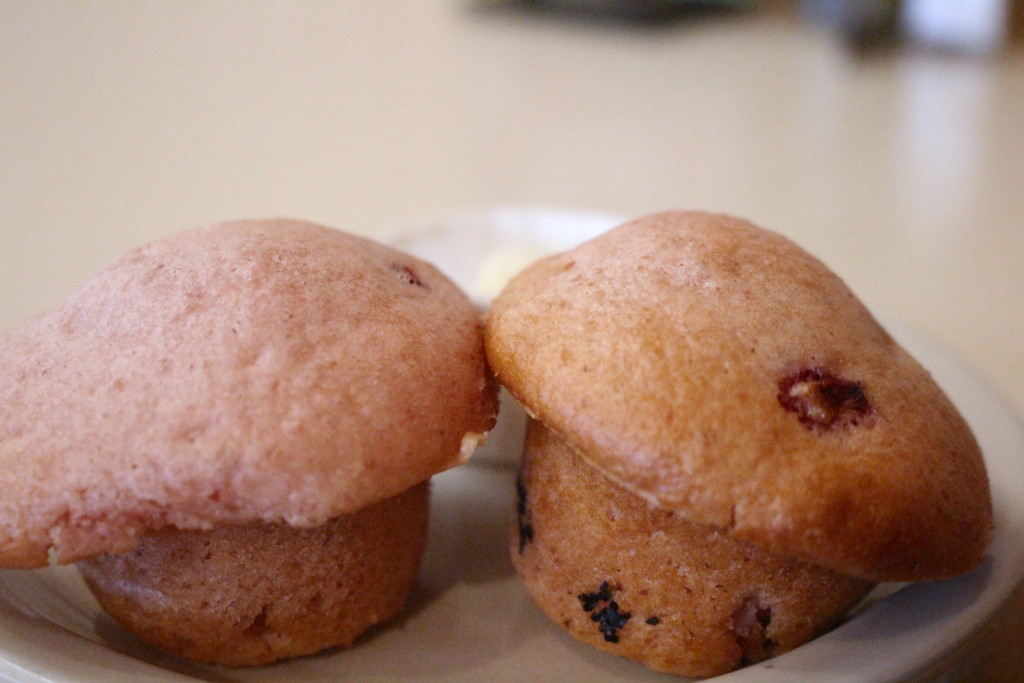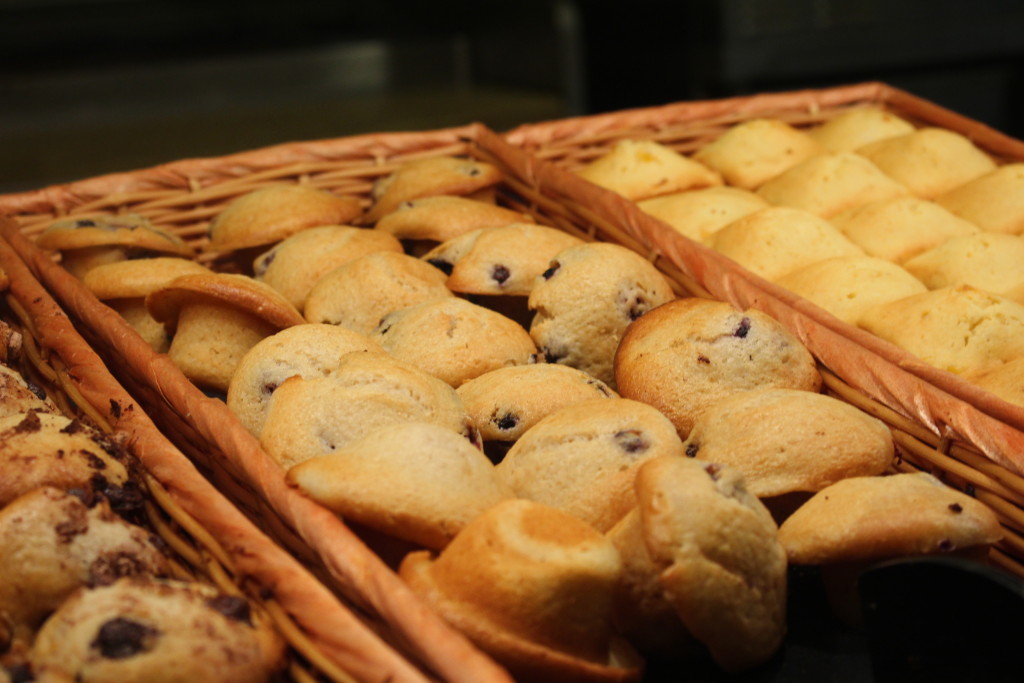 Finally, your sweet tooth won't be ignored because the bakery makes brownie bites, chocolate chip cookies and lava cake for a dinner dessert. There are also some soft serve options like vanilla, swirl or a seasonal option. (Honestly, I only ate muffins!)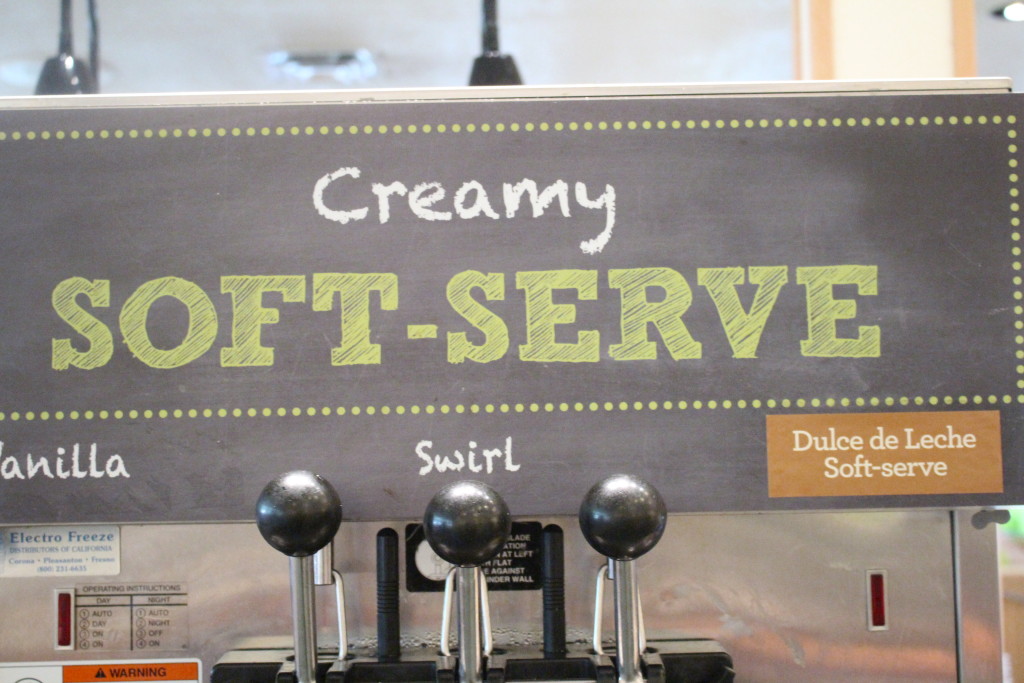 Sweet Tomatoes is currently in 15 states and really a great dining option. (I don't have kids but wouldn't it be wonderful to take a child to a place where they have so many healthy options.) It was so nice to go somewhere that is "all you care to eat" and not feel stuffed when you leave. I was full but it was a nice full like you get when you eat a good home cooked meal. I didn't feel guilty about any of my food choices because Sweet Tomatoes really gave me healthy options to choose from.
I think the best part is that you can customize your meal. Do you want soup and salad? How about a nice bowl of pasta and Caesar salad? Maybe you want a heartier meal like a corn bread smothered in chili (some of the restaurants also have baked potatoes you can load up too!). It is really what you want to make it.
For me, Sweet Tomatoes is going to be a great option when I'm out trying to get a lot done but need to make a faster, smart choice for a meal. They give me the tools to make a fresh, nutritious decision when I dine out.
Thank you Sweet Tomatoes for the great dinner. I can't wait to come back in June to enjoy your Sweet Tomatoes "picnic" style! Hmmmm, a buffet with café quality options….I think you just won me over!