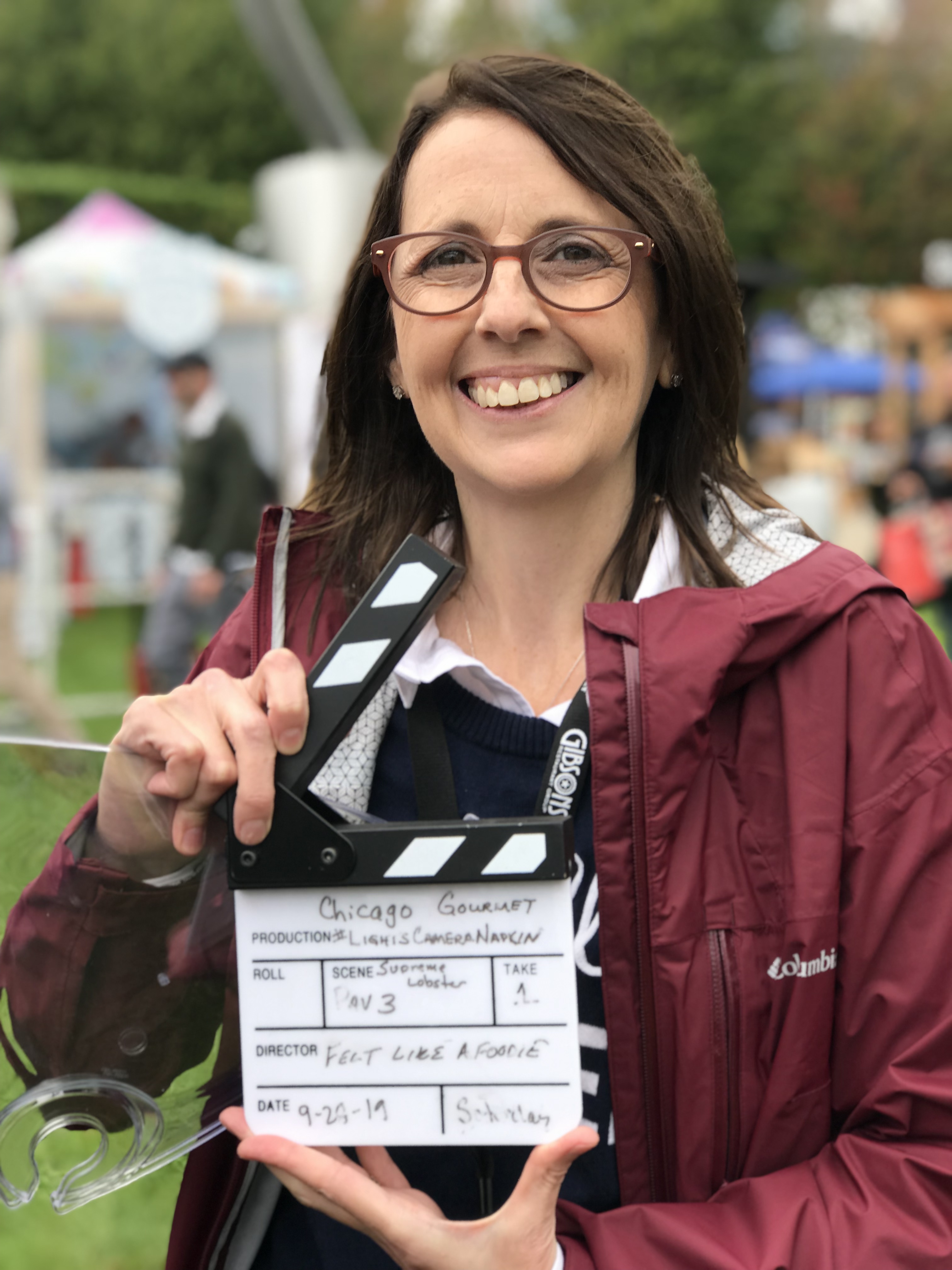 The 12thannual Chicago Gourmet Lights, Camera, Napkin theme (September 28-29, 2019) in Chicago's Millennium Park really made me think a lot about what goes into the entertainment in our lives.
Obviously from my first blog this week about Chicago Gourmet 2019, I emphasized how the food the chefs showcased is as varied as movie genres.
Did you like the drama of an eggshell filled with Sabayon, the comfort of a classic like a lobster roll or maybe you like to be scared and try something new?
Any which way you can't have those lights, camera, action moments without the foundation of knowledge of the talented chefs. In essence, their dishes are the screenplays that make an event tell a story each year.
One of my favorite parts of the Chicago Gourmet weekend is the Chef Demonstrations and seminars. During the weekend, there are 22 live cooking "shows" on two different stages with whimsical themes such as "Eat, Plate, Love" (Carrie Nahabedian, Brindille/Kostali and Bill Kim Urbanbelly/The Table at the Crate), "Lost in Spice" (Michael Mina and Greg Biggers, Margeaux Brasserie/Petit Margeaux) and "Mission Impastable" (Sarah Grueneberg, Montverde and Fabio Viviani, Siena Tavern/Bar Siena) to name a few. The 17 seminars included topics ranging from "Hollywood and Wine" to "The Road to a James Beard Award".
It is also a little peek into "real" personalities and not what is edited for TV. (I'm going to talk more about the folks I met at Chicago Gourmet Part 3: Book signings, Paparazzi and Stalker moments.)
You could spend the entire weekend learning nuances about food and drink from the experts that set the pace for the very best in the industry. With that said, I broke away from eating a few times to catch some live cooking "theatre." I try to keep notes of what is cooked each year but not this time. I was in the moment and just watched the stories unfold.
Annually, I make sure I don't miss Lin Brehmer (93XRT) hosting a cooking event. With Tom Hanks likeability, he delights with his narration during Tony Mantuano and His Three Sons. Chef Mantuano stood like a proud father as he watched each of his executive chefs, Joe Flamm (Spiaggia, Top Chef 15 Winner, "Vin Diesel of Pasta Making"), Cedric Harden (River Roast) and Aaron Thebault (Maddon's Post) individually create meals that were far from an average TV dinners.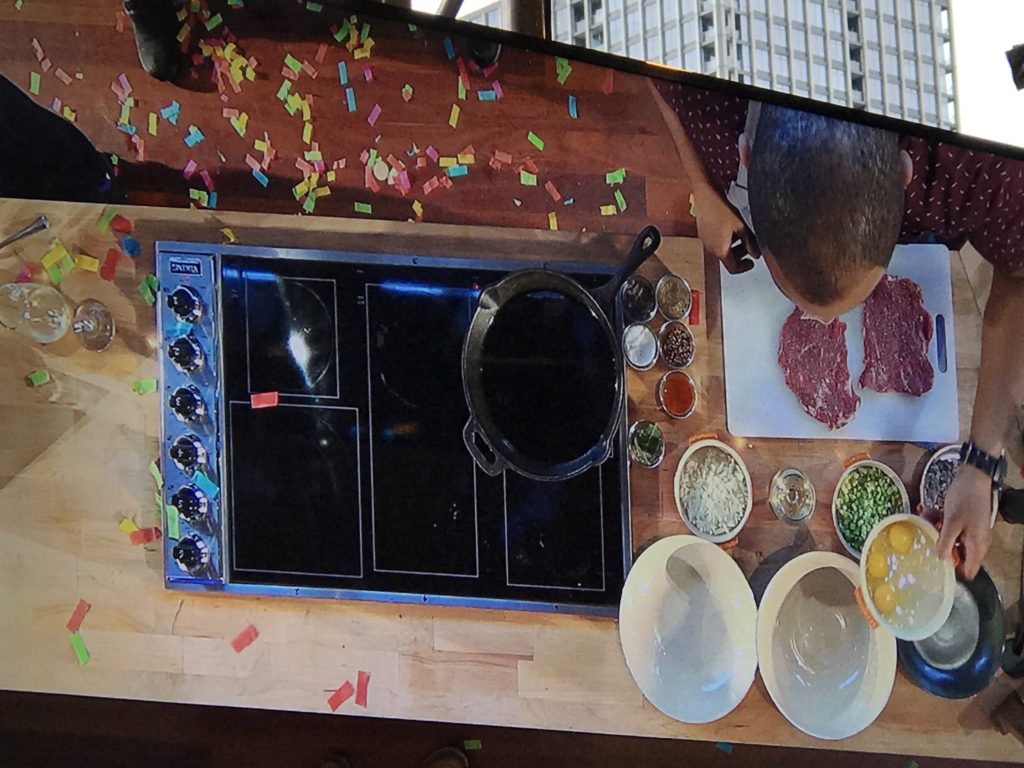 I usually leave a Tony Mantuano demo with a newfound respect for cooking but this year I left with so much more. I saw the family this man has created by sharing his knowledge and expertise with young chefs and seemingly encouraging them to create their own path.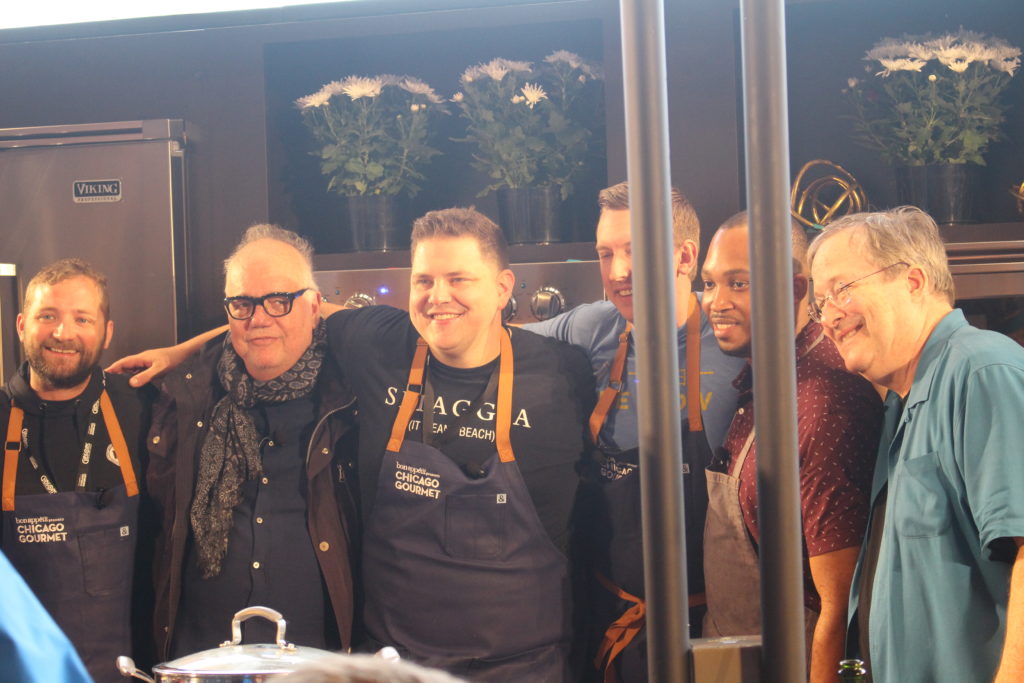 People in the audience were lucky to watch the passing of the virtual spatula from Chef Joe Flamm to the new executive chef of Spiaggia, Chef Eric Lees. Chef Flamm is departing Spiaggia to open his own Chicago restaurant (featuring Croatian/Italian food) in 2020. It was truly touching to witness the bond between this group of men.
One of the other demonstrations I didn't want to miss was that of Chef Kwame Onwuachi (Kith/Kin, Top Chef 13). He exemplifies the saying of it doesn't matter how many times you fall, it matters how many times you get up. During his demo "Suya Think You Could Dance", Chef Onwuachi shared a little of his history and demonstrated how to make an African street food called Suya (a spicy meat kabob that is seasoned with peanut powder, onion, garlic, cayenne and ginger.)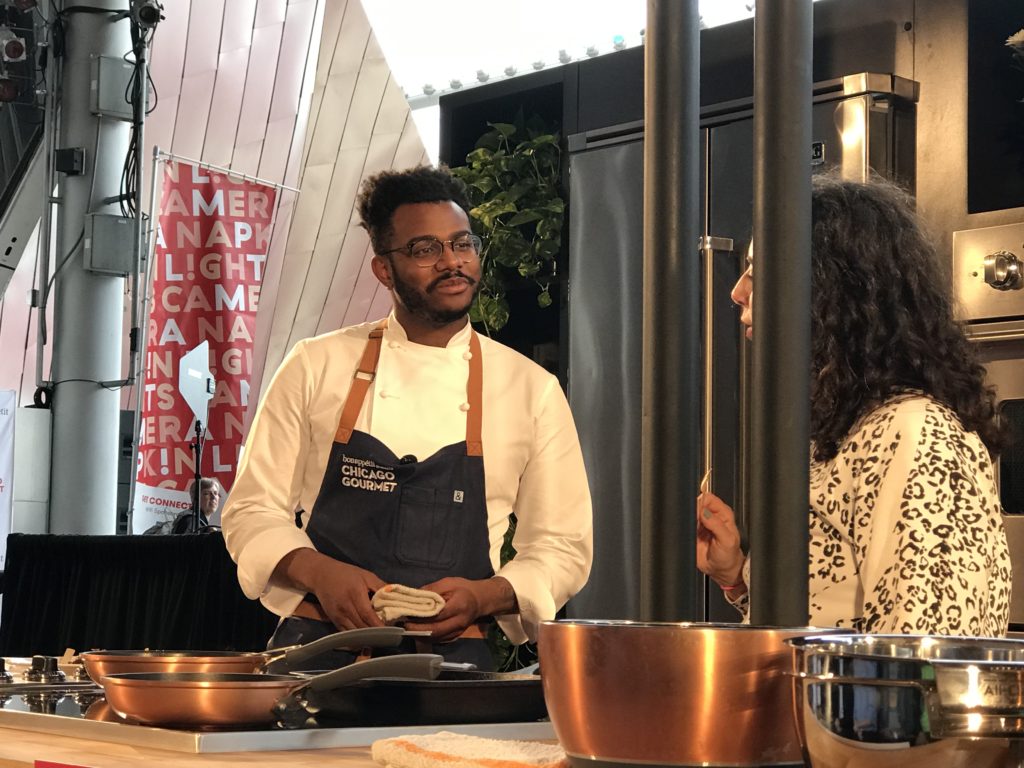 Finally, one piece of advice I want to pass on to future Chicago Gourmet attendees is to close the weekend with the last demonstration on Sunday night. There is always an unexplainable energy that emanates from the cooking stage to everyone in the audience.
This year the Bon Appetit Main Stage Presented "Cover Songs" with Chef Stephanie Izard (Girl & the Goat, Little Goat, Duck Duck Goat, Cabra) and Chef Jamie Bissonnette (Little Donkey, Coppa, Toro Restaurants). Chef Bissonnette's Beef and Broccoli recipe can be found here.
With a smile larger than Julia Roberts, Chef Izard comes off as one of the coolest/relatable women in the business. When asked where she gets some of her specialty ingredients, Chef Izard makes it accessible to everyone by stating "Amazon…order it on Amazon."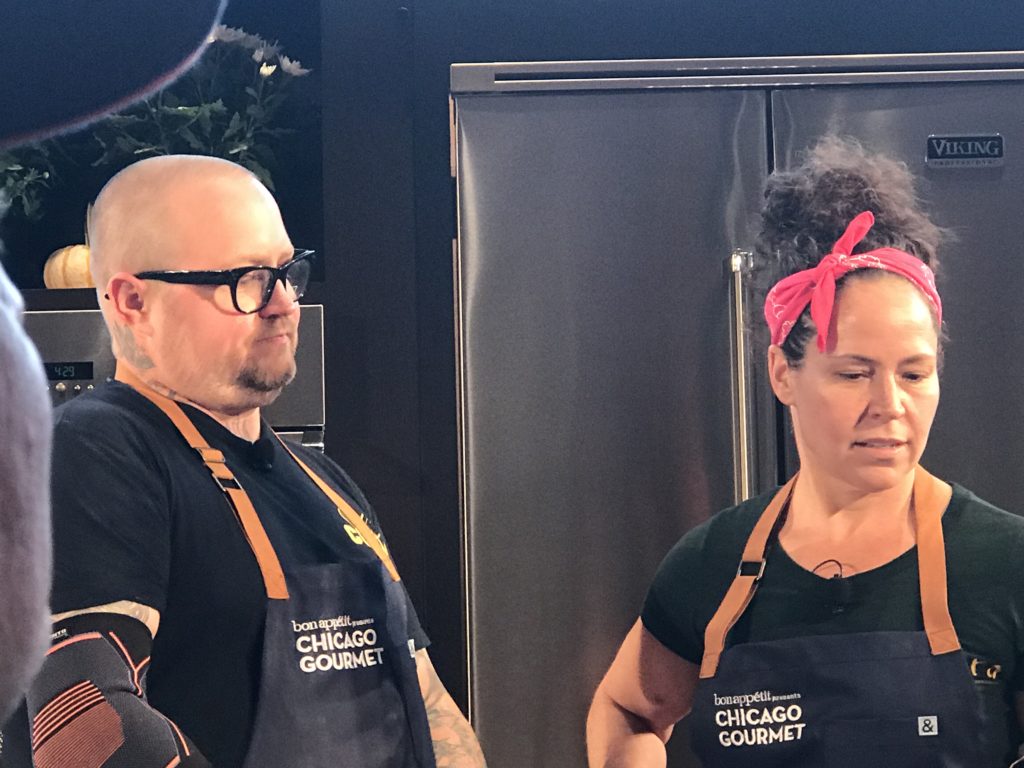 Chef Izard's energy match with Chef Bissonnette was the curtain call everyone in attendance desired. She sheepishly mentioned that she liked cooking with Chef Bissonnette because he respected the "craft" of cooking. It wasn't just a respect for the craft, it was nice to see that they weren't trying to upstage each other with over the top ingredients or antics. (And Chef Bissonnette's electric stove advice of keeping one burner on low, one on medium and one on high will be a game changer for me!)
And then in the final moments of the demo…..it happened….
The DJ pumped the music up and the chefs all started dancing to "You Can't Stop the Feeling" by Justin Timberlake. Next thing you know, the chefs are dancing and the entire audience was on their feet singing, clapping and bumping their hips like a scene out of Saturday Night Fever. (And mad props to the "Goat-Tenders" for the Dirty Dancing Time of your Life moment.)
It truly was an epic moment to experience at the end of a blockbuster weekend.
As I walked away, I had the opportunity to give Chef Bissonnette a high five and boogied on down the road with a few happy tears in my eyes.
I love the food but the Chicago Gourmet demonstrations are the real live moments that memories are created from each year.