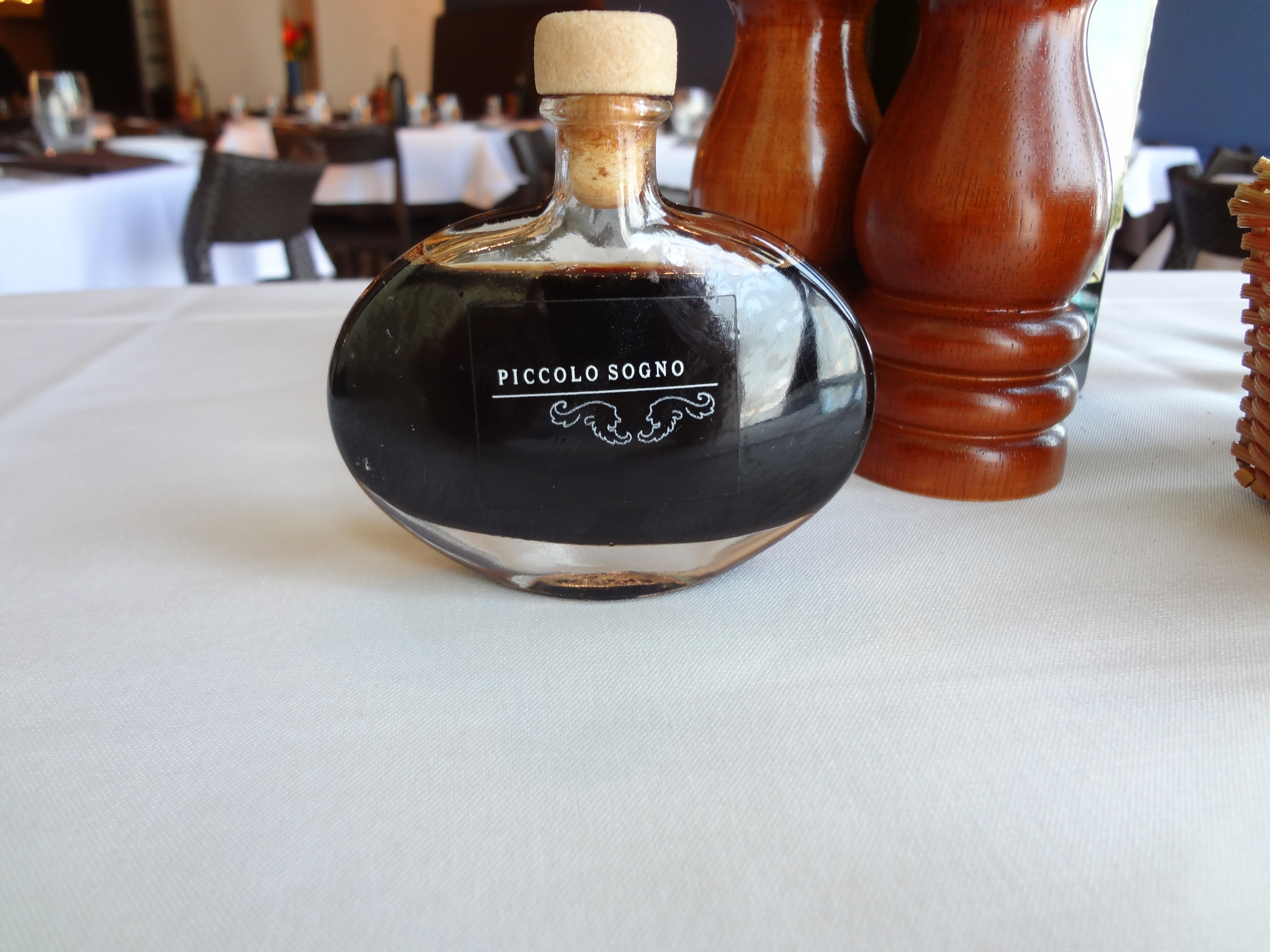 A little dream.   Whether you want to grow up to be a teacher, a veterinarian or a truck driver, your dreams are what steer you on the highway called life.  (Yes, I wanted to be a truck driver.)
Tony Priolo's dream was to have an authentic Italian restaurant that got to the heart and soul of Italian cooking.  The eight-year-old Tony started to learn about the rustic, clean flavors at his grandmother's apron strings in the Northwest side of Chicago. His culinary skills with Italian cuisine were mastered as he worked his way up the culinary ladder as a student, prep cook, and as a prestigious executive chef.
Naples native, Ciro Longobardo's dream was also to have a restaurant.  His desire was on the other side of the kitchen.   Ciro focused his dedication in learning how to make every aspect of a dining experience perfect, which included developing an expertise in wine.  His skills were honed at some of the finest hotels in Switzerland, Italy, Germany, and England.
They were able to share their thoughts on this dream when they worked together at one of Chicago's top Italian restaurants.  And from this, Piccolo Sogno or "little dream" was born.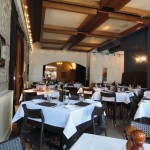 From the minute I walked in the door, the aroma wafting from the open kitchen told me I was in for a fabulous meal. (I loved the details of the copper pots hanging from the ceiling and the beautiful "meat carving" station.)
Diners took advantage of the spring day by sitting outside in Piccolo's beautiful patio dining room.  (I ate inside so I could ask a lot of questions and not annoy the other diners.) Spring fever was apparent as I watched people linger over their glasses of Italian wine.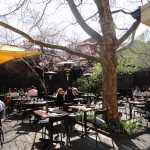 Did I say Italian wine?  Ciro's master knowledge in wine is showcased in Piccolo's Italian wine list. (And when I say Italian wine list, I'm talking EVERY WINE is Italian).  The 500+ wines are listed by region and grape type.   Ciro goes to Italy every year for wine conventions and vineyard tastings just to stay in touch with the flavors and nuances of all the new vintages.  (I learned more in one conversation with him than I've ever known before.)
The lunch menu offered Italian dishes such as house made pastas, hand tossed pizzas (I really saw them tossing the pizza dough), fresh regional salads, authentic paninis and a wide array of main courses "secondi" like Battuta di Pollo (grilled chicken, goat cheese, pine nuts) and Saltimbocca (flattened pork loin, prosciutto, wine sauce).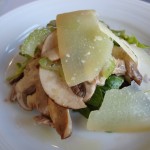 I went "old school" Italian and made lunch my big meal of the day.   My meal was started with a delightful light salad called Carpaccio di Funghi.  Freshly shaved slices of mushrooms served with thin slices of celery, celery leaves, greens, shaved pecorino and tossed with light red wine vinaigrette.  The freshly shaved mushrooms acted liked little sponges and absorbed the vinaigrette so you tasted the gentle acid with each woodsy bite.
(I can't leave out that on the table there were fresh made breadsticks, bread and Focaccia with an amazingly rich olive oil AND a rich, syrupy aged balsamic.  The little kid in me could have filled up on this alone!)
Next was my "antipasti."  The Cecina Fritta (chick pea fries) was wonderful.  Seasoned with a perfect amount of rosemary and parmesan, the chickpeas really held a lot of flavor without being heavy.  (I've never had anything like it before but would order it again!  Please note that someone started eating before the picture was taken!!!)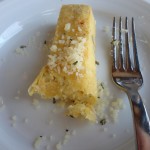 I also ate (inhaled) the Cozze Con Pancetta (mussels cooked with white wine, garlic, and house cured pancetta).  This was rustic Italian at it's best!  There was a rich, lusciousness to the broth from the pancetta that made me happy that it was served with garlic crostini.  I wasn't going to miss a bite.  (And I was glad that no one could see me swiping my bowl clean!)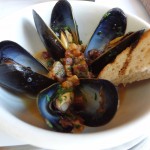 After my antipasti, I was on to the traditional first course of Pasta.  To my delight, appetizer portions are available so you can try multiple dishes.
I started with Pagili Fieno Con Vitelli or what is also known as "straw and hay."  (It sounds so much more appetizing in Italian).  The all-homemade, green and white ribbon noodles were tossed with a delicious, rustic veal ragu. Each noodle was thick enough to allow the sauce to cling to every bite, which was delightful.
Next, I had the Ravioli Piccolo Sogno.  These four cheese little pillows (ricotta, parmesan, goat cheese and gorgonzola) were served in a lovely butter sauce with toasted pine nuts and shaved parmesan cheese.  The flavors were highlighted with the perfect amount of Marsala glaze.  (The glaze really is a nice and unexpected touch!)
In addition, I enjoyed the Lasagna Tipica Di Bologna.   The green spinach noodles were layered with a béchamel sauce AND Bolognese sauce.   It was everything you want in a lasagna and more.  It was rich and meaty and tomato-y. (Tomato-y is not a word unless you are talking about Italian food.)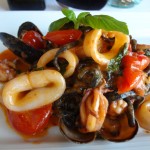 My final pasta dish is my surprise favorite.  I tried "black spaghetti."  As a former picky eater, I was not sure if I would like the Spaghetti Neri "frutti di mare" (technically on the dinner menu) because I knew that it was "squid ink" spaghetti.  This is ANOTHER lesson in trying new things.  (And taking the advice of Alfredo who helped me with my menu choices.)
The string cut black spaghetti was adorned with flawlessly cooked pieces of shrimp, calamari and mussels in an astonishing light San Marzano sauce.  And I must admit that I was stupefied at how much I loved each and every bite.
I was stuffed at this point but was told I had to try the homemade gelato and it was the bright crisp note to end my meal.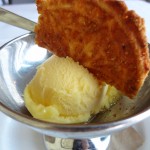 The "little dream" of Tony Priolo and Ciro Longobardo has turned into a big dream for Chicagoland.  They will be opening their second restaurant, Piccolo Sogno Due, in June.  (It will have it's own unique menu and specialize in seafood.  I will add that Piccolo uses produce from a wonderful local farm in North Judson called Green Acres…I'm visiting them in April!)
There is a kind of energy emitted from Piccolo Sogno.  I am not sure if it is because it was built on two lifelong dreams or the foundation of family I felt everywhere.  Any which way, I want to go back and relive this dream again.
PS I am sad to say that my dream of being a truck driver never came true.