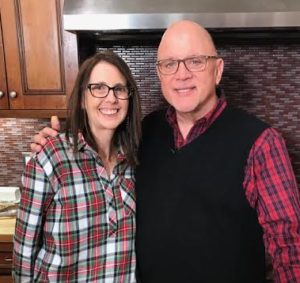 Food.  There is something magical about how food connects people. So much of Felt Like a Foodie has been based on moments where food bonded me to places, events and people. The significance of that time may not be apparent as it occurs but it definitely will conjure a memory the next time I consume that particular food.
This past Friday, I was asked to join a "studio audience" at The Chopping Block when they were filming multiple LIVE spots on WGN's Around Town.  (Emmy award winning entertainment reporter Dean Richards was our awesome host with the most subbing in for the vacationing Ana Belaval.)
The excitement and anticipation of watching owner (Shelley Young) teach multiple recipes on holiday entertaining was almost equivalent to a child on Christmas Eve. She was going to showcase some specific dishes out of 3 classes that are available at The Chopping Block.  (Here is there link to the class schedule.)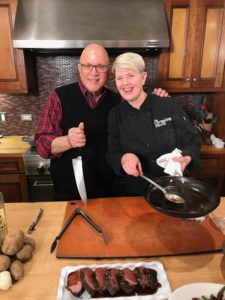 But this is where life took over and Chicago was having a bad news day.  Shelley's spots were getting cut for breaking news and things didn't go as planned.  I felt moments of being somber that we were together for a joyous time of food and merriment and others were going to remember the day for entirely different reasons.
The interesting thing was the group that was gathered at The Chopping Block were essentially a group of strangers.  We all had a degree of separation of knowing each other but as a collective group…we didn't know anything about each other besides the fact that we all loved food.  (And dogs!)
Our breaks from the LIVE shots were filled with us sharing stories of our families and favorite recipes.  We laughed at the silly things we all do and guilty food pleasures that remind us of our childhood.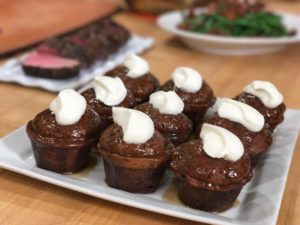 Each time we heard that seconds were being subtracted from the LIVE TV time, no one complained about disappointment.  This is life.  We knew there were uncontrollable things that happen in this world that are bigger than any of us.  We also knew it would probably be a meal that would bring a group of people together in the end.
Anyone who knows me or who has been a long-time reader of Felt Like a Foodie already knows my admiration for Shelley and The Chopping Block.  You see, she has not grown a business that "just" teaches people to cook a recipe. She teaches us how to create those moments that will invoke a memory or remind us of an experience.
I spent today recreating some of the dishes we learned in this class (Here is the link to WGN spot and the recipes we made.)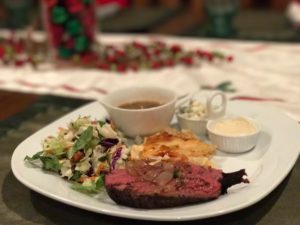 I learned a lot that day and it wasn't just about cooking.  It was about how food was the great connector.  It was about how a table of food can bond people.  We laughed and dipped our way through the morning with everything from Bugles (Thanks Dean!) to an amazing beef tenderloin.
As our world changes and we spend so much time recognizing differences, this day was a gift to me as I was able to enjoy a morning only seeing similarities of a truly diverse group of people.
Thank you to WGN, The Chopping Block, Dean Richards, Shelley Young, my new friend, Erin, and everyone who made that morning possible.
Merry Christmas, my dear readers.  Thank you for giving me this venue to grow and I look forward to sharing 2019 with you.