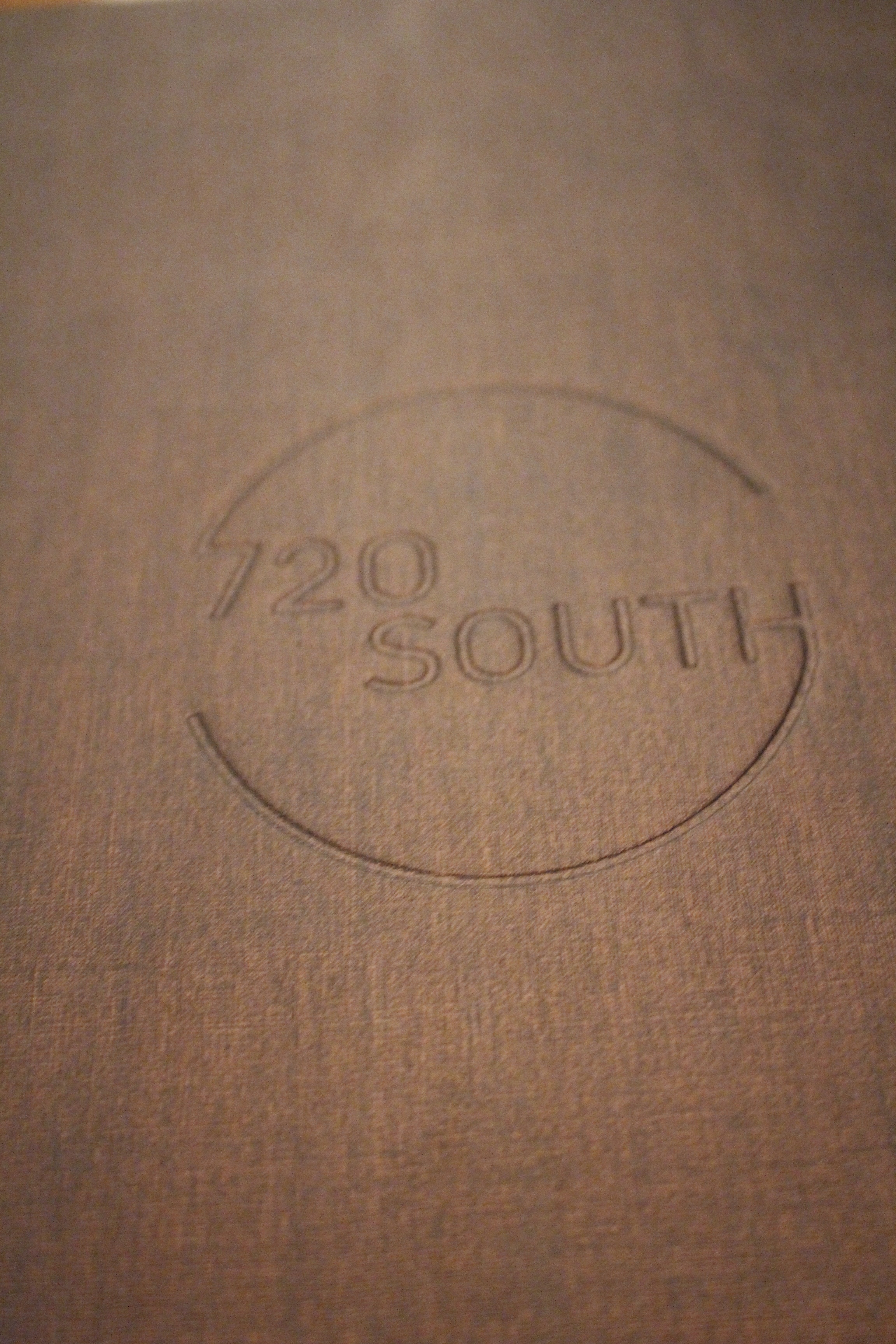 What are most people looking for when they visit the city of Chicago? Are you looking for some history? Maybe you go to the city for a phenomenal meal or two? How about just a place to relax and lay your head? How about all this stuff all under one roof?
Tuesday, I was invited to check out the historical Hilton Chicago (720 South Michigan Avenue) and enjoy some food at their two restaurants 720 South Bar & Grill and Kitty O'Sheas.
My expectations of the day were met from the minute I walked up to the hotel and was greeted by the Bellman named Rufus. With his contagious smile and joy of welcoming people to the Hilton, he reminded me of a movie character
What I didn't realize about the Hilton Chicago was that it opened in 1927 (originally the Steven's hotel) with about 3,000 rooms, shops, ginormous ballrooms, in house hospital and even a mini-golf course on its roof! (Mini golf-courses on roofs should come back in style!)
The hotel has been host to every president since opening in 1927. They have great pictures in the hotel of the history of their guests including my favorite: a menu from Queen Elizabeth II visit.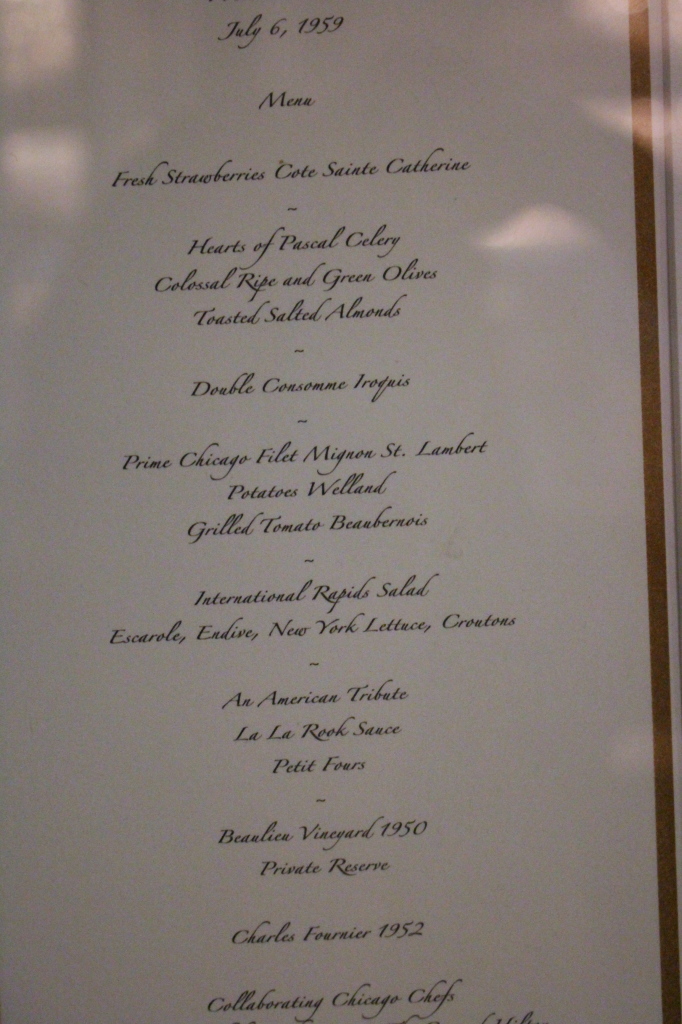 The Chicago Hilton has the largest total meeting and event space of any hotel in the city. (And you can't beat the location of being on Michigan Avenue across from Grant Park.)
As I was walking to the restaurants, I really just wanted to slow down and take in the views of every little detail of the hotel. It is one of those places where you feel the walls, ceilings and staircases could tell you a story if you took the time to listen.
But alas, it was lunchtime and I was here to experience what will now become a historical meal in my memory. Executive Chef Mario Garcia and Executive Sous Chef Mark Brand gave me an opportunity to taste "a little" bit of some of their best offerings from the Hilton's in house restaurants.
From 720 South Bar & Grill, I started with an amazing seasonal salad of Kale, romaine, frisee, butternut squash, dried cranberries, toasted pumpkin seeds and goat cheese from LaClare Farms. The light apple cider vinaigrette had just enough acidity to make everything taste just great together. (And if you don't have time to sit down to lunch, they have some great grab and go options in the Herb N' Kitchen in the lobby of the hotel.)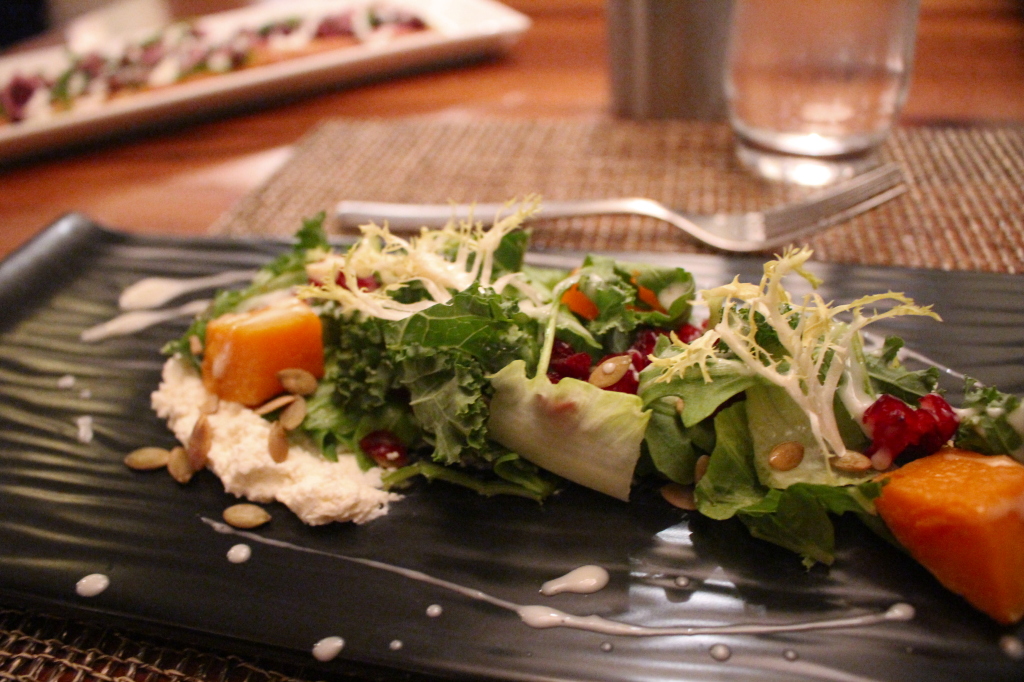 Next, Chef Mark brought out a Black and Bleu Steakhouse style Flatbread. The "black" on this flatbread was blackberries and it's flavor combined beautifully with the grilled New York Strip steak, pickled onion and peppery arugula. Every taste bud on my tongue was awakened and there wasn't a texture that was overlooked.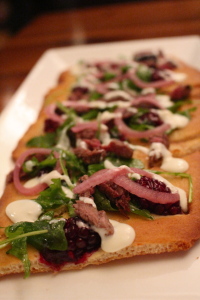 The Maryland Style crab cakes were presented next with a tempura fried squash blossom filled with ricotta cheese and corn. I NEVER order crab cakes when I'm out because I like mine the best. But I must give kudos to the chefs because these were really awesome. The pimento cheese aioli was a nice touch and I really enjoyed the big pieces of crab in each cake.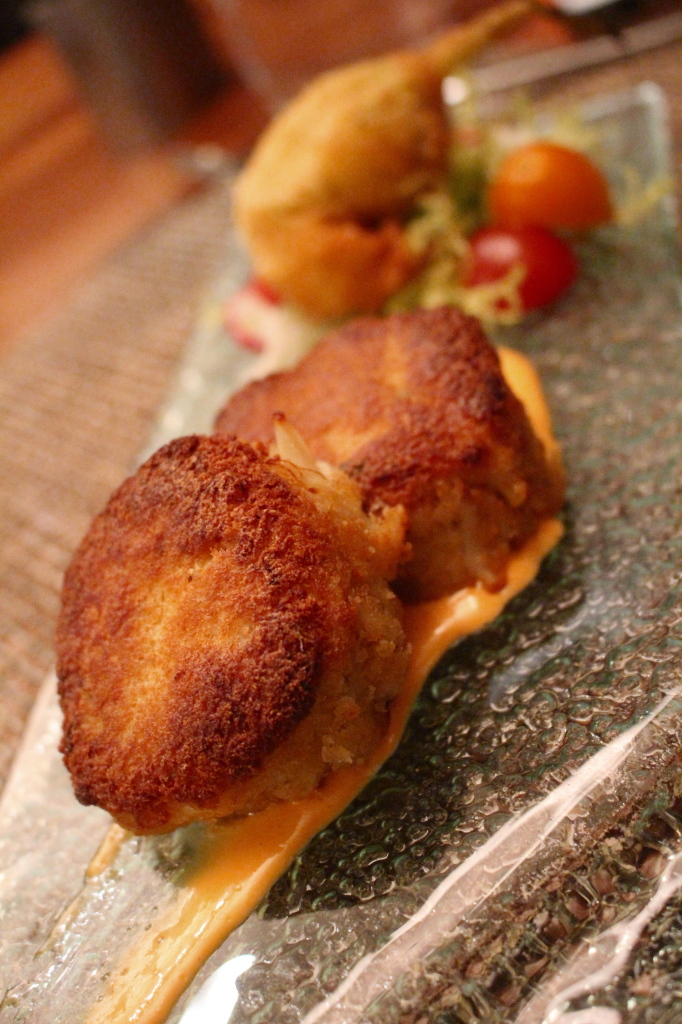 Just when I thought I couldn't eat another bite, I was enticed with Skuna Bay Salmon, grilled zucchini and some microgreens from the roof top garden. The soubise sauce really flattered the fish. Soubise is like béchamel with an onion puree. It wasn't heavy which was nice and it didn't overpower the dish.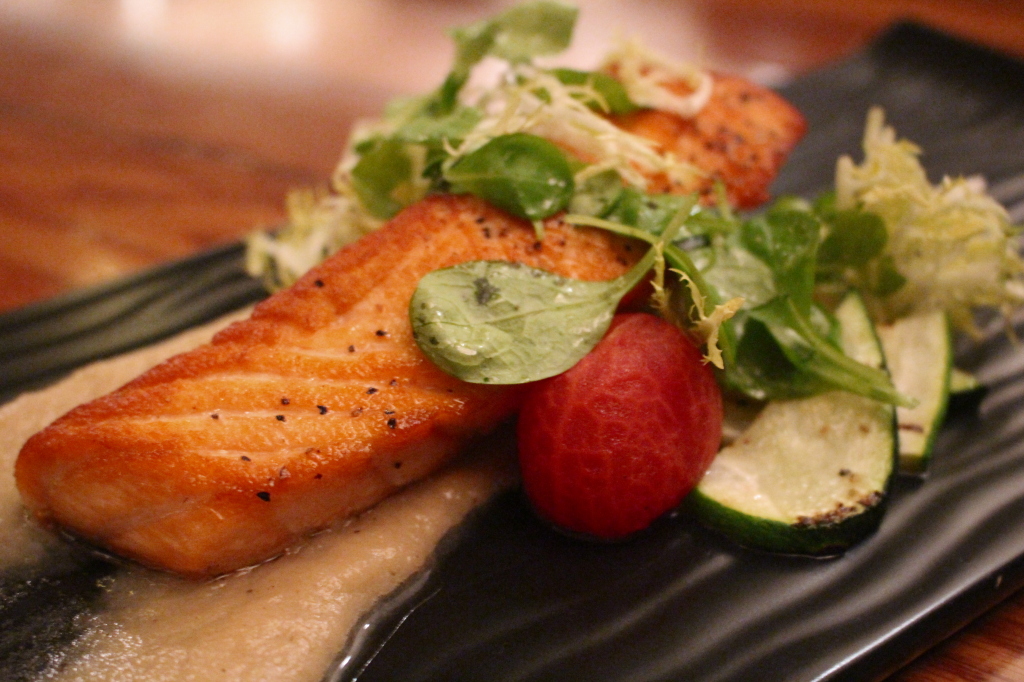 The Halibut was probably my favorite dish. The fish was cooked to perfection and I am absolutely in love with the carrot/parsnip puree that was served on the side. Mixed in with some succotash and hickory smoked bacon sausage and you've got a smile on a plate.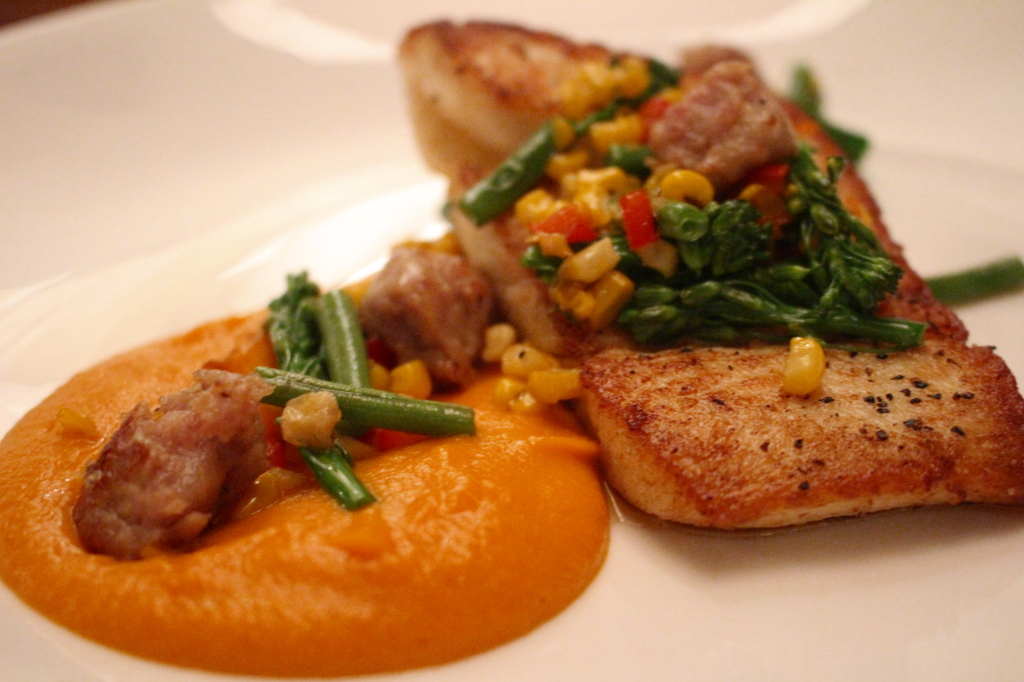 The carrot puree (or pudding as I kept calling it) really was outstanding. I want to eat that with every comfort food meal I make this winter!
I couldn't leave the Hilton Chicago without trying a couple of dishes from Kitty O'Sheas (their Irish Pub). When I toured the kitchens, I had the pleasure of seeing their corned beef being made. Only thing better than smelling it cooking was being able to eat it on a sandwich made with marble rye and a Guinness mustard blend.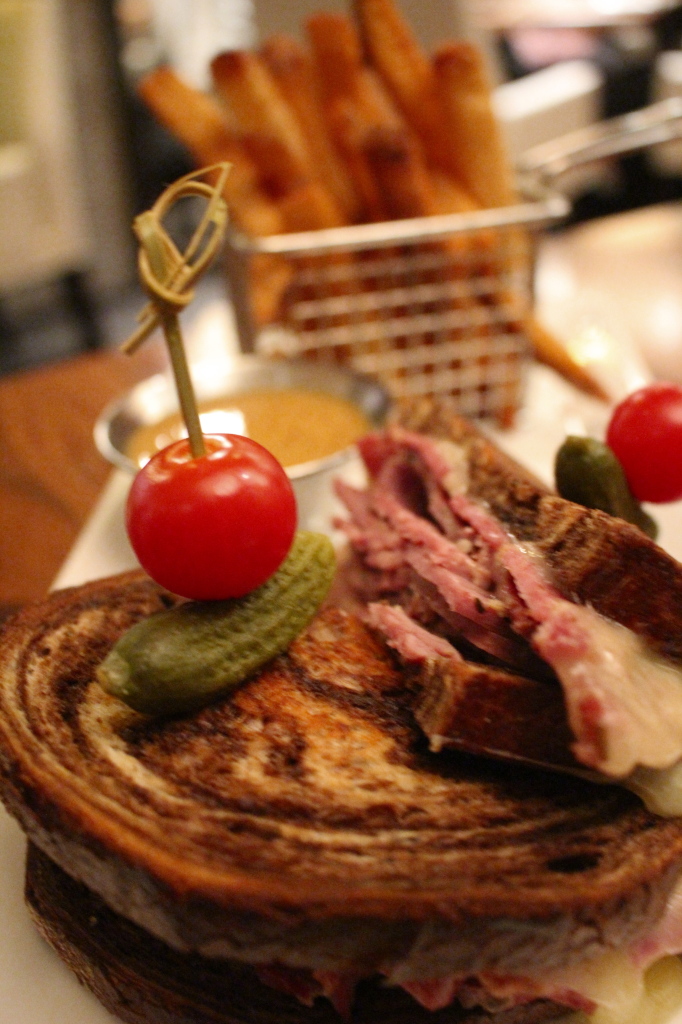 And finally for lunch, I had a big plate of Kitty O'Sheas signature dish….Fish and Chips. Simply a North Atlantic cod, dipped in Smithwick's Irish ale and fried tempura style. It was so light and crisp and didn't even need the malt vinegar and Old Bay tartar sauce….but they were really tasty too!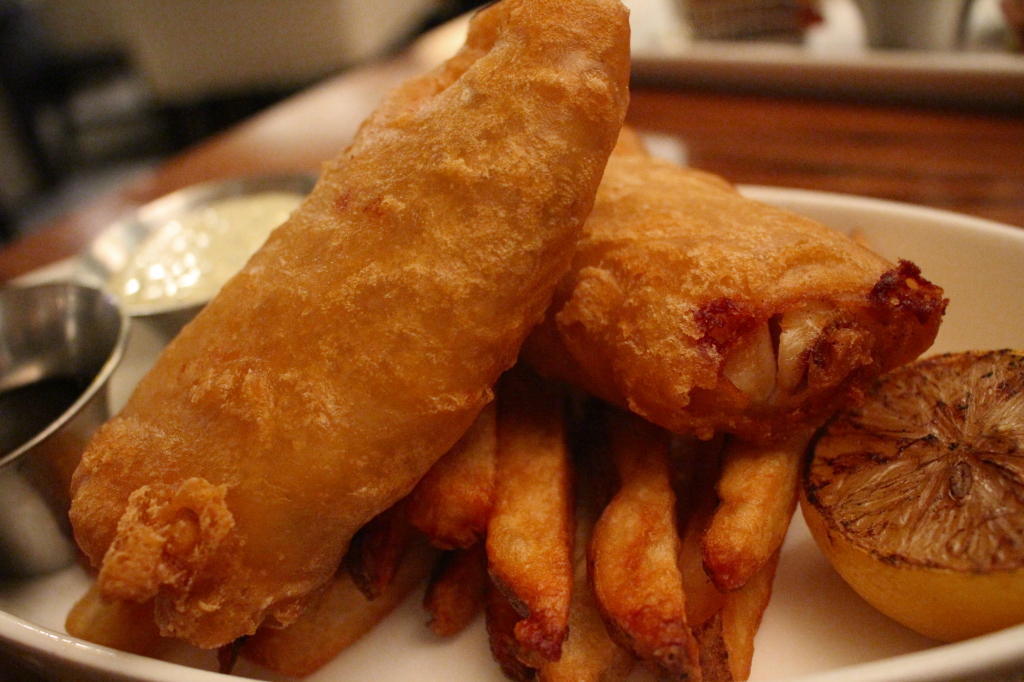 The "chips" were also delicious and perfectly seasoned and I want to eat this again…and again.
The icing on the cake was courtesy of the amazing pastry kitchen in the Hilton Chicago. They make everything here from breakfast pastries to wedding cakes! I was treated to a yummy date cake with coconut mousse and a salted caramel gelee on top. It was a piece of art and I almost felt guilty about eating it…but it was delicious….really delicious.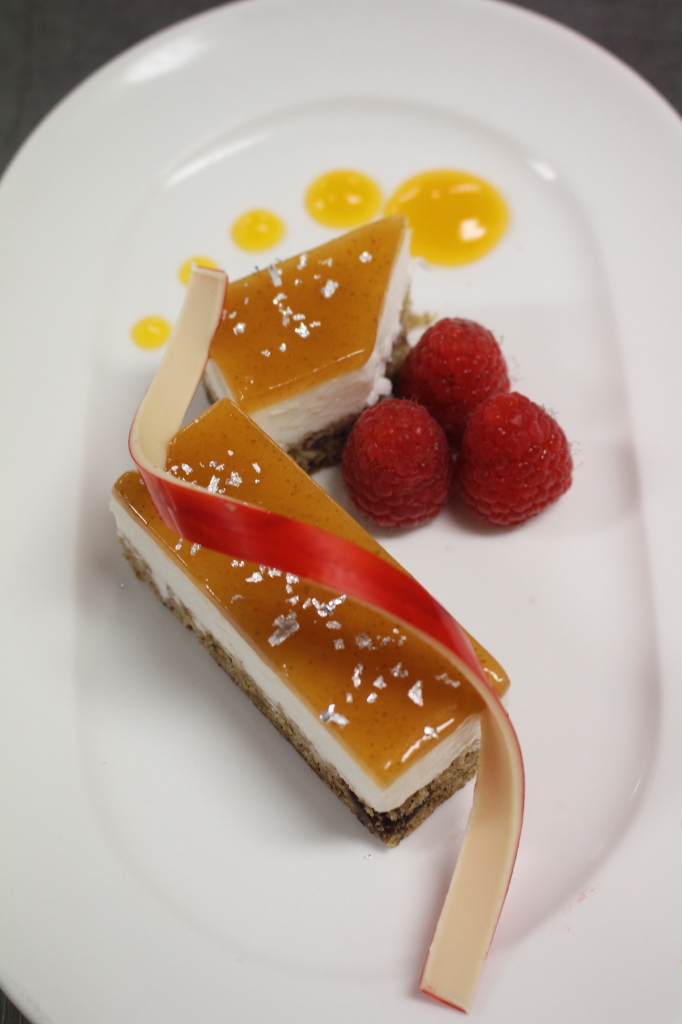 The only thing I didn't do at the Hilton Chicago was sleep and I hope to do that one-day. (Especially if I am going to eat myself into a food coma!)
There is a story in every corner of this building and it is one of the reasons I love the city of Chicago. You never know what you are going to learn until you walk through the door. Thank you so much to Chef Mario and Chef Mark for inviting me and I can't wait to come back.