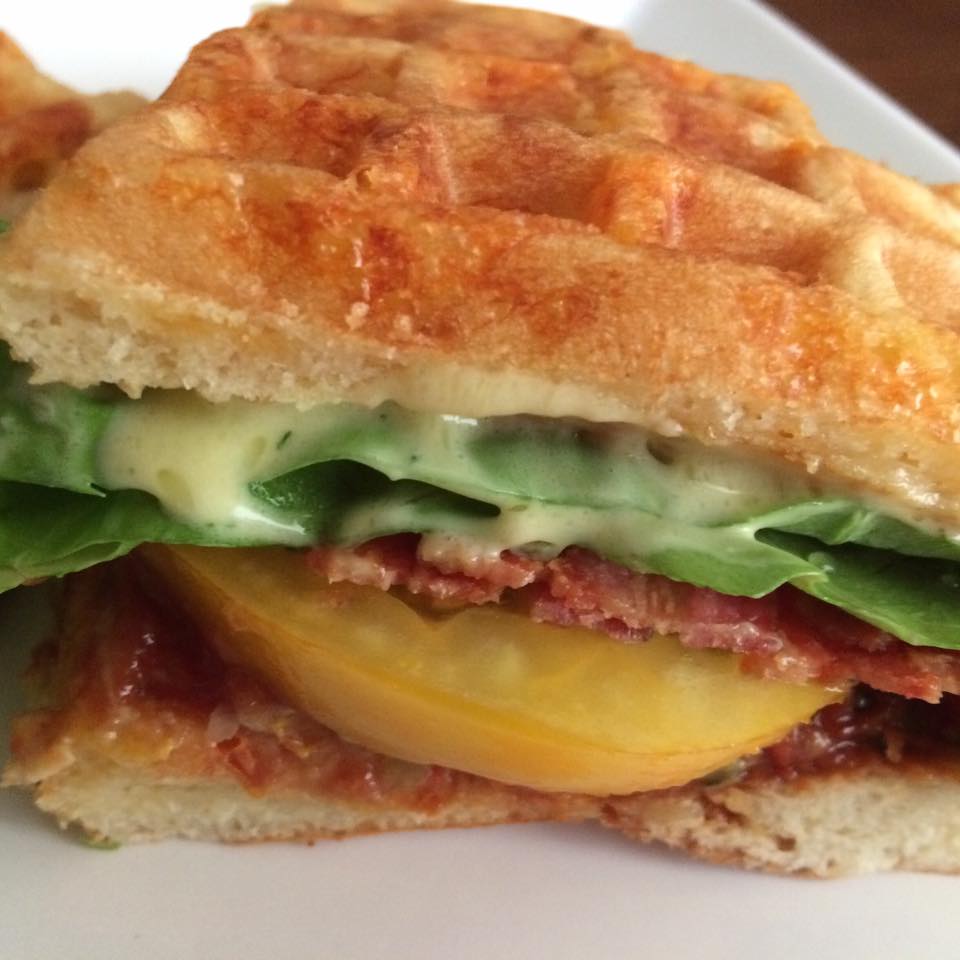 Let me start this off by saying that I am in no way, shape or form saying there is anything wrong with the classic BLT. It is probably the most perfect sandwich in the world. (Peanut butter and Jelly lovers please don't send hate mail.)
There is just something magical that happens when crispy bacon is paired up with a garden fresh tomato and crispy lettuce on bread dotted with mayonnaise.   (Seriously, I just made my mouth water.)
The problem is when you grow tomatoes the splendor of the summer BLT gets…dare I say…boring. GASP!! For me it has become the missionary position of sandwiches. It is still good and it is better to have a sandwich than not have a sandwich but every now and then you need to change things up.
So last night I decided to go wild…in the kitchen…on a sandwich.   I didn't want to just make a BLT….I wanted to build it!
The first thing I did was make waffles. Yep, waffles. Everyone loves a good chicken and waffle sandwich, why can't I have the same result with a BLT. My big issue is that I wanted it to be savory not sweet.
I am not a waffle expert so for this first go around; I did the walk of shame and bought a mix. I made it per the directions and heated and oiled up my waffle iron. When I put the batter on the griddle, I helped it spread out a little with a spatula. Before I shut the lid, I sprinkled it with grated cheddar cheese and shut the lid. DON'T PEEK!!! Let the griddle do its job. When you start to smell the toasty, nutty goodness of melted cheese, take a look. You want a nice brown waffle.
Next, I thought about the spreads for my waffle. I truly didn't want to make this too sweet so I did two different spreads. The first was one of my standbys…a bunch of mashed roasted grape tomatoes with garlic and basil. (This adds nicest sweet component to the waffle and can give maple syrup a run for it's money.) I just spread a generous spoonful onto one side of the waffle and made sure some sunk into the holes.
The next layer was my garden tomatoes. I had some Lemon Boys that I cut into slices and gave a light sprinkle of salt. It was great to have some tomato on tomato action going on! (This is very kinky behavior in the tomato world.)
My next layer was my cooked crispy bacon. My biggest advice about bacon…. make more than you think you'll need. It is impossible to resist snacking on it while you wait for the other pieces to be done. (Impossible to resist like my husband….unless I am making a crazy sandwich in the kitchen….and then I tell to get lost.)
Another debate to be had is where to put the lettuce. (And for those of you who think that is a euphemism….you are SICK!!) Some say it must be next to the tomato, others say it should touch the bacon. (And then there are weirdoes who want it in between the bacon and tomatoes but those are the same people who were thinking dirty earlier in this paragraph.) My current preference is on the opposite side of the tomato. I think it makes the sandwich less slippery!!!!
Finally, an article written about Tom Colicchio's new sandwich shop and his "insane" BLT inspired the last half of the waffle. (Read the article here.) I made an aioli per his recipe EXCEPT that I left out the garlic (there was garlic in my roasted tomatoes) and I added a heaping tablespoon of fresh dill.
I spread that on the other half of the waffle and plopped it on top of the lettuce. I then just sat back and looked at it. It was beautiful. I almost thought I could hear crying in the background. (Yep, it was crying…it was my husband…he hates when my cooking comes before him.)
I cut the waffle in quarters and took a bite…oh…oh my…oh my gaaawd. It was delicious. If I were to criticize one thing, I would have made a crispier waffle but I chalked that up to rushing my waffles and not letting them brown all the way.
Will this be my new way of always making waffles? Nope, it was phenomenal but it was a lot of work for a sandwich. Would I say it was worth the effort: YEP! You gotta mix things up once in awhile and keep things exciting….in the kitchen.