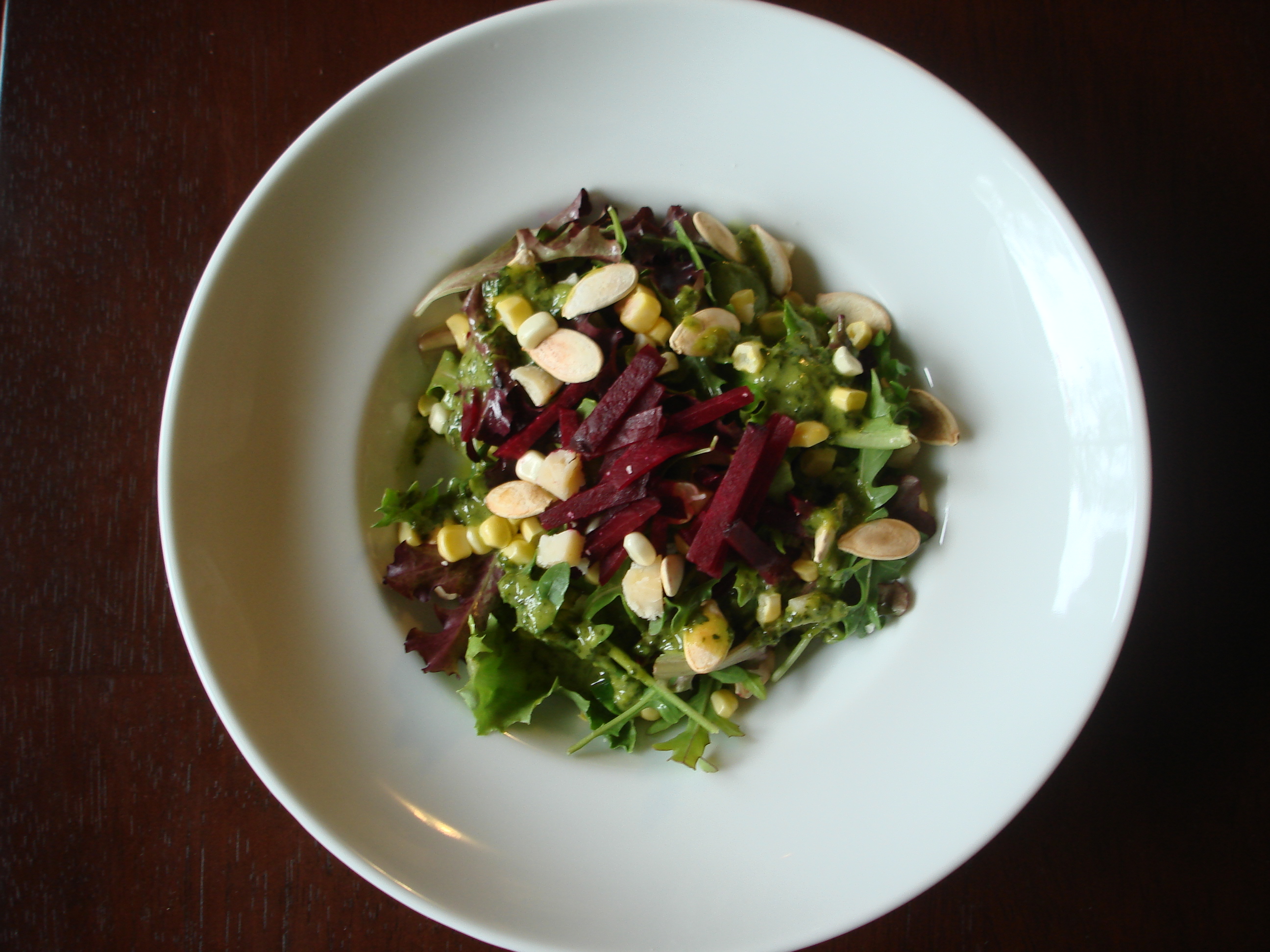 There are foods out in the world that I had convinced myself that I would never eat due to my past years of being a picky eater.  The beet had the distinction of being one of those foods.
I had only really seen them on a salad bar glistening like slices of overcooked Jell-O.  I knew that in this form they were pickled but I still was never convinced to put that gelatinous looking muck in my mouth.
In one of my cooking classes, I was urged to try a piece of roasted beet.  I was guaranteed that this would taste so unique that I would never look at a beet the same again.
I was hesitant at first but I eventually but I put on my big girl panties and took a bite.  I was completely taken aback.  It had a bit of sweetness with just a tiny tang of sour.  It was delicious and has become one of my new favorite flavors.  I guess it pays to continue to try new things
Spring Roasted Beet Salad with Honey-Lime Dressing by Barbara J. Miller
Ingredients for Salad
3 small beets, roasted
2 ears of fresh corn, kernels
1/4 cup toasted pumpkin seeds (pepitas)  (If you don't like pumpkin seeds try sunflower seeds instead)
1/2 cup cotija cheese  (or feta mixed with parmesan)
1 green onion, chopped
5 ounces spring greens (baby arugula, baby romaine, frisee, radicchio, etc)
Directions.
1.  Set oven to 375 degrees
2.  Beets were halved, drizzled with olive oil, wrapped in foil and placed on baking sheet.  (I halved them to get them to cook faster)
3.  Roast for 30 minutes.  Remove from oven and cool for about 5 minutes.  (They should be fork tender when they are done)
4.  While beets are roasting, make salad dressing.
5.  Once beets are finished, julienne them and set aside.
6.  In serving bowl, mix greens, corn, cheese, onion and pepitas.
7.  Lightly dress the salad and top with beets. Don't mix the salad with the beets or everything will become pink.
Cilantro Honey-Lime Dressing
Ingredients for Dressing.
1/4 cup fresh lime juice
1/4 cup extra virgin olive oil
1/4 cup cilantro
3 Tbsp local honey
1 clove garlic
1 Tbsp. Jalapeño
1/8 tsp fresh ground coriander
Zest of one lime
Directions
1. Place all ingredients in blender except for olive oil.
2. Blend once or twice.
3.  While blender is running, slowly add olive oil.
If you are a regular reader, you many remember that I used roasted beets in my salmon hash recipe.  I know that recipe was a little unapproachable for some people but this one should not be at all.  Even if you have the same beet apprehension I had, you will want to put your big people panties on and try it.  (You should wear underwear even on days you aren't eating new foods but that is a whole other post).