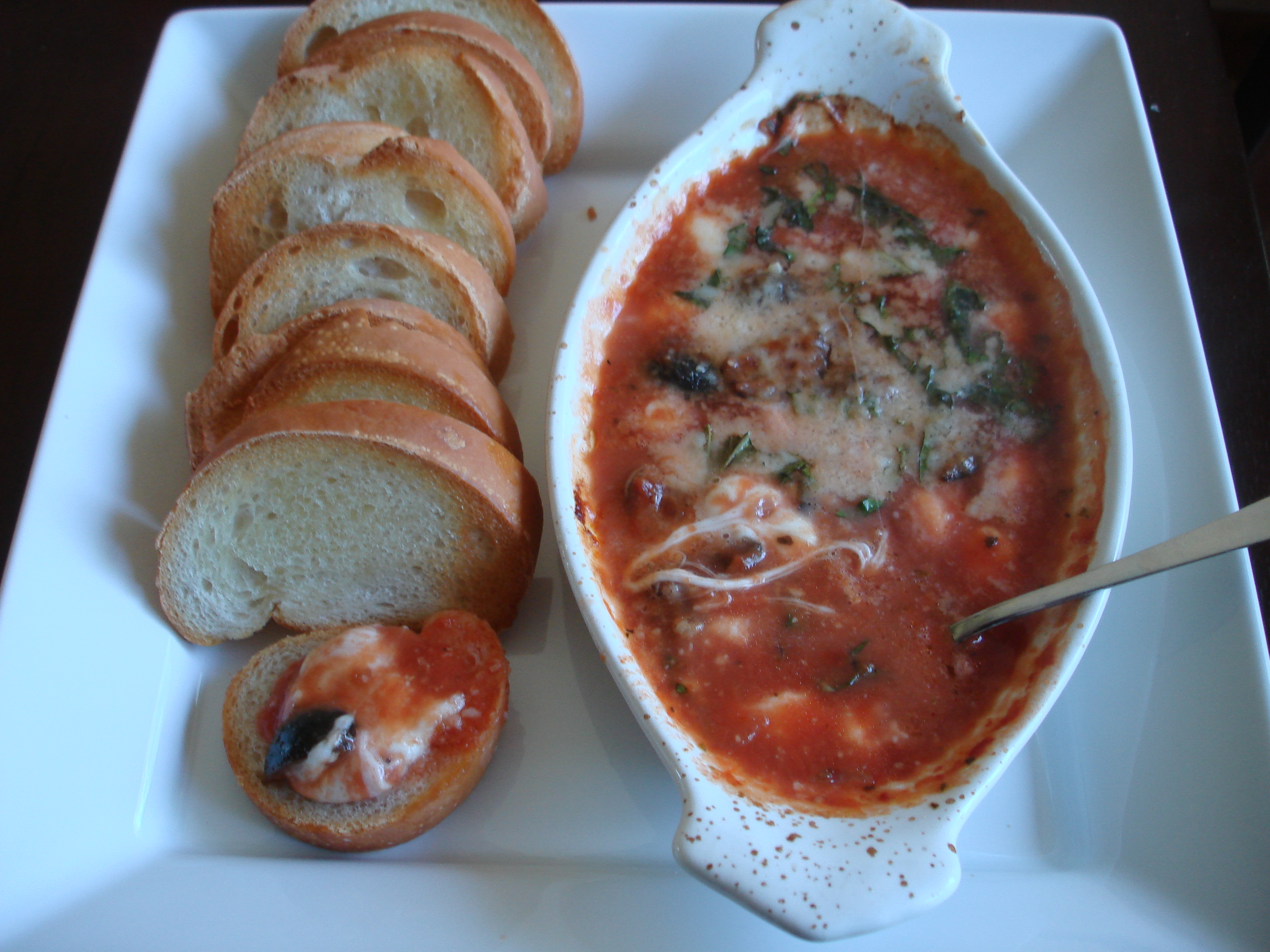 Of all the Mother Sauces, Tomato sauce is the one people are most familiar with eating or cooking.  I could even dare to say it is the mother of all Mother Sauces.  I have never met a person who doesn't like tomato sauce.
The tomato sauce is probably the only mother sauce that can be made with a minimum of 3 ingredients.  You can cook a tomato (skinned and seeded) in some olive oil and add some salt, and create the most basic of tomato sauces!  It is almost like the tomato is magic!
A good tomato is juicy and has a rich flavor making it the perfect base for a delicious sauce.  The other neat thing is its natural structure allows it to thicken into a sauce so you don't have to depend on a thickener like a roux.
So since I am continuing to talk about Mother sauces, I thought it was only fitting to do a recipe of a dish that I recently enjoyed with my mom.  We went out to lunch and ordered an appetizer called "Mozzarella Pizzaiola".  It's description on the menu was a bit deceiving because we thought it was going to be a cold dish but what came to our table was a delightful bubbling dish of poached mozzarella in a light tomato sauce.
| | | |
| --- | --- | --- |
| Fresh Mozzarella Poached in Tomato Sauce | | |
Author:
Total time:
1 hour 10 mins
Fresh mozzarella poached in a tomato and olive sauce.
Ingredients
1 Tbsp olive oil
1 shallot, finely diced
6 cloves of garlic, chopped (you can alter the garlic to suit your tastes)
28-ounce can of tomato (I use strained or diced)
1 Tbsp sugar
1/4 cup red wine
1/4 cup chicken broth
1 Tbsp red wine vinegar
Salt and pepper
1 Tbsp Italian seasoning (be creative)
2 Tbsp fresh basil, torn
1/2 cup olives
2 cups fresh mozzarella balls (bocconcini) (if you can't find the little balls use one or two big ones and dice it up)
Parmesan cheese
1 baguette sliced and toasted.
Instructions
Heat olive oil in medium saucepan over medium heat. Add shallot and garlic. Sauté for about 5 minutes. Do not let garlic brown or your sauce will be bitter.
Deglaze the pan with red wine.
Add tomatoes, sugar, vinegar, olives, chicken broth and dry seasonings.
Bring to a slow boil and reduce heat to a simmer.
Let cook at least 30 minutes but you can cook for an hour.
Taste for seasoning. (If you like a little heat, add a couple of shakes of red pepper flakes.
In a small casserole (or little individual dishes), place fresh mozzarella. Add sauce. You want a little bit of sauce to surround each ball.
Sprinkle with parm and fresh basil.
Cook at 400 degrees for 20 minutes. (For extra bubbly goodness, broil a minute or two at the end)
Serve with the baguette slices.
This tomato sauce is one I would call an appetizer sauce.  It doesn't have the richness of your grandmother's pasta sauce  (don't all grandma's have their own signature sauce) but it is still satisfying.  I would use this on things like pizza bread, a dip for baked mozzarella or as a poaching liquid.
Given the popularity of Tomato sauce, I will definitely have more to say on this subject in the near future.   I'll try to space out the blogs so you have time to catch up!  (Do I need to point out that was a pun?)