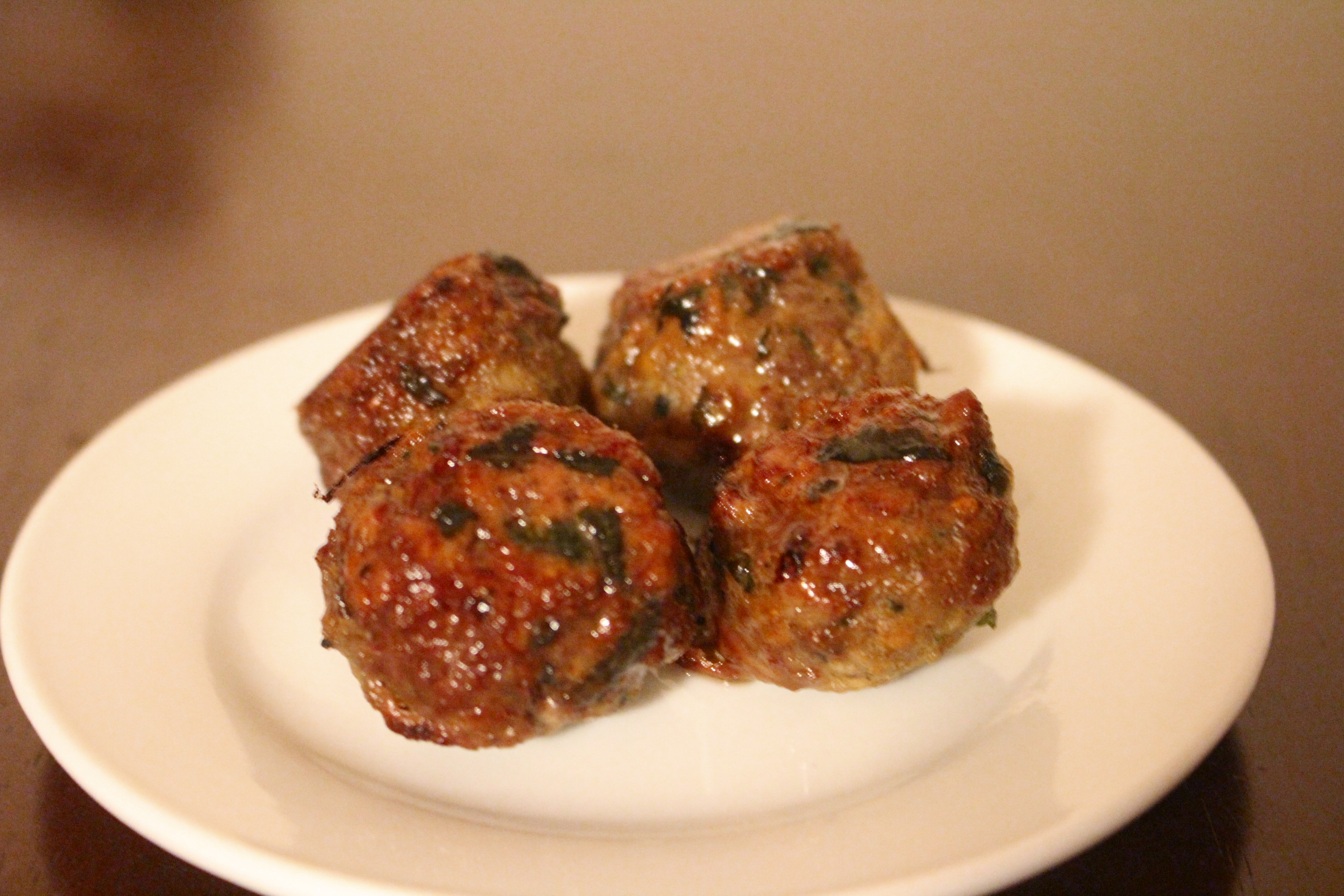 "Deck the table with balls of meat
Falalalalalalala
Really so good no one will leave their seat
Falalalalalalala
There'll be none in your trash barrel
Falalalalalalala
I'd even share them with my sister Cheryl
Falalalalalalala"
I think one of my (and my sister's) favorite parts of the holiday season is the excuse to make a lot of little plates. Whether you see them as appetizers, tapas, hors d'oeuvres, amuse-bouches, or stuff on a stick; they are truly the highlight of my Christmas time treats.
I like Christmas trees made out of cheese, peppers shaped liked gifts and strawberries with Santa beards. The anticipation of seeing a platter of wavy cut carrots, chicken on a stick or spinach in puff pastry sends me into a frenzy. And don't even get me started on things on swords, toothpicks or umbrellas. (If you only reserve your umbrellas for drinks, you are missing out.)
My favorite thing is a cocktail sized meatball. Smother them in bbq, jelly or teriyaki and you've got one happy little girl. I almost get giddy when I see a little crock on someone's table and will actually pout if it is filled with wieners. (I know Santa doesn't like when I pout but who wants to eat an elf size hot dog!)
I think the only thing I don't like about little meatballs is that people think more about their sauces than the actual meatballs.   My husband always is telling me that the balls are really the most important thing and shouldn't be neglected. (Apparently he really is more passionate about his cocktail fare than I ever imagined because he brings this up most of time when we aren't even in the kitchen. It is weird.)
I do understand there is the convenience of just buying a big bag of frozen meatballs and tossing them into a recipe. But as Earl says, you need to spend some time on them. Put some love into them and show people you care. It can make or break an experience.  (He is really getting into this post.)
My biggest issue is the time and effort. I don't want to stand there all day rolling them in my hand and then frying them in a pan! (Earl seems upset that I want to fry them in a pan. He says that is sick and demented. Hmmm, he must want them baked.)
After perusing some recipes online, I looked at an Alton Brown recipe that suggested baking them in mini muffin pans. Hmmm, I've never done that before.
So I followed (meaning I practically copied the recipe but changed a couple of details) some of Chef Brown's hints in merry measure and think I just discovered a new yuletide treasure. Falalalalalalala
Baked Mini-Meatballs
Ingredients
1.5 pounds ground meat (I used a mix of veal, beef and pork. The key is to mix it up.)
8 ounces of fresh spinach, finely chopped
½ cup parmesan (this is the time to break out the green bottle)
1 egg beaten
2 cloves garlic, minced
¼ cup bread crumbs (the fine ones)
Directions
Oven at 400.
Spray your mini muffin pan with your favorite nonstick spray. My mini muffin pan holds 18 meatballs. FYI.
In a medium bowl, add all of your ingredients. Mix with your hands because if you try to mix it with someone else's hands it gets awkward. (This is one of those comments I toss in here to see who reads my blog.)
Please note that I did not add any extra salt to the dish because the parmesan I used seemed to have plenty of salty notes to add to the meatballs. I also did not add any other spices because I wanted to make a batch that would universally fit with any sauce. Feel free to jazz it up a little to suit your meatball needs.
A fun trick to see if they need more seasoning is to take a little chunk and fry it up in a pan and taste it before you bake the whole batch. It is a great way to modify any of your spices.
Using a scoop that holds approximately 1.5 ounces (which also seemed like a heaping Tablespoon), divvy out your meatballs. (Alton Brown actually weighed his out. This is what makes him a genius chef and me a mere humble home cook. )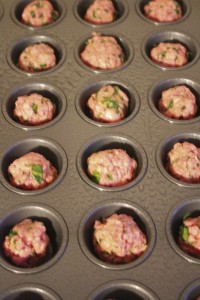 Do a quick roll with your hands and plop them into the muffin tin. Resist the urge to keep them in your hands too long. (No matter what your husband tells you.)
Bake for 15-20 minutes (If you want even brownness on each side, give them a flip at the 10 minute mark.)
Serve with your favorite sauce or toss them on a heap of spaghetti.
Eat the meatballs all together
Falalalalalalala
Heedless of the wind or weather
Falalalalalalala