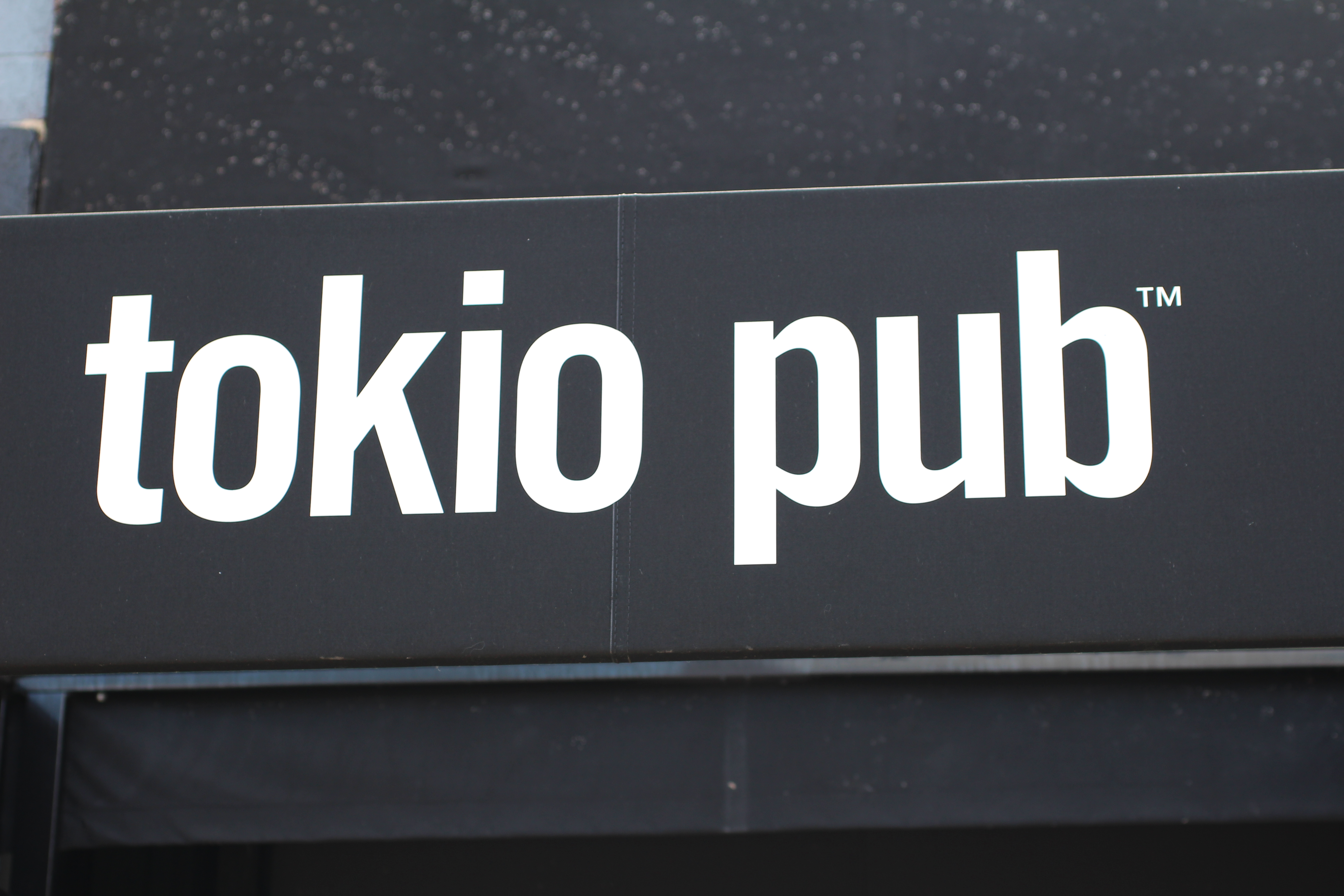 I am giggling, giggling from pure happiness.   It is almost uncontrollable like a hiccup but it feels much better.  The main reason for this spontaneous jocularity is that I had an absolutely fabulous lunch yesterday at Tokio Pub (1900 E. Higgins Road) in Schaumburg, IL.
Have you heard of Tokio Pub?  It is conveniently located in the Streets of Woodfield right next door to its big sister, Shaw's Crab House.  (Everyone knows where Shaw's is located!)
Tokio Pub takes the finesse of fresh Japanese cooking and adds their own unique twists by incorporating classics and fusing the flavors of Japan and Latin America.  And like your favorite hangout, the non-traditional sushi house atmosphere was as welcoming as the VERY friendly staff.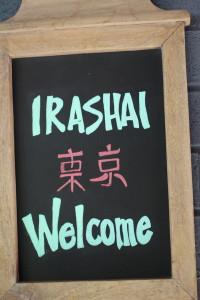 The menu is fun because the left side of the menu is set up for those of us who like to try a lot of dishes and share with our friends, dates or co-workers.  The right side is more meal-centric for people who want to dine on one thing or maybe you are just out shopping by yourself and get hungry.  (No one says you can't order some small dishes AND a larger entrée!)
My wonderful dining companion and I stuck to the left side because we both wanted to try a little bit of everything.  (Given she is pregnant and my husband has been dieting, we were giddy making our choices.)
Starting with a Japanese classic, gyoza (new on the menu), the chicken and pork filled potstickers were served with a zesty, mustard sauce.  I loved the how the mustard complimented the flavors in the meat.  (Okay, I just giggled again.)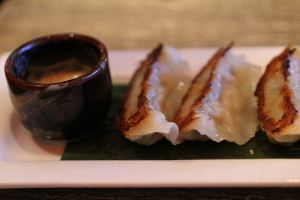 We were good girls and made sure we had some "greens" so we ordered the Tokio Chopped Salad.  With fresh edamame, little bites of orange slices, toasted almonds and twirly, swirly carrot straws, the Asian salad was a great start to our meal.  The lightness of Tokio Pub's Asian dressing was a delightful bonus to all of the fresh flavors.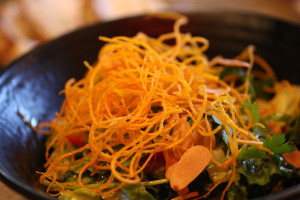 Guided by the skilled hands of Executive Chef, Naoki Nakashima, Tokio Pub's sushi and maki offerings were enough to satisfy anyone's cravings.  We ordered the Tokio Spicy Tuna Roll (because I always have to have spicy tuna) and the King Crab California.  Both were delicious with the taste of the fish just shining and reminding me this is what sushi is about.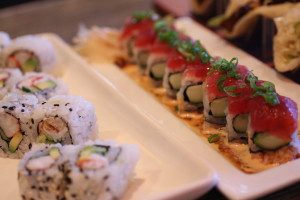 I can't wait to go back for more sushi because there were a few other rolls that I would like to try like the Angel with Tuna, avocado, light rice (1/2 the amount) and PESTO!  Plus the Volcano Roll had tuna, jalapeno, cilantro, tempura Fresno peppers and chili oil.
The rolls were awesome but I was surprised at how much I also enjoyed Tokio Pub's Crispy Rice.  Sushi rice is lightly coated in panko and some bonito flakes and fried.  If that isn't enough to make you smile, they top it with one of three options, tuna (sushi grade, soy mirin, wasabi), lobster (Maine lobster, chili mayo and Fresno peppers) and, my favorite, shrimp (shrimp tempura, shrimp salad, masago and chili oil.)  There is a delightful crunch when you bite into one of these babies.  It was a surprise because texturally it entertained my mouth.  You had the creaminess of the salad, the extra crispy crunch of the rice and then a little added crispy of the tempura shrimp.  (I just made myself hungry and then giggled!)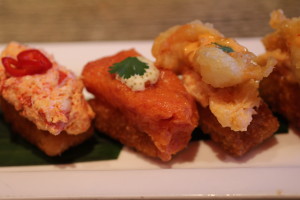 And just when I didn't think my mouth could get any happier, out comes the Japanese Hot Rock.  Piping hot river rocks (trust me they are hot) are brought out in bowls with a selection of the following marinated proteins: skirt steak (spicy Thai basil), New York strip (black pepper sauce), filet mignon (soy chili flake) or ahi tuna (ginger garlic).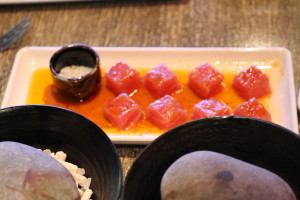 You take a piece of your protein (tuna in my case), season with the salt and pepper provided and put it on the rock.  Next thing you know, it SIZZLES!!!!!!  I didn't think I could get more jovial until I popped it in my mouth, it was phenomenal.  Seared to MY liking, I didn't even need to dip it in the provided hot mustard or want to share my palate with the cucumber salad.  (This is also available as an entrée and served with a tasty veggie stir-fry.)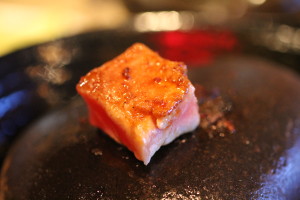 We crossed into the Latin flavors when we concluded our meal with Tokio Pub's signature tacos. With housemade corn tortillas, tacos (crispy chicken, steak nacho, crying tiger shrimp, and crispy shrimp) are available in combinations of 3 or 5.  The nacho taco's barbecue braised pork was so good I couldn't stop eating it.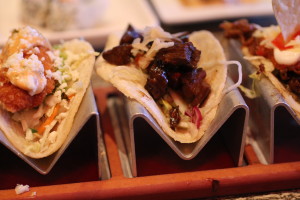 And if you REALLY love tacos, make sure you keep an eye on Tokio Pub's Taco Time updates on their website, Facebook or follow them on Twitter (@Tokio_Pub).  Once a week for ONE hour, they offer these delicious tacos for $1.  It is a great way to get to taste them all.
Tokio Pub's menu has something on it for everyone.  I know my friends who aren't sushi lovers will be thrilled to see the options on the Robata Grill (a 700 degree grill that sears meat to perfection) such as crispy glazed pork belly or twisted lobster tails, stir fried entrees and the diversity of Tokio Pub's Udon Noodle  (there are a lot of add-ons to enhance the expertly made ramen broth.)
We were both too full to enjoy dessert (or a Happi Ending), so we brought our desserts home.  One of us (no names mentioned) got a bag full of beignets filled with chocolate and rolled in sugar that never made it out of her car!  I, on the other hand, saved my seasonal raspberry pie until my husband was asleep so I didn't have to share!
Tokio Pub had me smiling because it truly was a fun place.  With events like the above mentioned Taco Time, Noodle Bowl Sundays (salad, noodle bowl and dessert for $15), sushi making classes (The classes will be at Shaw's Crab House in Chicago in August, September and October and I'll let you know when I have firm dates) and "A Taste Of Summer" Beer Dinner coming up on July 29th (information can be found on their website), there is always something going on.
I started giggling again this morning because I just spotted my leftovers in the refrigerator.  Until I get to Schaumburg again, I will have to just keep the memories of the smiles this food gave me in my mind.  But if you go and you see a woman sitting and smiling ear to ear, don't assume it is me, I think Tokio Pub will get this reaction out of anyone who tries their food.