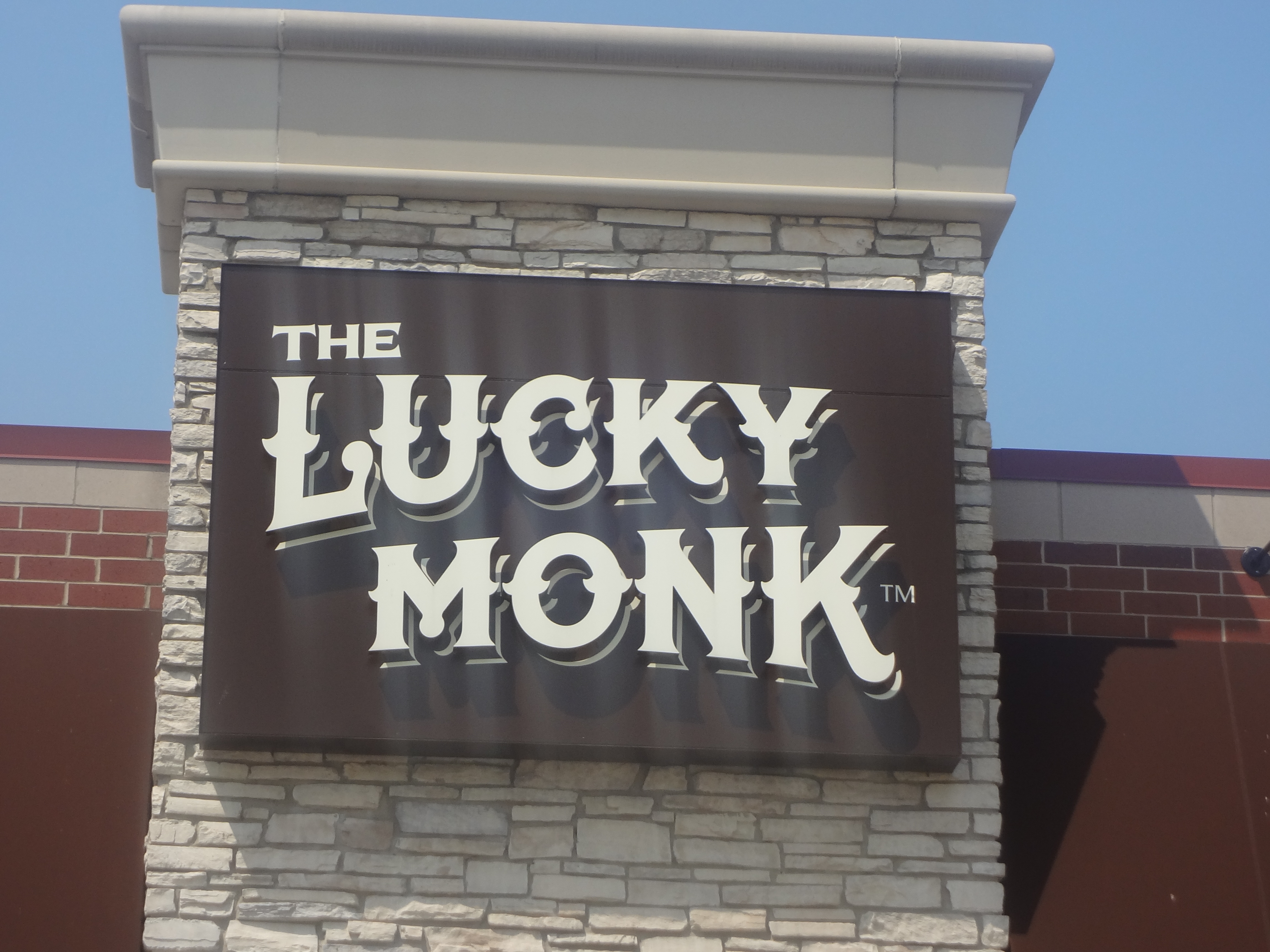 "Elevate your soul."  Is this the motto for a church?  Nope.  How about a beach yoga class?  Nope.  It is the part of The Lucky Monk's motto "Delicious Food and Drink and a Welcome Warm Enough to Elevate Your Soul."
Named in honor of the Trappist Monks (beer crafting masters), The Lucky Monk located in South Barrington, Illinois, takes pride in their amazing list of house brews, crisp, fresh pizzas and juicy, creative hamburgers.  (Keep reading to hear about their "Name your own burger contest.")
Now anyone who reads my posts knows that I am not a drinker but even their beer menu intrigued me.   The sizable list showcased their house brewed signature drafts, pale ales, lagers, fruit beers, gluten-free options and ciders.  It literally was a cornucopia of features unique to this adorable brewpub.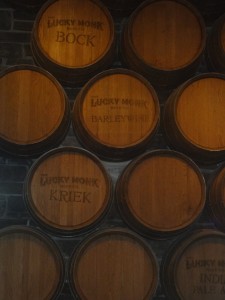 You can't have a brewpub without some amazing "Beginnings."  I am a sucker for a pub pretzel and the Warm Pretzel Trio did not disappoint.   Actually, I went crazy dipping the warm yeasty bread into the gooey Wisconsin cheddar beer fondue and tomato Parmesan sauce.  But I couldn't believe the flavor in the grainy mustard butter.  It had the richness of butter AND just enough mustard to compliment the pretzel and not overpower it.  (It was one of the best compounded butters I've ever tasted.)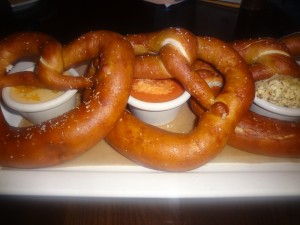 I also enjoyed the Trappist Trio, which consisted of The Lucky Monk's Truffle Fries, Pickle Fries and Beer Battered Wisconsin Cheese Curds.  Served with two dipping sauces, the food shined on their own.  The cheese curd had a nice crunch on the outside but maintained their unique texture inside, as did the pickle slices.  The white truffle oil and parmesan fries are a MUST have when you go to The Lucky Monk.  (They were good enough for a monk to give up his vow of silence to make yummy noises!)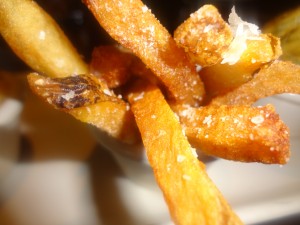 It wasn't my intention to have pizza on this visit but the temptation of a hand stretched, crispy thin pizza was just too much!  And I had to have the most intriguing pizza on the list…The Short Rib and Farm Egg!!!  (I have never had an egg on a pizza before.)  With "Solitude Stout" braised short ribs, mushrooms and onion this pizza only got better when I broke open the over-easy farm fresh egg.  The combination of the rich, moist ribs and the creamy egg yolk was astonishing.  (My awesome waitress, Noemi, couldn't stop me from raving about it each time she came to the table.)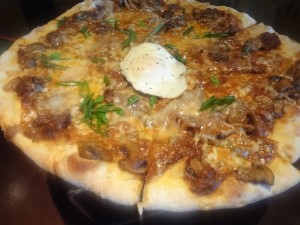 The last item I devoured on my visit was one of The Lucky Monk's hamburgers.  A half-pound of USDA prime beef cooked to perfection (I like mine almost mooing) and topped with a vast array of ingredients.  I went for the Smothered Burger topped with Gruyere cheese, caramelized sweet onion and pickles.  (Every burger is served on a little cutting board so the toppings will stay intact if you decide to cut it in half.)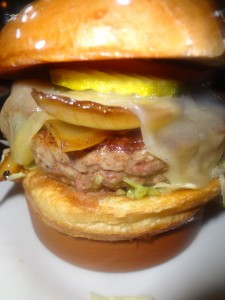 If you are one of those summer grillers with your own creative burger, The Lucky Monk is giving you a chance to create your own burger and have it featured on their menu.  (Submit your burger recipe on their Facebook wall by July 31, 2012 to enter.)
The Lucky Winner's burger will be featured at The Lucky Monk in August on the weekends.  In addition the winner can order their burger on Saturday or Sunday for free AND win a $50 gift certificate to The Lucky Monk.  (Please go to their FB page or website for more information or questions.)
Since you all know I can't resist a contest, my entry would be called the Chicago Dog Burger.  It would be topped with mustard, Green Relish (neon, of course), fried pickle slices, and a celery leaf salad mixed with tomatoes, a little onion and chopped sport peppers.   (And if there were such thing as a poppy seed bun, I would have that too.)
And so I don't leave anything out, The Lucky Monk's menu does have some great looking salads, Brewhouse Signature entrées and sandwiches.  (There is something for everyone.)
I feel like I found a hidden treasure in this restaurant.  The food was wonderful, the atmosphere was relaxing and the service was top notch.  (If you are in the Schaumburg area, this is another great option for lunch or dinner only a short distance away.)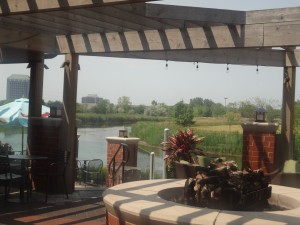 Living true to their motto, my soul (which really likes good food) was elevated and you can't ask for more than that!