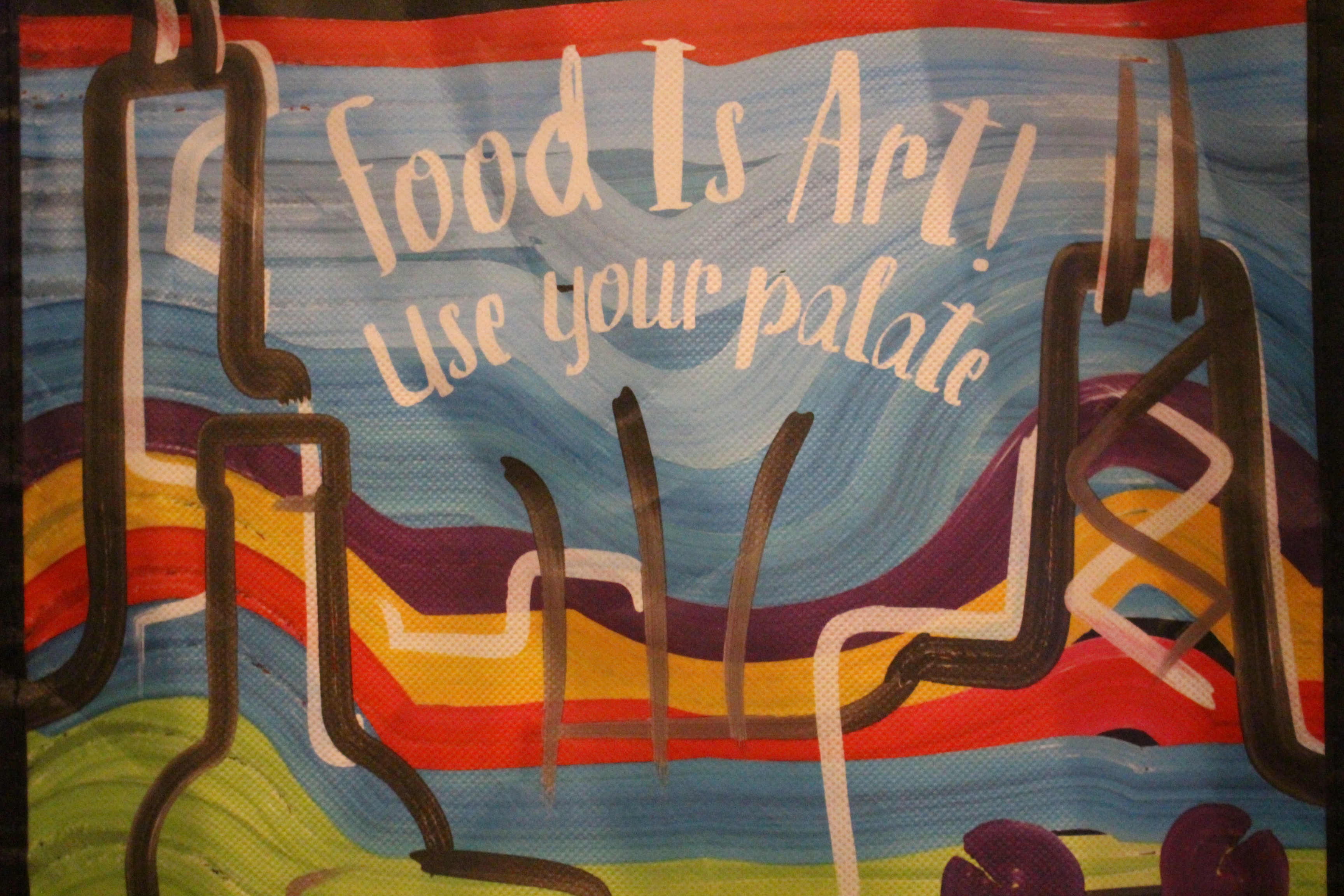 Art.  I am not sure who said "Art is subjective, and means something different to every single person on earth" but I think the same can be said about food.  You can see artistry in everything from how a top chef plates a meal to the beauty of a rustic family tomato sauce cooking on the stove.  One person can appreciate the craftsmanship of a piece of sushi while another sees the same beauty in a hamburger with all the fixings.  We eat with our eyes and hopefully our palates can taste the artistry and love that goes into every bite.
With that said, this year's ninth annual Bon Appétit presents Chicago Gourmet's theme "Food is Art! Use Your Palate" was really something to behold.  It was like the Art Institute of edibles, the MoMA of mise en place and the Louvre of little plates.  From the signs lining Millennium Park in Chicago this weekend (September 23-25) to the displays of the tasting pavilions, there was a flair here that I have never seen before at one of my foodie fun days.  I truly felt I was in a painting by Seurat as I walked through the park.  (Minus the monkey…my regular followers will be sad to hear Crazy Eyes stayed at home.)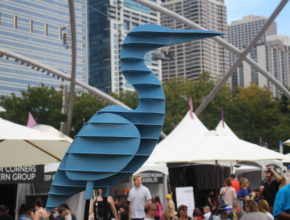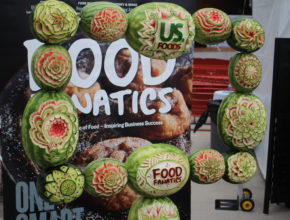 Being that this isn't my first Chicago Gourmet, I came a little better prepared.  I made a set of notecards to act as a tutorial to help direct me around the many seminars, demonstrations and gourmet pavilions.   It helped me greatly navigate the humongous event.  I also sported a spork on a carabiner because I'm a klutz and I have dropped my utensils numerous times in the past!  (For those who stopped me about my Spork, I found it Erehwon )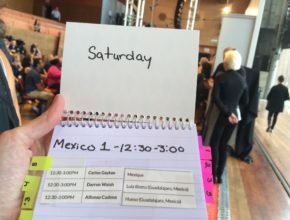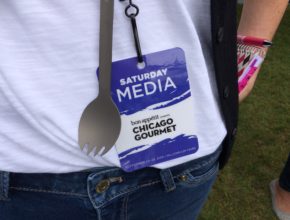 My tradition every year is to start with the Supreme Lobster Pavilion (Number 3) because seafood is my favorite.
As usual, they didn't disappoint in taste or artistry.  How can I complain when I start my day with Octopus maki from freestyle food + drink, Pink Crab Rolls from Joe's Seafood, Prime Steak & Stone Crab , a salmon BLT from the Signature Room at the 95th and an absolutely FABULOUS Crab Fondue with crabmeat, goat cheese and chives from Old Town Pour House?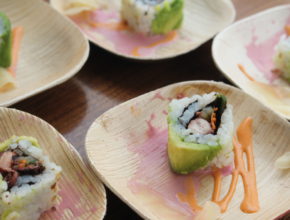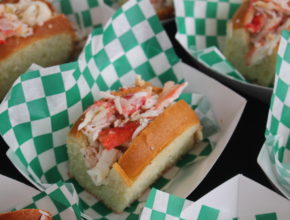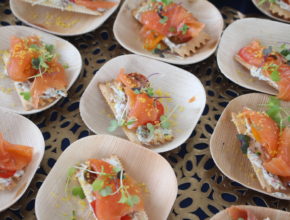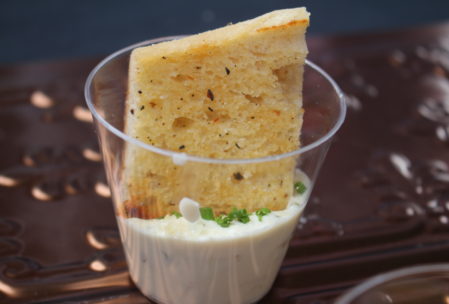 The other great part of going to Chicago Gourmet is being able to meet some the chefs who make a spatula dance across a pan like a paintbrush on a canvas.  One of the city's favorite chefs, Jimmy Bannos (Heaven on Seven) served me a chicken andouille gumbo with cornbread that made my tastebuds do a jig.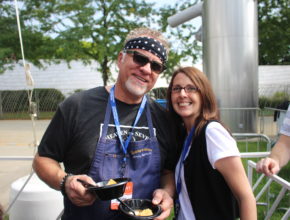 Speaking of favorite chefs, I was thrilled to see so many at this year's event.  From event host Rick Bayless to Art Smith to Bill Kim, I felt like I was going to get whiplash looking around.  (I totally took advantage of the opportunity so look at my Facebook page later this week to check out the celebrity chefs I met or stalked….it is just how you look at it!)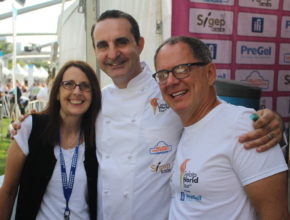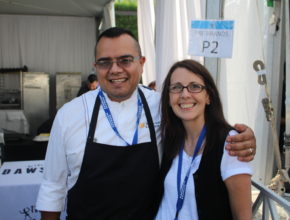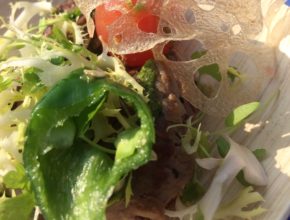 One of the bites I had this weekend that I think exemplified Food is Art was brought to me by Carmine's.  Beautifully made homemade potato gnocchi with end of the summer tomatoes and sweet corn.  It had a rustic elegance that embodied what I like in a flavor profile….add to that the exquisite colors and I was won over.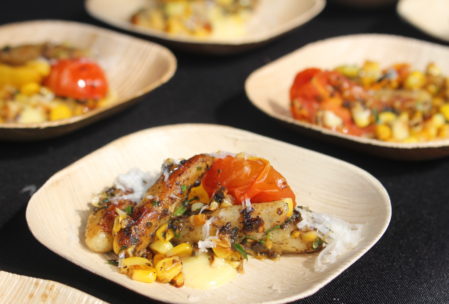 It was not the only bite of beauty…between this awesome pictorial that the Chicago Tribune put out this weekend and a few more of my pics below you can see for yourself how the art theme played out all weekend.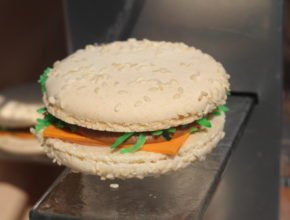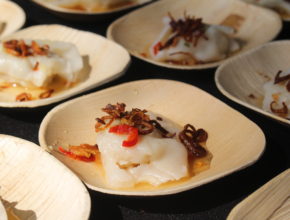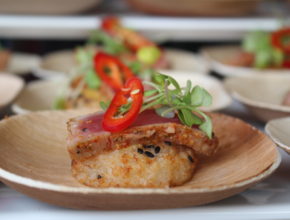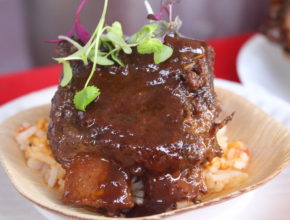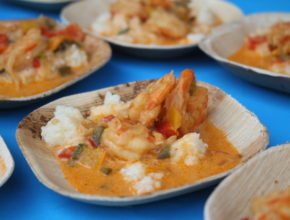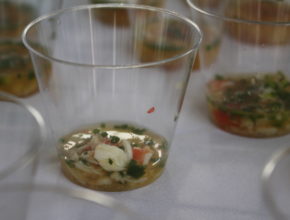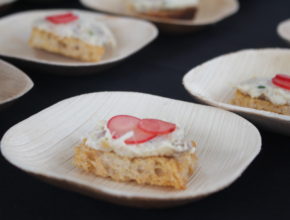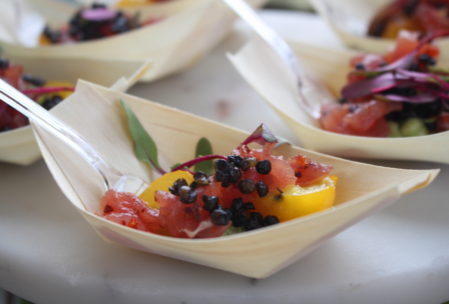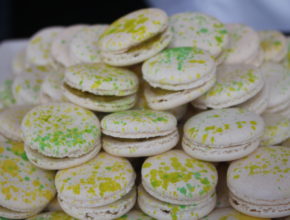 I also wanted to give a shout out to Rockit's Apple Brie Grilled Cheese on Cinnamon bread, Avli Restaurant's  Berkshire pork shoulder and (my husband's favorite) Maple Leaf Farm's Duck Bacon Apple Brie Bites.  (Great food but my pics came out a little "abstract"!)
Chicago Gourmet also hosted some unbelievable seminars and live demonstrations that were incredibly engaging and energetic. (If Lorena Garcia could bottle her energy and sell it on HSN, I think she'd be the richest woman in the world.)   I also learned so much from Edward Lee of Milkwood and the Food Buddha that I will have to dedicate an entire post just to them!!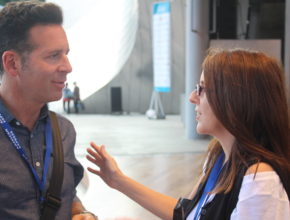 The chefs and the moderators were all amazing and I could have spent the whole weekend listening to these experts talk.
My emotion of the weekend probably can be summed by the picture taken at the last live demo of the weekend called Not Your Mama's Grilled Cheese.   There was a ton of fun, humor and friendship.  It also showed how beauty of food(like a perfected grilled cheese) is all in the beholder….just like art.