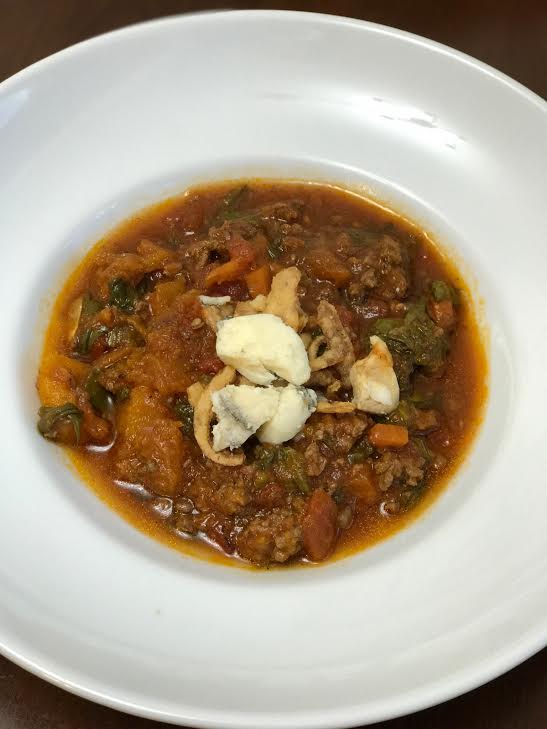 Do you ever look at a menu's specials of the day and want to scream?  I don't mean "literally" scream, more of a "you've got to be kidding me" scream.  I'm hoping you say yes or I might need to start looking at anger management.  (I'd trade spaghetti sauce for some good therapy.)
I bring this up because I noticed the other day that it took all my self-control to not comment online to a certain restaurant's "specials."  They list the same ones almost EVERY week online and in the restaurant!!  At first, I thought I saw some variance…yep…the date changed.  And then I thought maybe someone used a permanent marker on their chalkboard by mistake.  (I'm sure no one saw me lick my finger and erase part of one of the letters to see if it would come off…it did.)
Nope, specials aren't special anymore and it kind of annoys me.  The biggest one is the soup of the day.  There is a restaurant we go to in Tennessee every year and the soup of the day has been the same for almost 19 years.  19 YEARS of the same soup!!!!!!!!!!  How is that possible????  (And it isn't even an awesome soup like French Onion or Mushroom Bisque…it is a chicken almond concoction that sound like it would make a better sandwich than soup.)
But what really gets me….this is what really toots my horn…is when you look at a menu board for the day's specials and the soup is chili.  Chili isn't a soup.  It is a chili. If anything, it is more like a stew with all the rich chunks of meat and veggies.
It isn't meant to be eaten before you eat a big meal…it is a big meal.  It is like they lost all respect for the dish.  Maybe this is why chili always tends to be all hot and spicy….it is trying to be heard because no one is sticking up for it.  Maybe it is sad because it doesn't mind when you switch up its ingredients, it just wants some respect as an entrée and not some scribbled special on a wipe off board.
I hear you chili.  I feel your pain.  You are special.  You do deserve to have a space on the menu that is all yours and not some random spot.  You deserve to more than just ground beef and beans (that is another argument for a different day).  You can be the sassy star main dish….you aren't a random soup special….you are the man (I'm assuming chili is a man since it seems to be a little sensitive)!
I heard your cries and this blog is for you.  I dedicate my recipe to all the random chilis that were an afterthought on a menu board.  This is for the boring ones that only contain one kind of chili powder.  This will be that one step that may change how we look at chili again.
We will "squash" people looking at you like a soup! (And if that isn't the case….well…the recipe is really good and I loved eating every bite!)
A Star Is Born Chili
Ingredients
1 pound (or a little over) ground beef
1 onion, chopped
1 green pepper, chopped
1 carrot, diced
2 cloves of garlic, chopped
1 can of Rotel diced tomatoes
1 can of fire roasted tomatoes
1 can of chicken broth (I like chicken better than beef broth)
1 small acorn squash, diced, tossed with about 1 tsp of chili powder
1 Tbsp Each Ancho chili powder and Mexican Chili powder
2 cups of fresh spinach, chopped
Optional:  Favorite chili toppers….cheese, crackers, tobacco
Directions
Prepare your slow cooker.  (Which in my world means go in the basement and wipe it off)
In a large fry pan, brown the ground beef, drain it and place the meat in the slow cooker.  If a little juice is left in the pan, that is okay.
In the same pan, add a swirl of olive oil.
Add the green pepper, carrot and onion.
Sauté until just a little soft about 3-4 minutes.
Add garlic and sauté 1 more minute.
Add everything in the pan to the slow cooker.
Stir in the tomatoes, chicken broth, squash and chili powders.
Cook on low for 6-7 hours.
Right before you are ready to serve, stir in the spinach.
Serve.
I garnished mine with a little bleu cheese because I like bleu cheese and squash.  It only need a little bit and I could see how too much would be "weird."