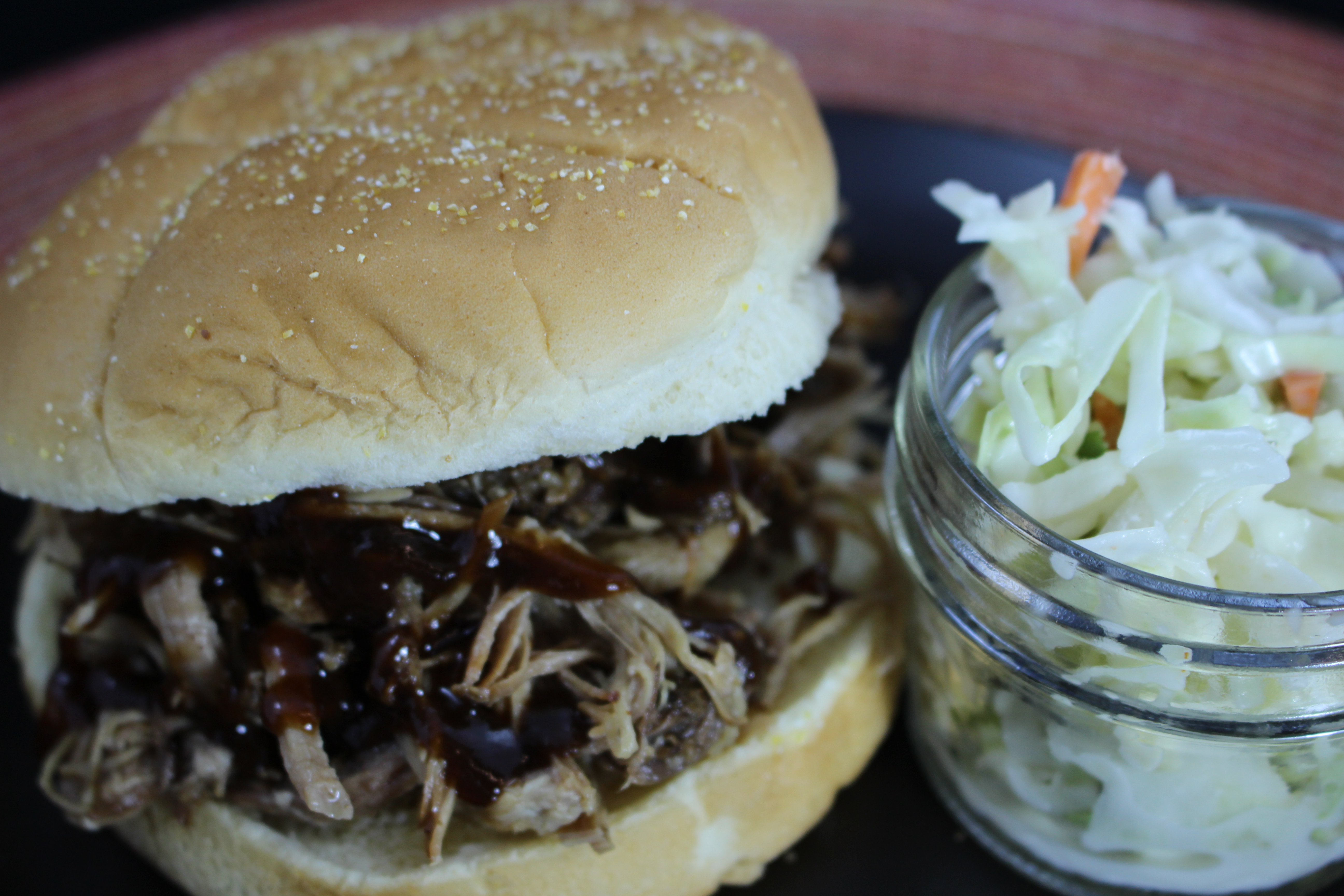 Like most people, I have goals.  Some of them are simple…like clean the bathroom closet.  Some of them are a bit more complex…like take a vacation in Italy.
Some of my goals involve my husband.  (Um, I'm not going to share that one!)  Some of them are completely independent of him…like taking particular cooking classes in the city.
But I've had one goal that has haunted me for years.  It is a goal that many people have achieved gloriously but I never have quite gotten there.  I've watched people do it effortlessly and been completely envious.
Pulled Pork!  Why is pulled pork so easy for them but not for me?  Yep, I said it…pulled pork.  What?  Why is that such a huge goal?
One of my favorite food memories is of Sonny's Bar-B-Q in North Carolina.  It was a staple when we'd go visit my dad's family.  My uncle would always order too much food and we would gorge ourselves on those delicious sandwiches.
The problem is that nothing compares to that wonderful flavor.  I loved the balance of the smokiness of the meat to the delicate sweetness of their sauce.  (Okay, as a kid I had no clue it was "balanced" but I did love it!)
So I was talking to one of my favorite people, (she is an in-law who has become one of my best friends) and I was telling her how I love her aunt's pulled pork.  She exclaimed that she made it like her Aunt (another in-law who I adore) and started giving me pointers.
The big secret in my cousin's pulled pork success is that she cooks it all night long.  What a woman!  I thought she was pulling my leg at first but she said she let it go all night until the pork shoulder fell apart.  (She gave me some other family secrets that had nothing to do with pulled pork but were just as juicy! Ha ha)
After I spoke to her, I started researching more.  And I think I've done it.  Between my cousin's info, a recipe from Williams Sonoma and a TV show that featured Sonny's, I made a pulled pork that made me smile.  (Actually it made me downright giddy.)
Now nothing in my mind is ever going to 100% match Sonny's but I think I've come up with a runner-up that will satisfy my hankering until I get to go South again .  (And you can buy Sonny's BBQ online so that helps me achieve the flavor I crave.)
Pulling My Pork Sandwich
Ingredients
3 pounds boneless pork shoulder
1 tsp salt
1 tsp paprika
1 tsp black pepper
1 tsp mustard powder
¼ tsp chipotle pepper
2 cups chicken broth
¾ cup apple juice
1 Tbsp liquid smoke (I don't have a smoker but you do need something to mimic that smoky flavor.)
6 rolls
Coleslaw
BBQ
Directions
Combine all the spices and rub over the pork.  Let it stand at room temperature for about 1 hour.  (I am not 100% sure of the safety of leaving meat out for an hour but I did and didn't die.  Use your own discretion.)
In a large skillet, heat a couple tablespoons of grapeseed oil.  Brown the shoulder on all sides.  Remove from pan and place in your slow cooker.
Deglaze the pan with the apple juice and pour over the pork.  Add the chicken broth and liquid smoke.
Cover and let it cook on LOW all night long.  (Mine went for 10 hours!!!!)
Wake up after a night filled with crazy dreams about pulled pork sandwiches (the smell made me hungry ALL night!).
Remove pork from liquid and shred the pork with a fork.  I reserved the liquid and added a little to the meat to make sure it was moist.  (Okay, I drank the liquid.  It was like a luscious, pulled pork soup.)
When it is time for dinner, heat up the pork, drizzle with your favorite BBQ sauce and serve on rolls with coleslaw.
I thought I was kidding myself that I would ever find a pulled pork that made me this cheerful.  (Okay, Aunt Denise's at the last family reunion was pretty awesome.)
I would love to hear from other Sonny's lovers about their thoughts on this recipe….especially the Northerners who don't get to eat it as often.  I think you will agree that I wasn't pulling your leg when I said it was good.