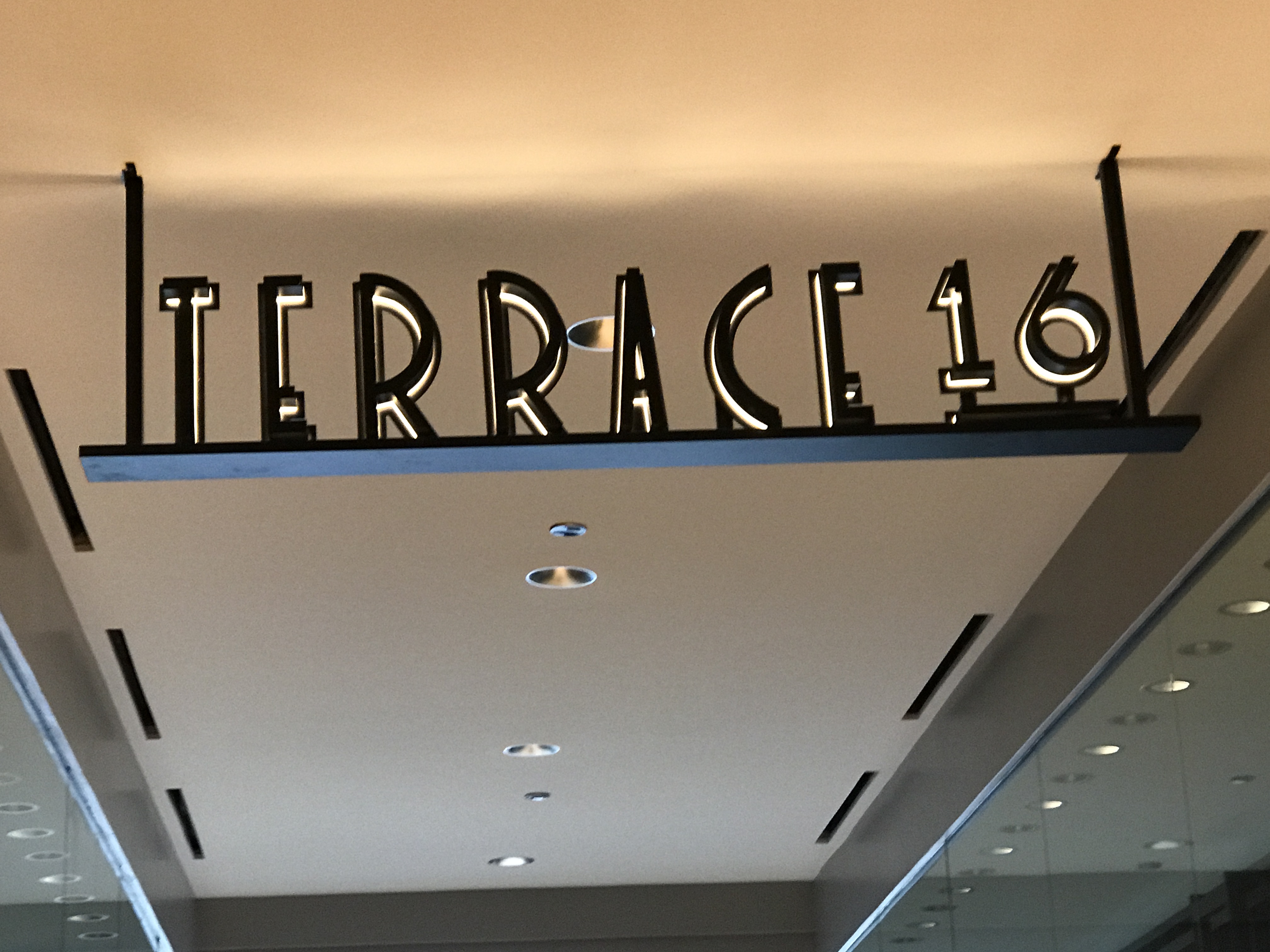 There are lot of different excuses to love this time of year.  Whether you get excited about the upcoming holidays or cherish the sight of a light layer of snow, the transition from fall to winter is a fabulous time in the Midwest.
I enjoy every part of this season from bundling up in cozy sweaters, listening to the wind blow and, of course, eating comfort food!
One of my favorite meals to eat when it is brisk outside is a good Sunday brunch.  Brunch allows you the luxury of a little more cuddle time in bed without the worry of having to get somewhere for a breakfast date with friends.
It is also nice because brunch can fill a morning and afternoon with one nice long leisurely meal where you don't feel rushed and you can enjoy not only your food but your company.
Last weekend, I had one of the best brunch tastings at Terrace 16 (401 North Wabash, Chicago).  Encased by windows on the 16thfloor, even on our rainy day it was a great view of the city and even better excuse to take our time and try everything that came our way at this blogger bruncheon.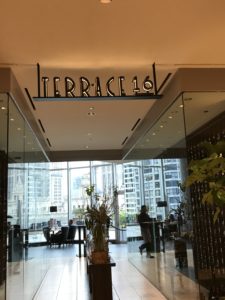 These events are fun for me because you are served things that you may not order when you are out but they are so delicious they may change how you eat in the future.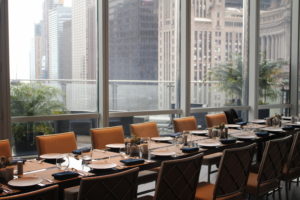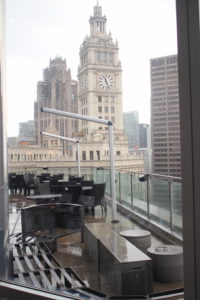 For example….we started with a generous portion of yogurt parfait. I eat yogurt almost every day but this was like luxury yogurt. The yogurt was thick and tart…the way most of us like it…and if you weren't a yogurt lover before this experience…you will be now.  The berries were plump and flavorful which is nice to find this time of year when you are craving some brightness.  Finished with a  housemade granola which satisfied my need for texture when eating a bowl of something so smooth.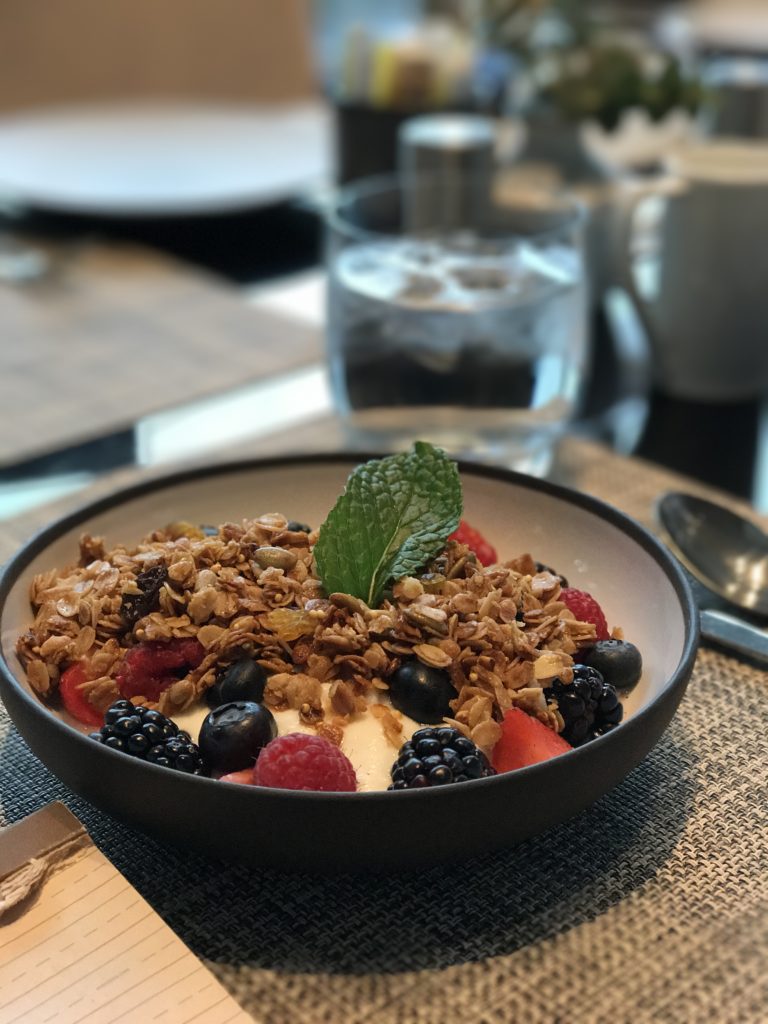 And if you want to understand why millennials love avocado toast…Terrace 16 is the place to try it. With a beautifully sliced slightly seasoned bright green avocado , I was impressed with how the chew on the sourdough complimented the creaminess of the avocado. Terrace 16 also had the dish accompanied by some pickled veggies to add that punch of acid but honestly it didn't need anything else.
The real surprise was the grain bowl.  I've heard about the health benefits (healthy carbs, protein and veggies) of a grain bowl in the morning but honestly didn't "get it" until I dug into this one.  Lots of perfectly cooked grains, leafy greens, fried tofu and some pickled beets made this one of the most popular dishes at our table. (And if you want a little more protein, put a poached egg on top.) I was so enchanted by every aspect of this dish.  (And now I am now obsessed with all the different ways you can create healthy and hearty "bowls" which will be another blog in the near future.)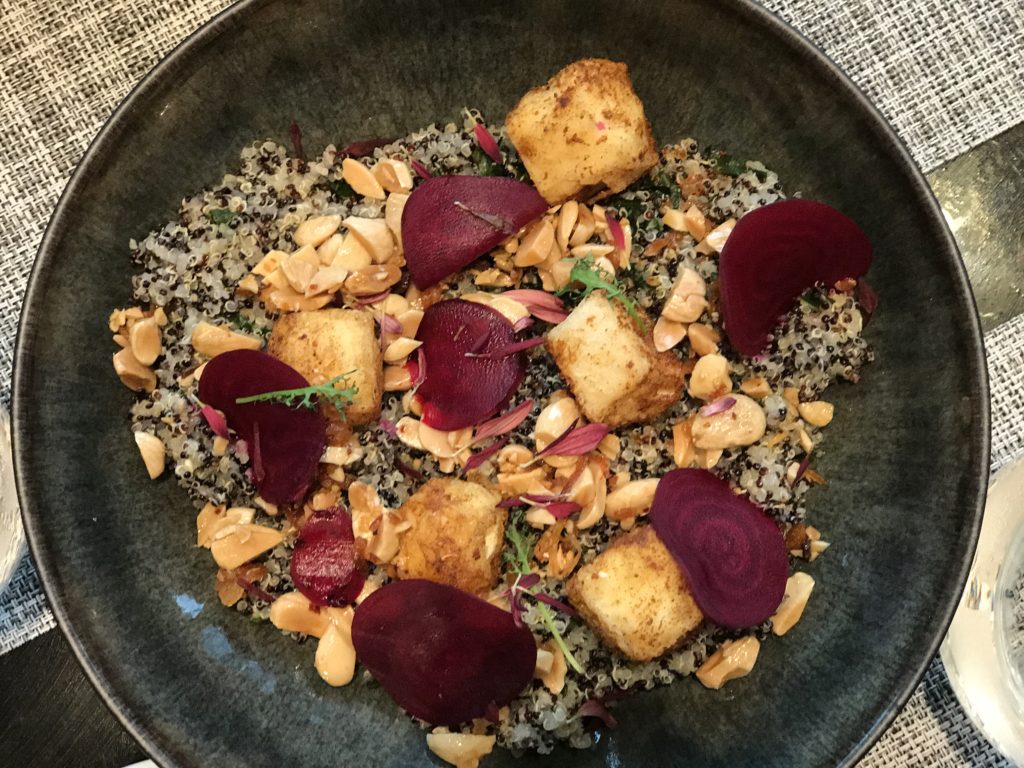 Maybe not as healthy as a grain bowl was the Chicken and Grits but it was so flavorful that it is on my list to have next time I go to brunch at Terrace 16 because I want this again so badly.  The fried chicken was incredibly juicy on the inside and crispy on the outside and the grits tasted like they came off the stove of a southern grandma who has been making grits for the past 90 years.  But the dish was reinvented a little by adding habanero/carrot sauce to add a little heat and some pickled mustard seeds that seemed to pull the whole dish together.  (Habanero peppers paired with carrots is brilliant because a habanero can sometimes be a little too hot for some people but the sweet carrots level it out enough that you can feel the heat without feeling like you swallowed a torch.)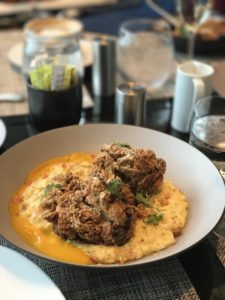 Another can't miss was the potato hash. (I know you said what is so great about potato hash…let me tell you.)  Terrace 16 has a hash with…wait for it…duck confit, charred scallions and sunny side DUCK egg with a yolk that is as big as your head! (I think I screamed "look at the yolk" when it arrived to the table…and then I begged to be the one to poke the yolk…)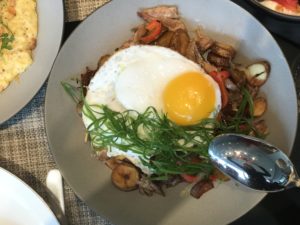 A brunch isn't complete unless someone orders an eggs benedict (Canadian bacon, fabulously rich hollandaise sauce, poached egg with black salt on top) or fluffy Belgian waffles with rich whipped cream and berries.  (They were both really good but the other dishes were so creative that they made me rethink how I should order at brunch.)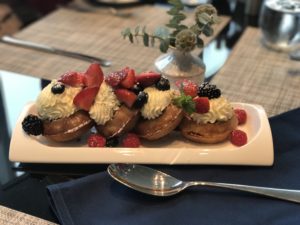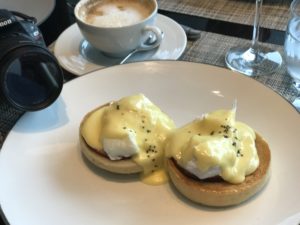 There are also tons of pastries, egg/meat combos, omelets, juices, coffee (including cappuccinos) and morning "cocktails" like bloody Marys, mimosas and Bellini's available. (I had a glass of champagne and a cappuccino because I had my fancy pants on.)
If you are more of the –unch  part of brunch, Terrace 16 does offer a couple of burgers and fries so everyone if your party will be happy! (Especially if you have wanted to have a some truffles added!)
Brunch at Terrace 16 is offered on Sundays but is open every day for all other meals too. All of the fabulous menus have been developed by Chef Nick Dostal who has learned the magic of allowing good ingredients to shine while adding a couple of very innovative finishing touches.  (Today's brunch was a shining example of this skill.) UPDATE: Chef Dostal will be resigning as of November 27, 2018….bummer.
I also felt even though Terrace 16 is in one of the most spectacularly beautiful dining spaces in Chicago (you should see the terrace view on a nice day), it didn't feel ostentatious and I can't wait to go back and try another meal and see the view during the holiday season.