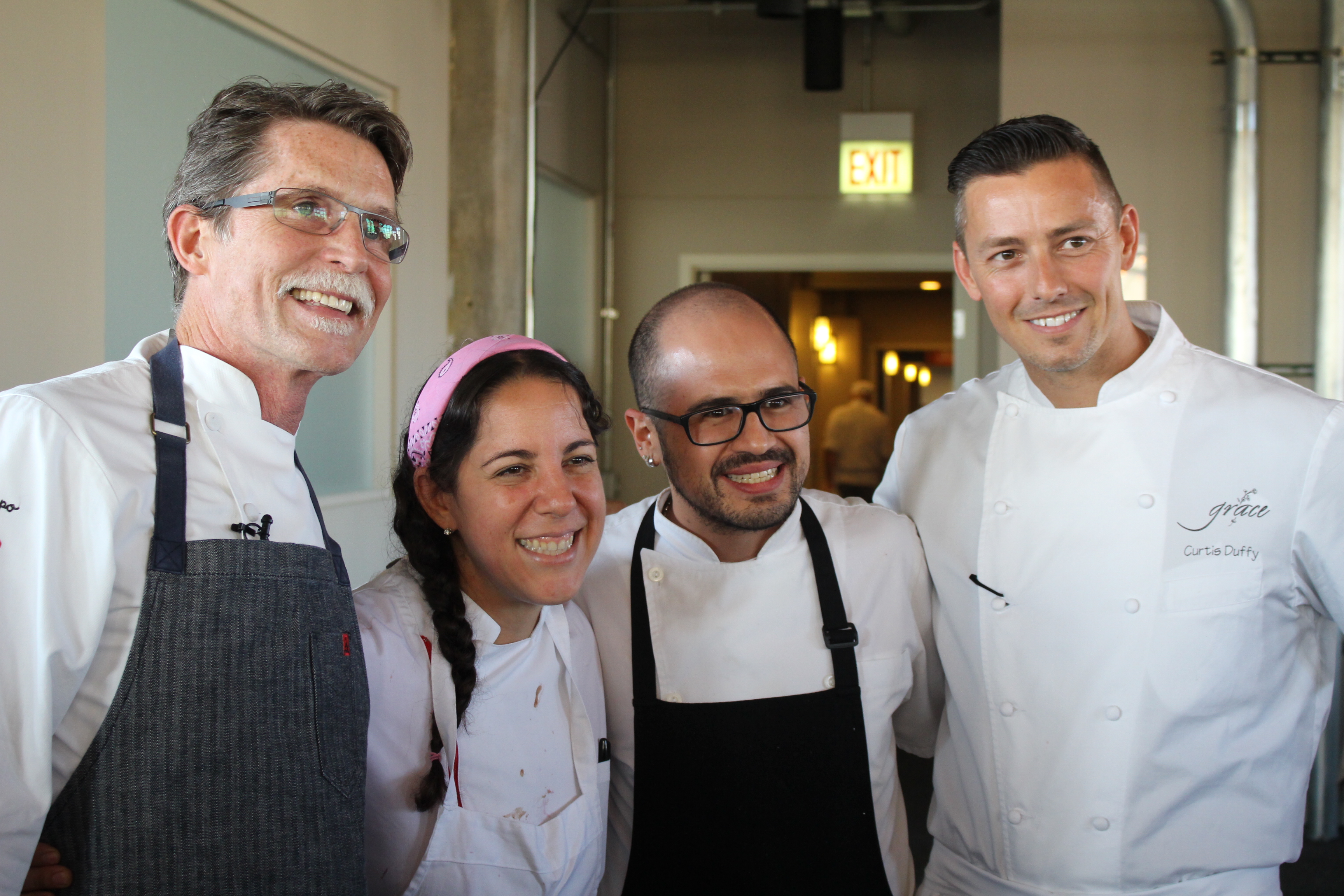 Driving up to Kendall College on Saturday morning, I knew that it was going to be a great day. The sun was shining and unseasonal briskness of the morning made it a perfect day to sit and learn about Mexican Cuisine at the second annual Mod Mex event hosted by Chicago's very own, Rick Bayless.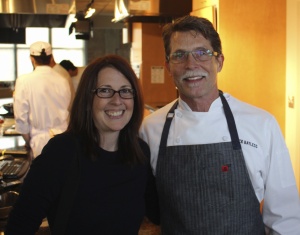 Last year's event was a showcase of the New Face of Mexican Food but this year was a little different because the chefs concentrated on the beauty of a Mexican market basket and innovating a new way to look at those ingredients.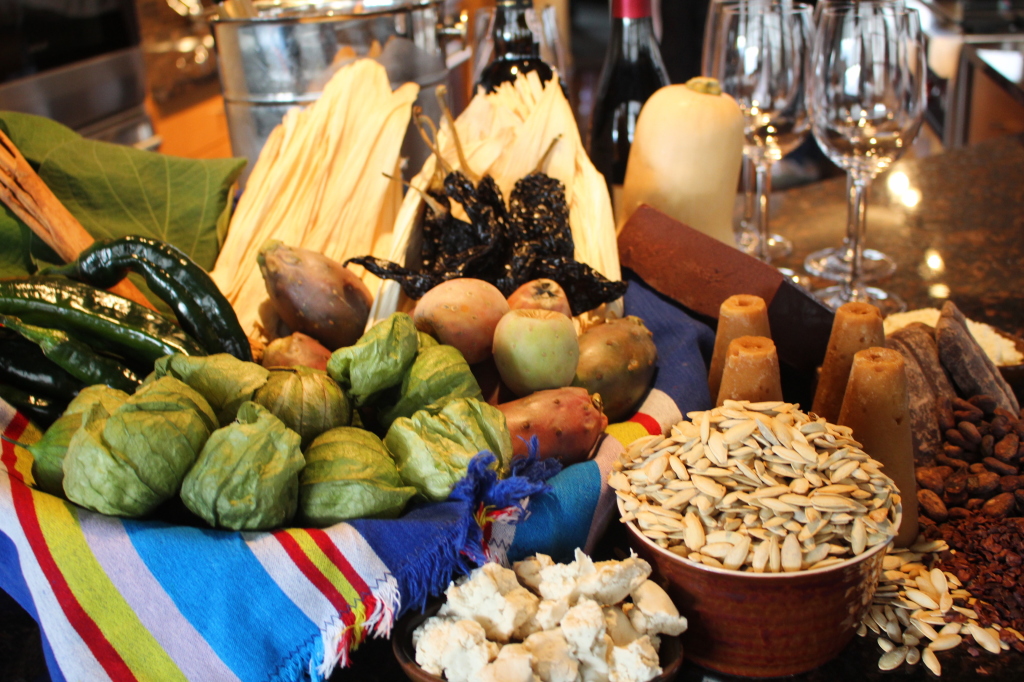 The ingredients included Tomatillo, Piloncillo (a cone of pure, unrefined sugar), Hoja santa (a HUGE herb leaf which CAN be grown in the Midwest), Fresh-ground corn masa (for tortillas or tamales), dried pasilla chiles, Fresh chilaca chiles, Sour prickly pear (Xoconostle), pumpkinseeds and Cacao (the dried seeds of a tropical tree that are used to make cocoa and chocolate).
The chefs that took this challenge were Curtis Duffy of Grace (Chicago, IL), Pablo Salas of Amaranta (Toluca, Mexico), Fany Gerson of La Newyorkina and Dough (NYC) and, of course, Rick Bayless of Frontera Grill, Topolabampo and Xoco.
With the HYSTERICAL Ana Belaval acting as emcee, Chef Duffy was the first one to step up to the plate. Apparently, Mexican ingredients aren't on his usually grocery list so this truly was going to be a challenge for him. (To be fair to all of the chefs, they were provided with a market basket list BEFORE the event so they could prepare properly.)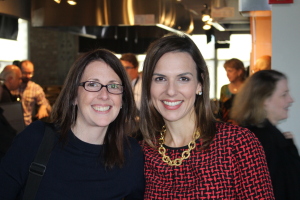 The items he showcased were the hoja santa, prickly pears, lime and cotija cheese. He made a beautiful bright green sauce thickened with tapioca with the hoja santa. (Think of when you blanch an herb for a sauce but want to keep the sharp color.)
Next part was kind of a blur to me; he used the prickly pear and limejuice and made a frozen cylinder!!! It was crazy to watch. Besides the vibrancy of the color making everyone in the room speechless, the delicacy of it was amazing. (The audience was also a little speechless about his early days of figuring out this technique but what is said at ModMex, stays at ModMex!)
He took the cylinder, placed it on a small circle of almond milk-rice pudding mixed with fried pepitos as a base. The prickly pear cylinder then became a vessel to hold some beautiful Hamachi (he had seasoned the hamachi with sea salt, mandarin oil and pumpkinseed oil and lime zest earlier for us), cojita cheese, lime segments and lemon balm.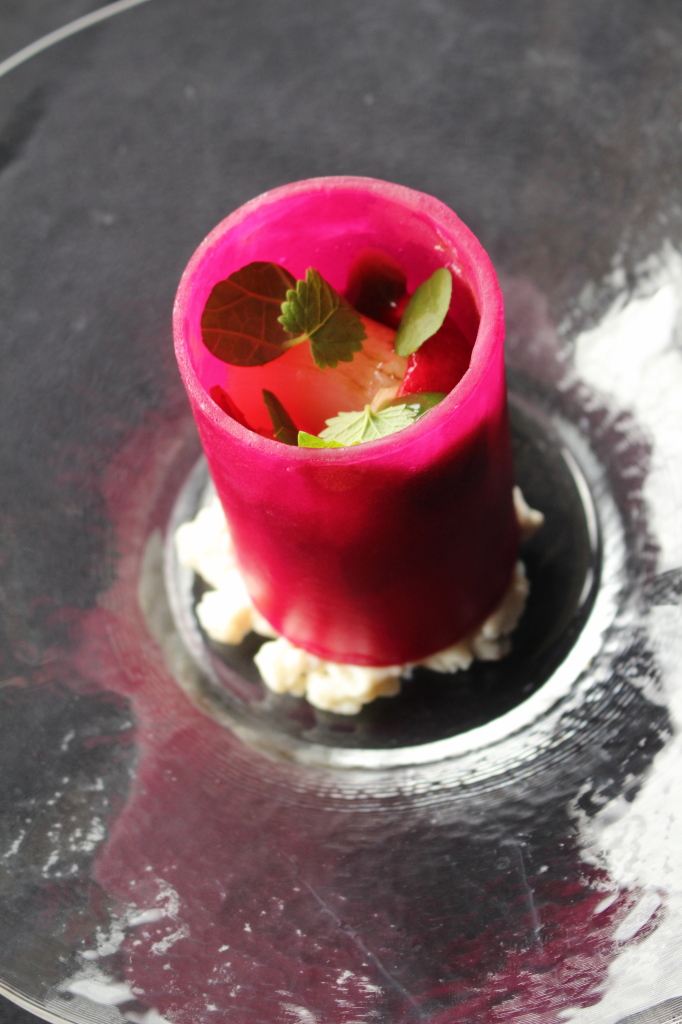 It was fun to watch Ana crack the outer shell and take the first bite. (If I didn't know we were going to taste it later on in the day, I might have had to go up front and knock a few folks over! It looked so amazing.)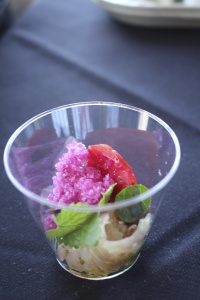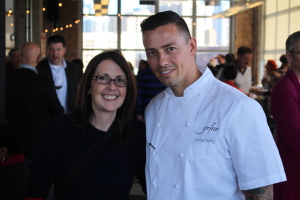 Chef Salas, who was recently included in Pellegrino's 50 Best Latin American Restaurants list, was up next. He included an easy to follow slide show with his presentation so the audience could see each of his steps.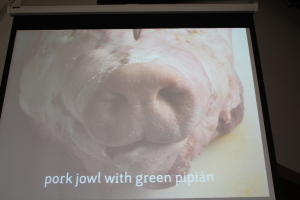 He emphasized that his dish, Pork Jowl with green pipian, was rich in Mexican techniques and customs and you could see in his comfort of cooking that he was an expert.
Pipian is a sauce in the mole family BUT it is seed based. He used a peanut/pumpkin seed/sesame seed base. The sauce was compiled also with chicken bones for flavor (discarded at the end) and a tomatillo sauce. It was boiled all together and then blended up.
His pork jowl used because it has beautiful marbling and nice fattiness. With some orange juice and bay leaves for flavor, he sous vide (sealed in a bag in a temperature controlled water bath) for 6 hours. The product was finished with a quick sear and served with peas, a schemer of pipian, pickled chayote and sour prickly pear. YUM!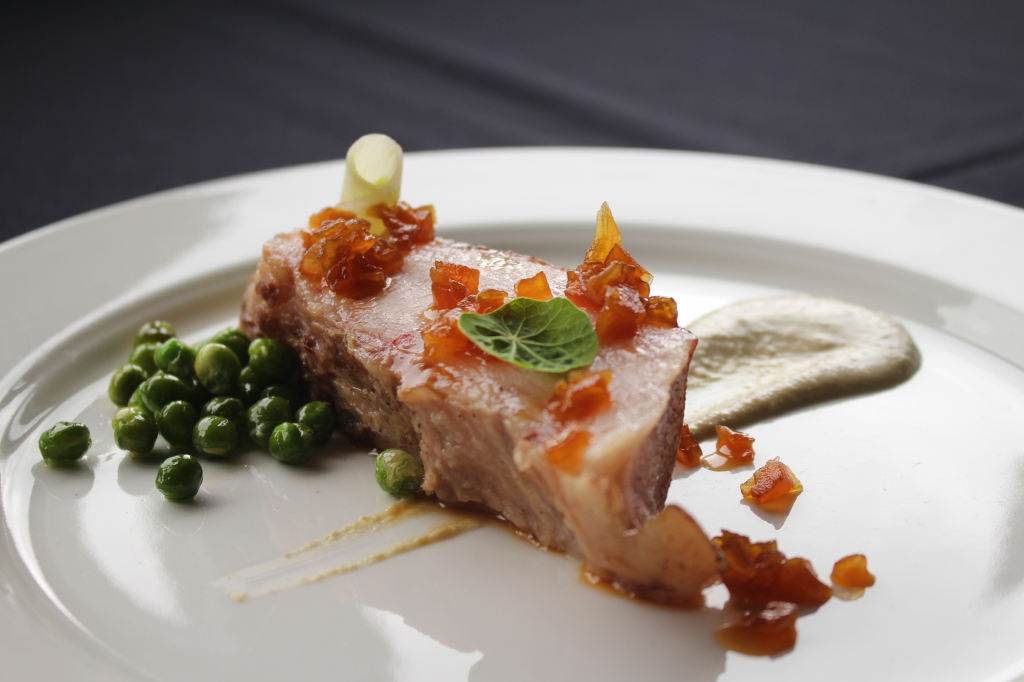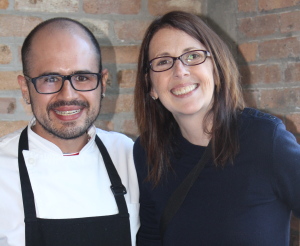 Next up, the pastry guru, Fany Gerson. Since I am allergic to chocolate, my attention span is usually low when it comes to dessert demonstrations. I must say that I could listen to Chef Gerson for hours. She had so many hints and tips on ingredients that I am actually excited about MY next pastry attempt in the kitchen.
Chef Gerson was making an ice cream with toasted corn flour (Pinole) and Mexican cinnamon. Have you seen what Mexican cinnamon looks like? It makes the stuff we buy in OUR stores look like toothpicks! It is giant. Flavor wise, it is more floral.
Using blue corn kernels as her pinole base, she ground them up. Like traditional ice cream base, she added egg whites and a little sugar. Add in a little Mexican cinnamon infused cream and pour it over cocoa paste, the mixture needed to sit in the fridge overnight before putting in the ice cream machine. (Obviously, we didn't sit there all night and she had some all ready to go.)
I got excited when she started poaching some fresh peaches in white wine, vanilla, hibiscus and some of the Piloncillo. (Remember that was the cone of sugar mentioned earlier.) She poached the whole peach…skin and all!
When the peaches came out of the poaching liquid, they were a beautiful red on the outside but "peachy" colored on the inside. Just gorgeous.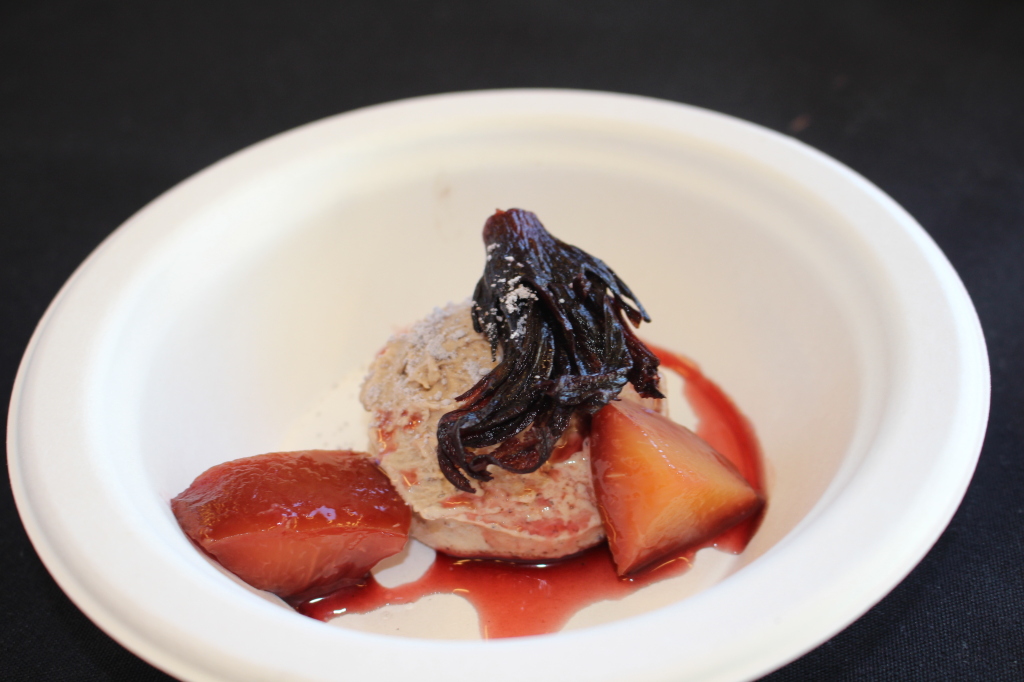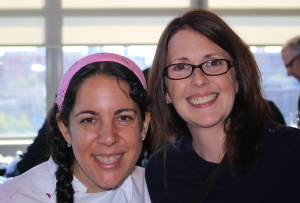 Our final demonstration was by Chef Bayless. His goal was to take us back to the years before Columbus came specifically 1491. (This is where I need to thank Chef Bayless because I ended up reading so much on Sunday about this time area and food.)
During this era, the farm animals we take for granted today weren't around. So when a tamale was made back in the day, the chef had to depend on natural fats from seeds and nuts.
A simple mix of hulled, toasted pepitas, masa and water (Chef Bayless really likes water because it doesn't obscure flavors like heavy stocks or broths) was twirled until it achieved maximum thickness. With some slow charred wild mushrooms and grilled butternut squash, the tamale came together beautifully.
Steamed upright in natural cornhusk wrappers, the tamales are cooked until firm. The other unique thing Chef Bayless did was serving them out of the wrapper. The presentation of the tamale as the true focal point of the dish was much easier seen this way.
He sauced the tamale with a blend of toasted pasilla chiles, charred butternut, tomatillos, cocoa nibs and a little honey. The thought behind the honey was that the chiles really are a fruit. If you want to bring out the flavor in fruit…what do you do? Add something sweet…it makes perfectly good sense.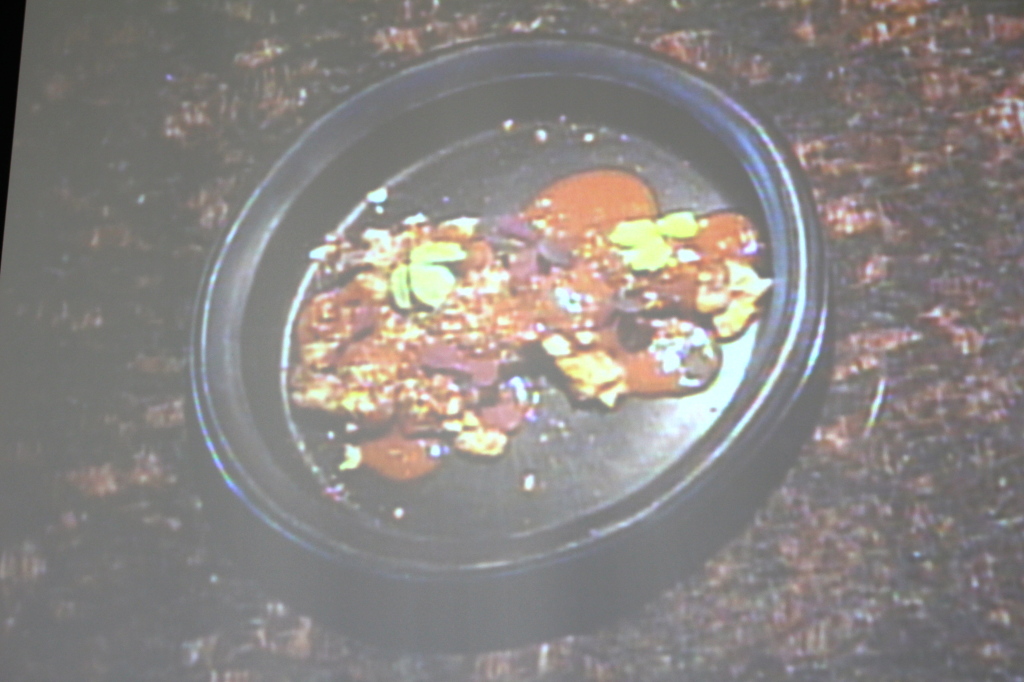 Now with all these experienced chefs in front of us, I have a confession to make. One of my favorite dishes of the day came from one of the Kendall College (Proceeds from Mod Mex & Mod Mix benefit Chicago Public School students studying culinary arts at Kendall College) teams that served us a little snack.
Events chef Louis Dourlain and Junior Sous Chef Christo Vlahos made a little snack called Pork Jowl Cochinita. It was a tostada with a frico of manchego cheese that had pork jowl mashed into it and topped with delicate spiced pork fat foam. I'm not sure if this was a market basket dish but it was FABULOUS!! The toasty flavor of the cheese with the richness of the pork put me in heaven. It was like my two favorite foods (pork and cheese) got together and had a baby.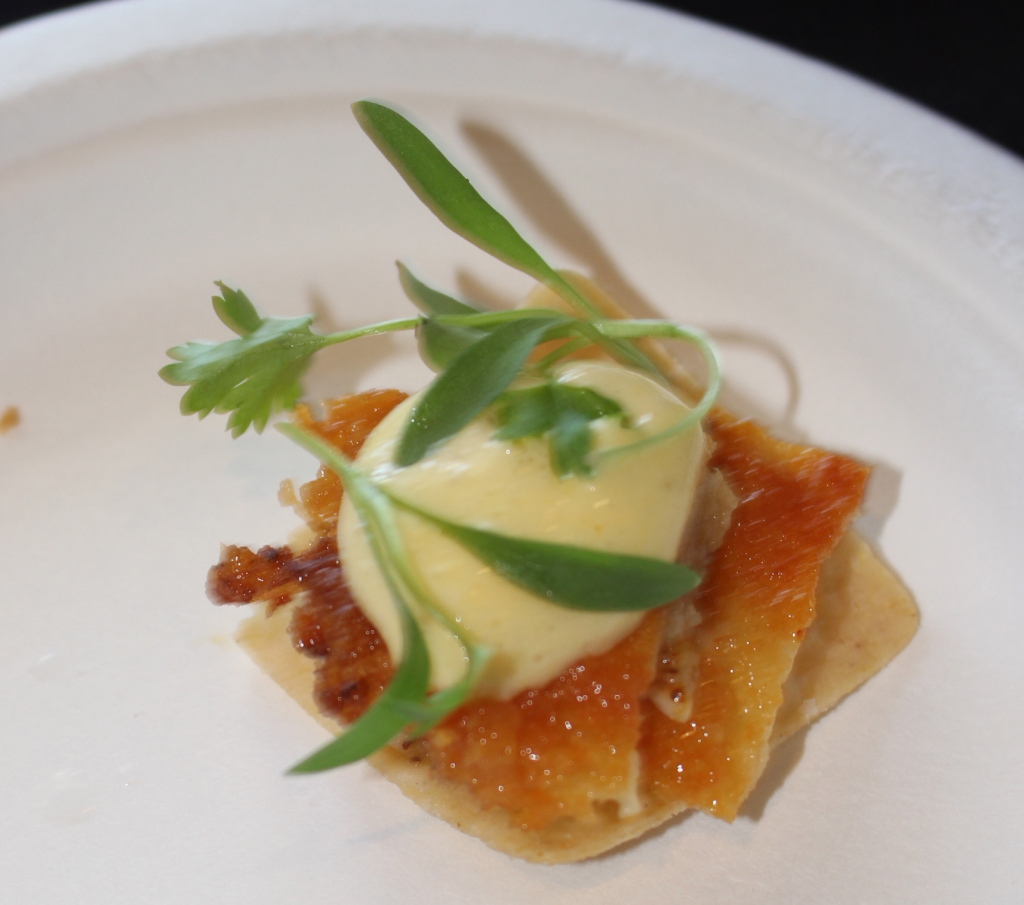 A big part of this year's ModMex was the addition of ModMix, which was the cocktail portion of the event. Joseph Mortera, Dave Arnold and Jay Schroder each gave very informative demonstrations on Mexican cocktails. Guess what? You don't only have to serve margaritas!
Given that I don't drink, I was a bit lost with some of the lingo in this segment. What I did pull out of it is that Mixologists are REALLY crazy smart. The information these 3 gentlemen gave out concerning the chemistry behind each cocktail was quick impressive. (I will say that I think Dave Arnold needs to wear a t-shirt that says "Don't try this at home!)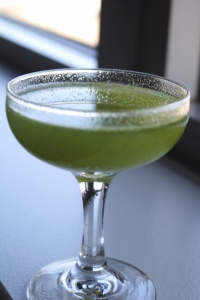 Their demonstrations made me feel like I need to study more of how mixologists devise their flavor combinations. I know I could apply it in different ways in my own kitchen.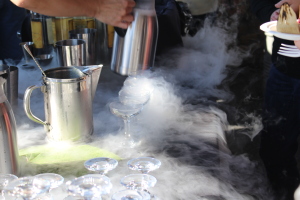 Our afternoon concluded with all of the guests gathering to share as a community bound in fellowship around all of this beautiful and tasty food.
I think Joseph Mortera had the sound bite that reflected in how we all felt that day…"There is no better garnish than a big smile."