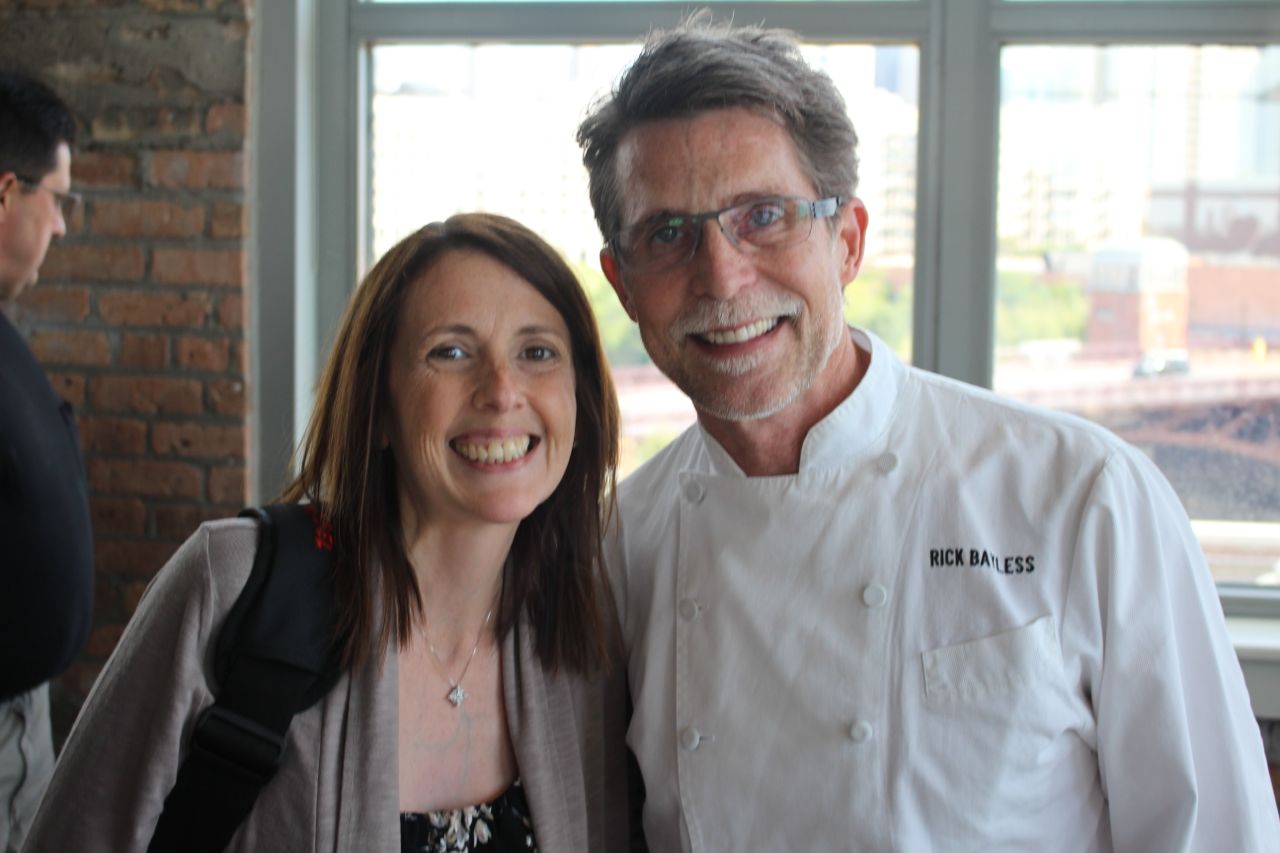 "Four Chefs.  Four Styles.  One Cuisine." 
On Saturday, September 14, I had the pleasure of watching four of the leading experts in Mexican cuisine (maybe I should call them "mexperts")come together in a friendly face off to benefit the Full Tuition Frontera Scholarship at Kendall College in Chicago.
The morning started with a custom Mezcal breakfast cocktail with egg white foam from Wahaka (more on them later) and an intimate auditorium full of excited spectators.  We all were adrenalized with anticipation of learning new ways to cook and prepare everyone's favorite food…Mexican!!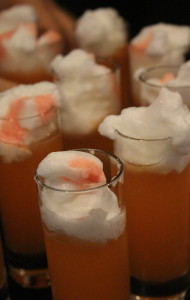 The engaging moderation from NPR's Peter Sagal instantly let the room feel a connection with stories of Taco Tuesday's and the common way we all grew up enjoying Mexican Cuisine.
I knew instantly that I was going to come out of today's event not only with a full belly but also with some new inspiration in my kitchen.
Within moments the room was sitting in front of Chicago's own legendary Mexpert, RICK BAYLESS!!!!!  (You may know him from his restaurants Frontera Grill, Topolobampo, Xoco, Tortas Frontera, Fontera Fresco or as the Top Chef Master's winner or maybe from his TV show "Mexico – One Plate at a Time.) I have had the pleasure of watching Chef Bayless cook at Chicago Gourmet and the happiness that radiates from him as he cooks is contagious.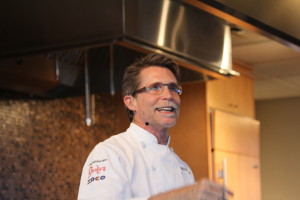 His session included a mini tutorial on everything from agriculture to sourcing authentic Mexican ingredients to easy substitutions for the home cook.  And during this informative demonstration he was able to produce a black and white eggplant with huitlacoche and salsa negra dish that was out of this world.  (Huitlacoche is a yummy fungus that grows on corn and the salsa negra was an amazingly flavorful black bean sauce.  There was also a crispy oyster mushroom on top!)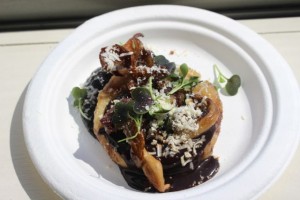 Next up was Chef Alex Stupak (Empellón Taqueria, Empellón Cecina) of New York.  With a pastry chef background and years of experience at famed restaurants Alinea and WD~50, this sensational chef embraced taking what we know as Mexican food and elevating it to the next level.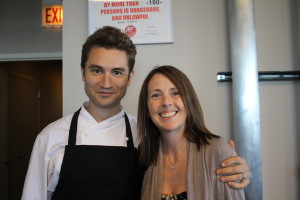 His natural pastry chef artistry and architectural knowledge shined as we watched him create a beautiful "masa wave" filled with a sea urchin mousse in addition to a chorizo scotch egg and sea urchin guacamole.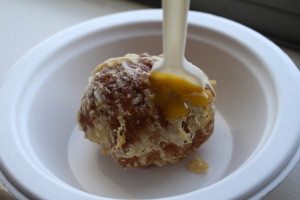 I had been a fan of Chef Stupak's before this program but after listening to him talk in person, I am now a SUPER FAN!  He claimed it was his rebellious nature that makes him cook outside of the box but I think it has more to do with his brilliance.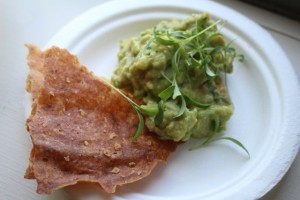 To me it seemed he had a cooking algorithm spinning in his head.  Chef Stupak had a method to his madness where each step was thought out to not only challenge our taste buds but to challenge our vision of what a Mexican dish should look like.
Next, Jorge Vallejo, of Quintonil restaurant in Mexico City prepared what I consider the "prettiest" bite of Mexican cuisine I've ever tasted in my life.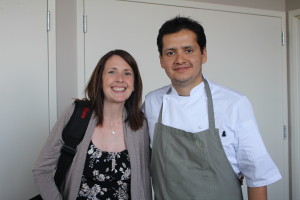 I was most impressed with the detail in every aspect of his smoked crab tostada.  And the audience ooo'd and aahhed as he pulled out his "smoker gun" and smoked the crab in front of us.  He jokingly said it was like magic but watching his slideshow of pictures from his restaurant was the true magic.  His food is breathtaking.  (And delicious…let's not forget DELCIOUS!)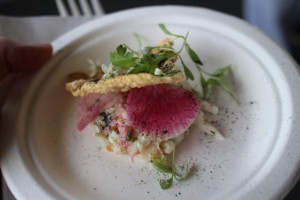 Our final chef was another Chicago favorite, Chef Carlos Gaytan from the award winning Mexique.  The most rustic of the four chefs (I mean his food AND his presence…hubba, hubba), Chef Gaytan's heritage of growing up poor in Mexico and foraging for food with his father and mother was heartwarming.  (You can catch him in a Taco Show down at Chicago Gourmet in a couple of weeks or on Season 11 of Top Chef!!!)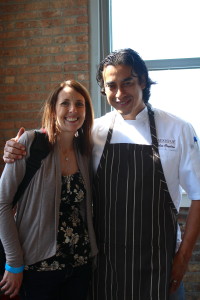 He opened floor to questions as he prepared a lamb belly huarache.  (A huarache is a traditional masa "sandal" topped with ingredients like green salsa, pickled onions, queso fresco and in this case lamb belly.)  I could have eaten a couple bowls of the salsa verde.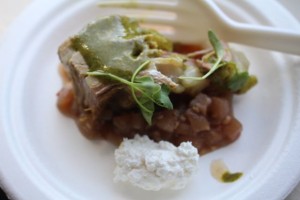 During our "Mexi"cation, we were also enlightened on Mexican Wines from Vino From Mexico and a Mezcal 101 from Alejandro Santa Cruz from Wahaka Mezcal.  (I learned all tequila is a mezcal but not all mezcal is tequila!)
So who won this face-off?  Well, I think it is a tie. Most importantly the Frontera Scholarship was a winner but so were the attendees who shared in soul of Chef Bayless, the gifted mind of Chef Stupak, the artistry of Chef Vallejo and the heart of Chef Gaytan.
The fun will continue tonight as the chef's gather once more to collaborate in the kitchen of Frontera Grill (445 N. Clark St., Chicago) for a Mod Mex Dinner.  With a five course menu paired with authentic Mexican wines and cocktails and four chefs who for lack of a better phrase…know their stuff….the night is sure to be one filled with information and scrumptious food!  (And no, I will not be there because I have a culinary adventure of my own to prepare for this week….that was a cliffhanger for my regular readers.)
I personally wanted to thank all the fun people (Rhode Island in the house!) at this event, you all made my day better than I could have ever imagined.
I can't wait until Tuesday so I can toss my tacos out the window and modernize my Mexican cooking!