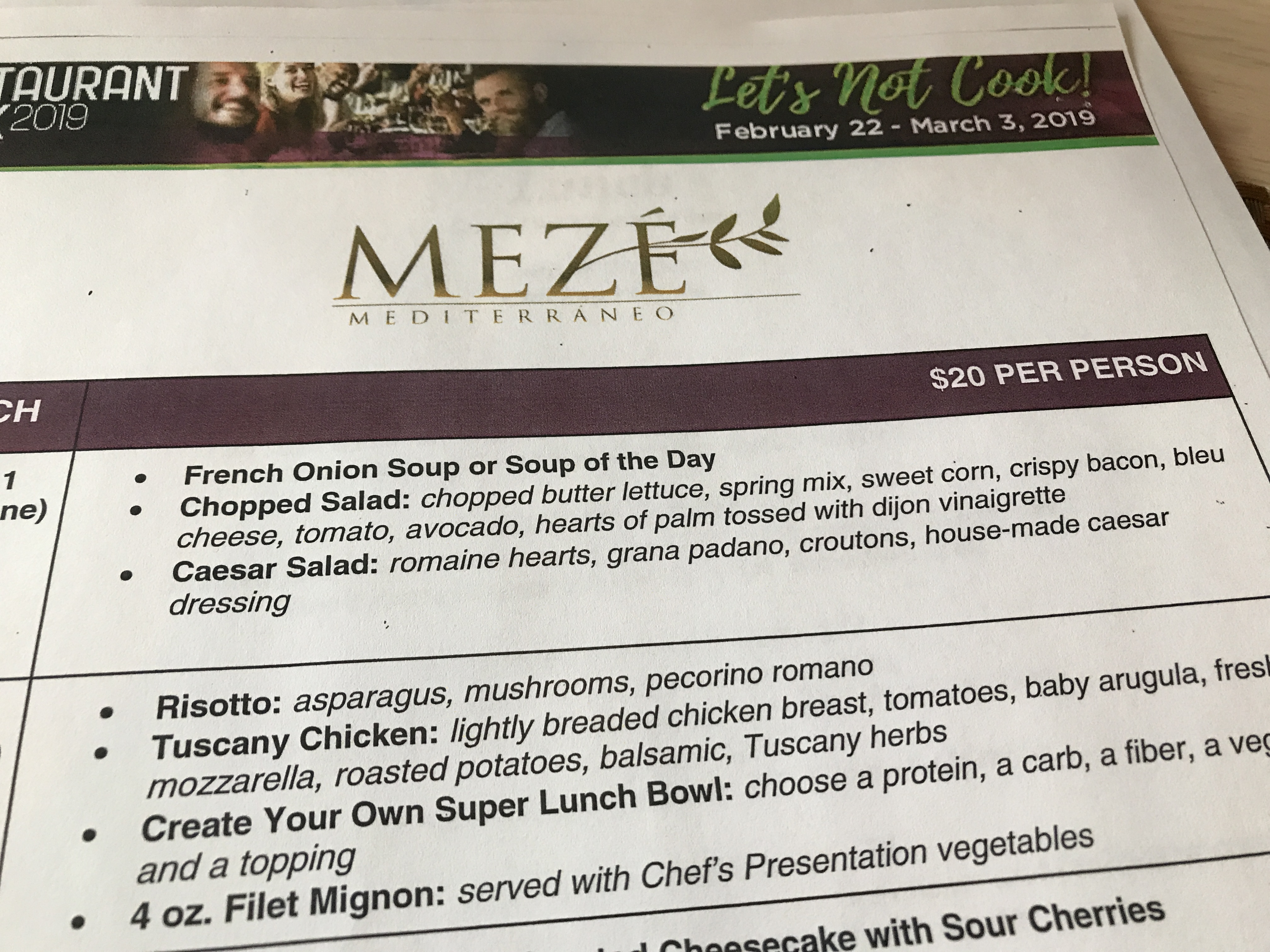 Let's Not Cook. There is something about our current weather in the Midwest that makes us want to eat but not necessarily go into the kitchen to cook. Maybe it is the fact that we all have cabin fever and are ready to be done with the snow, sleet, sun, wind and 50-degree temperature drops. (And that is all in one 24-hour period!!!)
The great folks at Meet Chicago Northwest are ready to give us an excuse to brave the cold and not cook because we can count on the annual Chicago Northwest Restaurant Week (February 22, 2019-March 3, 2019) to warm up our belly! I've been given the pleasure of "previewing" (or pre-eating) three of the creative pre-fixe menus (fancy name for a meal at a set price) that will be available at over 40 restaurants participating in the event. (Here is a full list of the restaurants.)
Keep in mind that some of the menus/pricing may change due to availability of ingredients etc. (Beverages, tax and gratuity are not included so don't forget to tip your server generously!)
My first stop was Mezè Mediterraneo(680 Mall Drive, Schaumburg…just a couple blocks from Woodfield). From the moment, I walked into the door I was transported out of the gray dreariness of winter and into soul warming atmosphere that made me feel like I crossed into another world. (I'm really big on lighting…I like that it was so bright and light in there at lunch. They have a beautiful color scheme of tans and a really cool camel/orange that made you feel "coastal" without being kitschy.)
The décor at Mezé made me think it was versatile enough to be a "special" occasion restaurant but also approachable enough to pop in for lunch when you need a break from running errands and want to make good food choices.
When I asked my hosts to make suggestions of what I should order off of their Chicago Northwest Restaurant Week menu…they said everything was good…and they were not lying!!!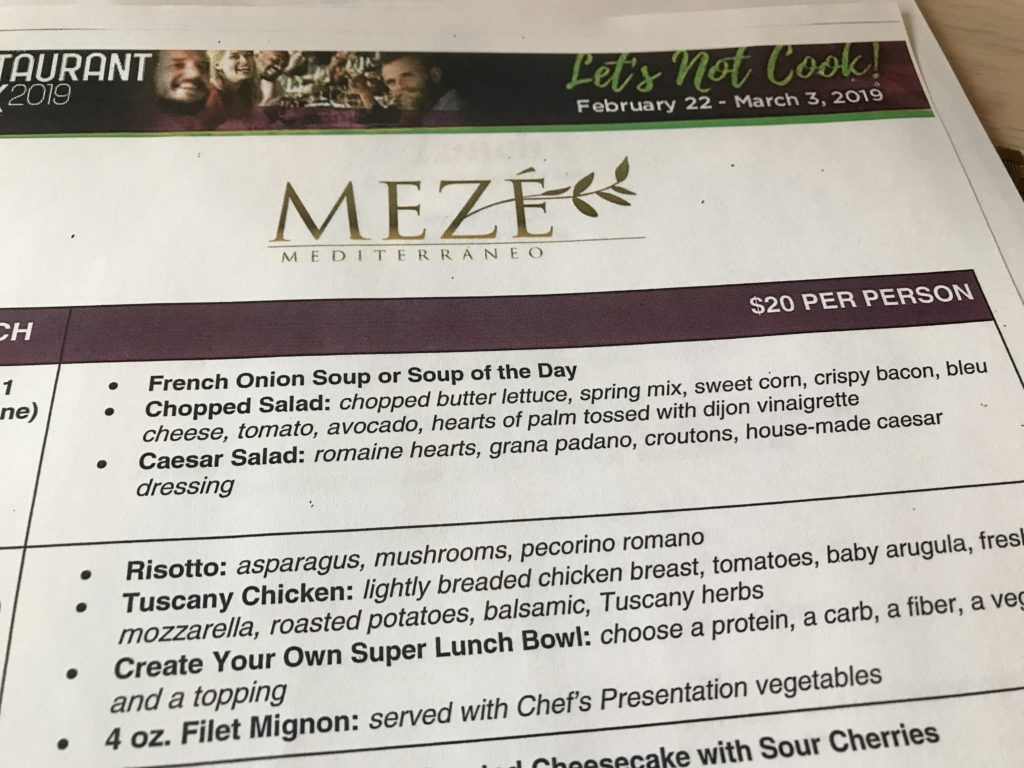 I felt it was my duty to try a little from both lunch and dinner menus…because the truth is that everything sounded delicious and I couldn't make up my mind!
For the first course at lunch, I had a choice of soup of the day (or French onion if available), Caesar Salad or the Chopped Salad.  The Chopped Salad I had was a texturally delightful combination of butter lettuce and a spring mix, sweet corn niblets, avocado, tomatoes and bacon. This is the kind of salad that gets your palate moving and a great start to your meal.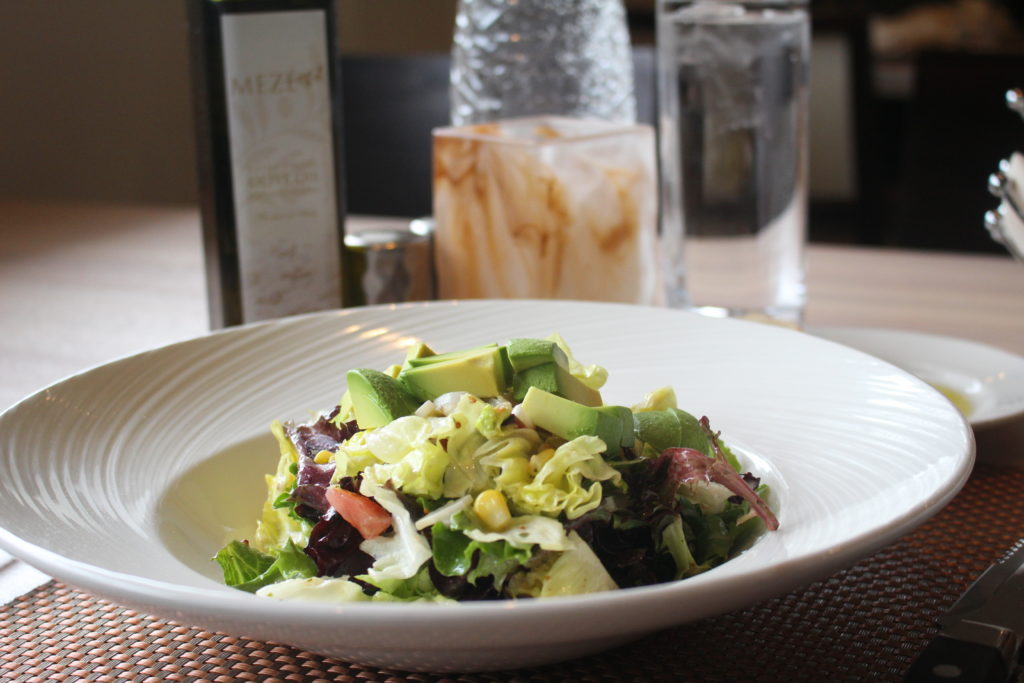 It wasn't on the official Chicago Northwest Restaurant week menu "yet" but Mezé has a Grilled Calamari Steak seasoned with oregano, olive oil and garlic that was everything I ever dreamed about and more. With a light squeeze of lemon, the tender calamari steak practically melted in my mouth.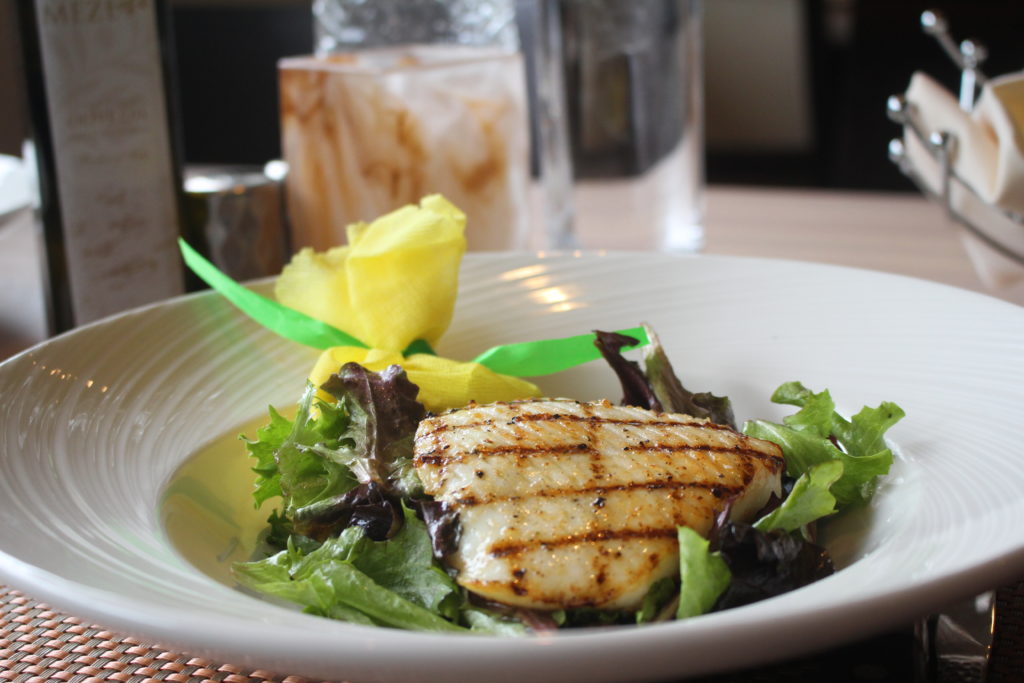 Options for lunch include a risotto with asparagus and mushrooms (something for you vegetarians), 4-ounce Filet Mignon (something for you carnivores) or the "Create your Own Super Lunch Bowl" (something for the control freaks since you get to choose one protein, one veg, one carb, one fiber and one topping from the list.). In other words, there is something for everyone!
For my lunch entrée, I enjoyed (devoured) the Tuscany Chicken. If this is what chicken tastes like in the Mediterranean…book me a flight! Very lightly breaded tender chicken breast topped with tomatoes, FRESH mozzarella, peppery arugula and a rich balsamic drizzle enhanced with classic Tuscan herbs on a small bed of roasted potatoes. (Is your mouth watering yet?)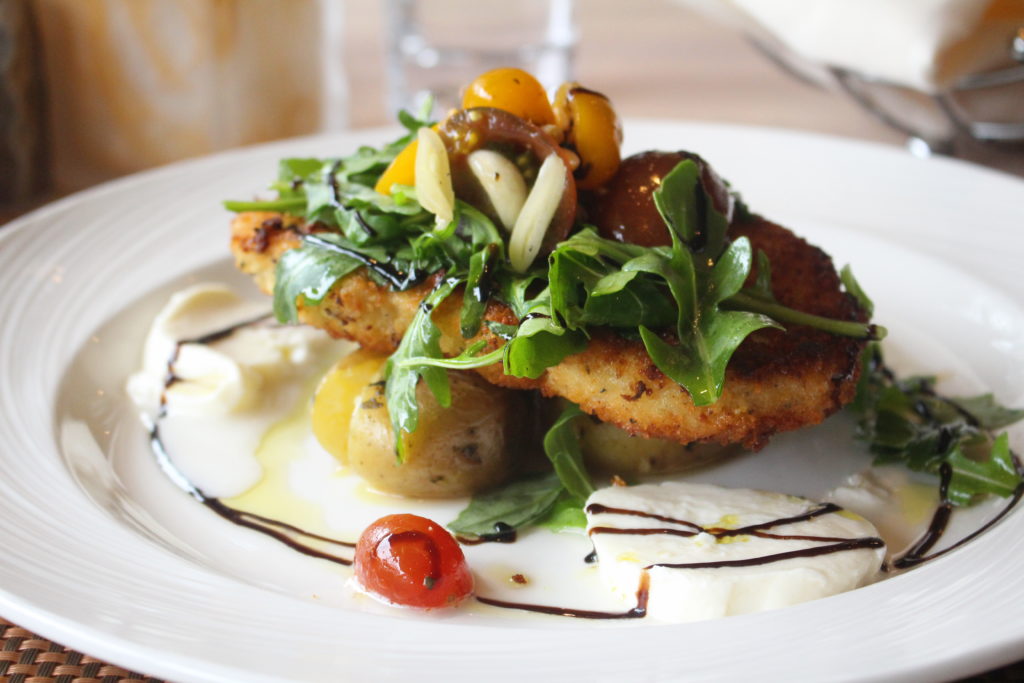 I think my favorite part was how the silky mozzarella and tomatoes complimented the juicy chicken. It was very "bright" flavor that was reminiscent of a great summer Caprese salad but with the added depth of perfectly cooked chicken breast.
If you are a fan of ooey-gooey cheese, then you need to order the Saganaki (it is one of the appetizer options for dinner). Fried Kefalograviera Cheese accented with Brandy and Lemon. (Sorry folks, they can't flambé tableside due to local fire laws BUT you will forget about the pageantry after you have your first bite!) I don't want to say it was delicious but normally you eat saganaki with some bread….I ate it by the forkful!!!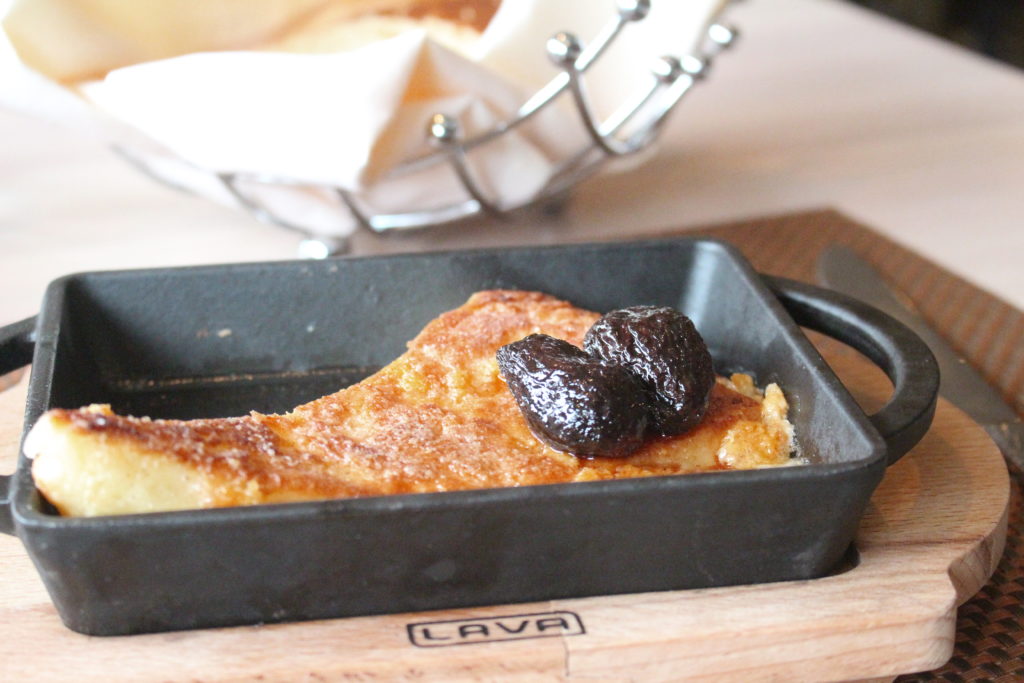 As for a dinner option, the pan roasted wild salmon with pesto on top of roasted potatoes and vegetables will be a new favorite. I have never had pesto on salmon before and now I am asking what have I been missing. The salmon had a rich fattiness (fatty as in good Omega-3) that was further flattered by the fresh basil/garlic in the pesto. Toss in the fact that Brussels sprouts were the veg du jour and it was a wonderfully composed, inspiring salmon dinner.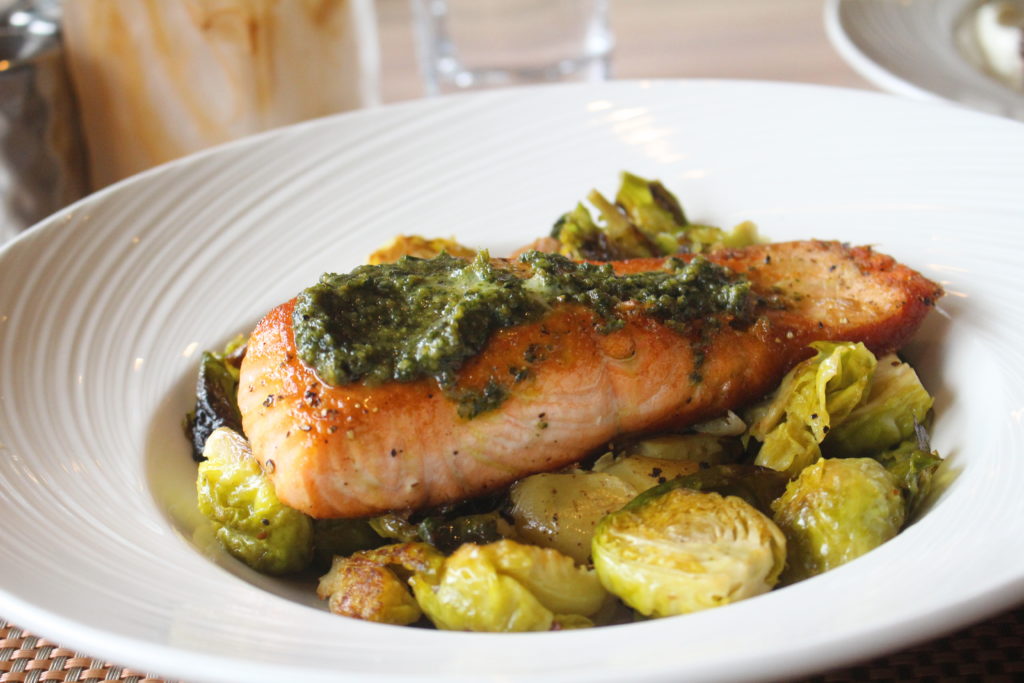 The other Chicago Northwest Restaurant week dinner entrees at Mezé were a "ladies" 8-ounce filet mignon (I think men are secure enough these days to this too), ½ of a Free-Range Chicken and Giant Rigatoni al Pesto.
Remember you get to order a dessert for dinner and lunch! (Woot!) Options are either an Oreo Crusted Cheesecake with Sour Cherries or Crème Brulee. It would not be a Chicago Northwest Restaurant Week without me eating some Crème Brulee and Mezè didn't disappoint.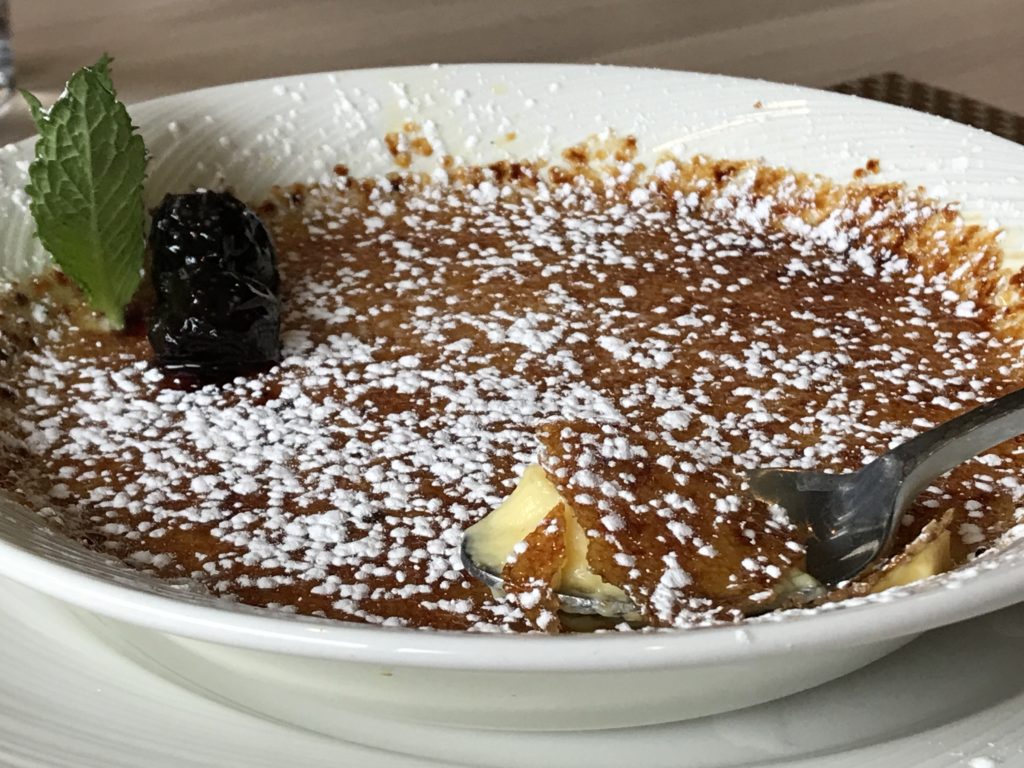 With a tap of my spoon, I was able to crack the exquisite bruleed sugar and dipped into the creamy custard. So good. So good… that I had them wrap up my remaining bites in a small bowl with a spoon so I could eat it in my hotel room at the Hyatt Regency Schaumburg later that day. (I can't wait to tell you about this astonishing hotel in my next post.)
Thank you to Mezè Mediterraneo for a great start to my Chicago Northwest Restaurant Preview. I had a magnificent experience with an abundance of delicious, healthy, fresh Mediterranean Food….and an excuse not to cook!
I have two more restaurant previews to share before Chicago Northwest Restaurant Week begins on February 22, 2019 so make sure you check back later this week to hear about my meal from Fox & Turtle and my stay at The Hyatt Regency in Schaumburg.