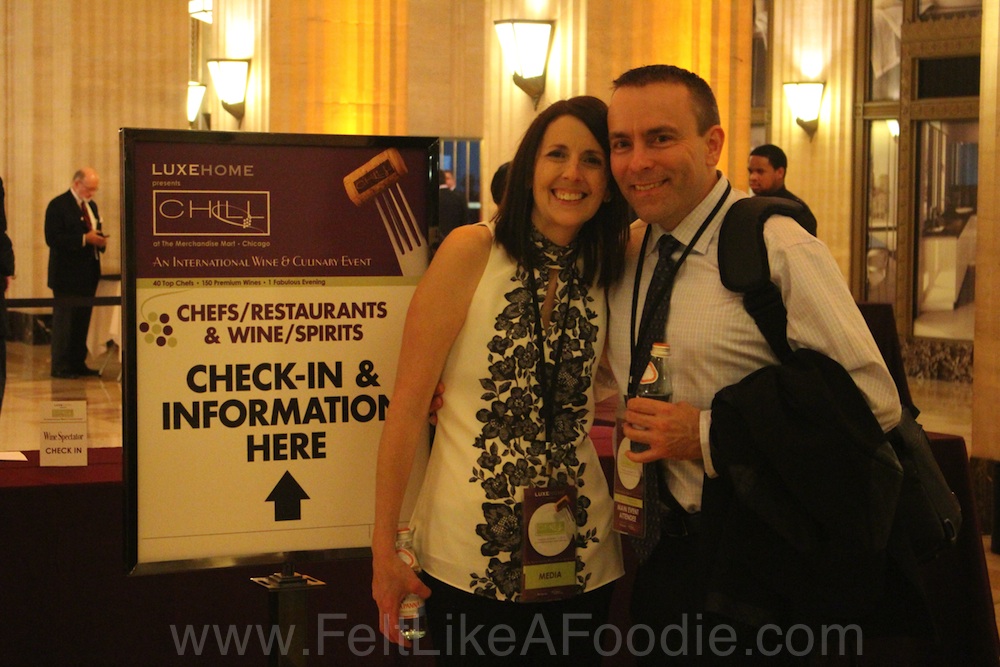 I felt frozen this week.  In our snowbelt area of NW Indiana, we got hit with multiple inches of snow and some pretty brisk temperatures.  The only thing that seemed to warm me up was the thought of going to the LUXEHOME CHILL event at The Merchandise Mart (Chicago).
The seventh year, the night brought together 40 of Chicago's top chefs and 150 Premium wines to benefit three amazing charities.  (Respiratory Health Association of Metropolitan Chicago, Chicago Youth Symphony Orchestras and The Lynn Sage Foundation).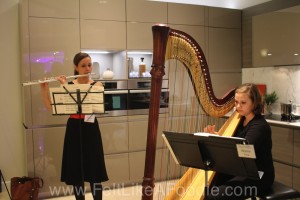 Once I arrived at the event, I was once again frozen but this time in my steps.  I wanted to take in every little detail in each boutique and taste every bite.
So to celebrate those moments we just don't ever want to end at a food event, I present to you for the first time the FROZEN (Feeling Really Over Zealous Eating Nummies) awards.
2013 CHILL FROZEN Award Winners
Bite of Food That Made us Sneak Back for Seconds:  Mercat a la Planxa made a short rib brochette with a saffron butternut squash puree and micro parsley.  I loved the flavors on the squash from Chef Cory Morris and the short rib melted in my mouth.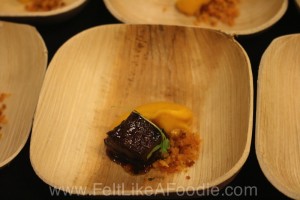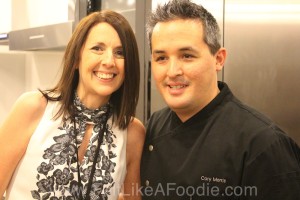 Surprise of the Night Moment:  Iron Chef Jose Garces was in town this week to test some new dishes at Mercat a la Planxa.  It was so much fun to see him after enjoying his Spain in Seven Plates dinner this summer.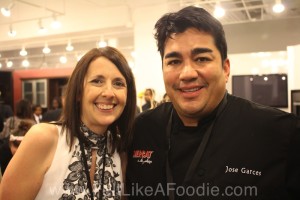 Best Reason for a Little Piggy To Go To the Market:  Sunda's braised pork belly skewer with Asian slaw and go chu jang sauce gave me everything I like in Asian cuisine.  The pork was really showcased nicely and was nicely braised.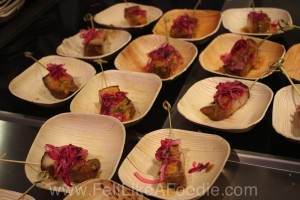 Freshest Garnish: Nellcote made a smoked sunchoke skewer with roasted tomato aioli and freshly snipped rainbow sorrel.  I like the sharpness that sorrel adds to dishes and it definitely is brightened when it comes directly off the plant.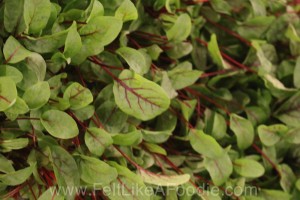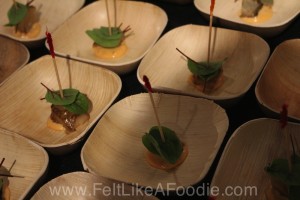 Cutest Little Lobster Roll:  Coq d'Or at the Drake Hotel served a tiny brioche stuffed with nice big pieces of lobster salad.  I especially liked the tarragon aioli.  It was just enough to add that great licorice taste without losing the lobster.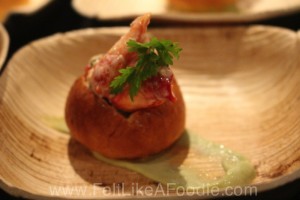 Restaurant Who Makes Their High School Chemistry Teacher Proud: moto Restaurant does a great job with not only providing a good show but food that challenges your palate to think about what it is eating.  The carbonated grapes in the creamy white almond gazpacho were a treat for all of the senses.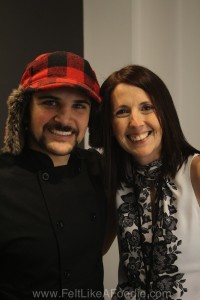 Best Smoky Bite that Didn't Involve Liquid Nitrogen:  Two had a wonderfully seasoned smoked fish. It was a well handled smoke that gave you a subtle taste without being overpowering.  (And yes, I know you liquid nitrogen is used to freeze stuff not to make it smoky.)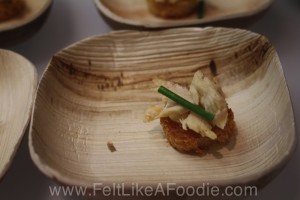 Best Acid Trip:  iNG Restaurant served a som tom dish with crab, papaya and lime.  I love things that have a good hit of acid and the lime in this dish really was awesome.  It was a small bite with a lot of punch!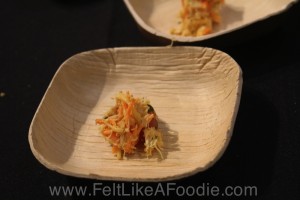 Best Gooey Cheesy Bite:  The Florentine's Mozzarella en Carozza with anchovy vinaigrette was AMAZING!  Nothing makes me smile more than biting into some warm mozzarella and seeing the cheese pull like taffy.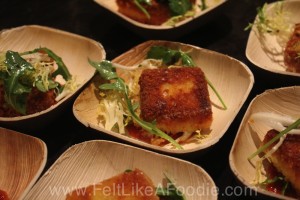 Best Place to Learn How to Cook Like a Chef:  The Chopping Block really has found a way to teach the classics while staying up with food trends.  (They also made an awesome pate en croute with Pinot pickles and grape mustard.  I know how to make pickles..thanks to The Chopping Block!)
Best Restaurant Who Dared to Make Two Dishes:  The Bedford gave us two great dishes with a Devilled Egg with bacon powder and paprika and a Chicken Liver Mousse with strawberry preserves and pickled mustard seeds.  I loved slight tartness the housemade mustard seeds added to the mousse.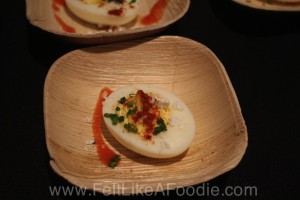 Coolest Hot Chocolate:  Sixteen for the "smokin" hot chocolate with vanilla ice cream.  The liquid nitrogen prepared ice cream made for a fun presentation and a delicious drink.  (Hubby had to drink this since I have a Chocolate allergy.)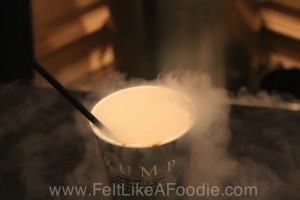 Best Familiar Bite:  Ra Sushi Bar & Restaurant's Tootsy Maki and garlic edamame.  When I go to Ra in Lombard, these are two staples in my order.  The Tootsy maki is my go to maki when "teaching" someone to love sushi (no raw fish) and the garlic edamame has become a guilty pleasure…garlic AND butter…you can't go wrong!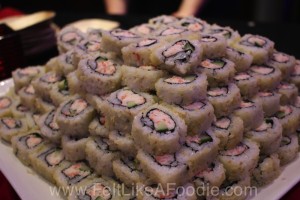 First Time I've had Wood:  This was an easy pick since this was the first time I enjoyed food from Wood. (Where did you think I was going with this one?)  They won us over with a roasted beet with yogurt, rye and dill.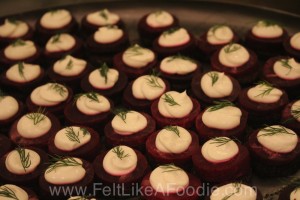 Consistency Award:  I love Roy's dish each year.  Their Maine lobster dim sum with lobster cream sauce this year was delicious.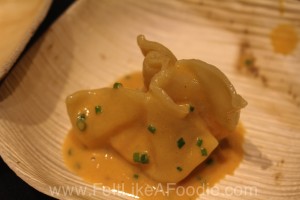 Most Creative Placement of a Napkin:  Napkin Girl (aka Ellen)!!! We love the gals in the napkin dresses!  They are just adorable!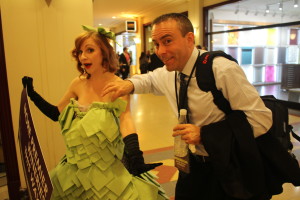 I must say that seven proved to be a lucky number because this was the best year yet!  I am really grateful to everyone who participates in CHILL.  I wish I could have tasted everything but no worries…I will be back next year!!