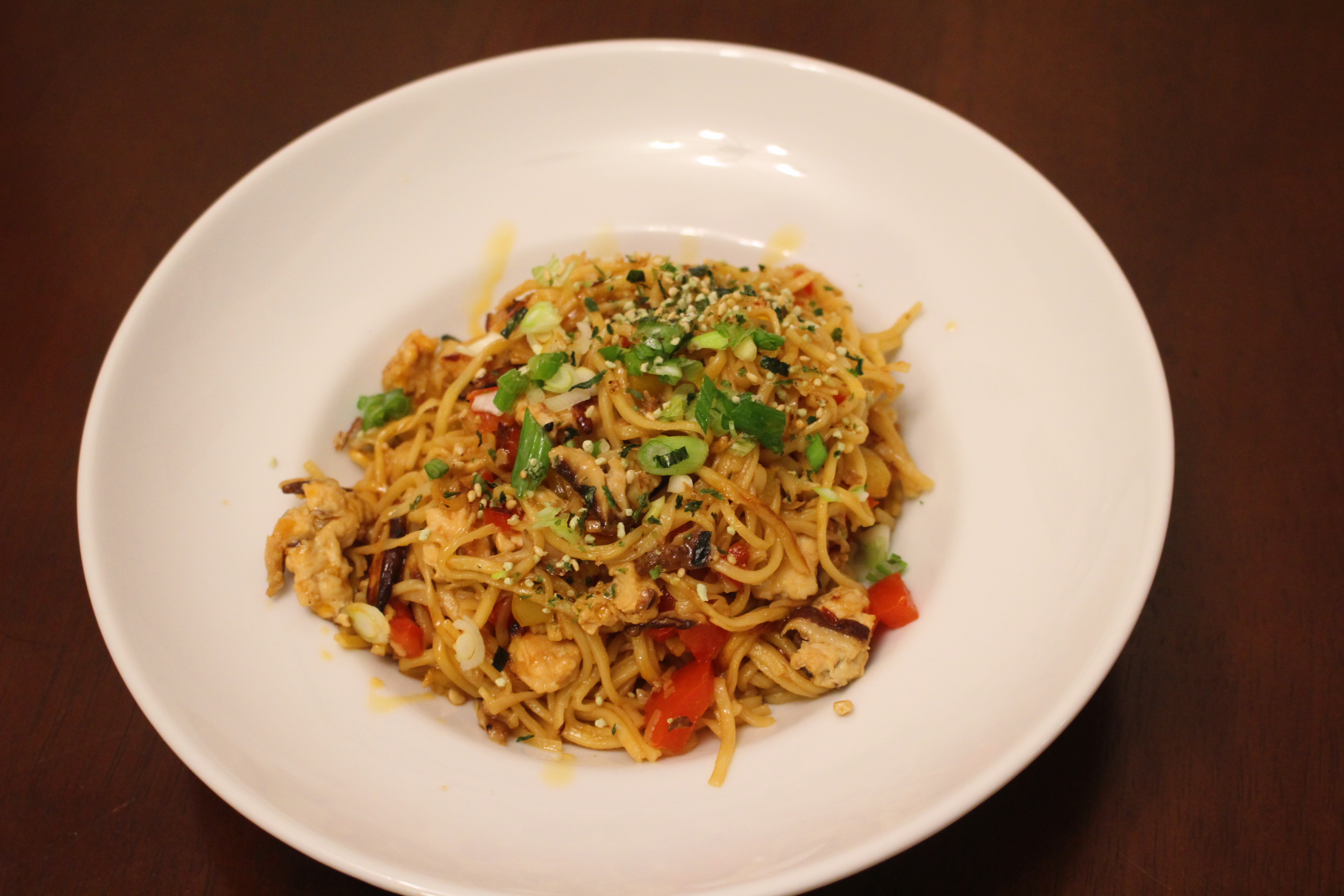 Happy Chinese New Year!!!! On February 8, the year of the monkey began. According to a reliable source (the Internet) people born in the Year of the Monkey are witty, intelligent and have magnetic personalities. Clever in financial matters and career, lively and versatile, gentle and kind, these traits make them ideal partners if you want an everlasting love life. However: They must watch their tempers and a tendency toward arrogance. (Here is a great article on the Monkey if you want some fascinating trivia to share with your friends.)
I have a HUGE secret that I wanted to share with you all. Monkeys make me happy. Monkeys make me really happy. Monkeys make me really, really happy.
Now you are saying to yourself "Barb, that is okay. A lot of monkeys make people really, really happy. Why should that be a secret?"
Well, it isn't that I like monkeys. I LOVE THEM!!!! Actually, there are 3 in my life that make me smile every day. Their names are Crazy Eyes, Maki and C.C. All of them have been gifts from my husband, Earl. They have become my mascots.
I like to bring them with me places…..and take pictures. Is that odd? Maybe a little?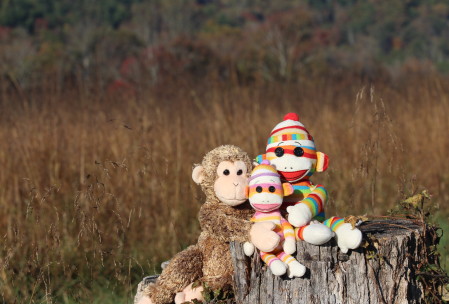 You see it all started last year after my operation. It was a doozy. Crazy Eyes was given to me in the hospital. I didn't like him at first. I thought he was kind of weird looking. (He loves to hear this story at bedtime.)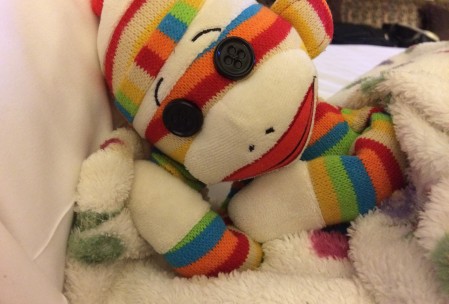 I was bed ridden for about 8 weeks and on A LOT of pain meds. Crazy Eyes hung out with me on the couch. The thing is when I would get up to go to the bathroom, I would come back…..he would have moved! Not only did he move but also he would be doing something like knitting, reading or surfing on the Internet.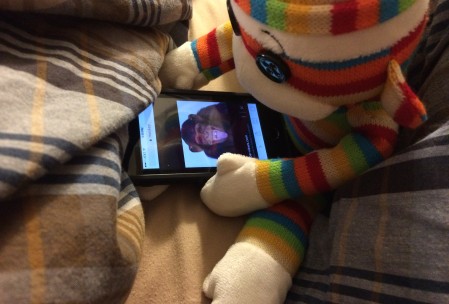 Earl was nowhere around so there was no other explanation than this monkey is real. (Please remember the part I mentioned earlier about being on a lot of meds!)
The antics of this little stuffed monkey made me fall in love with him. He no longer looked weird. Crazy Eyes was a character and made me laugh on days I could barely lift my head.
C.C. came into the picture on my birthday. A lot of times we just call him Baby because he is kind of sensitive. He has a bit of an attitude at times but it is hard to stay mad at C.C.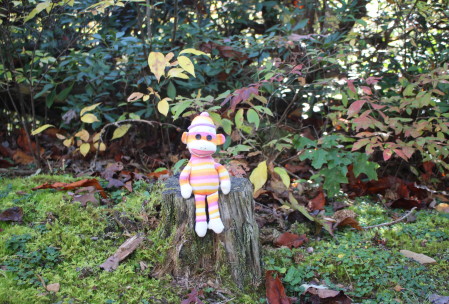 The other monkey is named Maki. He has been around for quite awhile but he didn't come alive until Crazy Eyes and C.C. joined the family. Maki hits really hard and makes some gestures that I won't share on this forum. Truth be told, he can be an ass. But he is very protective of his adopted monkey brothers and his sense of humor is a lot like my husbands.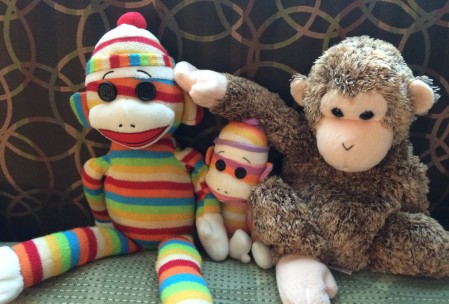 Now In my family having stuffed monkey companions isn't unusual. My aunt had one named Monk Monk. I remember how she loved him to death and I always was thrilled when we got to see her and Monk Monk.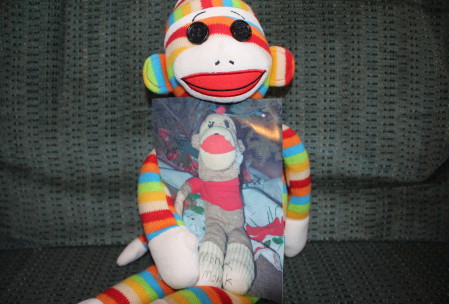 The coolest thing about Monk Monk is that he used to write me letters. He was a monkey of few words but I was the only person I knew who got letters from a stuffed monkey. He was awesome and so was my aunt for bringing his letters to the post office! (Monk Monk only had one arm so I am sure he had his challenges getting around.)
So this year when I found out that it was going to be the Year of the Monkey, my heart was overjoyed. I felt like I could finally share my love of monkeys…. especially my monkeys.
Maybe all the pain meds made me lose my noodle a little; maybe it just allowed me to monkey around during some really hard times.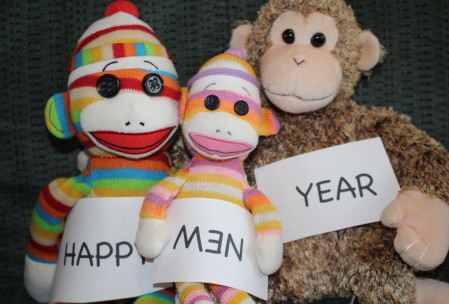 Year of the Monkey Noodles
Recipe Type
:
Lunch, Dinner
Author:
Prep time:
Cook time:
Total time:
Quick weeknight stir fry. Use what veggies you have in the house and sub in spaghetti noodles if you can't find the chow mien.
Ingredients
6 ounces Chow mein noodles, cooked per package instructions
2 Chicken Breasts, chopped up in to little pieces
1 red pepper, diced
1 yellow pepper, diced
1 shallot, diced
6 ounces shitake mushrooms, diced
1-2 TBsp peanut oil
Optional: Nori and toasted sesame oil or chili oil, green onions, sesame seeds
Sauce
2 Tbsp Ponzu
1 tsp eel sauce (Or hoisin or teriyaki)
½ tsp black vinegar (or malt)
2 tsp garlic, minced
1 tsp ginger
Instructions
Mix the ingredients for the sauce together and set aside.
In a large non-stick skillet, heat up peanut oil over medium heat.
Add chicken, peppers, shallot and mushrooms.
Sauté for about 3-4 minutes until veggies start showing a little color and the chicken is cooked.
Add the noodles and the sauce and increase the heat. Make sure the noodles are all coated and then raise the heat to medium high.
Don't fidget with them for about 1-2 minutes. You want a couple crispy noodles and little bit of a char. Give it a stir and then let it sit again for 1-2 minutes.
Serve with a drizzle of sesame oil or chili oil and top with sesame seeds or nori or green onions (or everything.)