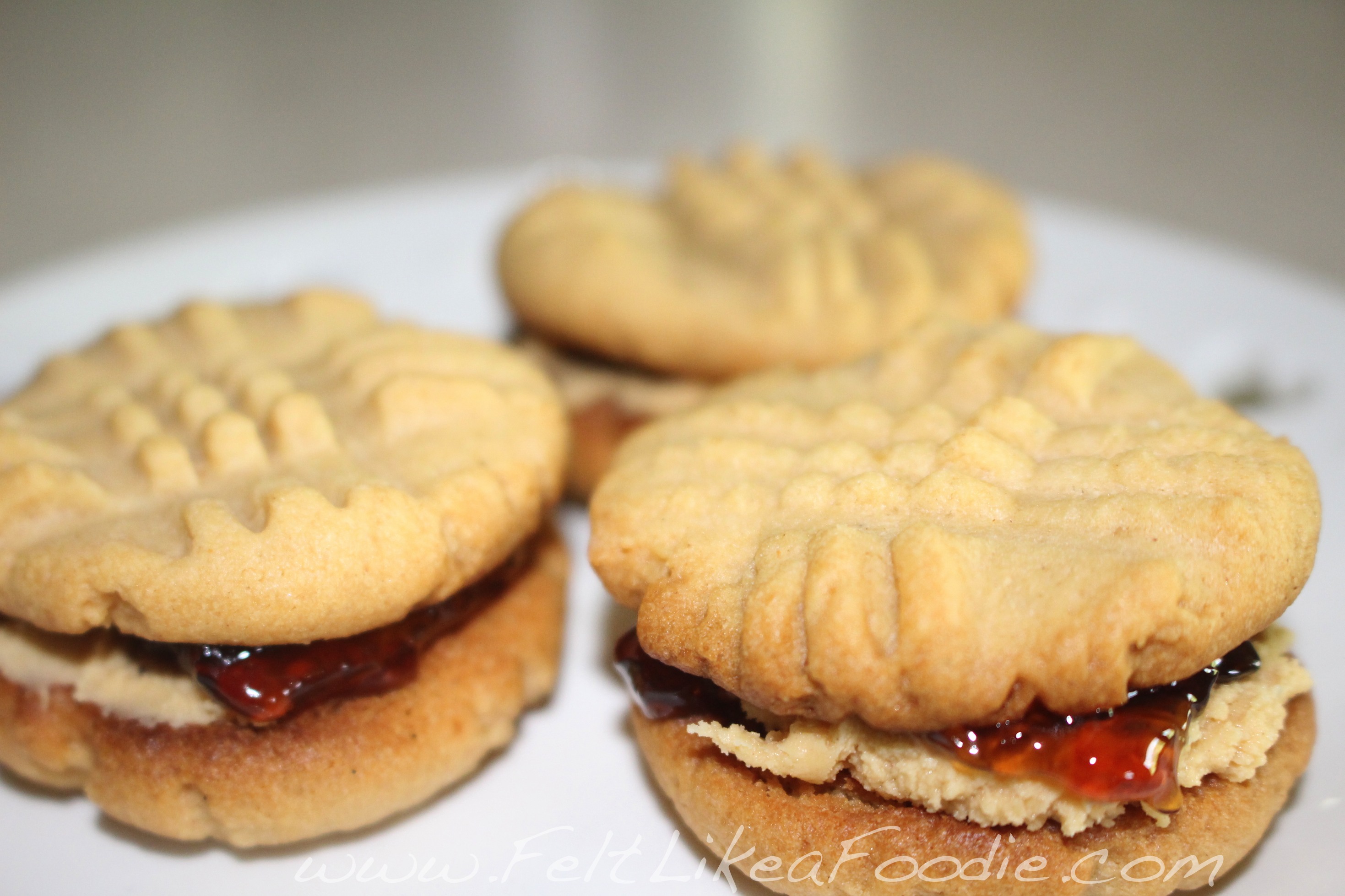 As Mother's Day approaches this Sunday, I have spent a lot of time thinking of my mom. My goal was to make a recipe this week that was based on my mom's signature ingredient.
As my wheels were turning coming up with an original idea, I had to laugh because I kept coming back to the same thing…peanut butter. Nothing makes me think of mom more than peanut butter.
It was the sandwich that we brought to school, the zoo and on picnics. It would follow us to museums, on car trips and sometimes to the living room. But my favorite was when Mom would make peanut butter cookies.
I've never had a sweet tooth so I think I loved the combination of the nutty peanut with the sugary cookie. (I will add that my mom ALWAYS cut the sugar in her cookie recipes.)
So I spent the morning reminiscing about the times spent in the kitchen making cookies with my mommy (when I reminisce, I call her mommy). I loved the madness of her trying to situate my two sisters and me around one bowl and two beaters. (The licking the beater math never worked out!)
But because daughters tend to "rebel," I can't make just peanut butter cookies. I had to make peanut butter and jelly sandwich cookies! (I really wasn't the rebellious one…I was/am the favorite.)
I also didn't use the brand/style mixer I've since I can remember.  Hamilton Beach gave me the challenge to try both their 6-Speed Stand Mixer and 6-Speed Soft Scrape hand mixer.
My goal was to see if I could whip out my cookies in the same fashion as my mom with a product that I had never used.
With ingredients in place, I started with the cookie dough in the stand mixer. Smaller and lighter than my current mixer, I was a bit skeptical at first. I started to add my ingredients and the one big difference was noticing that I didn't have to scrape the bowl as much.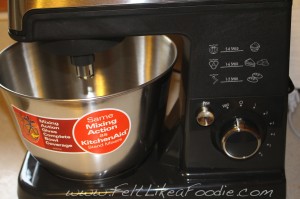 The spinning of the flat beater really rotated around and scraped the bowl as it twirled. (I still had to scrape a little bit.) This stand mixer is 6 speeds and came with the standard wire beater, dough hook and flat beater. (I liked that the front of the mixer had pictures so you always know the best choice in attachment for your particular recipe.)
While my cookies were baking (the entire recipe is below), I made the creamy peanut butter filler for the cookies with the hand mixer.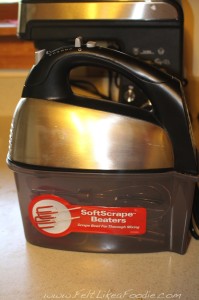 I feel in love with the hand mixer immediately. Besides the fact that it has a convenient storage container, this hand mixer was POWERFUL!!! It creamed my butter and peanut butter so quickly. And I have to mention that the soft scrape beaters are pretty nifty. They were quiet against my glass bowl and I wasn't worried about them scratching anything. (I find the noise of beaters clanking on the bowl is up there with fingernails on a chalkboard.)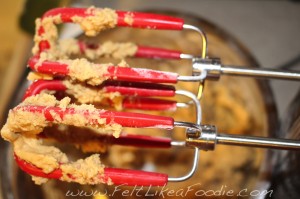 And the little kid in me says licking a coated beater tastes better than a metal one. (And no Mom, I didn't try to knock off the excess batter to get a higher cookie yield.)
As the cookies were baking, I cleaned up my new toys and enjoyed that I could toss it all in the dishwasher. (One of my mom's bonus features is that she always cleaned up after me. I REALLY miss that luxury.)
I get to hang out with my mom on Mother's Day. We will drink coffee, shop for our flower gardens and eat a cookie or two (if there are any left). The joy of sharing this kind of day with my mom is probably what makes her so special. She can take the simplest thing and make the happiness last in my memory forever.
Love you Mom.
Peanut Butter and Jelly Sandwich Cookies 
(recipe based on a Baking Illustrated recipe)
Cookie Ingredients
1 ¼ cup of flour
¼ tsp baking soda
¼ tsp baking powder
½ tsp salt
1 stick butter, softened
1/3 cup brown sugar
1/3 cup sugar
½ cup peanut butter (you chose creamy or crunchy)
1 egg
1 tsp of vanilla extract.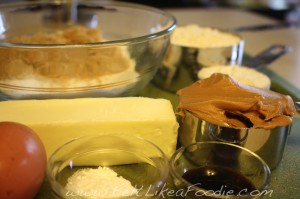 Directions
Oven at 350 and prepare cookie sheets with a sheet of parchment paper.
In mixer, cream butter and peanut butter until it is well incorporated. Add sugar and mix until combined.
Add egg and vanilla…mix well.
In a separate bowl, mix flour, baking soda, baking powder and salt.
Slowly add to stand mixer and mix on a medium speed.
(Do I need to add to scrape the sides as needed?)
Roll dough into balls and place on prepared cookie sheet.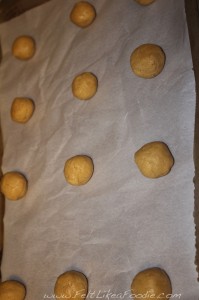 Criss-cross them with a fork dipped in flour. (You'll have to redip the fork.)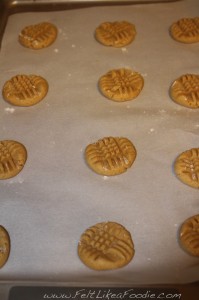 Bake for about 10 minutes. (Look for golden edges.)
Cool for a minute on baking sheet and then cool on a rack. (You need the COOL before you add the filling.)
Filling Ingredients
2 TBSp of butter, softened
¼ cup peanut butter (this needs to be creamy)
¾ cup powdered sugar
1 TBSp of milk
Favorite jam or jelly
Directions
Using your hand mixer, blend the butter and peanut butter in a medium bowl. Add the sugar. Slowly mix in the cream. You want it a little thick so it doesn't slip off the cookie.
Assembly
Match up cookies so that the tops and bottoms are equal sizes. Eat any that aren't perfect. (That isn't an official instruction but good advice.) Spread with peanut butter cream and add some jelly. I am not a huge jelly fan so I went easy on mine adding less than a teaspoon per cookie. Top with another cookie. And then call you mom.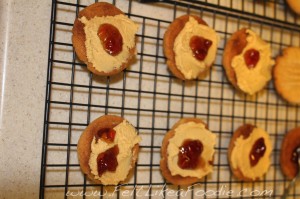 For those of you who needed some gift ideas for your Mom, either of the Hamilton Beach mixers would be a great gift. (I don't buy my mom a gift…having me in her life is gift enough!)
Thank you to Hamilton Beach for supplying me with both mixers. It is fun to step out of the box and try new things!!!