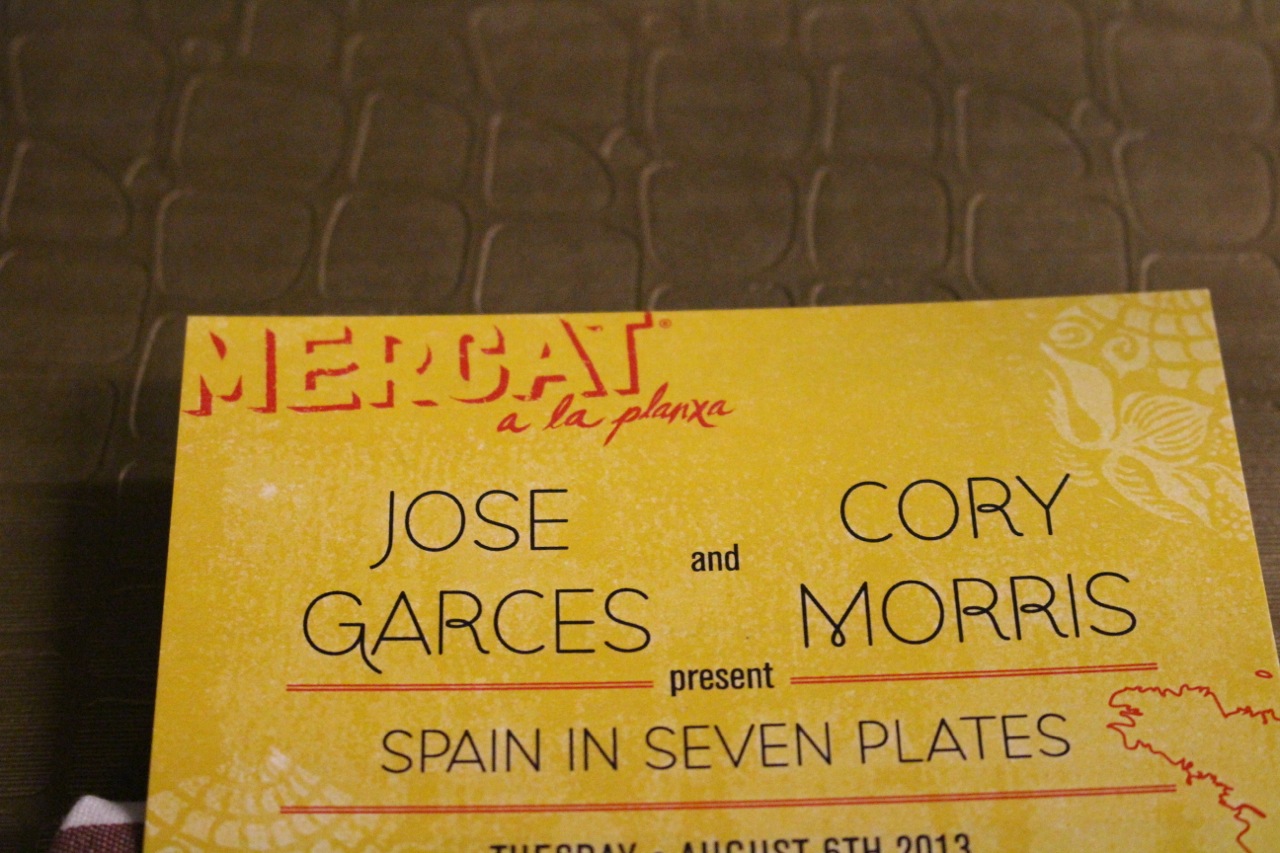 I love the cliché a picture is worth a thousand words.  When a person says it, you can comprehend easily the feelings they are trying to convey.  Anyone who knows me knows that I am RARELY speechless.  (Inarticulate, yes.  Speechless, no.)  So when I am dumbstruck for words, you know it has to be big.
Well today's post is going to consist of A LOT of pictures because I had the experience of a lifetime on Tuesday night and I can barely think straight.
I had the honor of sitting at the Chef's Table at Mercat a la Planxa (638 S. Michigan Ave., Chicago) during their Spain in Seven Plates dinner!!!!!!!!!  (Forgive me if I sound boastful but I am still pretty hyped up about the experience.)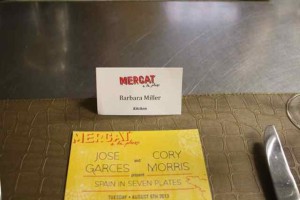 Sitting in the kitchen of one of my absolute favorite restaurants in Chicago was awesome but toss in the added bonus of watching Iron Chef Jose Garces and executive Chef Cory Morris in action was just too much!!!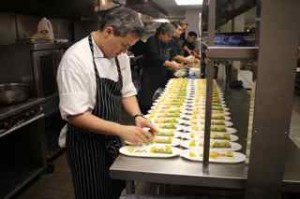 (And I really played it cool when I clenched my copy of "Latin Evolution" with a pink Sharpie in anticipation of getting an autograph!)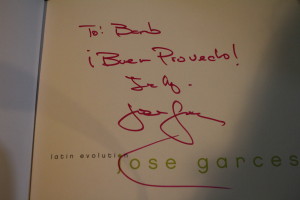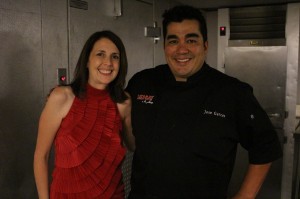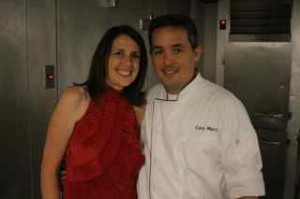 The dinner was a celebration of the chef's recent trip to Spain.  Each course had a story of a food they had found or someone they had met on their recent trip.  (There was also an amazing Sangria reception and wine pairing for each course but I was driving back home after dinner so I abstained.)
I have never been to Spain but after this meal, I felt I was partially on vacation in another country and partially in heaven.  (This is where I just need to stop typing and start the picture show!)
Course 1-Carmona
  Terrina D'oliva:  
Losada Olive Terrine with Pea Tendrils, Orange supremes and Marcona Almonds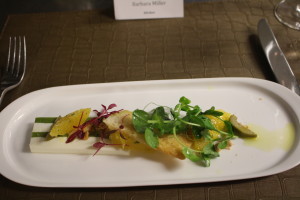 Course 2-Sevilla
Sardine Fillets a la Planxa
Ibérico Lardo, Mint Aioli, Piquillo Aioli, Espelette,Crispy Chanquetes, Marinated Tomatoes
Course 3-Jerez de la Frontera
Hippiglos amb Pesols

Oloroso steamed Halibut with Spring Pea Puree and Arvum Vinegar Artichoke Escabeche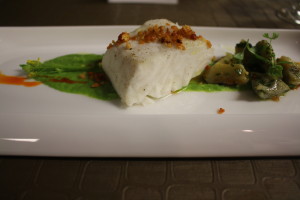 Course 4- San Sebastian
Bacalao Negro
Squid Ink, Tomato Millet, Chorizo, Saffron Foam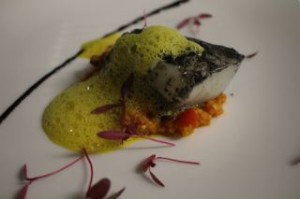 Course 5-Granada
Conill amb Huevos Roto
OMED Aburquina Olive Oil Sous Vide Rabbit with Broken Eggs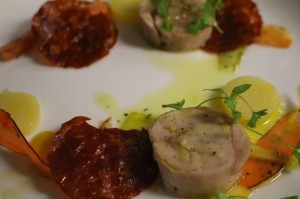 Course 6-Madrid
Calamari Risotto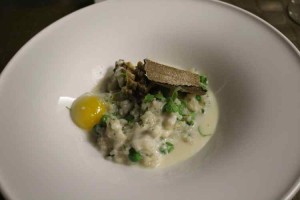 Course 7- Jaen
Tocinillo de Cielo
HEAVENLY Custard with Castillo de Canena Picual Olive Oil and Grilled Apricot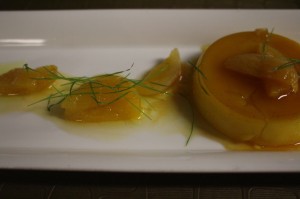 Mercat a la planxa will be adding some new, flavorful dishes to the menu this month.  I am looking forward to trying each and everyone of them.
Thank you to everyone who made this night so wonderful from the delightful staff at Mercat to my fellow diners to Chef Jose Garces and Chef Cory Morris.  As far as food experiences go, I know this is one for the memory books!