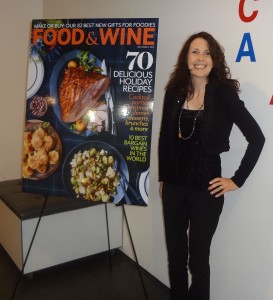 I don't know what it is about the Food and Wine Chef Showcase in Chicago that makes me smile, it just does.  Not just any smile, but a smile that makes my cheeks hurt.
It is the kind of smile that resonates through your whole body and makes you put a spring in your step.  The smile that almost makes you weepy because you can't believe you are so happy.  It is the smile you get when you are just loving every second of an experience.
Last night I had the pleasure of smiling for about 3 hours at the Museum of Contempory Art.  Smiling back at me were chefs from over 20 of Chicago top restaurants (The Purple Pig, g.e.b., Moto, iNG, Café Spaggia, The Publican, Girl & the Goat, Blackbird, bellyQ, Wolfgang Puck Catering, Acadia, Bistronomic, The Bristol, Balena, Rustic House, Trenchermen, North Pond, Table Fifty-Two, Boka, GT Fish & Oyster, Nightwood, Perennial Virant, Vie, Slurping Turtle, Sepia and Province.)
As with every food event, I have not yet met the challenge of trying EVERYONE'S food.  I try very hard but at some point I get lockjaw from smiling so hard and just can't open up for one more bite!
So this year, I thought I could make up my own award for some of the stand-out experiences I had at this amazing event.  I would call these awards SMMILES (Stuff Making Me In Love Every Second).  With that said, may I present to you the first Felt Like a Foodie Food & Wine Chef Showcase SMMILE Awards!!!  (Insert you favorite trumpet blare here.)
2012 SMMILE Awards
Best Use of a Thermos:  Chef Andrew Zimmerman (Sepia) for his Pot au feu "Rossini", rare beef, foie gras royale, truffle gelee and perfect temperature oxtail consommé.  Chef Zimmerman's tableside pouring of the oxtail consomme guaranteed that it would be at a perfect temperature.  Chef Zimmerman made my favorite dish last year with his duck wonton and he didn't disappoint me this year!  It was so delicious.  (Any fans of the Steve Martin movie the Jerk and start singing the thermos song now.)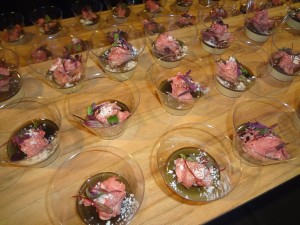 Best Use of the Word Poof:  Chef Stephanie Izard (Girl and the Goat).   The fabulous goat chili with Wisconsin cheese had the fun of a little crunch with the addictive pizza poofs on top!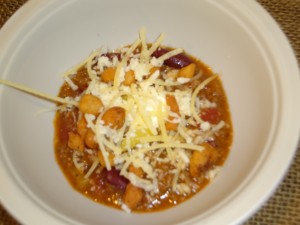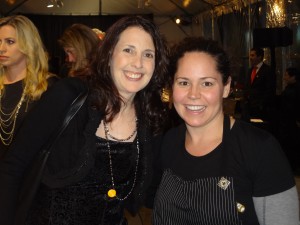 Best Looking Dessert that I couldn't eat because it had Chocolate:  Pastry Chef Sarah Jordan (GT Fish & Oyster, Boka) The chocolate banana ganache with cashews looked fabulous but my chocolate allergy made me only admire it from afar.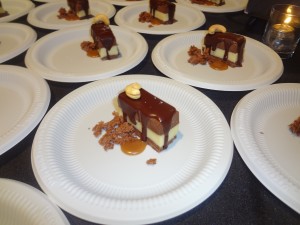 Neatest Bump Into You Moment:  Dana Cowin, editor Food and Wine Magazine.  Okay, technically I didn't bump into her, I sort of hovered until I could say hi.  I have admired her for years and it was wonderful just to say hi.  (Okay, I babbled uncontrollably but I am hoping she just thought I had been drinking and didn't realize this is how I sound all of the time.)
Most Fun on a Plate: Chef Homaro Cantu (Moto and iNG).  A play on wine and cheese, molecular gastronomy was shown at it's best.  The ice-cold grapes complimented the cheesy "packaging" peanuts.  I do think there should have been a disclaimer that not all packaging peanuts taste that good.  (Um, not that I know.)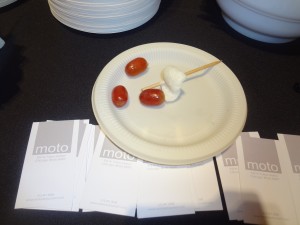 Biggest Pain in the Fanny When I'm Taking a Picture:  Jason Vincent (Nightwood).  You gave me the biggest laugh of the night!  Thanks.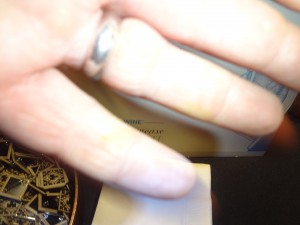 Most Components in a two inch space:  Chef Jason Vincent (Nightwood) In all seriousness, The beautifully layered dish started with an apple gelee on the bottom and everything from a fermented foie gras, cauliflower puree, whipped foie gras, celery puree and about 4-6 other components.  The best part was scooping a little taste of everything in one bite.  Just fabulous!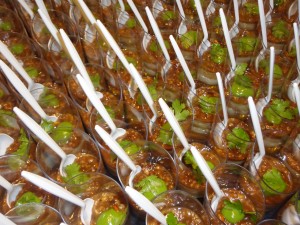 Best Spoonful of Noodles:  Chef Bill Kim (bellyQ)  Anyone who follows me on Facebook knows that I have been semi-obsessed with meeting Chef Kim and going to bellyQ.  I proudly wear their t-shirt and am hoping to make it my foodie fun day in December.  So you can't imagine how excited I was to eat the tasty somen noodles with lentils and roasted chicken in turkey broth.  It was everything I imagined and more.  Ready or not, here I come!!  : )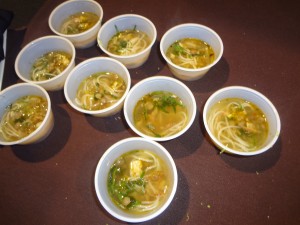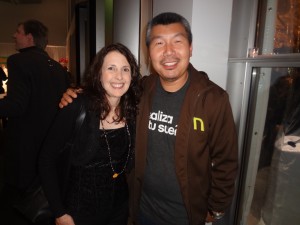 Best Use of a Cracker:  Chef Chris Pandel (The Bristol)  The "wheat thin" with the trout rillette and smoked roe had the crunch that I love in a cracker without overpowering the trout's delicateness.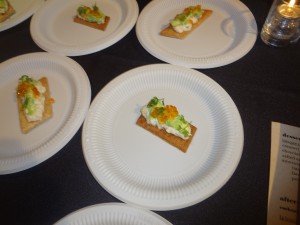 Best-Unexpected Dish:  Chef Takashi Yagihashi (Slurping Turtle) Soy marinated salmon pizza??!!  I've seen a lot of pizza fusion but I've never seen anything this creative, tasty and super fun.  The crispy crust almost sweet salmon with an umami twist was such an unexpected surprise.  (Also thank you for being such a nice guy!)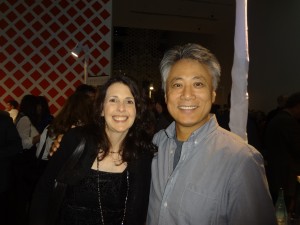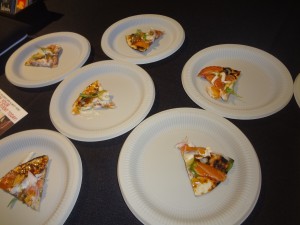 Best Pastry Made with Duck Fat: Chef Art Smith and Rey Villalobos (Table Fifty-Two)  I just made my first pie crust with duck fat so I 100% appreciated the homemade puff pastry with duck rillette, celery puree and cider emulsion.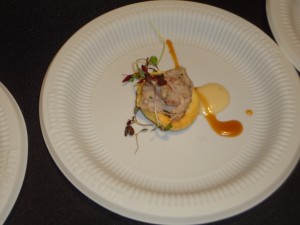 Most Fun with a Push-Up:  Chef Steve Madonna (Wolfgang Puck) The Smoked pheasant "push-up" pop was not only amusing but it was really tasty.  The sweet potato, apple butter and whipped hard cider highlighted some of the best flavors of fall in one simple push. (My bra was also nominated in this category but sadly lost.)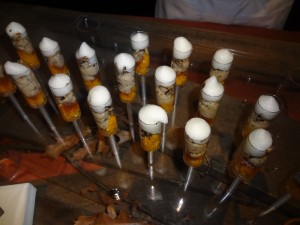 Best Rustic Dish:  Chef Jimmy Bannos Sr. & Chef Jimmy Bannos Jr.  (The Purple Pig) The pork neck gravy (or was it just neck bone) and creamy polenta was the perfect dish for such a chilly night in the city.  It is one of those dishes that just showcased its ingredients in rustic, simplicity.  YUM!!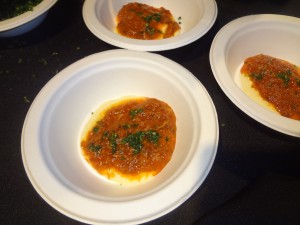 Best Giggling Fan Moment: Chef Paul Virant (Vie and Perennial Virant)  I am a HUGE fan of Chef Virant's book Preservation Kitchen.  It is not only a cookbook but also a reference guide to learn how to understand the wonderful world of canning.  Chef Virant was kind enough to sign my book and listen to my babbling about my new love of canning.  His book is awesome and he is awesome.  (I'll stop before I sound like Kathy Bates in Misery.)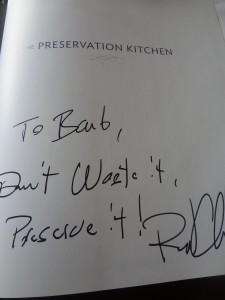 Best Balls:  Chefs Michael Sheerin and Patrick Sheerin. (Trenchermen) You see a little fried ball, you don't know what it is but it has to be good….and it was!  Perfectly done fried chopped liver ball with an egg yolk jam and yuzu marinated apples.  It wasn't just good, it was fabulous.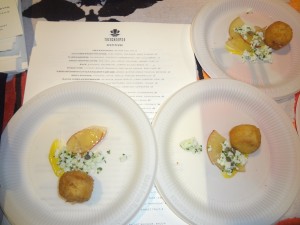 Best Pull a Chef Away From The Table to Take a picture:  Chef Sarah Grueneberg (Café Spiaggia)  As a huge fan of  Top Chef Texas, I love getting to say hi to Chef Grueneberg  .  She is an absolute doll and I appreciate her taking the time out to visit.  I was so excited to see her that I almost forgot to eat my bay scallops with purgatory beans!  (I also appreciate Chef Tony Mantuano's graciousness when I stopped him for a hello as he was walking up to his own table!)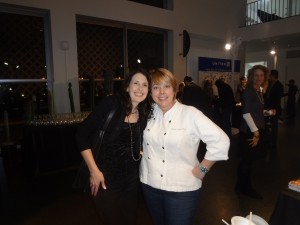 Finally the last SMMILE category…
The Best How Do I Know You Moment:  Jaime Laurita , Rock-Star Celebrity Chef.  I saw Jaime (he is sweet enough that I feel comfortable calling him by his first name) and couldn't remember how I knew him.  He graciously pointed out that he is the brother to one of the Real Housewives of New Jersey so I had probably seen him on that show.  A genuine, nice guy who I would consider an instant friend.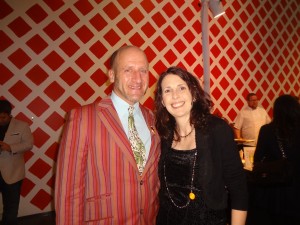 I didn't have a moment last night that didn't make me smile.   Thank you to every chef in attendance last night and Food and Wine Magazine. I wish I could have met you all but hopefully in the coming year, I will have more opportunities.
For now, I am going to go ice my cheeks because they are so sore from all of the smiles last night!