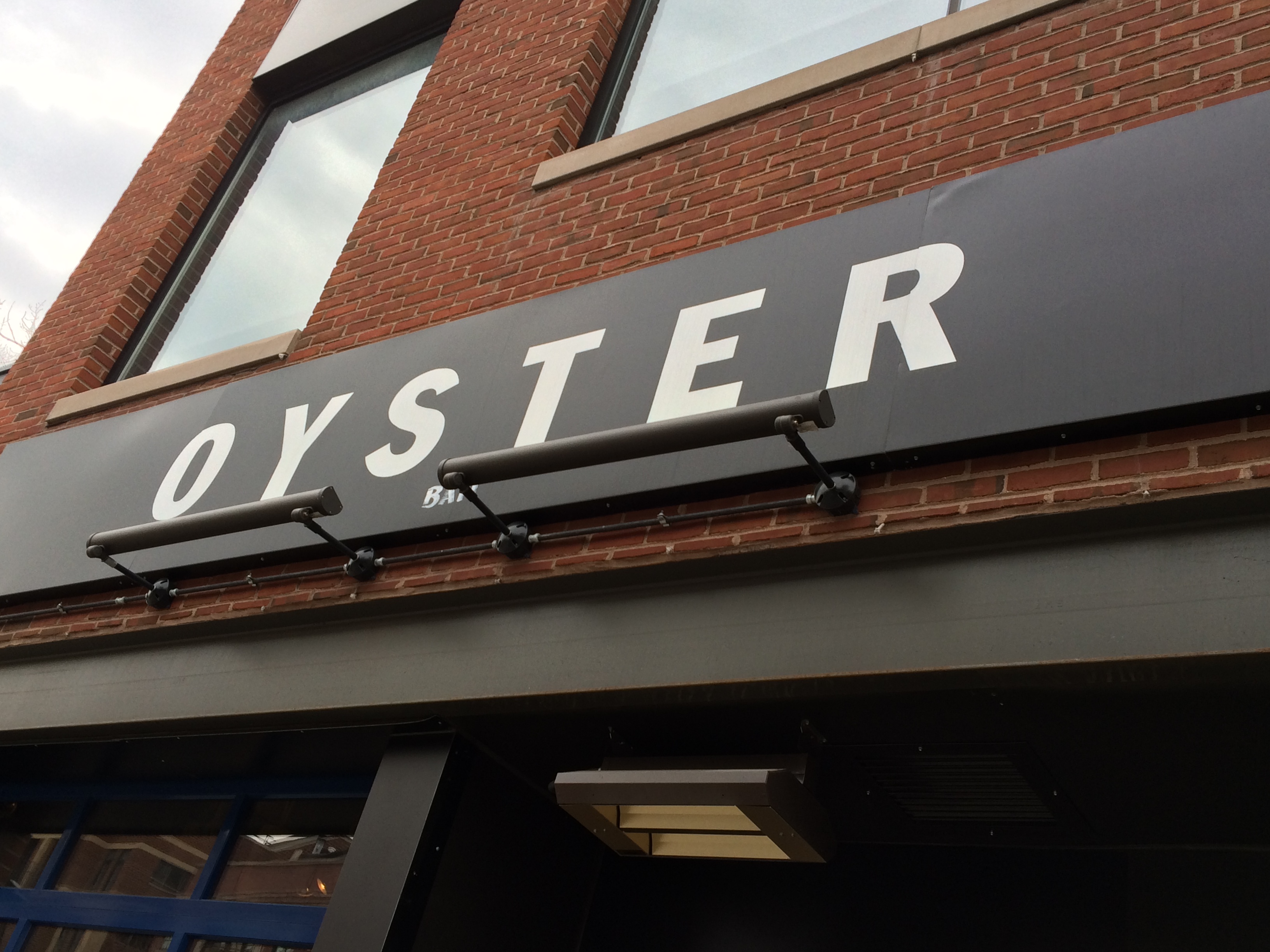 Oysters. People seem to love them or hate them. I wasn't always one of the people who loved oysters. Their looks intimidated me. They smelled like the ocean. And I was seriously concerned that I was going to choke on a pearl. (I also can admit that I'm not always very bright.)
I tried my first oyster about 5 years ago and I finally understood why there was so much fuss made about them. The love of them comes from the excitement of a beautiful tray placed in front of you. The oysters are usually nested in a bed of ice and have tasty accouterments by their sides to jazz them up. You look at them thoughtfully, grab your first one and slurp. Do you taste the salt of the ocean or is it a little sweet? Is it plump and chewy? Or so delicate that it just slides past your lips and leaves your mouth wanting more?
So when I went to Oyster Bah (1962 N. Halsted, Chicago), I instantly thought this is the perfect restaurant for oyster virgins. From the moment you walk thru the door with the porthole window, you are taken to a different place. Maybe it is the east coast or it could be the west coast but either way you feel you are at an authentic little oyster shack.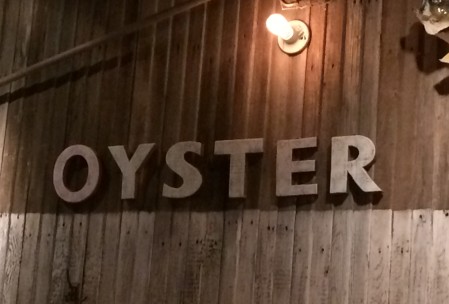 With 8-12 cold water oyster varieties brought in daily, I was presented with a list of the ones available for me. Oyster Bah didn't just list the varieties; they let you know where the oysters are from and their flavor profile. If the descriptions weren't enough, my wonderful waiter was able to help me wean down the list to which oysters fit my personal tastes. (I'm a petite oyster girl who likes a subtle finish.)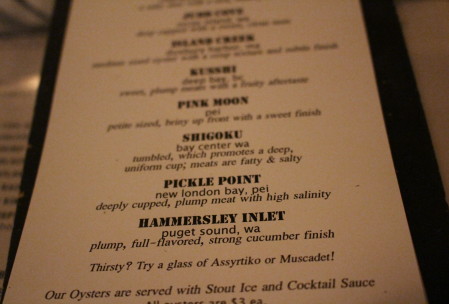 We ordered 6 kinds Judd Cove (Orcas Island, WA), Island Creek (Duxbury Harbor, MA), Kusshi (Deep Bay, BC), Pink Moon (PEI), Shigoku (Bay Center, WA) and Pickle Point (New London Bay, PEI). The Judd Cove, Pink Moon, Shigoku and Pickle Point were my favorites.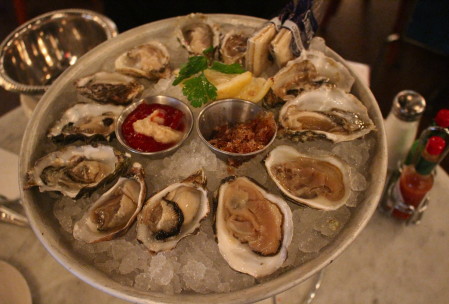 I like the fact that you can mix and match your oyster combinations so if you are dining with someone who only likes them big and meaty, you can still order the type you like. (Perfect for the oyster newbie.)
The other nice thing about Oyster Bah is that they have a menu full of other wonderful seafood delicacies. You can start with chilled, hot or raw options.
The raw dishes (besides oysters) like Tuna Poke, which was cubes of fresh tuna, avocado with a little soy and ginger. The only thing I didn't like about this dish was that I shared it. I LOVED it so much I wanted to eat it all myself. (We also indulged in the mildly spicy ceviche. Also delicious and worthy of not sharing!)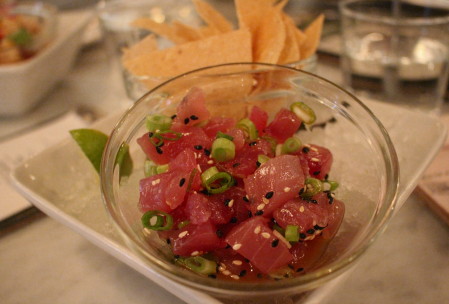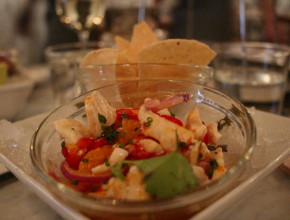 A couple other small plates that we enjoyed were the Stuffies. One of Oyster Bah specialties it is a Quahog (which is a hard clam), chorizo and celery mixed up with a stuffing like mixture. It is like Thanksgiving in a shell!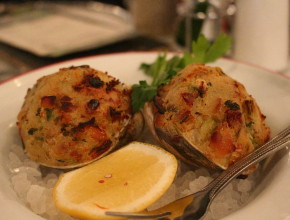 And if that isn't comfort food enough for you, don't miss the Salt Cod Fritters. A great mix of salt cod, potatoes, onion, lemon zest and garlic served with a pickled pepper aioli. Normally when I get fritters, they are over battered, deep fried balls. These fritters reminded me more like the texture of a good potato pancake. (But with fish.)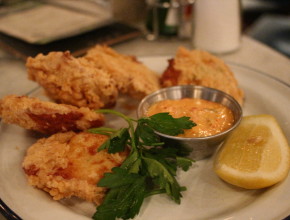 One of the other starters, I tried was the Smoked Trout Dip. I'm not usually a fan BUT this was AMAZING!!!! Between the incredible flavor of the trout, the lightly grilled bread and the onions and pickles to add to the top….my mouth just started watering thinking about it again. It truly melted in your mouth.
If you aren't a little plate person, Oyster Bah also has a great menu filled with options (like a lobster roll and fish tacos) and entrees (like Red Snapper with Thai chili sauce and Alaskan King Crab). There really is something for everyone from the Oyster lover to that friend who will only order a hamburger. (Yes, they do have a hamburger on the menu and rumor has it that is pretty delicious!)
Open for lunch and brunch on Saturday and Sunday and dinner every night, I know I will find another excuse to come back soon. (Plus they have this mysterious place downstairs called the Crab Cellar. It is a small intimate room that I found really intriguing and inviting!)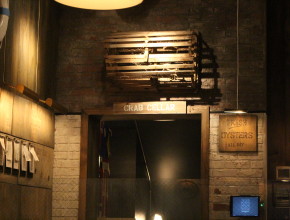 This was my first foodie fun day for 2016 and I can't thank Oyster Bah enough for the fabulous night. It was everything I love…cute atmosphere, wonderful service, tremendous food and good company.