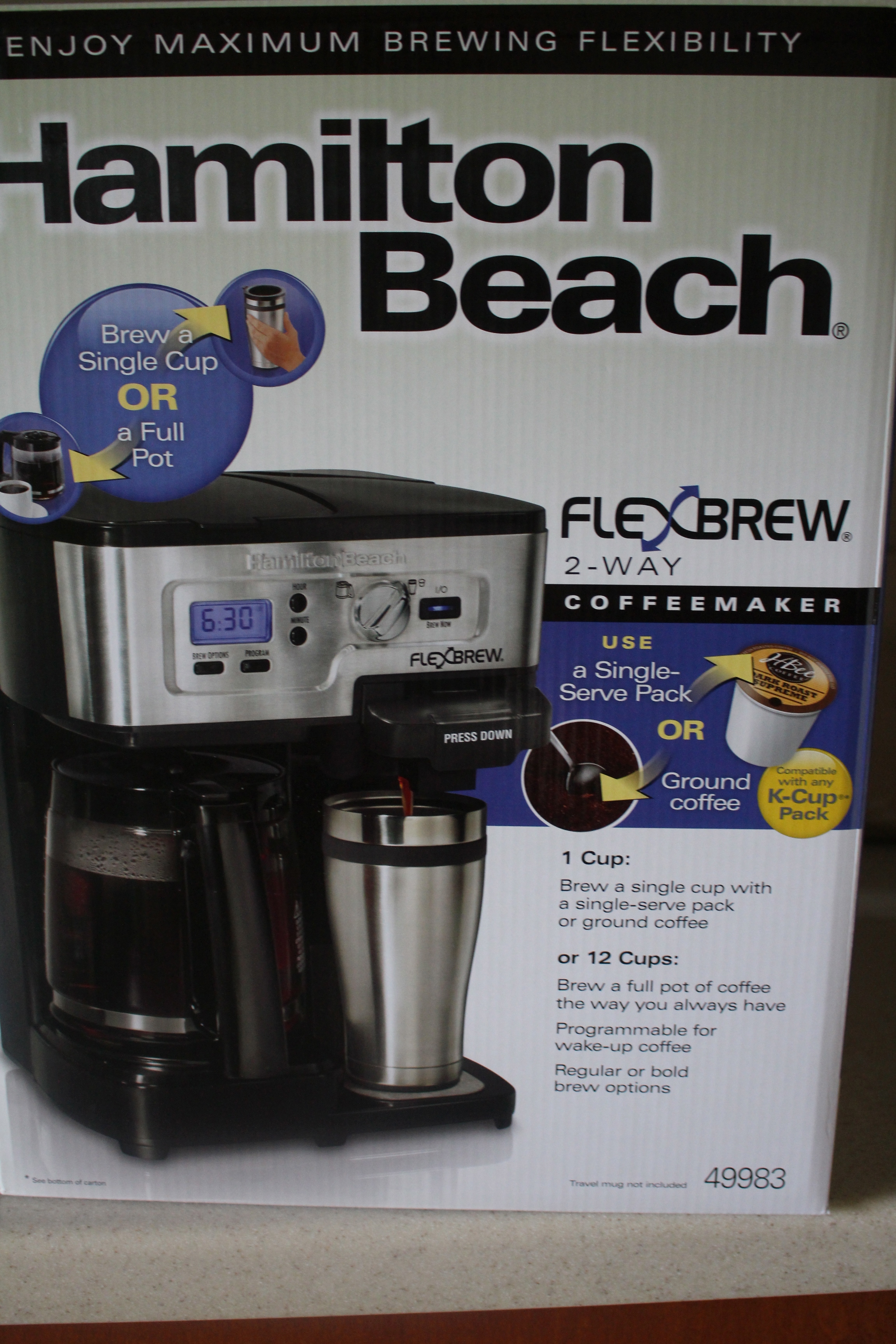 So I've been 45 for one full week now and have spent some time being introspective.   At this number (that I consider middle age), I have decided to make two lists. One of my lists would be my good qualities that are just perfect and don't need any adjustment. (Wow! This is a very long list. Apparently, I like me very much.)
My other is a list of things I could work on. Like being a bit more humble and maybe some more humility. (Example… reread my first paragraph.)
One of the things I would like to work on is my hostessing skills. For some reason I never mastered that whole invite someone in and offer him or her a cup of coffee. They make it seem so easy on TV. "Welcome, can I make you a cup of coffee." Smiles all around.  Nope, not at my house.
In my case, I say, "What are doing here? I don't have a coffee maker. There is a gas station down the street!" Okay, I'm not that bad.
The truth is I didn't have a coffeemaker until last week. Hamilton Beach was kind enough to send me the FlexBrew 2-Way Coffee Maker to try out in my house. Previous to receiving the FlexBrew, all I had was an espresso machine, which is not everyone's cup of tea….I mean coffee.
The FlexBrew makes coffee differently than your average "joe" machine because on one side you can make up to 12 cups in the carafe with fresh ground coffee or on the other side make just 1 cup using a single serve pack.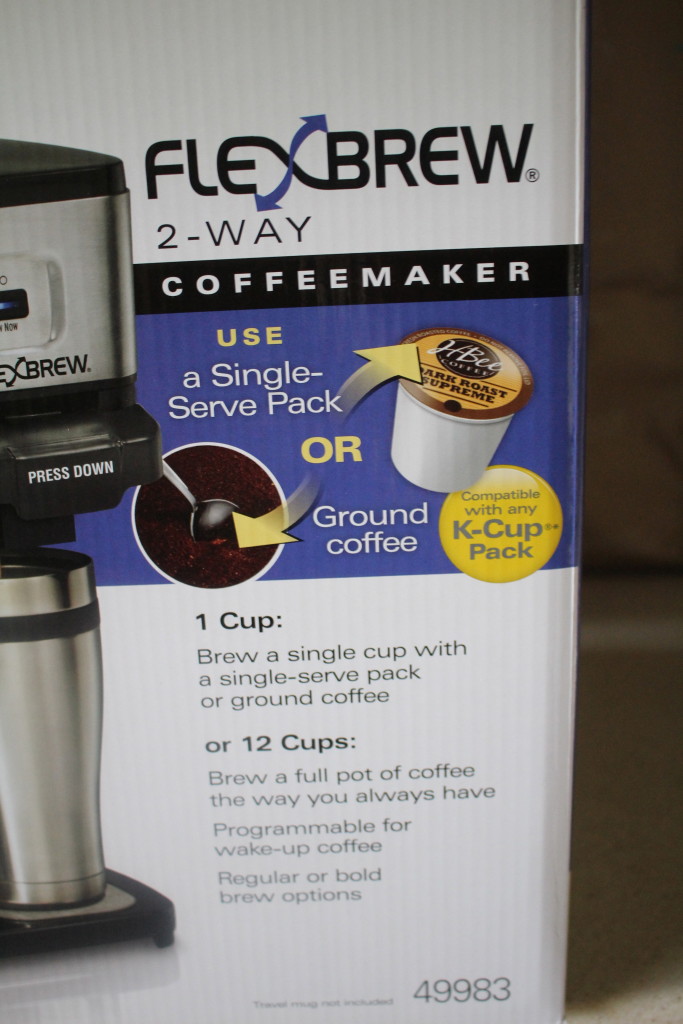 This is an awesome option for our house because there are times we only have the one friend who wants a cup of coffee and then we have others who want more than a cup or two (or three or four) after dinner.
After testing it out this weekend, I was pretty excited to have this bad boy in my house. Let me start with the carafe (pot) side. It is pretty much like other "regular" coffee makers where you add the paper filter to the brew basket (permanent filters can also be used), measure out your coffee and water and press a button.
A few things stood out to me like there is a button for you to press for brew options…bold or regular. It is nice when you can ask your guests how they like their coffee. (I have one friend who likes it so strong you can literally watch the hair grow on his chest as he finishes his cup.)
I also LOVED the pause and serve option.   There is nothing worse than sitting waiting for a pot to fill up when you really NEED that first hit of coffee in the morning. (And let's admit we live in an impatient world and we want things fast!)
And lastly my favorite thing about the carafe side is that you can program it so the coffee will be made at a designated time. This can be great for overnight guests who wake up earlier than you. No more worrying about them snooping in your cabinets trying to figure out how to make some coffee; it'll be ready when they get up and you can sleep in. (Let's face it, they are going to snoop anyway but they'll do it faster now that they've got some caffeine kicking in!)
Now what really got me excited was the single serve side. I do have a lot of "popover" company that just want a quick cuppa and then leave. (To spare my proofreaders any anguish….cuppa is slang for coffee.)
The instructions for this side were even easier because I didn't have to measure the coffee. I just moved the dial from left (carafe side) to right (single serve side), filled the mug I was going to drink out of with the desired amount of water (it couldn't be larger than 14 ounces), adjusted the cup rest to my desired height, popped in my single serve coffee capsule and pressed a button. Ta-dah!
There is also an option to use coffee grounds or soft pods on the single serve side if you are not a fan of the individual plastic cup option.
I really enjoyed the cup of wakey juice from the individual side. It gave me everything I love in cup of coffee….warmth, great taste and CAFFEINE!!! (You can make it decaf but I would ask WHY?)
If I were to make one criticism, I wish Hamilton Beach had included the travel mug with the machine. There is one available on the Hamilton Beach website or you could probably find one at Wal-Mart (who does sell the machine.) It isn't a huge issue but it would have been nice to have it all matchy-matchy.
With all that said, see how simple it is to improve my hostessing skills with something as easy as offering my guest a cup of coffee any way they like it?!
So in the spirit of a good hostess, I am offering to giveaway one Hamilton Beach FlexBrew 2-Way Coffeemaker on the Felt Like a Foodie Facebook page.   Click here for the details. I will pick the winner on May 1, 2015 and post it on the Felt Like a Foodie Facebook Page. (Sorry to the non-FB folks. I really don't have the manpower to do it any other way. So much for being a good hostess.)
Again, thank you to Hamilton Beach for allowing me to test out another one of their great products. I am sure all of my future guests appreciate me finally being able to offer them a cup of delicious coffee!  (But you can't use my monkey mug!!)