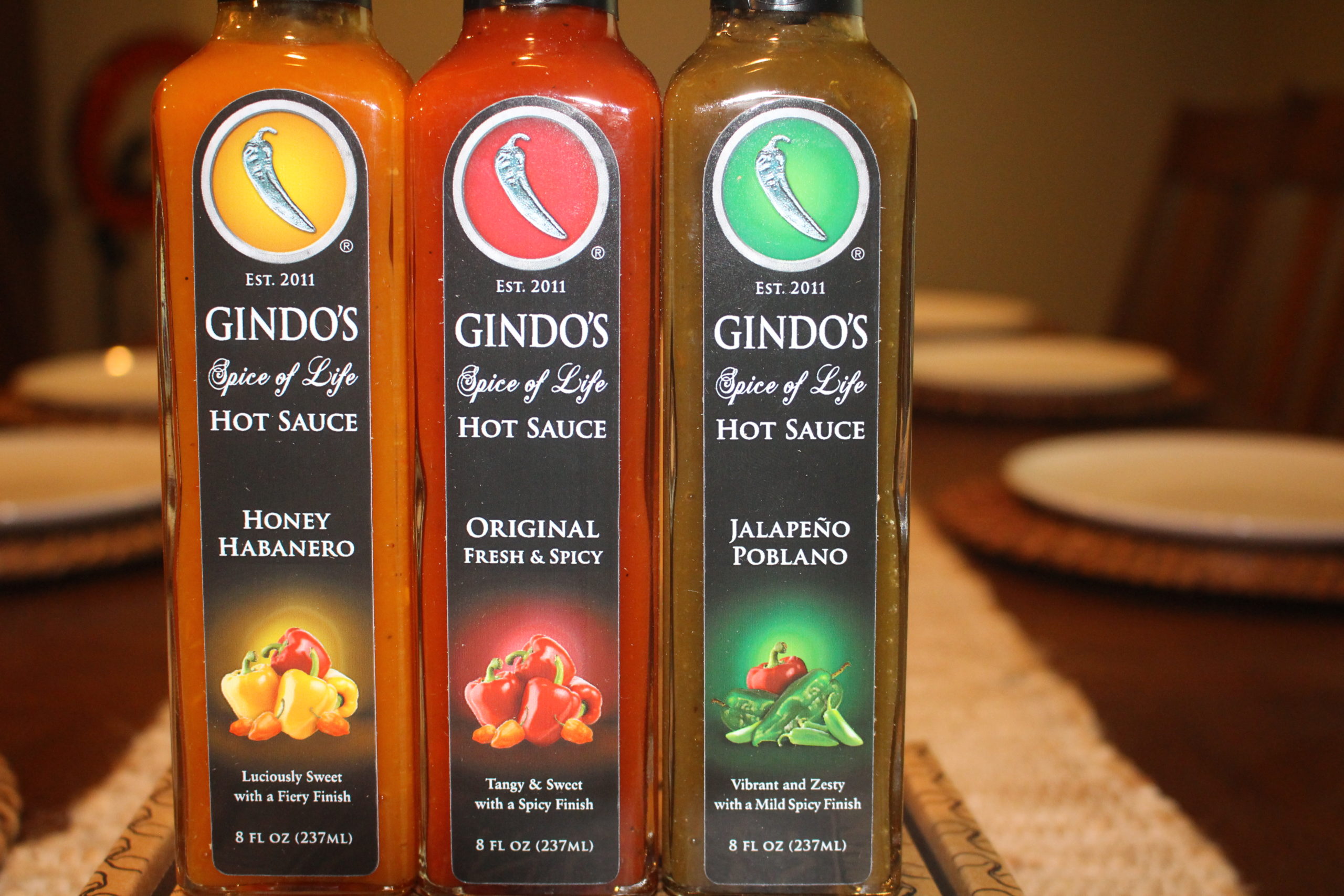 The spice of life.
What are you doing right now to "spice" up YOUR life?  (And let's keep it classy.)  Are you wearing different clothes that have been sitting in your closet?  Do you find yourself reading a newly discovered genre of books? Or maybe you've discovered a new television show to binge watch?
As a blogger, it may seem obvious but when I think of "spicing" up my life…it is going to involve food that is not only delicious but has an appealing and exciting element. It has been interesting trying to achieve this goal with pandemic limitations and barriers to exploration.
Lucky for me, the awesome folks at Gindo's Spice of Life dropped me a line and asked me if I'd like to play around and try some of their hot sauces.  Gindo's is a small husband and wife team (Chris & Mary Gindo) who make custom craft hot sauces in Illinois.
What makes them different from every other hot sauce we see on the shelf these days? (I'm glad you asked.) I think the key to all of Gindo's hot sauce is the fact that they are made in small batches with only local produce. 
Why is that important? (Wow, you have a lot of questions today.)  Besides the fact that they are helping local farmers stay in business during turbulent times, it means they get to see first-hand where their peppers are coming from and know their ingredient flavor profiles a little bit more on a personal level. It is an innovative way to go back to how food was first produced.
Small batches are key. Every pepper has a different zing and no peppers will ever be exactly alike.  (Think of it like a kiss…no two are ever the same…and there will be more of the analogy later!) There is a control in the flavors and characteristics of each bottle that just can't be made on a large scale.
They also take good care to add quality peppercorns and an array of various sea salts to each batch. (Look at the ingredient labels…you will be amazed at the thought behind each and every component.)
My theory is that you should know your farmer or the people who make your food. It will change how you eat forever because you see that they put their love in everything they grow and make.
The big 3 sauces Gindo's makes year-round are…Gindo's Original (think of your favorite hot red wing sauce), Jalapeño Poblano (the green, a little mild sauce) and Honey Habanero (sweet heat)…are always available to order online. (Here is the link to order)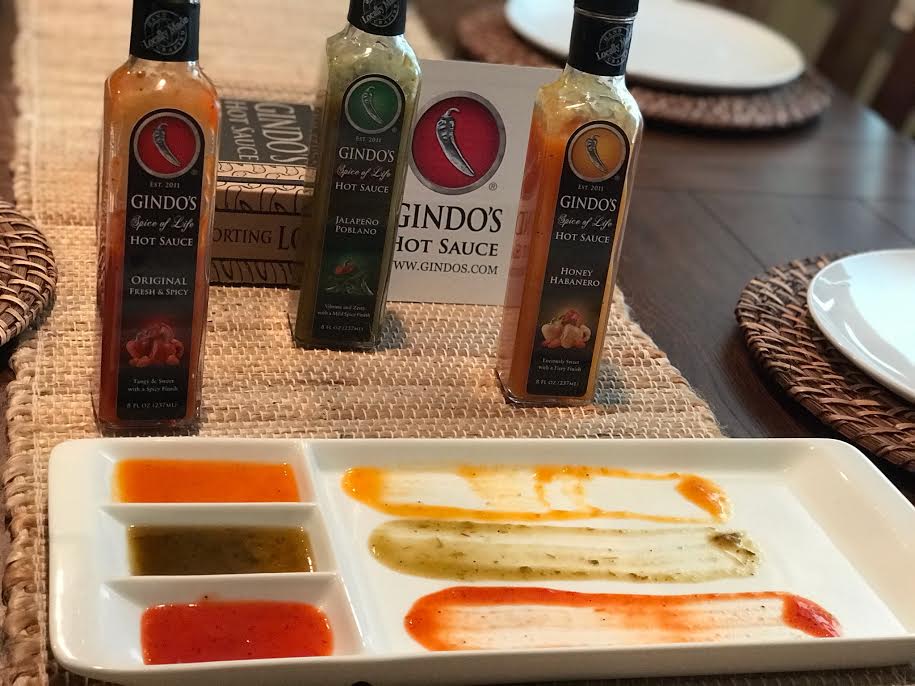 Gindo's also keeps it interesting by having featured limited release/collaboration sauces like Garlic Breath Farm, Truffle Parmesan or Green Goddess.  And if you are a true hot sauce aficionado, join the hot sauce of the month club.
So, what did I think? I'm in love.  The heart of what I admired about the sauces is that I tasted the flavor beyond the heat.  I could see and relish the freshness in each bottle.  It just wasn't some agitated essence of chilies.  It was bright and clean.
Each bottle has a little list of suggestions of foods that would pair best with that flavor. In addition, Gindo's has some fun creative recipes on their website.
I ran with it and made my last week a little more interesting….the Gindo's way.
First, I tried it on a Jalapeño Poblano on my pork and lime corn salsa taco.  The sauce added an herbal vibrancy to the taco.  (If it were a kiss, it would have been like a peck or a first kiss. You like it but if you really want the heat, you may need to turn it up a notch!)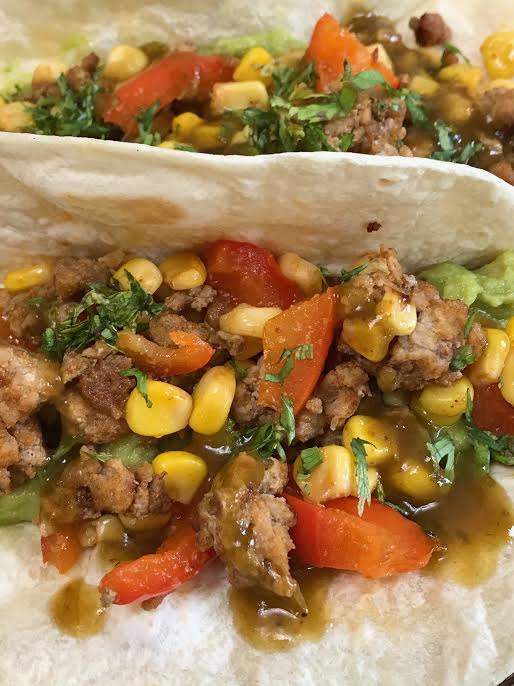 Given I love a good Louisiana hot sauce, I had to taste the Illinois version of Gindo's Original Hot sauce. Actually, Gindo's started in California and relocated to Mary's home state of Illinois. I digress, the Original is one of the best hot sauces I've ever had. (I've already ordered more because I tore through this first bottle in about a week!)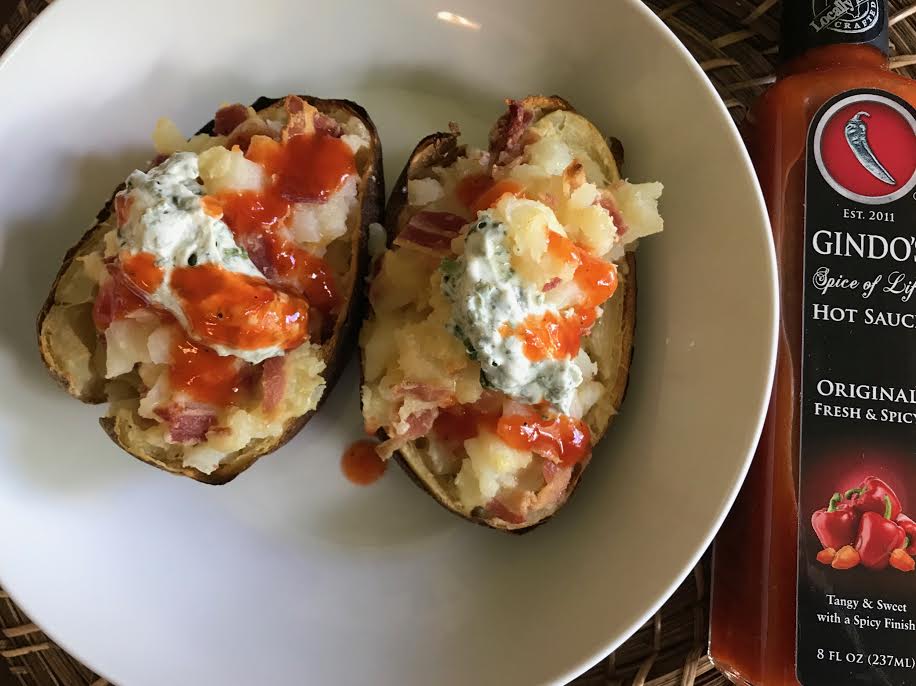 I made a double baked stuffed potato and topped it with award winning Original. There was a burst of flavor in every bite. I could almost smell the freshness of the red pepper but then I was hit with a little bit of heat. It was hot enough that it still gave me that rush I feel with every good hot sauce but mild enough that it didn't make me see stars at the end of my meal.
Try it also on roasted cauliflower…like a hot wing…but with veggies.  I roasted my cauliflower per Gindo's recipe. I added some diced celery, celery leaf and blue cheese at the end to give me that full hot wing vibe and was not disappointed.  (Dare I say this is like kissing someone you've been wanting to kiss…you know it is going to be good but then it makes your toes curl when it actually happens?!)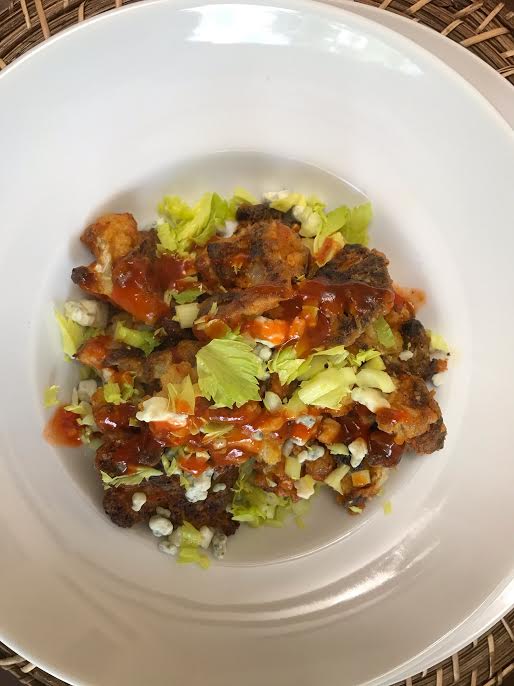 And finally, I tried the Honey Habanero two ways.  First, I made a grilled chicken sandwich with pickled veggies (kind of like a bahn mi). The honey habanero really paired nicely with the tart veggies and char on my chicken.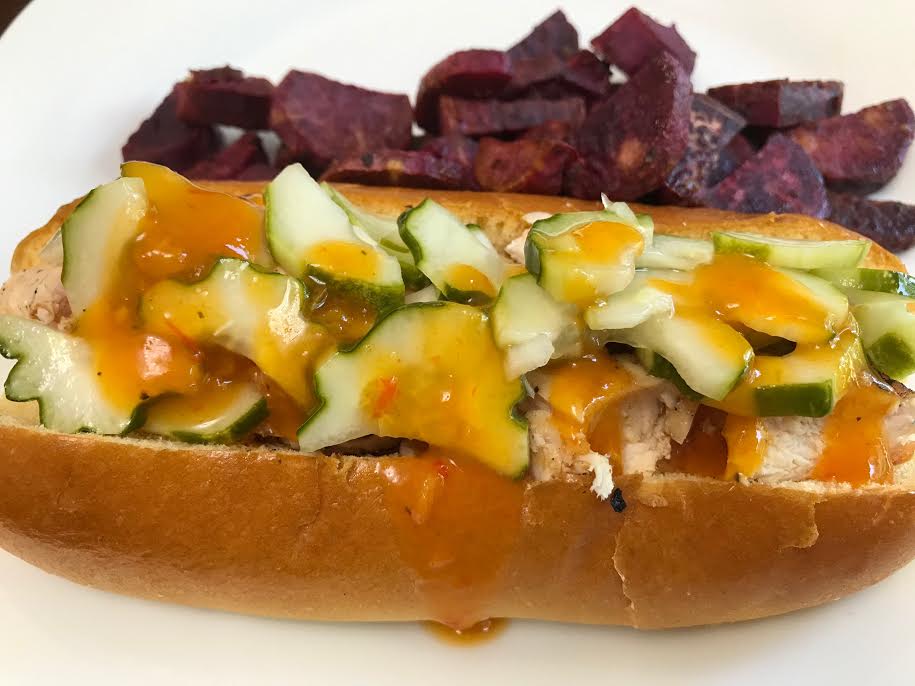 I also made a slaw with mango and used the Honey Habanero with a little lime as the dressing.  FABULOUS.  Hot. Sweet. Tart.  (I also think this would have been good with the Jalapeño Poblano.)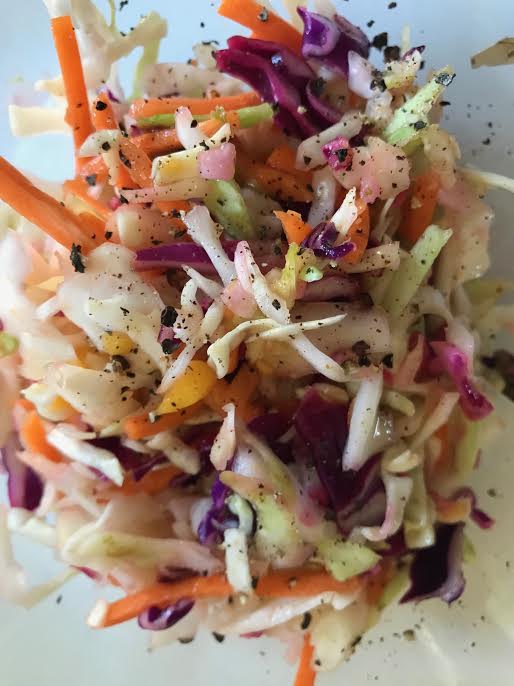 This sauce was the one that had the lingering heat for me.  I would be tasting all the fresh goodness on my tongue and then I'd get a tingle.  (I'll keep this G-rated but given my earlier analogies….you know what I'm talking about here!)
One thing I'll point out that I really admire about Gindo's Spice of Life is the fact that they are NOT including Scoville scale (heat indexes) to tell you the spiciness of each sauce. Every pepper is different and their heat is going to change per plant per season. So, if you say one batch is really hot, the next batch may not have that capsaicin level. Their omission of this detail in my mind is smart. It allows the diner to taste the sauce without having some preconceived notion of what they should be expecting.
My final point to be made that in the world of hot sauces these days.  I think a lot of us buy the ones with the funniest sayings and pictures on the label with no intention of ever looking at the actual ingredients. Gindo's loyalty to the local farm community and first class ingredients makes them stand out much further (or is it farther…you know what I mean) than any silly label you can find on the shelf. You will be able to taste that difference.
Spice up your life and check out the various ways you can try Gindo's for yourself. (And start thinking ahead to Christmas gifts because if you have a hot sauce lover in your family, their gift box is a really nice present!)
From the bottom of my heart (or maybe I should say bottle), I truly thank Gindo's Spice of Life for this opportunity to try out their hot sauce. My week was so jazzed up looking at ways I could use their sauces in my cooking.  (So much so that I did order some different batches to play around with in my spare time.)