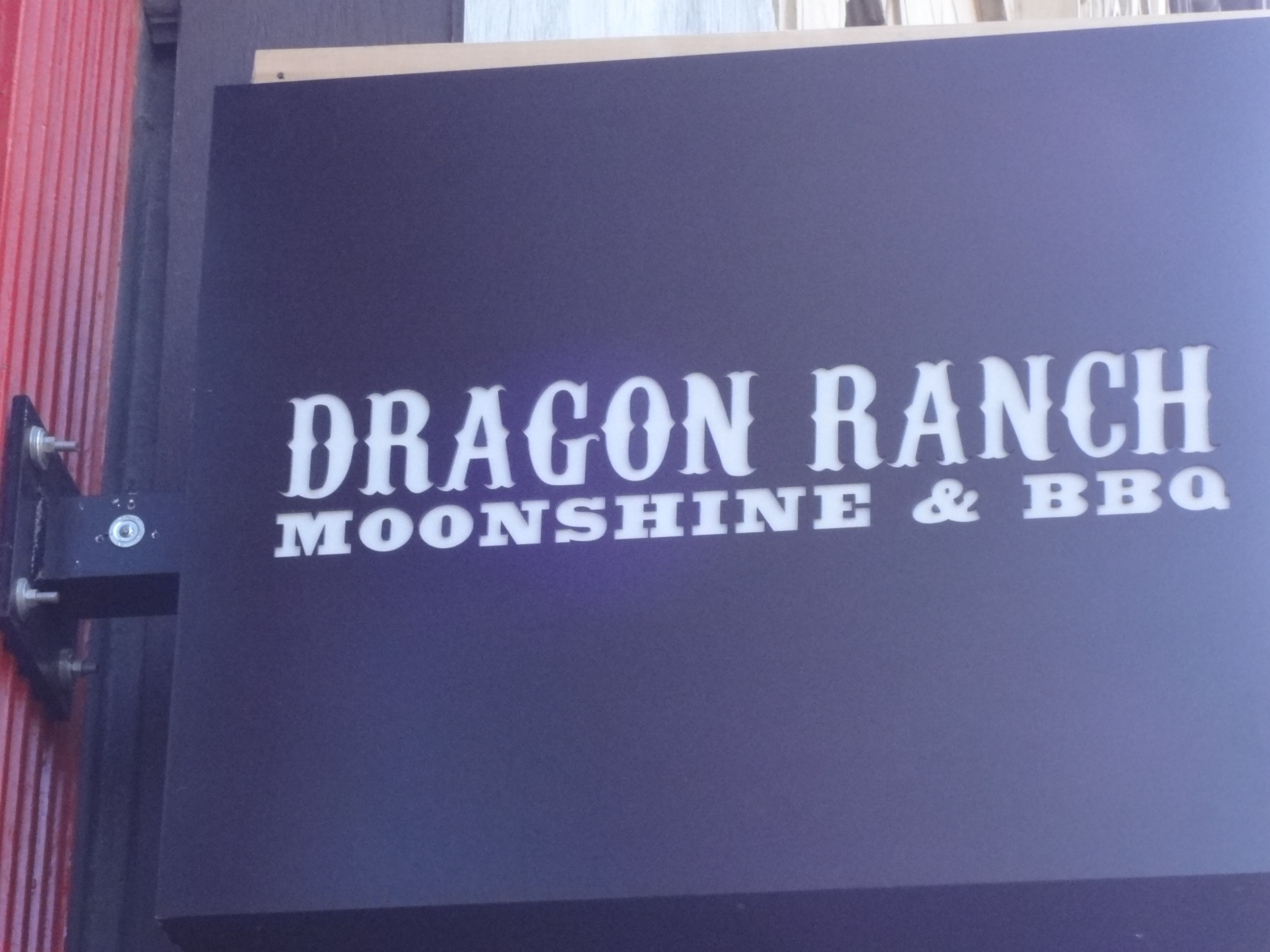 A little fun fact to start off your week…In Chinese astrology, the dragon is the only animal of the zodiac year that is fiction based.
So it makes sense that Dragon Ranch Moonshine and BBQ which opened this year seemed too good to be true.  (Now the fun fact makes more sense doesn't it??)Located in Chicago at 441 North Clark (look for the red trimmed windows), it is a conventional American BBQ with some unconventional Asian twists.
Part of the creative and fun Rockit Ranch Production team, Dragon Ranch offers some great American barbeque (pulled pork, ribs, brisket), Asian fare (ramen noodles, bahn mi sandwiches, steam buns) and some novel "fusion" items (classic glazed carrots with bourbon barrel aged fish sauce, togarashi aioli on the sandwiches.)
I was thrilled to come in today for their Sunday brunch (available from 10:30-4).  After reviewing the menu online, I knew what I had to have….Thai Benedict.  The description of the house made spicy Thai sausage, poached eggs, sautéed greens (Chinese water spinach) and topped with red coconut curry hollandaise made my mouth water!  It was like someone read my mind of what I wanted in an egg dish.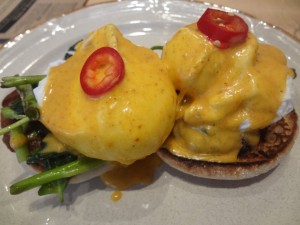 My eggs came to the table and I did what all poached egg lovers do…I poked it in the center.  I watched as the beautiful rich egg yolk delicately flowed down the greens, over the patty and onto my plate.  (Sigh, why can't everyone make an egg this perfect?)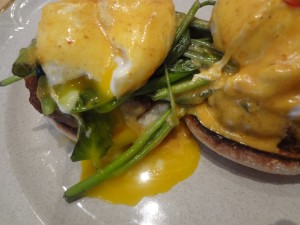 I literally closed my eyes with my first bite.  I had built up the flavor profile of this dish in my mind and my anticipation was building.  The first bite….it was like a biting into a piece of heaven.  The balance of seasoning (Thai chilis, ginger, lemongrass and cilantro) in the sausage was complimented nicely with the spicy yet sweet hollandaise.
(I also loved the Chinese water spinach.  As a new veggie in my playbook, I was delighted in its lack of bitterness.  I will definitely order this as a "fix'n" when I come in for lunch.)
Although my Thai Benedict was more than enough to fill my belly, I had to try the deviled eggs.  I loved the subtle heat of the togarashi aioli and red chilis.  It was enough so you knew this wasn't your neighbor's deviled eggs (even though my next door neighbor is the deviled egg queen! )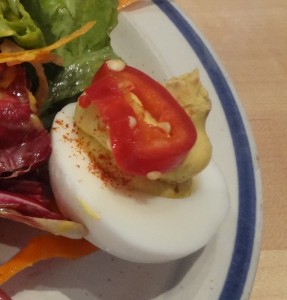 One of the standout features for Dragon Ranch is the attention to their ingredients.  So much of the menu was house made, pickled or cured.  (The smoky bacon was out of this world.)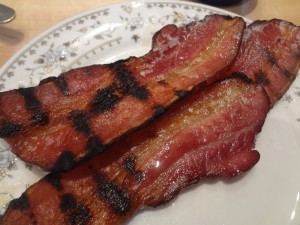 As a newbie to canning, I could totally appreciate the flavors and skill Dragon Ranch displayed in their house made pickles.  The bloody Mary bar had a great array of homemade items like pickled shishito peppers and kimchi.  (The pickle juice in the bloody Mary was a marvelous alternative to the horseradish-y version I am used to.)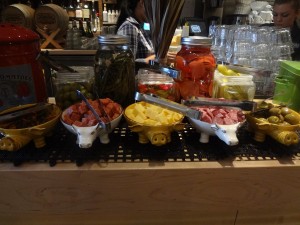 In addition to their pride of in house preparation, Dragon Ranch is a great supporter of local farms.  Monday, October 29, 2012, they will be hosting their first Farm to Fork dinner.  The seven-course whisky paired dinner is a great way to meet the "faces behind the feast" as you dine with the local suppliers.  (Tickets went on sale recently and there are still some seats available.)
Did I say whiskey?  You can't go to Dragon Ranch Moonshine and BBQ without mentioning the huge array of barrel-aged cocktails, whisky, and the infamous moonshine.  (Yep, white lightening, hooch, moonshine.)  The whisky bento box is paired with specific accoutrements (cheese, chocolate, pickled veggies) to experience every nuance the drink has to offer.   (Come in on Saturdays and join the fun for the "Red Cup" parties.)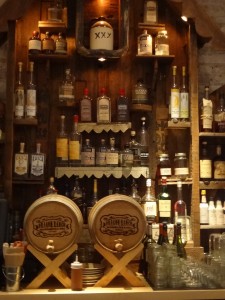 Overall, I just loved how tastefully Dragon Ranch portrayed their theme without making you feel like you were in a 1950's western.  (Not one person said y'all except me, of course.)  The food was an exceptional array of everything I love in BBQ with just enough Asian flare to make it stand out from others.
Finally, I think every restaurant experience can be made or broken by the staff.  I have to give a huge thumbs up to my waitress (Hi Lauren) and everyone who was working this morning.  You all were working as a team, extremely friendly and made me want to come back again and again.  (Okay, the Thai Benedict will also influence my reoccurrence but you guys were pretty awesome.)
Thanks Dragon Ranch Moonshine and BBQ.  You did the year of the Dragon proud!