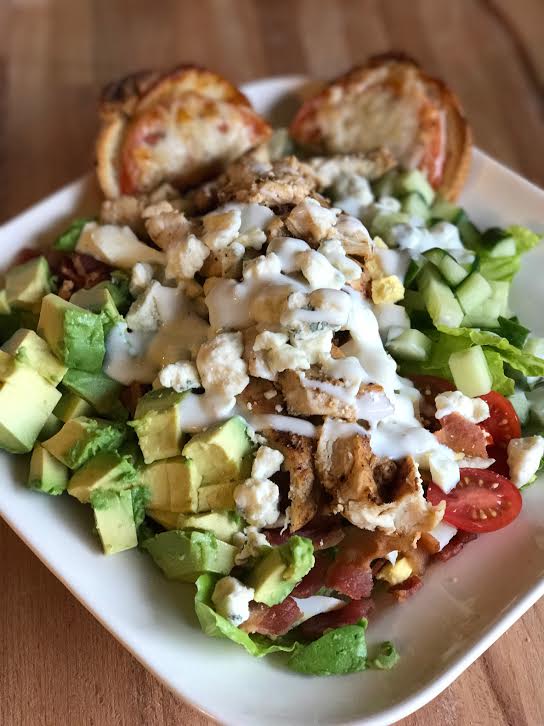 Reinventing the wheel.  Some say we should always be thinking of how to make things better and more efficient.  We can improve on concepts, make things visually more appealing and keep trying to better a product.
We keep thinking that we can improve on things and yet we go back to square one…to the original…to the best.
This can be a thought for technology, standard operating procedures and even for our own well being…..but does everything ALWAYS need to be changed?  Are we wasting time or are we challenging our minds?
I think of these things a lot.
I'm not sure if it is an unwillingness to learn or if I am just happy to have things the way they were when I grew up (I do have a cell phone but I love to use my Mickey Mouse phone with the squiggly cord to talk to people at home.)
This all really came to my mind this past week when I wanted a Cobb Salad.  I was just in the mood for the assorted textures and flavors all compiled onto one plate.  Salty bacon, creamy avocado, pungent bleu cheese, crispy greens, acidy tomatoes, rich chunks of chicken and springy bites of hard boiled eggs.  It is just perfect and doesn't need to be reinvented.
I doodled on paper the ways I could recreate this salad…make it better…make it more interesting….reinvent the wheel!!!
I kept looking at substitutions at ways I could put an ethnic flair on it or maybe do something cool with molecular gastronomy.  Each thing I looked at just made me mad at myself for just not appreciating what I had in front of me….a great satisfying meal that really doesn't need any improvement.
It is "just" a salad but it really was an eye-opening moment.  When are we going to realize that there are some things that don't need improvement?  (I like to think I'm perfect the way I am….I am the best me I can be!)
I went into my kitchen and started chopping my ingredients.  Nothing fancy, nothing changed.  It is a thing of beauty.  It is simple.  It really needed no improvements.
My biggest thought was that I didn't have enough bleu cheese for the salad so I made a bleu cheese dressing to compensate.
As I divided the ingredients over my plates, I spent the time appreciating the way some things are just meant to be the way they were originated.  There is nothing wrong with it.  You need no excuse as to why you like it.  It is just kind of a neat feeling to be happy with what you have in front of you.
Every Day Cobb Salad for Two
Salad
2 chicken breasts grilled (I marinated mine in red wine dressing and garlic)
1 avocado
8 slices of bacon, cooked and chopped
2 hard boiled eggs, chopped
1 cup of tomatoes, chopped
1 large head of Romaine Lettuce, washed and hand torn, splashed with a little red wine vinegar and seasoned with salt and pepper
¼ cup bleu cheese
Salad Dressing
¼ cup bleu cheese
½ cup mayo
1 Tbsp sour cream
1 Tbsp red wine vinegar
salt and pepper
Directions
In a small bowl, mix the dressing ingredients….set aside.
On large plates, place the lettuce.
Top with the ingredients in rows…so it is pretty.
Drizzle the dressing on.
Enjoy and don't overthink it.