Whether you are married, coupled or a parent, you learn things about your housemate(s) or at least you should learn things.
I've been with my husband long enough to know the good stuff like he will be the first to apologize no matter what the issue, he always kisses me goodbye in the morning and he will fill my water glass every time he gets up. (Pretty awesome, right?)
The things I have learned about him that ARE negative  are really kind of petty.  When you live with someone for YEARS, those things can sometimes really get under your skin like getting a dish in the dishwasher, folding a blanket or stealing my pillow while we sleep.  (These are just examples I've heard from friends….not our issues….because we are perfect.)
There is one lesson I haven't learned and every time it happens, I only have myself to blame. It isn't huge but when it happens I just want to run across the room and scream. It kind of goes like this.
Me: Honey, what would like for dinner? (Big mistake.)
Hubby: I don't care.
Me: Come on, there has to be something you want.
Hubby: Whatever. You do great with our meals.
Me: Babe, I'd love your input.
Hubby: Scallops.
Me: Where do you expect me to find scallops for tonight's dinner? We don't live near any decent stores.
Hubby: Okay, mussels.
Me: Sweetheart….if I can't get scallops, do you think I can get mussels?
Hubby: Why do you ask me?
Me: Because I want your input.
Hubby: Shepherd's Pie.
Me: Do you know what shepherd's pie is?
Hubby: Yes.
Me: It is a lamb meat pie with a mashed potato crust.
Hubby: I don't want that.
Me: That is what I thought.
Hubby: How about beef stroganoff?
Me: We don't have the right meat.
Hubby: You don't have beef.
Me: I only have ground beef….but I can make it work.
Hubby: Great….what time is dinner?
Me: Are you hungry?
Hubby: I am now that we've been talking about food.
Me: Sigh.
In the grand scheme of things, this is really not a problem.  It was an easy dinner to make and I think I finally learned that it doesn't matter what I make him for dinner….as long as it is made with love.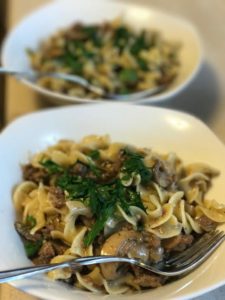 Beef "What Would You Like for Dinner" Stroganoff
Ingredients
1 pound ground beef
1 large onion, chopped
1 12-ounce container of baby bella mushrooms, sliced
2 cloves garlic, minced
1 can chicken broth (yes, you should use beef but I didn't have that in the house.)
1 tsp Worcestershire sauce
1 tsp brown mustard
¼ cup flour
¾ cup sour cream
1 package of egg noodles, cooked and tossed with a little butter.
handful of chopped parsley
Olive oil
Salt/pepper
Directions
In a large skillet, brown ground beef in batches.  Remove from pan and set aside.
Add a little olive oil, and brown the mushrooms over medium-high.  If your pan isn't big enough to give them some room, do it is batches.
Lower heat and add the onions.
Cook until onions are a little softer and translucent.
Add garlic, cook another minute.
Add beef back to pan.
Add flour and cook for about another minute or two.  (Cook off the raw flavor.
Whisk in the broth, Worcestershire and mustard.  Reduce heat.
Cook until thickened. Taste for salt.
Serve over noodles and top with a little parsley and a crack or two fresh ground pepper.