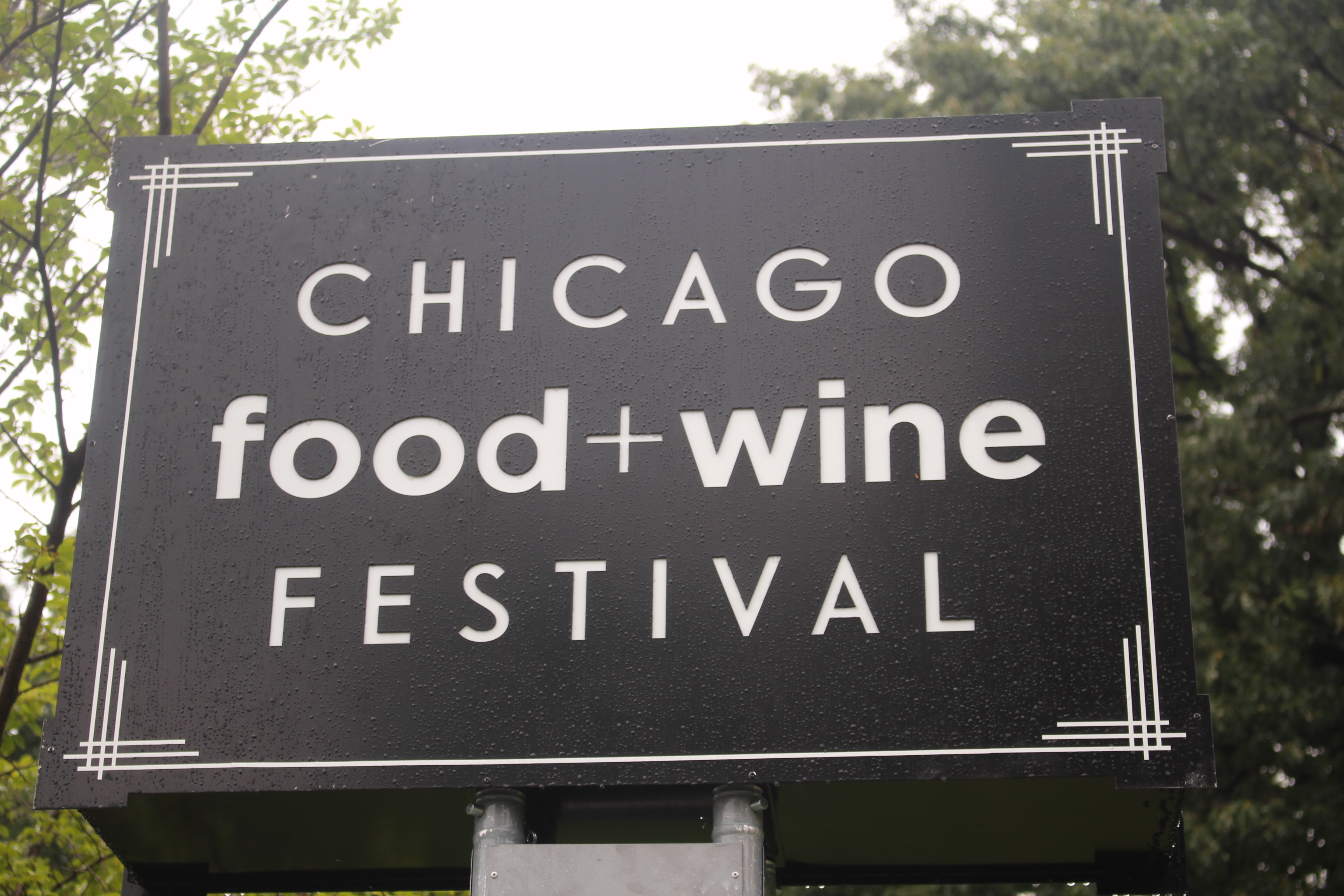 I am a subscriber to Food & Wine magazine and read it each month from cover to cover. I read the editorials, recipes and I look at who advertises in the publication.
One of the things that has drove me nuts for years was seeing the promotions for their Food + Wine Festivals. They would have these awesome chef-centric and food gatherings everywhere….South Beach, New York, Cancun, Nashville to name a few places.  But what about Chicago?????
I would look at all the pictures of the people eating, drinking and being merry. I want to be merry. I want to toss my head back laughing while I have a tiny plate in my hand and drinking. (Okay, I only drink water so the tiny plate is all I'm concerned about!)
The good folks of Food & Wine must have realized that the city of Chicago was ready to show them a good time because this weekend (August 28-30) they held the first Chicago Food + Wine Festival. Here was the scoop:
The Chicago Food + Wine Festival marks a compelling collaboration between C3 Presents, chef Tim Love, and presenting sponsor FOOD & WINE Magazine.
Festival partners have recruited an Advisory Board comprised of Chicago chefs including Jimmy Bannos (Heaven on Seven, The Purple Pig, Juicy-O); Rick Bayless (Frontera Grill, Topolobampo, Xoco, Tortas Frontera); Graham Elliot (Graham Elliot Bistro); Jose Garces (Garces Group); Stephanie Izard (Girl & The Goat, The Little Goat); Paul Kahan (One Off Hospitality Group); Tony Mantuano (Spiaggia); and Art Smith (Art and Soul, Table Fifty-Two, Lyfe Kitchen, Southern Art) to gather ideas and feedback for event programming and talent recommendations."
The weekend filled festival had a little something for everyone from a Feast Under the Stars (Fri. night) in Lincoln Park to a Toast & Taste (Sat. night) in Grant Park to a Last Call (past my bedtime on Sat.) at Block 37.
The other big feature of the weekend was the actual Chicago Food + Wine Festival (both Sat. & Sun. in beautiful Lincoln Park). It was a day filled with demos by some of Chicago's and the nation's best chefs….plus wine and libation experts.
Did I forget to mention The Grand Tasting? It was a gigantic tent filled with chefs making scrumptious food (and lots of things to drink from whisky to wine.)
The best part is that I got to take part in the Saturday daytime portion! (This is the point you can imagine me tossing my head back in pure merriment!)
As I walked through the gate, I felt like someone jumping from the pages of Food & Wine magazine. My nose directed me to the Grand Tasting and I'll let my pictures take it from there.
Earl's Kitchen +Bar (not my Earl, another Earl) served a Tuna Tostada with chili rubbed albacore, cilantro aioli, and avocado and jicama slaw
Knife & Tine's smoked beef Carpaccio, parsnip puree on pumpernickel toast.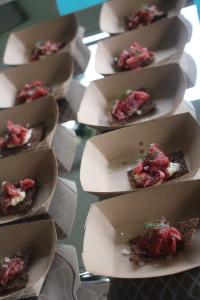 One of the main reasons I wanted to come to this festival was to watch the chef demonstrations. The first one I caught was Chef Jose Garces & Chef Cory Morris (Rural Society). Apparently, I wasn't the only one who wanted to do this because it was a packed tent! Chef Garces whipped out a gigantic squid like he was in 20,000 Leagues Under the Sea.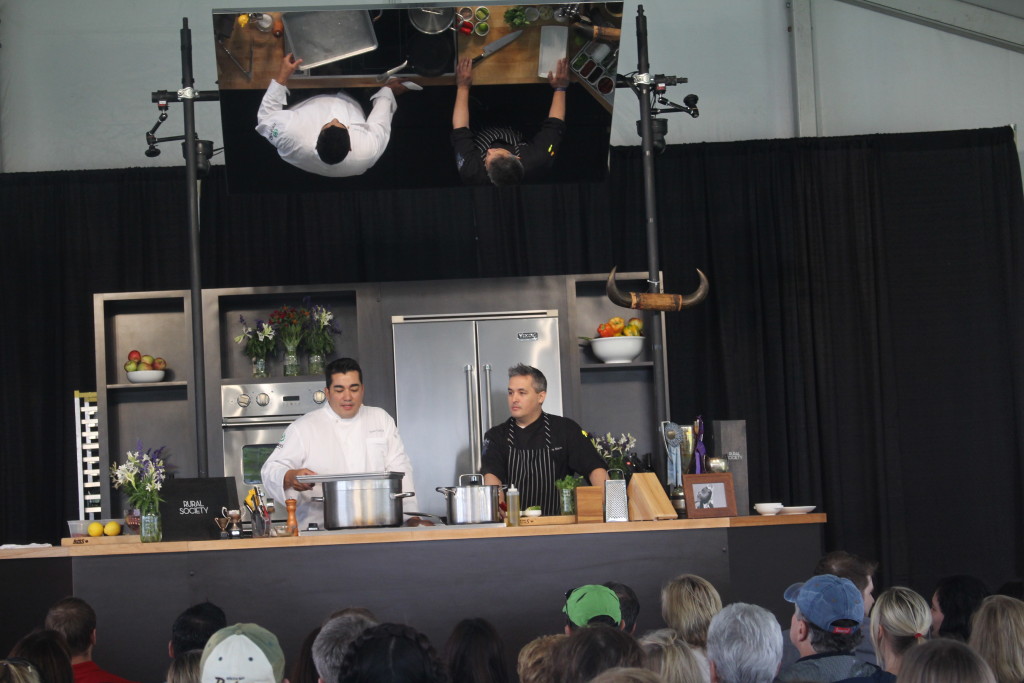 And yes, I had to take pictures with the chefs!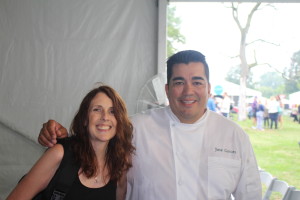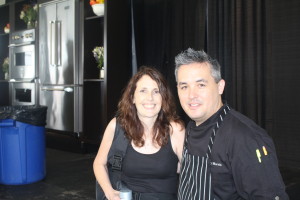 I did miss seeing Tony and Cathy Mantuano's demo on How to Pick the Right One so I popped over to the Book Signing area when they were done to tell them how much I liked their book, Wine Bar Food.
I was hungry again so I hit The Grand Tasting once more. RPM Italian was my next stop and had Burro Del Chianti. I'll just say this was essentially pork butter and it was fabulous. It was rich, luscious and amazing. (Head back, laughing moment!)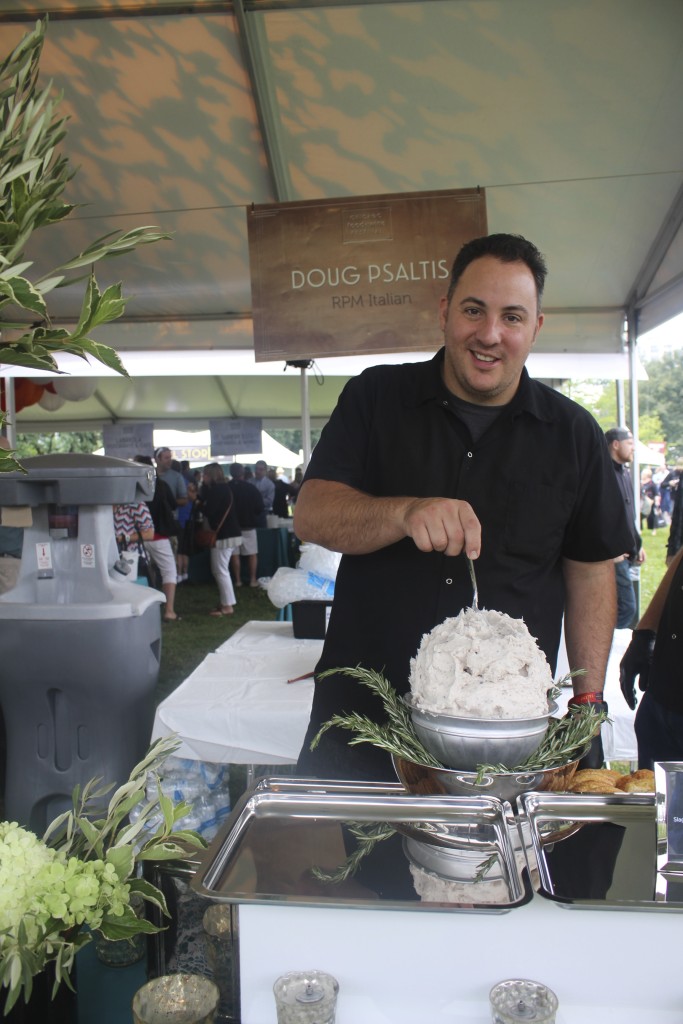 After eating that little guilty pleasure I felt the need to green it up so La Sirena's Kale salad with pepitas, cojita, jalapeno, green onion and roasted poblano dressing was a great option.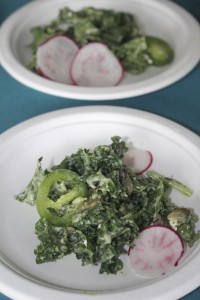 A10 Hyde Park also freshened me up with their Shrimp Gazpacho made with watermelon, corn and black beans. Oh…and these beautiful tomatoes!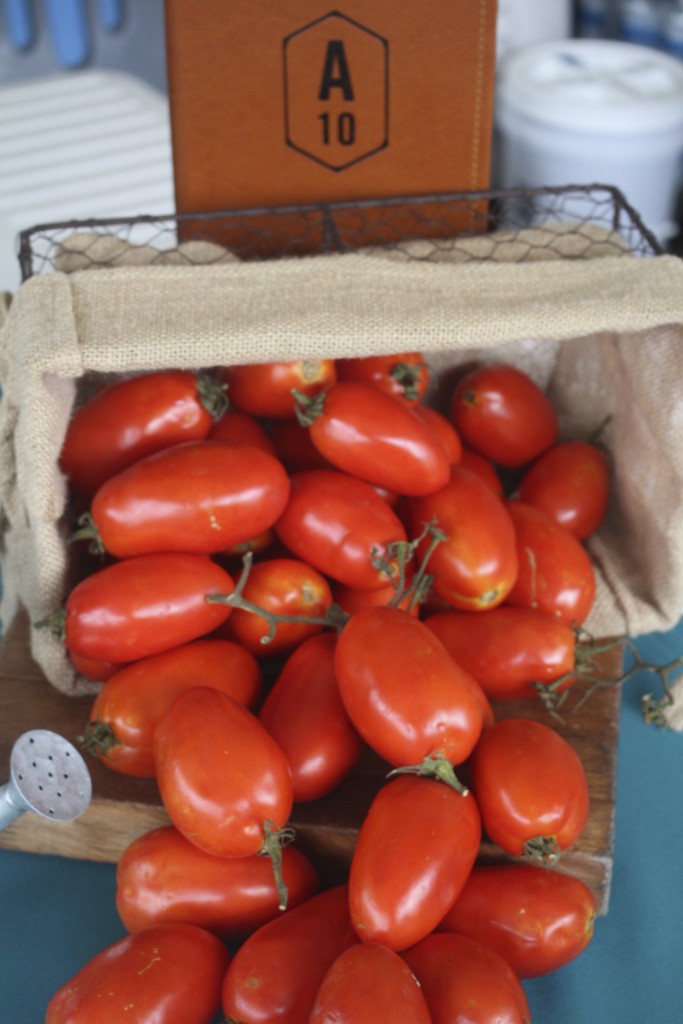 Truly, my favorite sweet bite was Nico Osteria's Pistachio profiteroles with white chocolate discs.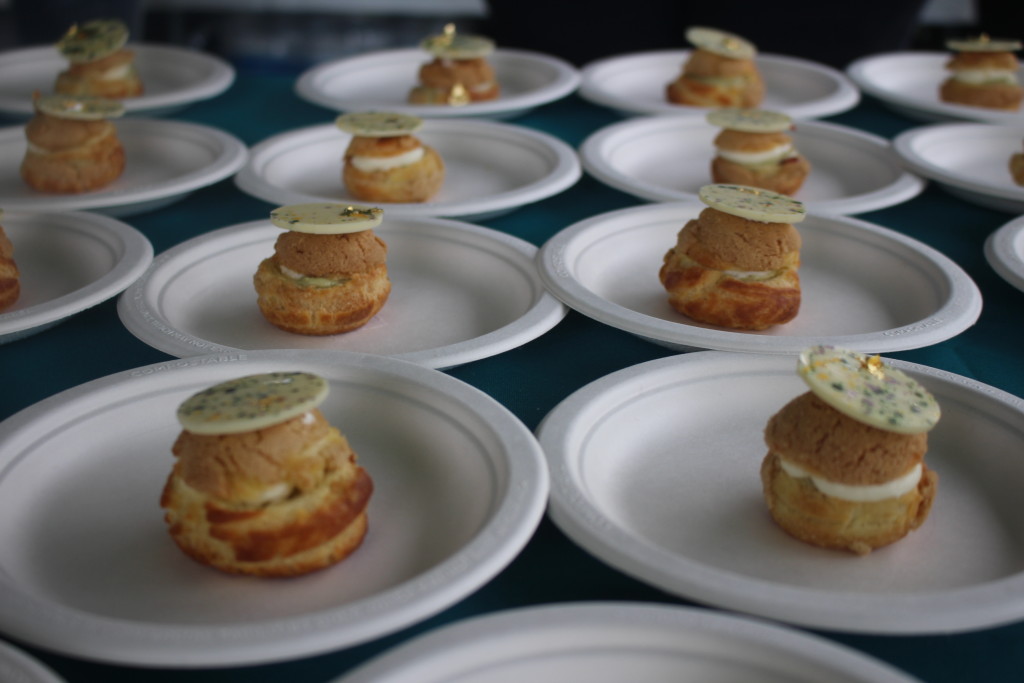 The Florentine kept it fun by smearing Sweet Corn with lemon truffle aioli and sprinkling on a magic mix of pecorino, pancetta and shaved truffles on a stick! (This is Food + Wine Festival so it is a skewer but either way it was time for me to sit down and watch a demo.)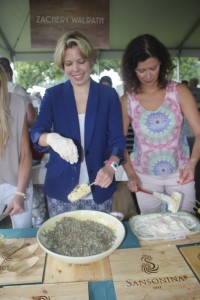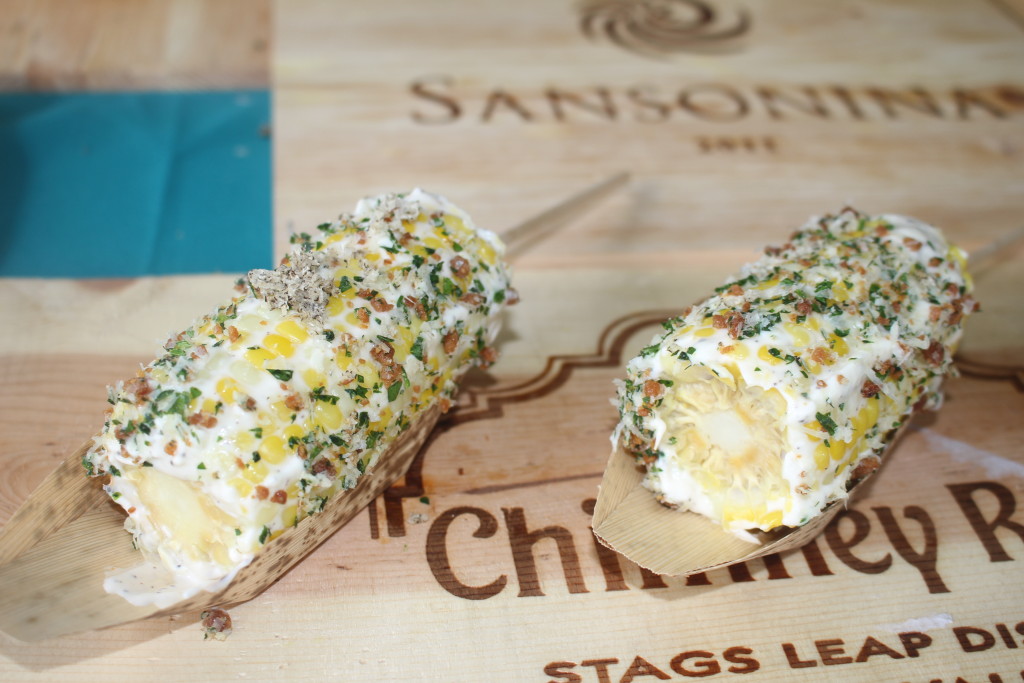 And before I forget, THANK YOU to Voss Water. It is always nice at events like this to have a delicious bottle of water with your little plates of food.
I also caught Stephanie Izard's demo called Duck Duck Goat. Here we come! Chef Stephanie is opening another restaurant in Chicago that will concentrate on Chinese Food!
Having seen her do cooking demos in the past, I am always amazed at her talent. (And for whatever reason, I geek out when I talk to her.) She made Chinese Slap Noodles and Dumplings. It was really hysterical listening to her talk about "slapping her noodle" and not think dirty thoughts.
It smelled absolutely delicious and I appreciate the fact that she said she would share some recipes on her website!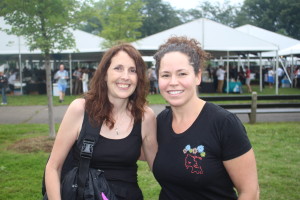 I had room for a couple more bites before I went to my final demo. Chef Takashi of Slurping Turtle was one of "save the best for last" moments. I'm not sure how he did it but Chef Takashi made a Chawanmushi (which is a Japanese egg custard) topped with BBQ unagi and bacon. I was so impressed that he served so many while keeping the custard in perfect composition. Not an easy feat at a food festival!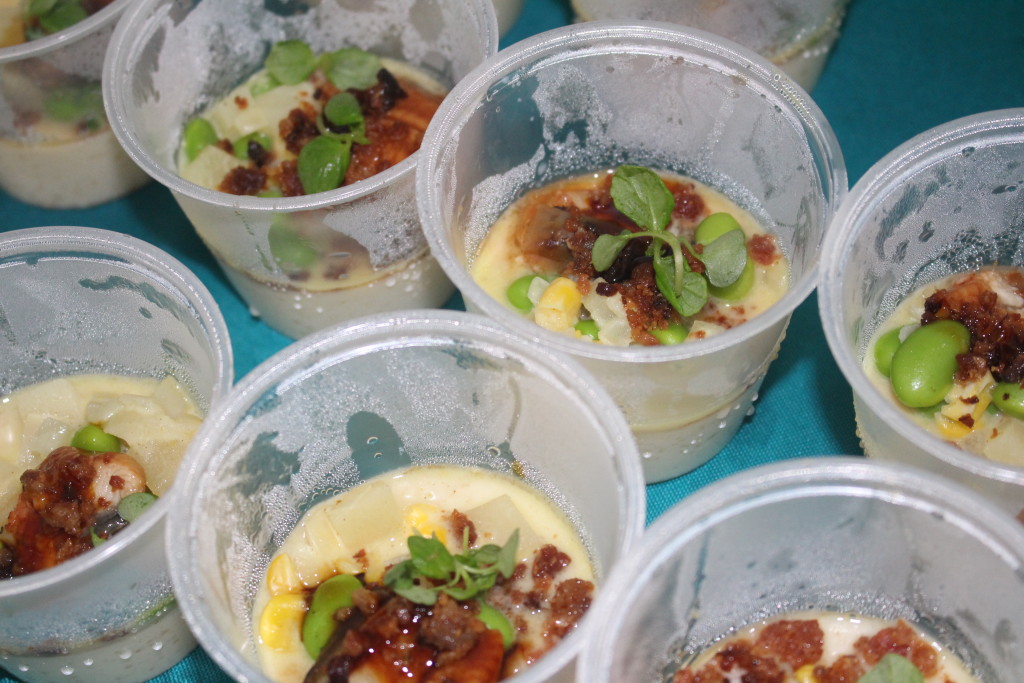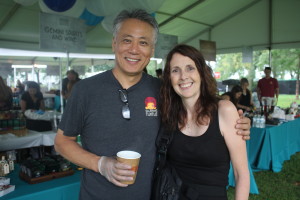 As my day slowed down I enjoyed a piece of crostini with lamb and pureed eggplant from the super friendly, Chef John Hogan (River Roast)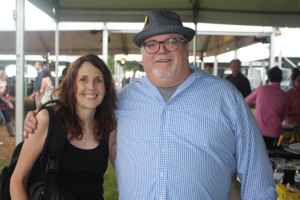 And ended my savory eating with Chef Paul Virant's fresh melon wrapped in pork and topped with a pickled watermelon rind and cherry bomb pepper relish! It was the bite that gave every taste bud a hug.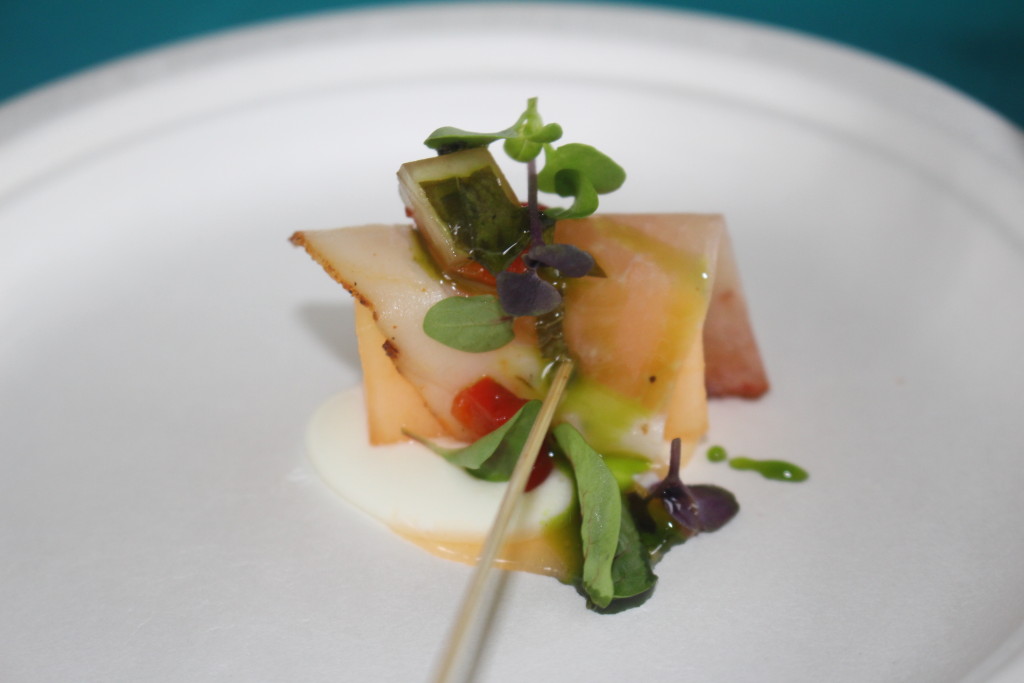 I didn't leave yet because I had to see one last demo from Chef Tim Love. I was so excited that he was in Chicago and have enjoyed reading about him and seeing him on TV shows in the past.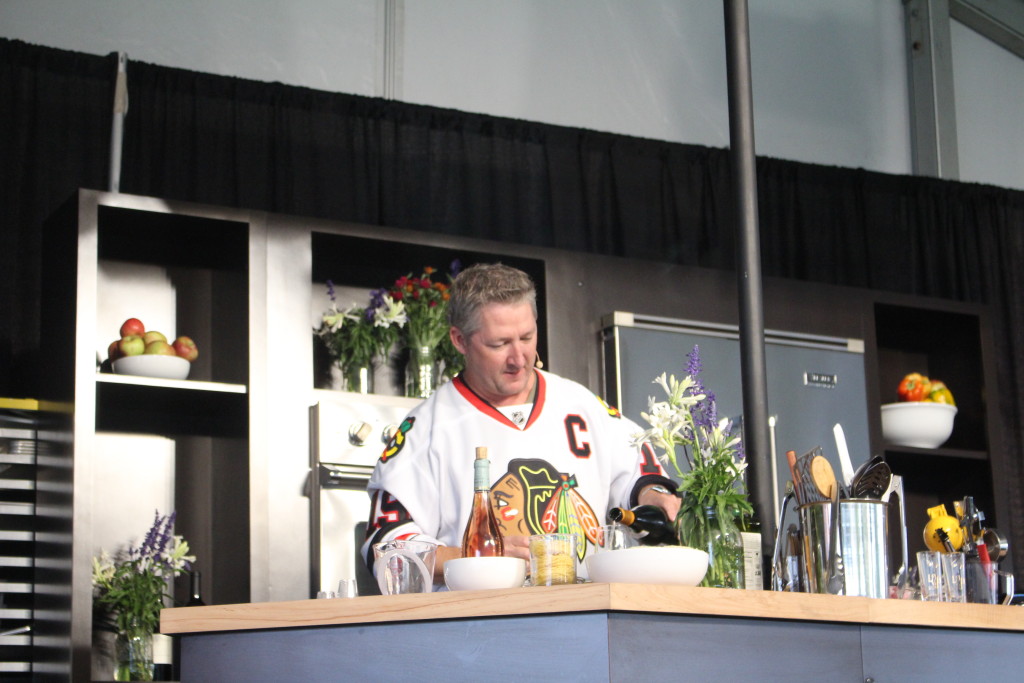 It was a truly a great finale for MY day to see Chef Love teach the skill behind "burning food" like steaks, onions, oranges, carrots and zucchini. (I also learned that he likes tequila and owes a couple bucks to the swear jar!) The science nerd in me was impressed that he talked about the correlations of the temperature of food and the energy put into cooking it. (If he had included specific heat information I would have been over the edge!)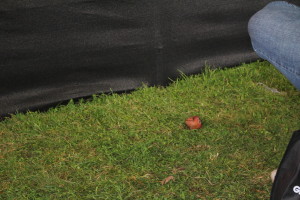 It was pure and utter madness and Ioved every second of it. I knew he would put on a good "show" and I was not disappointed. (I'm also not disappointed that I was not chosen for Tequila Roulette because 10 audience members were blindfolded. 9 of these member got a shot of hooch , 1 of them got olive oil. I would have wanted the olive oil!!)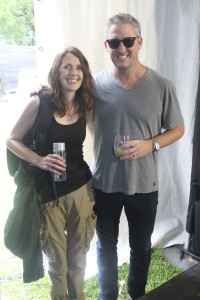 There were so many demos, discussions and dishes that it was impossible to do everything.  But with that said, the only thing that dampened the day was the rain.  As the event closed for the afternoon, there were people dancing to the phenomenal DJ, enjoying some last little nibbles, having a drink and tossing their heads back in laughter.  (Sunday had a whole another day of fun!)
Thank you to all the chefs who lugged their stuff in during the earlier morning downpour and the people behind the scenes. You made a gloomy day brighter!
So next month when my Food & Wine magazine comes in the mail, I may look at the promotions first. When I see the pics for the next fests in Hawaii and Toronto, I am going to bust out smiling with the hope that they will be back in Chicago next year so we all can share in the fun!