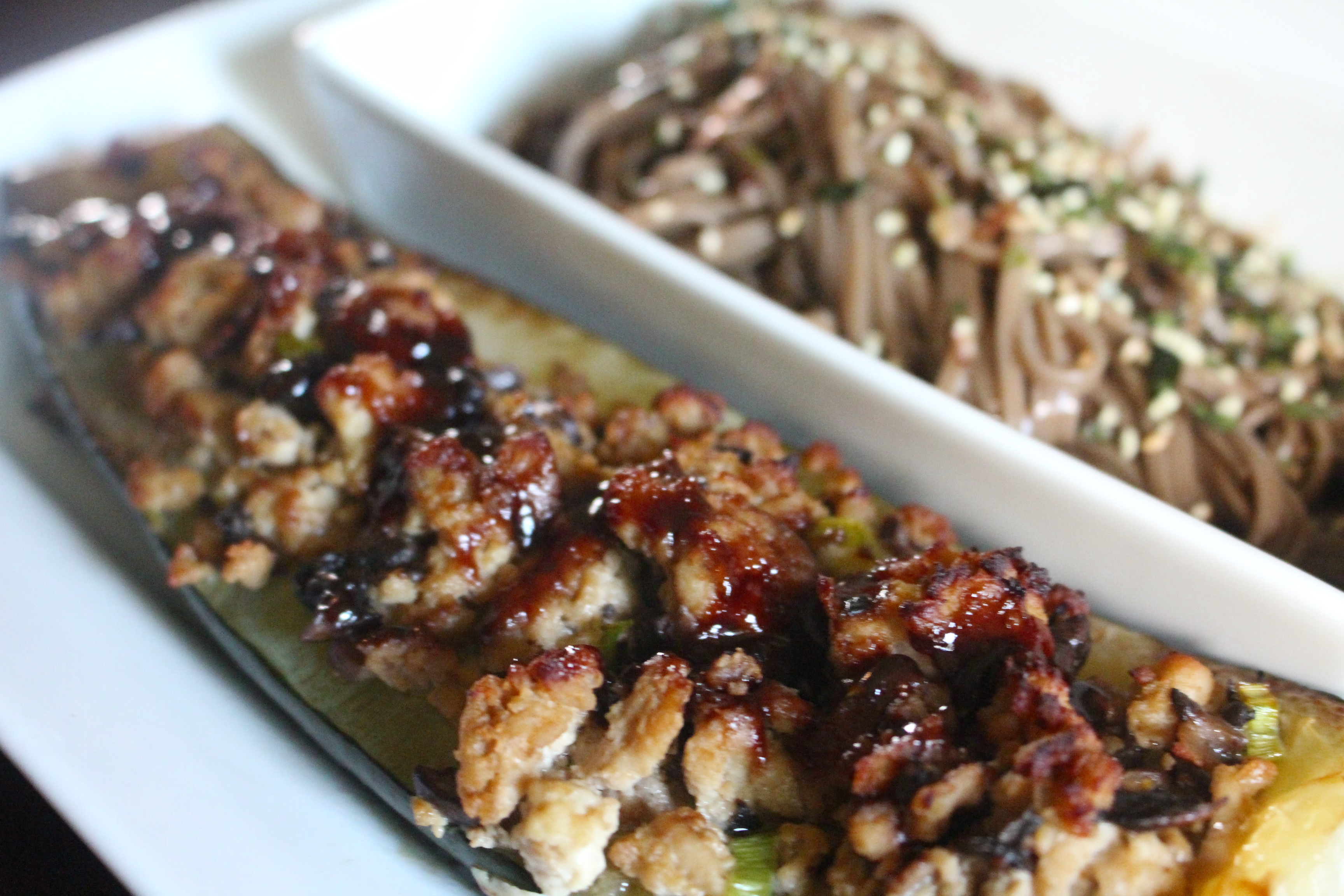 Did you hear me the other day? At the top of my lungs, I was screaming "You want to do what?" After all these years later, Hubby has finally lost it.
It all started when he came home from work. His routine is to walk in the door and start telling me about his day while he takes off his work clothes. (It is kind like Mr. Rogers but instead of putting on a nice cardigan, he pulls off his pants.)
So my sweetie walks in and says the thing no wife wants to hear the minute her husband walks through the door. I'm not even sure I can repeat this. (My mom needs to stop reading here or I may never be able to look her in the eye again.)
He said, "Hey Baby, you wanna stuff my zucchini?" I was like "Whaaaat?" Who says that? Can I get a "hello"? Or how about "I'm glad I'm home" from him first. Nope, he just waltzes in and says that!!
I immediately jump down his throat and start telling him how I'm not some tart who goes for lines like that! (Anymore!) I'm a grown woman and I want to be wooed.
Well, he glares at me and looks down. Boom! I showed him. This woman is about to sing about R-E-S-P-E-C-T when my innocent husband produces a bag of…well…produce.
Not just any produce…..zucchini. Oh no. I'm in troubbbble! Apparently, one of his coworkers sent him home with some zucchini and said they were the perfect size to stuff with meat for dinner.
With my tail between my legs, I agreed and we made stuffed zucchini together. (Okay, I was still in mean girl mode and said if you want stuffed zucchini you need to help make it! I have trouble letting stuff go even when I'm wrong!)
He was a great helper! (I really don't like help in my kitchen. He drives me nuts and keeps trying to touch my, um, tomatoes.) The great part was that he picked the menu and it was nice to get a break from menu planning. (I still think he should have put his pants on before we started cooking!)
Hoisin Glazed Stuffed Zucchini
Ingredients
4 small zucchini or 2 larger ones
1 pound ground chicken
1Tbsp of fresh ginger
1 pound shitake mushrooms, chopped
1 clove of garlic, chopped
3 Tbsp of soy sauce
3 Tbsp rice wine vinegar
1 egg, beaten
4 green onions, sliced
¼ – ½ cup of hoisin sauce
Toasted sesame oil.
Grapeseed oil
Directions
Oven 375. Prepare a baking sheet with parchment paper.
Cut the zucchini lengthwise and scoop out the seeds. Brush the cut side of zucchini with sesame oil and place it CUT SIDE down on parchment.
Roast for about 15-20 minutes. You want the cut side to start to brown and the zucchini should be getting tender. (Obviously, if you are using a HUGE zucchini it will take longer. Just take a peek and let it go longer if you need to.)
While the zucchini is cooking, mix garlic, ginger, soy and rice wine vinegar. Set aside.
Heat up a large skillet over medium high heat. Give it a swirl of grapeseed oil.
Brown chicken and mushrooms together.
Deglaze the pan with the soy mixture. Remove from heat and let cool for a minute or two.
Mix in beaten egg. Mix in green onion.
Ding. Your zucchini is ready to be stuffed. Flip the zucchini over and divide the meat mixture between the zucchini. Cook for another 15 minutes.
Brush with hoisin and put it back in the oven for 5 more minutes.
TA-Dah!
Here is my big hint….if you are a veggie lover….use a bigger zucchini. You will get more veggie per bite. I would have liked a smaller, thinner zucchini so that every bite had equal amounts of zucchini to chicken.
Marriage misunderstandings are the best.